28 May, 2015
Green Peppercorn in Brine Recipe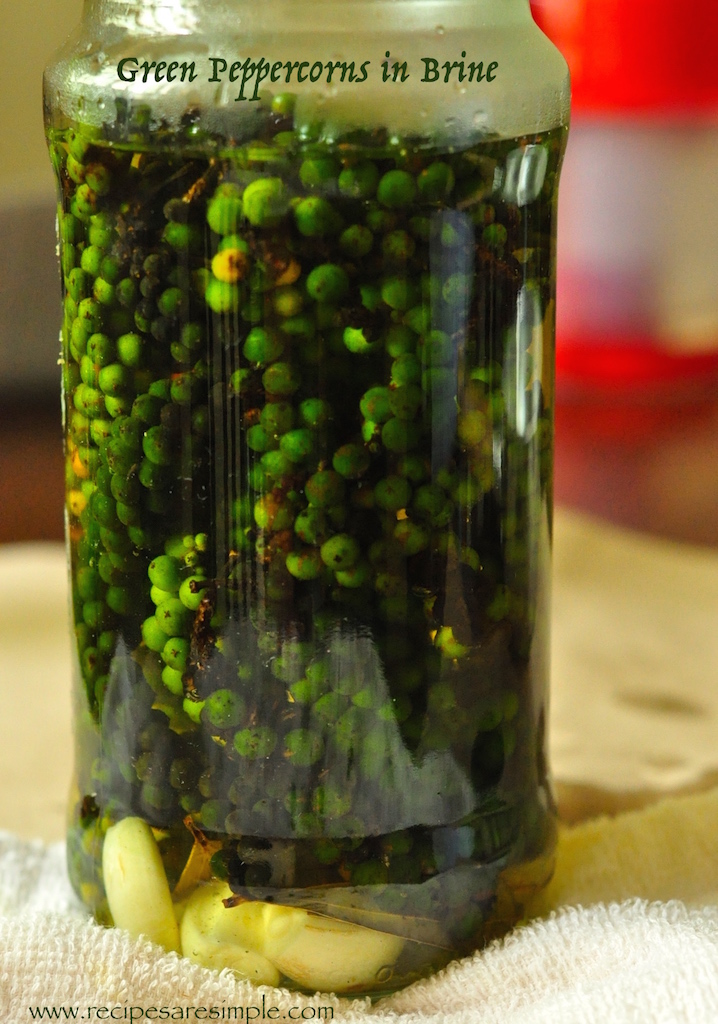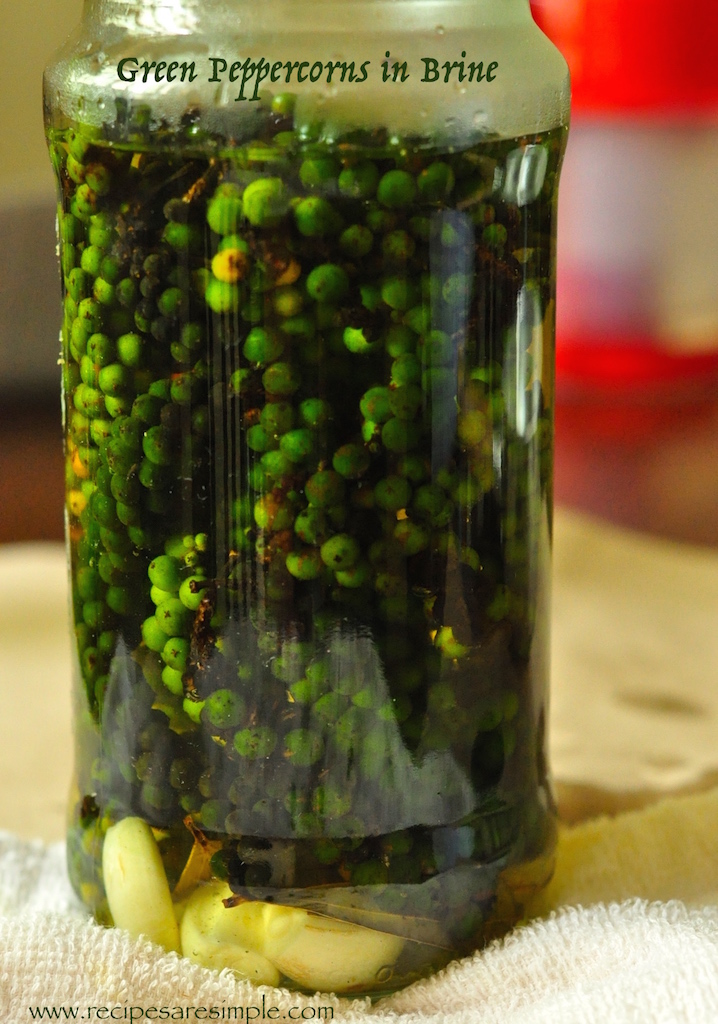 Green Peppercorn in Brine Recipe
There are different varieties of peppercorns (Piper Nigrum).  The spice that originated in India and has been used since prehistoric times. It's hard to believe that this staple in just about every kitchen is something over which Wars have been fought!
The green peppercorns are actually unripe black peppercorns. They are fresher in taste and possess the same peppery kick and aroma. If you get them fresh, use them quickly as they don't last very long. Commonly found in Thai and Vietnamese cuisines. Usually, green peppercorns are put in brine or vinegar to pickle them.
White peppercorns are black peppercorns that have had their black skin removed. They are less pungent and more earthy in flavor. Due to their white color, they are used more in white sauces or rices.
To date, the black peppercorn in the most widely traded spice, worldwide.
Coming back to Green peppercorns and their fresh aroma. These pretty peppercorns are not available everywhere and they are seasonal, so if you get some, you can make some special dishes quickly. When I get fresh green peppercorns I use some and I pickle the rest. Later, they can be used, crushed up to flavor sauces and in marinades. A great thing to have in any pantry!
So here's my  Green Pepper Corns in Brine Recipe.



You are here: Home > Basics  > Green Peppercorn in Brine Recipe
 

Recipe Name: Green Peppercorn in Brine Recipe

Recipe Type: Basics/ Condiments

Author: Shana c/o Recipes 'R' Simple
Green Peppercorn in Brine Recipe
Ingredients:
200 gms fresh green peppercorns on stalks
2 cups water
2 Tbsp salt
½ cup vinegar
¹/8 tsp turmeric
5 cloves garlic, crushed
2 bay leaves
1 tsp oil

 
Method:
Wash the peppers on their stalks under running water – gently.
Place on kitchen towels till water is gone.
Boil water in a saucepan. Add turmeric.
Remove from heat and add the vinegar. Also, add salt. If you are using rock salt, add earlier to help it dissolve. Stir to mix.
Add the crushed garlic and bay leaves to the bottom of a sterilized jar.
Pack the peppercorn stalks vertically in the jar neatly.
Add oil to the pickling solution and pour over the peppercorns to completely cover the peppers.
Allow the solution to completely cool off without a lid.
Screw lid on tightly.
Allow to pickle for 4 days before initial use.
Always use a sterile spoon when getting some of the brined peppers.
Keep lid clean.
Keeps well in a cool dark place.
Green Peppercorn in Brine Recipe
I take a few peppercorns and crush them using a pestle and mortar and add to marinades for chicken, fish, shrimp… etc.
It adds a kick to fresh salads as well. Use in moderation.
The pickling solution is also great to use in dressings and marinades.
Key Ingredients: fresh green peppercorns, vinegar, water, salt, bay leaves, garlic, turmeric.
Let us know if you tried it – Green Peppercorn in Brine Recipe. Comments from you provide motivation to keep up the driving force behind this blog, bringing you more delicious and perfected recipes regularly. Please do leave a comment. We love to hear from you.
SaveSave
SaveSave
SaveSave