10 May, 2015
Green Chili Pulinkari – Tamarind Chili and Raisin Chutney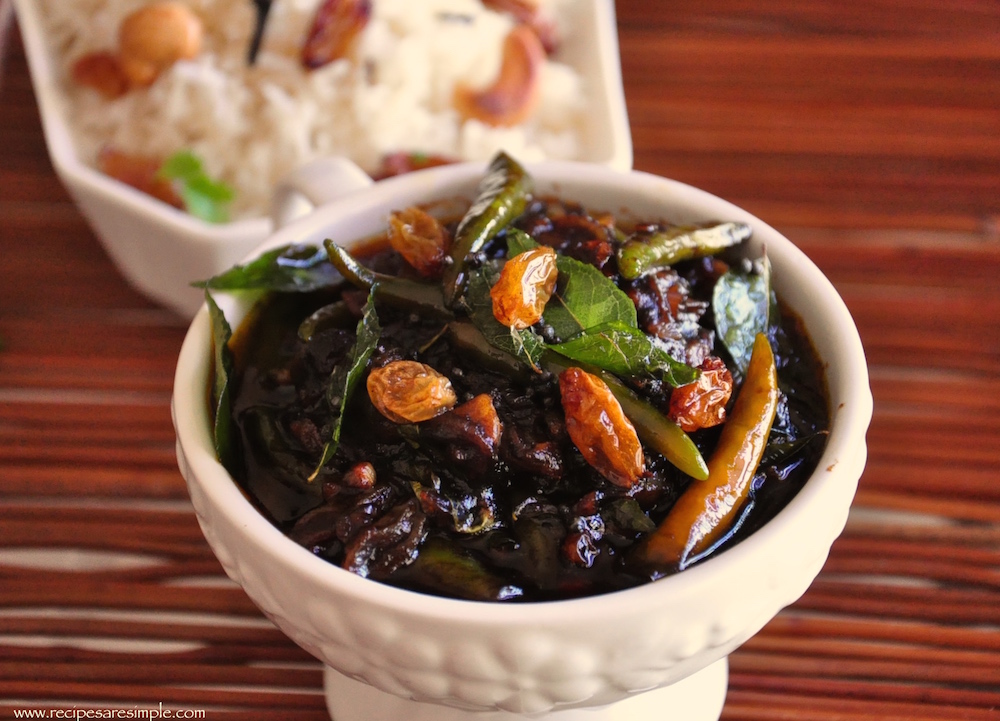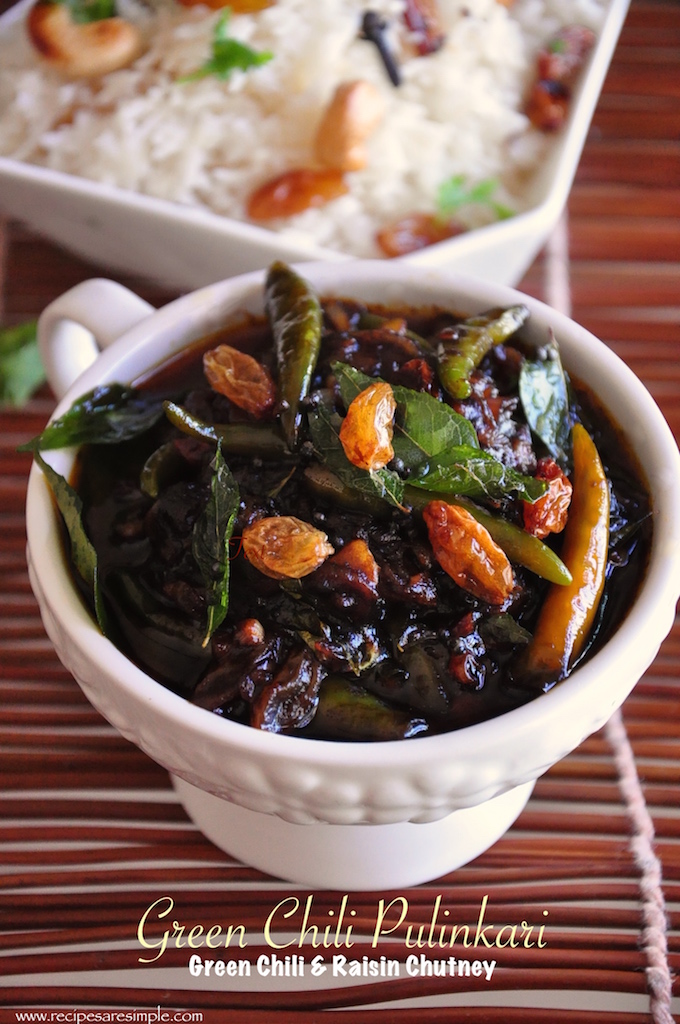 Green Chili Pulinkari – Tamarind Chili and Raisin Chutney
This is my Grand Moms Recipe.  I am filled with memories of her as I write this recipe.
She was definitely a character. I miss her. She was a little hard of hearing and when I was young, I had a terrible habit of playing with her. I would pretend I was talking, when actually I was just moving my lips… Poor Velluma thought she was losing all her hearing. I was so bad!  I was a silly child. Still, I hope she knows, I am very very sorry for that. Love you Velluma.
When she was younger, she would always make us great food. This 'Green Chili Pulinkari' is one of my favorites. No one makes it like her, but its still a great recipe! 'Pulinkari' is a type of chutney. It's  sweet, sour and slightly spiced. Excellent Side dish for Ghee Rice!
Posting this Recipe today to honor all those Mothers out there! Happy Mother's Day!




You are here: Home > Vegetarian  > Green Chili Pulinkari - Tamarind Chili and Raisin Chutney
 

Recipe Name: Green Chili Pulinkari – Tamarind Chili and Raisin Chutney

Author: Shana c/o Recipes 'R' Simple
Green Chili Pulinkari – Tamarind Chili and Raisin Chutney
Ingredients:
30 small green chillies / green thai chillies
2 Tbsp tamarind pulp
3 Tbsp garlic, finely chopped
1 Tbsp ginger, finely chopped
4-5 shallots, sliced
1 Tbsp chili powder

(I use half hot chili powder and half kashmir chili powder for color)

90 gms golden raisins / sultanas / kismis
3-4 Tbsp jaggery (cane sugar)
a pinch of salt – or to taste
¼ cup coconut oil.
For Tempering:
¹⁄8 tsp mustard seeds
 2 Tbsp curry leaves
1 dried, halved
Method:
Add the tamarind pulp into 2 cups of hot boiled water, allowing the pulp to soften.
De- stem the rinsed green chillies.
Bring  water to boil in a sauce pan.
Add the green chillies and boil for 5 minutes.
Remove from the water and set aside on kitchen paper to drain.
Heat coconut oil in a wok/ pan.
Add the green chillies and fry till the chillies are just changing color –  bright green / slightly brown. Remove from oil. Set aside.
In the oil remaining, add the raisins and fry till they all puff up. Remove from the oil quickly with a slotted spoon.
Remove some oil  from the wok.
In the remaining oil, add the shallots, garlic and ginger.
Sauté well till soft and evenly golden – about 3 minutes on medium low heat.
Now add the chili powder. Stir on low heat till aromatic and the spice smells cooked. Do not allow the chili powder to burn – stir well.
By now the tamarind has broken down in the hot water. Use hands to squeeze the pulp further to get a nice dark, tamarind solution.
Strain this solution into the curry.
Bring to boil and add the cane sugar.  Taste and add a little salt to taste. Add sugar if needed.
Simmer a few minutes on low heat, till the gravy thickens.
Return the fried chillies and raisins. Simmer briefly and remove from heat.
 For tempering: Heat 1 tsp of oil in a small pan. Add mustard seeds and allow to splutter. Add dry chili and curry leaves.
Pour over the Pulinkari.
Yummy sweet, sour & spicy 'Pulinkari' is ready!
Serve with Ghee Rice or Plain Rice as  a second or third side dish,
Green Chili Pulinkari – Tamarind Chili and Raisin Chutney
Notes: 
The aroma of the fried boiled and fried chillies is what makes this Pulinkari special. Boiling them reduces the heat as well, although you may not want to eat too many of them.
Remove the raisins from the oil quickly once they have puffed up. Over frying them, will cause them to get rather hard upon cooling.
You can use brown sugar as a substitute for cane sugar.
Key Ingredients: Green Chili, Raisins, Shallots, Ginger, Garlic, Curry Leaves, Tamarind, Chilli Powder
Let us know if you tried it – Green Chili Pulinkari . Comments from you provide motivation to keep up the driving force behind this blog, bringing you more delicious and perfected recipes regularly. Please do leave a comment. We love to hear from you.