14 February, 2013
Greek Pastitsio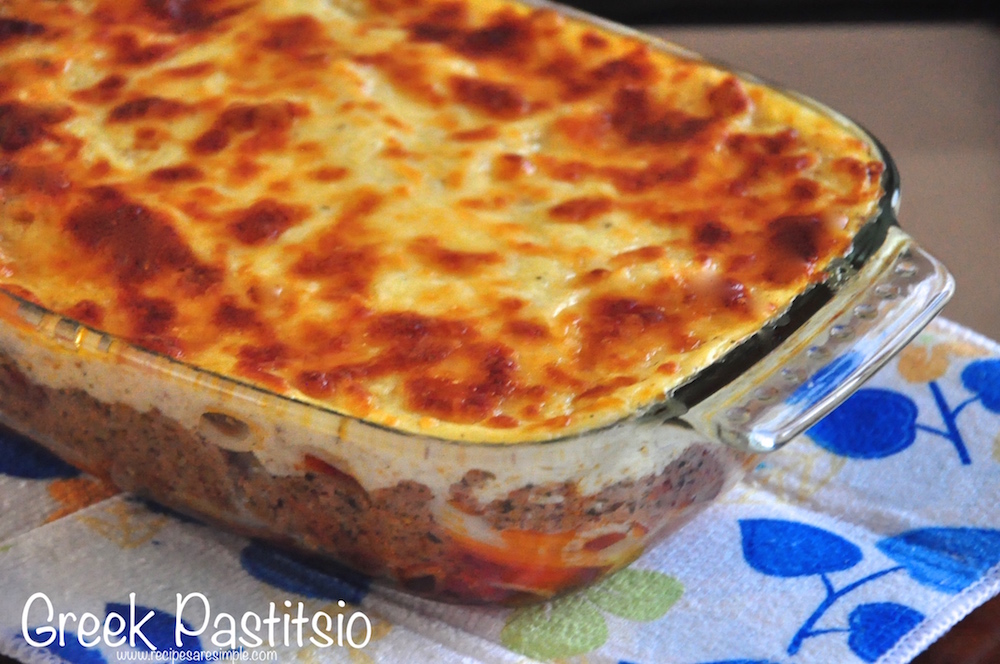 Greek Pastitsio

Greek Pastitsio and a Lovely Greek woman!
My mother spent a lot of time having her friends over to eat some Indian food. She also learnt a lot of cooking from their diverse ethnicities. Mrs Pandelis was a lovely lady who I would often see in our kitchen with mom. We loved her yummy greek cookin!!
My absolute favorite which I have prepared many a time is the Greek Pastitsio made of ground beef and penne pasta.  You could call it the greek version of Lasagne! This pasta dish is 'a must try'. Thankyou Mrs Pandelis.
I am told that 'Pastitsio' loosely translated means  'A Mess' 🙂 This is a truly authentic Greek Pastitsio Recipe. Scroll down for step wise images as well as Full Video.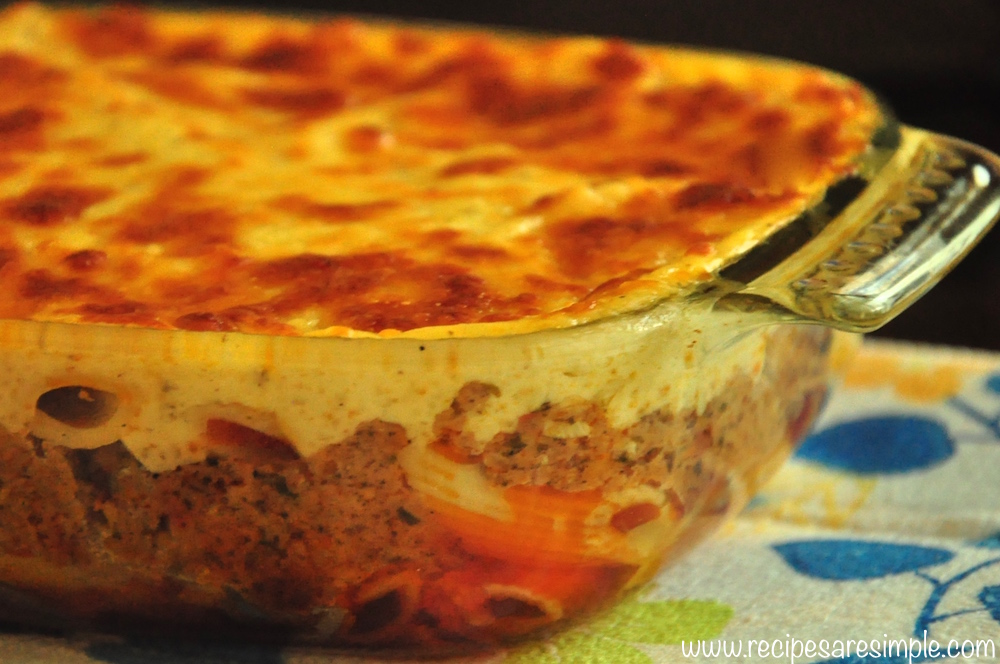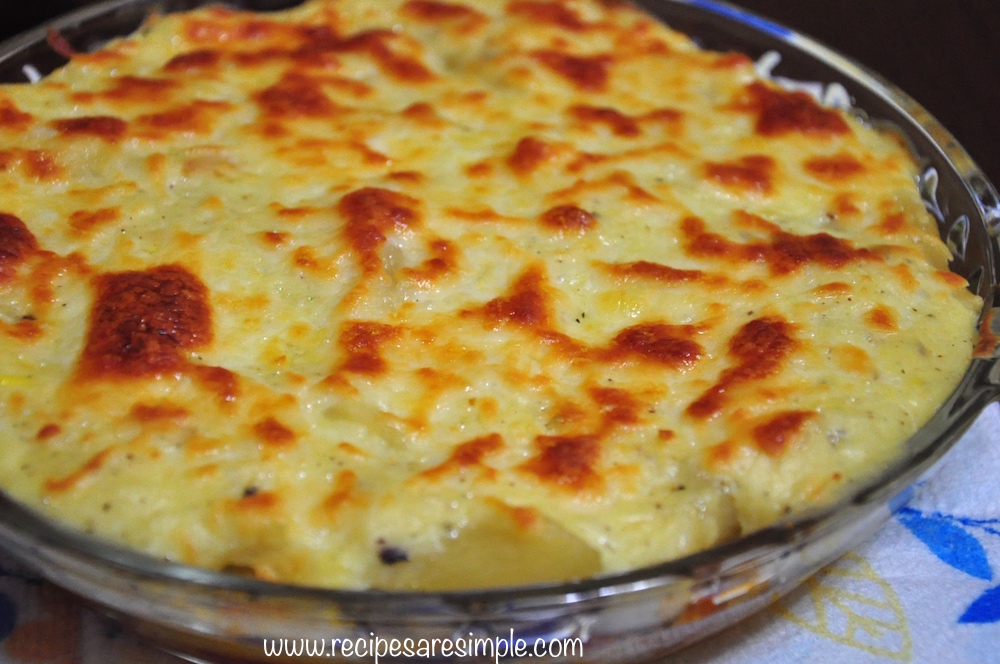 Greek Pastitsio – Video
You are here: Home > Pasta/Noodles  > Greek Pastitsio
 

Recipe Name:  Greek Pastitsio

Recipe Type: Main / Pasta

Author: Shana c/o Recipes 'R' Simple

Marination/ Resting Time : 1 hour 15 minutes
Method with step by step pictures:
For the pasta:
Cook the pasta till al 'dente in salted boiling water.

It will take approximately 15 minutes. Meanwhile, proceed with steps for the filling.

Drain the cooked  pasta. Add butter to prevent stickiness. Set aside.
For the filling:
Heat Butter in a deep wide pan. Don't allow to brown.

Saute onion and garlic till transclucent.

Add minced beef. 

Stir and cook for 5-6 minutes. The liquids will be released from the mince.
Allow these liquids to evaporate and the beef to change color.

When the liquid has evaporated, add all remaining ingredients for the filling except egg white. (Canned tomatoes, chopped tomatoes, chopped parsley, apple juice, salt, pepper, allspice).

Cook, covered, stirring occasionally, till all the liquid evaporates again.

Allow to cool. Then add egg whites. 

Stir till meat mixture is glossy. Set aside
Preheat the oven now to 180°c/350F. If using european setting, have heat elements from top and bottom switched on, while preheating.
For the Sauce (Bechamel):
Melt butter. Add the flour.

Stir quickly, till all the flour is mixed. Allow this 'roux' to cook briefly without going brown.
Add milk, a little at a time. Stir to remove lumps. Use a whisk for this.
The  milk will be absorbed and the mixture will thicken.

Add salt, pepper and nutmeg to suit your taste. Stir again till smooth. 

You can add a small amount of milk, little by little if it seems too thick.

Remove from heat. Stir in the eggs, yolks and cheese. Stir till smoothly incorporated.
To Assemble:
Lightly grease an oven proof dish with butter. Use a dish that is large enough to hold all the layers.

Make the first layer with half of the cooked pasta.

Sprinkle some cheese over this.

Add one layer consisting of all the cooked mince meat sauce.

Add the remaining pasta.

Sprinkle cheese over this layer too.

Spread the  béchamel sauce over the top to seal the dish.

Sprinkle some more cheese over the top.

Bake in a pre heated oven at 180°c/350F  on the lower rack. When the dish is put in, I like to turn off the top heating element so that cooking is done from bottom only.

Bake for 30 minutes in total.

For the last 7 minutes I like to switch on the top element and turn off the bottom heating element.

Watch carefully for the last few minutes, you want a nice golden top with cheese that is melted and not burnt.
Greek Pastitsio Recipe
Notes: 
In the original recipe Dry white wine is used in place of apple juice.
Apple juice is a good substitute for those who avoid alcohol. Make sure it's not one of those extra sweet types though.
You may decide not to use all the sauce and set some aside for another snack. Depends on whether you like a more hefty serving.
Allspice can be substituted with a combination of powdered cinnamon and cloves.
Read more about Greek Cuisine.
Key Ingredients: Beef, Penne Pasta, Onion, Tomates, Garlic, Flour, Cheese, Spices, Salt, Butter, Egg, Apple Juice/Wine, Hot Milk.
Let us know if you tried – Greek Pastitsio Recipe . 





Back to Recipe Finder. Thanks for visiting www.recipesaresimple.com