29 December, 2015
Gingerbread Man Recipe | Decorated with Royal Icing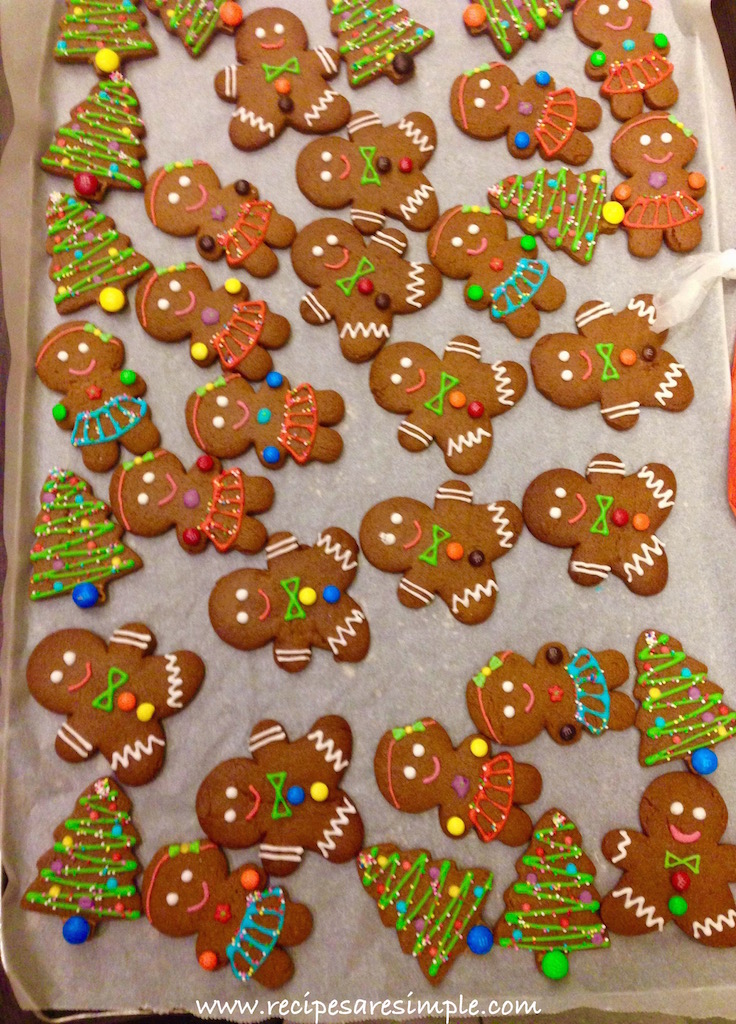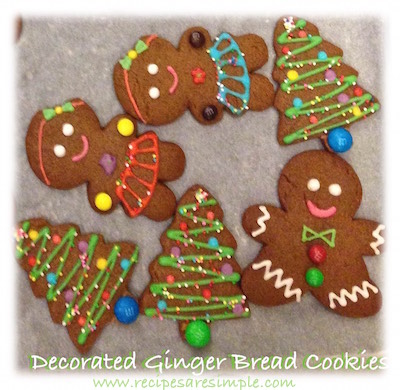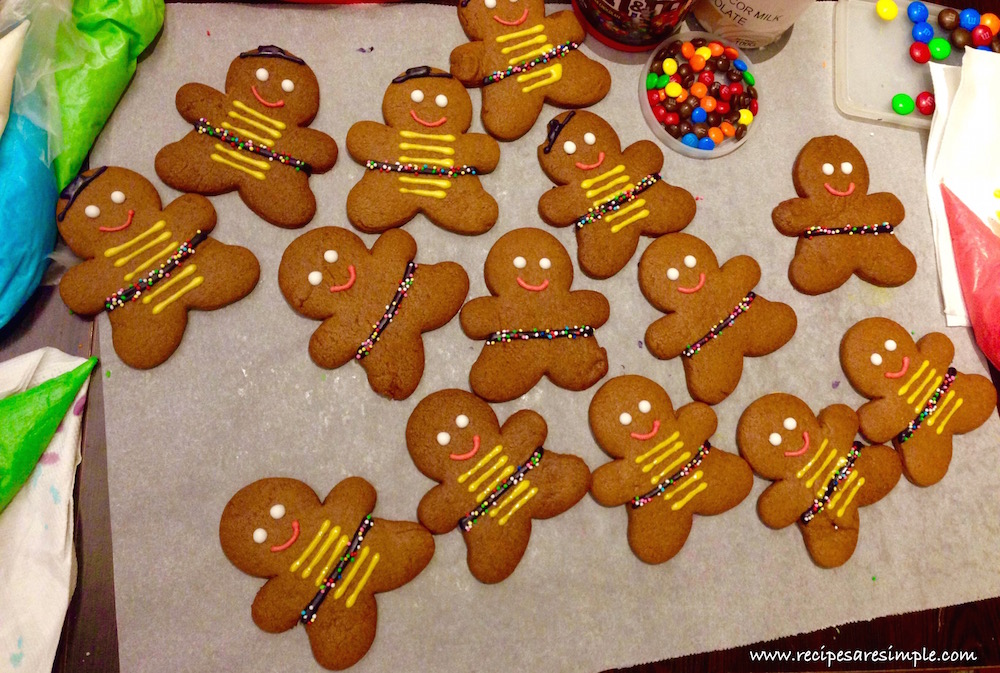 Gingerbread Man Recipe | Decorated with Royal Icing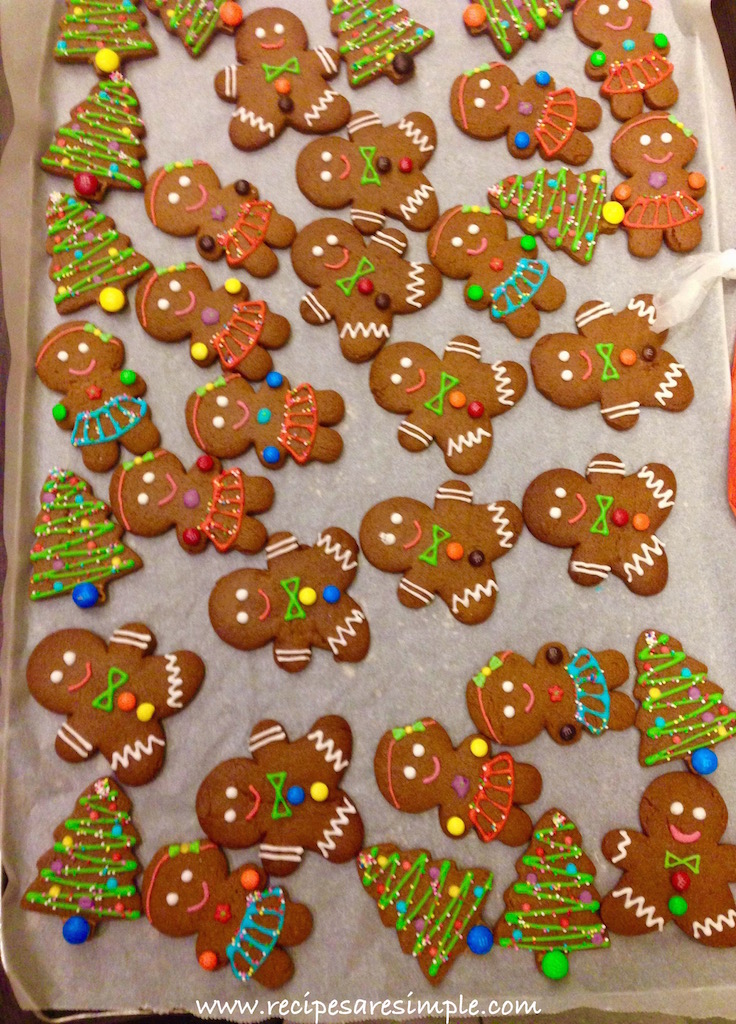 A Gingerbread man is a biscuit made of gingerbread, usually in the shape of a man although ginger bread women are common too, as are cookies shaped according to seasonal themes (Christmas, Halloween, Easter, etc).
GingerBread dates back to the 15th century and human shaped ginger bread biscuits dates back to the 16th century.
According to the fairytale of ' The Gingerbread Man' a childless old woman bakes a gingerbread man who magically comes to life  leaps from her oven and runs away. The woman and her husband try to catch him but fail. In the story the ginger bread man continues to run and escape from various pursuers. The lines ' You can't catch me. I'm the Gingerbread Man ' are famous in the story.
I love making these biscuits for holidays with the kids. They are fine left as they are or for a more festive feel, decorated with royal icing, candy etc.
Gingerbread Man Recipe | Decorated with Royal Icing
You are here: Home > Dessert/Cookies  > Gingerbread Man Recipe
 

Recipe Name: Gingerbread Man Recipe | Decorated with Royal Icing

Recipe Type: Festive / Dessert

Author: Shana c/o Recipes 'R' Simple
Ingredients:
Gingerbread Men
1 cup (8 oz) plain flour
½ tsp baking soda
½ tsp ground ginger
½ tsp ground cinnamon
¼ tsp salt
¼ cup ( 2 oz) butter
½ cup (4 oz) brown sugar
2 Tbsp golden syrup
3 Tbsp milk
Royal Icing:
2 large egg whites (pasteurized)
2 tsp fresh lemon juice OR 1 tsp vanilla extract
3 cups icing / confectioners sugar
food coloring as required
Method:
Gingerbread Men
Sift the dry ingredients ( flour,baking soda, ginger, cinnamon and salt) together into a bowl.
In a saucepan or microwave, heat the butter sugar and syrup gently till melted.
Make a well in the centre of the flour mixture and pour in the milk and the melted ingredients.
Mix well and knead lightly.
Cover the bowl with plastic wrap and refrigerate for 30 minutes.
Roll out the chilled dough into 1/4 inch thickness.
Using shaped and festive cookie cutters, cut out the cookies.
Roll out the remaining scrap dough together and cut again.
Place on baking tray lined with cookie sheet / wax paper.
Bake at 160º c/ 325º F for 15- 20 minutes.
Transfer to wire rack to cool.
Royal Icing:
Using a handheld mixer, beat the egg whites with the juice or extract until frothy.
Reduce speed to low and add the powdered sugar.
Beat till smooth and shiny.
Increase speed to high and continue to beat for 5 minutes till stiff and glossy.
Divide and stir in coloring as needed. Transfer into plastic/ cloth piping bags to pipe onto the cooled cookies.
Gingerbread Man Recipe | Decorated with Royal Icing
I decorated my gingerbread cookies, with royal icing, candy, melted chocolate and sprinkles. Be creative… it can be so much fun!
Key Ingredients: Flour, Spices, Sugar, Salt, Baking Soda, Butter, Milk, Egg, Flavoring.
Leave a comment if you tried  the- Gingerbread Man Recipe | Decorated with Royal Icing. Comments from you provides motivation to keep up the driving force behind this blog, bringing you more delicious and perfected recipes regularly.  Help us to Keep On Keepin' On (: !