25 November, 2013
Ghee Rice / NeyChoru made in a Rice Cooker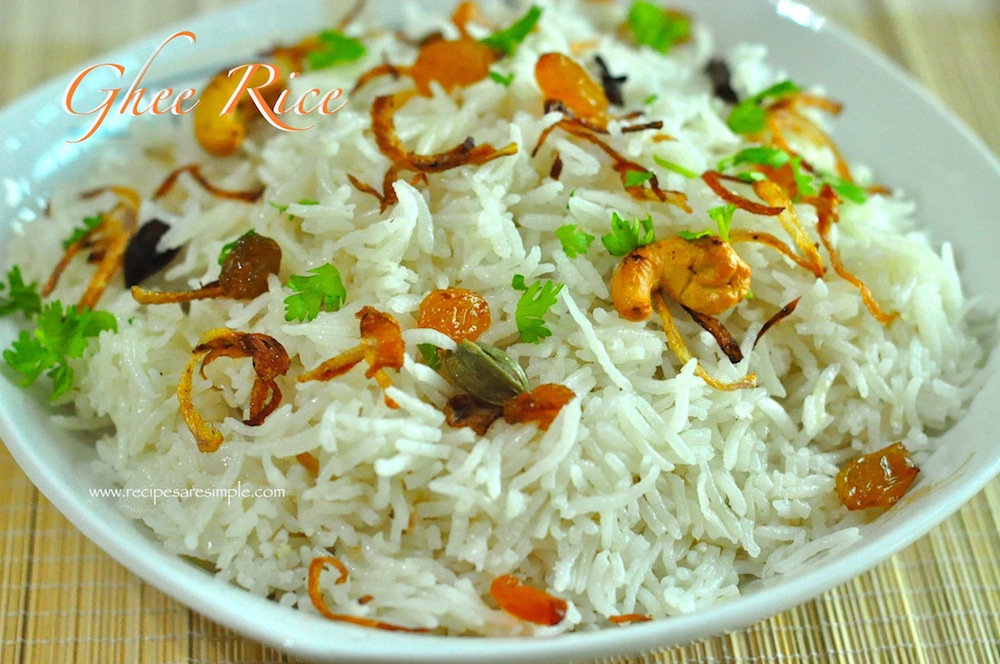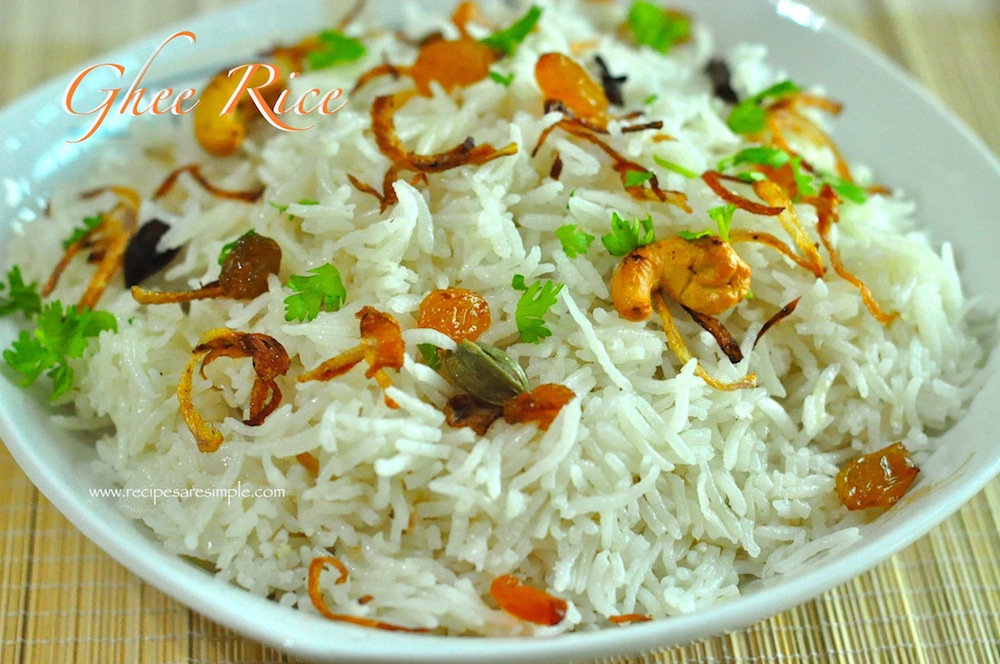 Ghee Rice / NeyChoru
Ghee Rice  or 'Ney Choru' is very easy to make and is one of those dishes that you can make for Sunday Lunches or Weeknight dinners very simply! In our house we like our ghee rice with a good Country Style Chicken Curry or a  Yummy Beef Curry.  It's also great with Dal – TryDal & Ridgegourd Curry
This rice is wonderfully aromatic and the grains are light and fluffy!
You can make the ghee rice in an ordinary pot with a tight lid and simmer on low heat, covered till the rice is fluffy – You have to watch it.  If you have a thermal cooker, you can prepare the rice and bring the water to boil in the inner pot and then close the thermal cooker for an hour -You will get a nice fluffy Ghee rice. And my favorite way: using a Rice Cooker. Fry the Onions and spices  right in your rice cooker, add water and cook closed! When you Rice cooker lights off, your ghee rice is perfect. Switch it off, and fluff up with a fork. (Do not leave on 'WARM' setting as this will cause a layer of crisped rice on the bottom.)
Ghee Rice / NeyChoru
Author:
Prep time:
Cook time:
Total time:
Ingredients:
2 cups Basmati or Long Grain Rice
4 cups water – room temperature
2 Tbsp Ghee /Clarified Butter + 4 Tbsp For frying the garnish
1 ½ tsp salt
8 cloves
8 green cardamom
4 small sticks of cinnamon
¼ piece of star anise
1 Onion Sliced finely
¹⁄8 tsp (very little) minced garlic- this gives the aroma a boost.
a couple of squirts of fresh lime juice
Shallots, sliced finely, Cashewnuts and Golden Raisins – For garnish.
Method:
Wash Rice. Soak 5 minutes. Drain well for 20 minutes.
Heat ghee in your in your rice cooker pot. (On 'Cook' mode)
Add the Whole spices. Allow to crackle.
When aromatic, add the minced garlic. Stir once till softened- do not turn brown.
Add the sliced onion. Stir well.
Close the rice cooker and allow to go to 'WARM' setting. ( Open and stir a few times if needed). Switch  the power off and wait for a few minutes.- The onions will be golden now.
Turn the rice cooker on again – Place on 'Cook' Mode. When the mixture has warmed up again, add the drained rice.
Stir well, tossing gently in the golden onion mixture till all the grains are glossed with ghee.
Close the cooker and allow to go to 'Warm' setting again. Turn the power off again. Wait a minute.

Open the rice cooker and add the Water and salt. Bring to a simmer, closed. Also add a few squirts of lime juice. Close the rice cooker again- till the light indicates 'WARM' .

Once the cooker light indicates'WARM' again , ie… the cooking is done, Switch off the power, so that rice does not get crisp on the bottom. Leave closed for 5 minutes. Then open and fluff up  gently with a fork, from the bottom of the rice cooker. Fluffy light Ghee rice is ready.
Place in serving platter and garnish with the fried ingredients as desired.
For the Fried Garnish (Shallots, Cashews and Golden Raisins)
Heat ghee fr frying in a small pan or wok.
Add the raisins. They will quickly puff up. Remove with slotted spoon onto paper towels.
Next add the Cashews, fry quickly till golden. Remove to paper towel as well to drain.
Now Add the Thinly Sliced Shallots. (very thin)
Stir continuously and fry till light golden and crisp. Scoop out quickly and drain on paper towels.
(Note that the shallots  take some time to turn golden but will turn black from golden extremely quickly so work fast)
Ghee Rice / NeyChoru
Try and let us know – Ghee Rice / NeyChoru

Garnish can also include chopped fresh coriander leaves and some pineapple if you like it.
For even more flavorful rice, if you are not in a hurry- try the following. Sauce the rice in the cooker briefly and then switch off the cooker. Later when you need the rice, switch the cooker on again add the water and continue with the recipe. This makes an even more  fragrant and delicious rice. Make sure you switch off the power source if leaving for longer periods of time. If you leave it on warm too long the rice may brown a bit.