1 April, 2013
General Tso's Chicken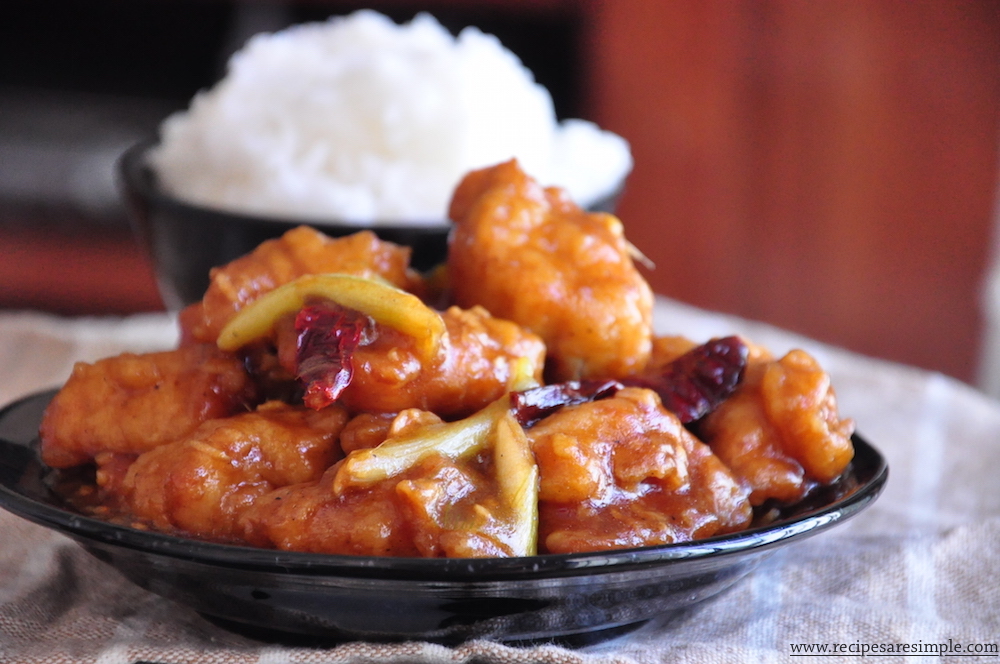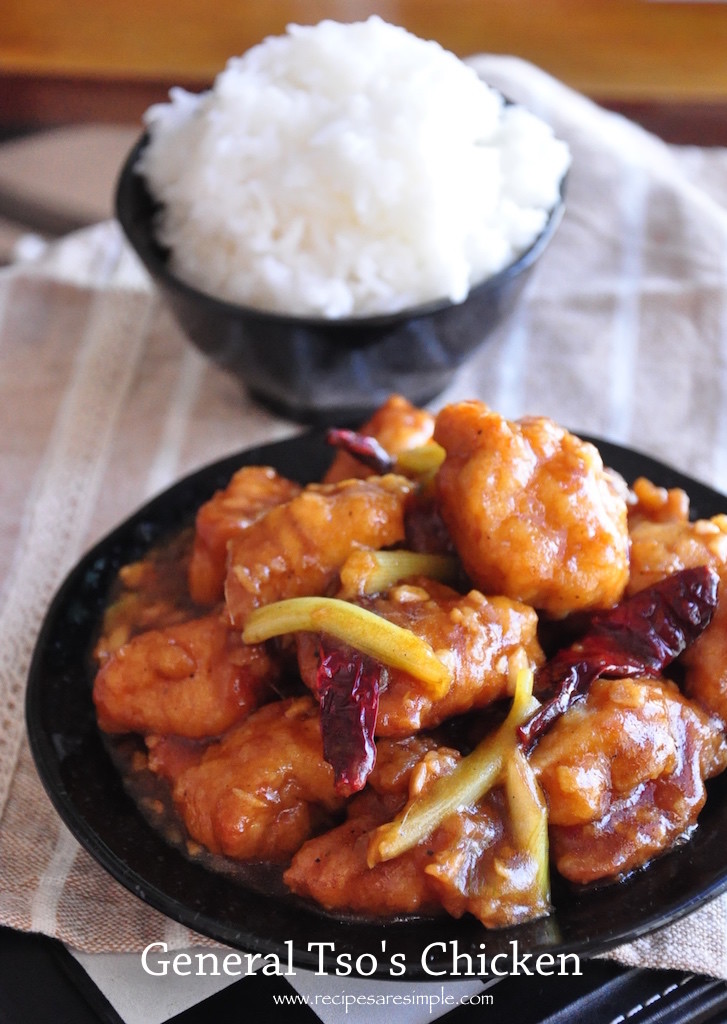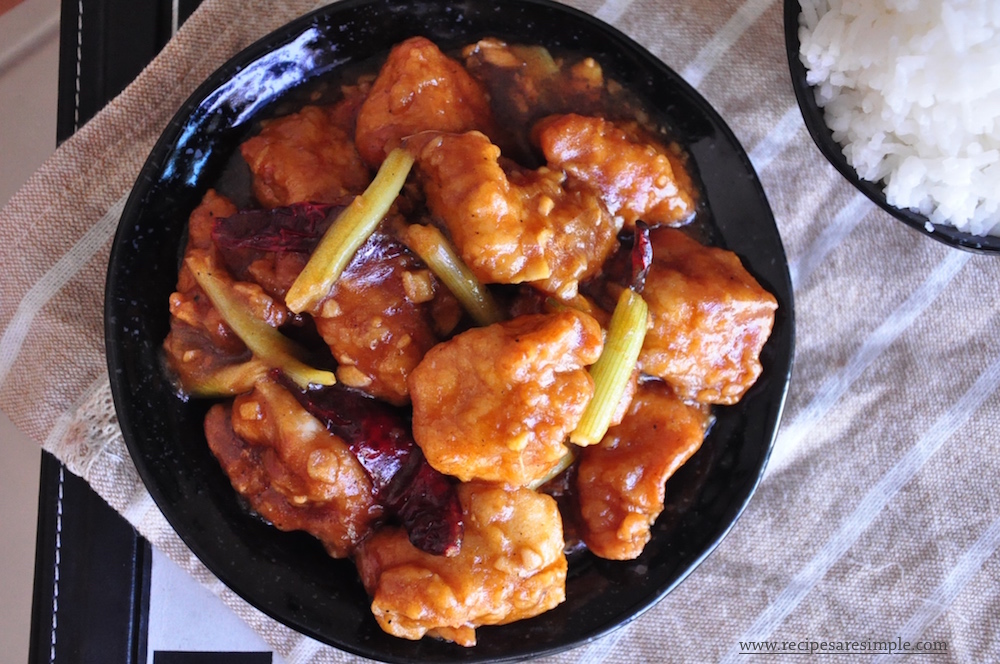 General Tso's Chicken
General Tso's chicken or simply General's Chicken is a comforting, saucy fried chicken dish which is hugely popular in American Chinese restaurants and a popular chinese take out item. It is said that this dish was actually bought back to Asia from the United States in the late 1940's and named after a Chinese General.
The dish is reported to have been introduced to New York City restaurants in the early 1970s as an example of Hunan Cuisine  though it is not typical of Hunanese cuisine, which is traditionally very spicy, rarely sweet. (Perhaps altered to cater to American tastes) The dish was first documented in the New York Times in 1977. The chicken is batter fried and hence stays nice and tender in a thickened sauce flavored with ginger, garlic, dried chillies and scallions.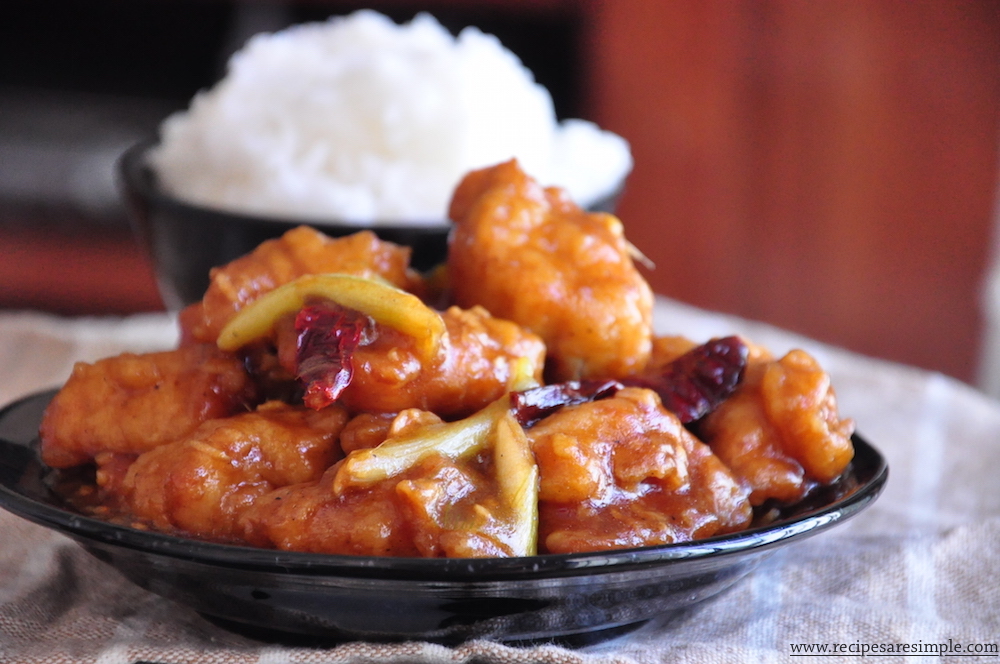 General Tso's Chicken
Recipe Type: Main
Author: Recipes 'R' Simple
Prep time: 
Cook time: 
Total time: 
Serves: 6
Ingredients:
3 pounds /1 ¼kg boneless skinless chicken , cut into bite-sized pieces(thigh and breast)

¼ cup light soy sauce
1 tsp white pepper
1 egg, lightly beaten
½-¾ cup cornflour
Oil for deep frying and for seasoning
1½ tsp ginger, finely minced
1½ tsp garlic, finely minced
4-5 dried red chiles, deseeded if desired
2 -3 stalks scallion, white-part only, cut into 1-inch lengths
½ tsp black pepper powder
2 Tbsp oyster sauce
For the Sauce:
2 Tbsp Chinese rice vinegar or less
2 ½ Tbsp  soy sauce
½ Tbsp  dark soy sauce
1 tsp Hoisin sauce (optional)
1 cup water up to  2 cups
1-2 Tbsp  brown sugar
½Tbsp  Shaoxing Wine (traditionally used, may be omitted)
2 Tbsp  corn flour
Method:
Mix all the ingredients for the Sauce in a  bowl. Taste and adjust seasonings.
Set aside.
Marinate the chicken meat with the soy sauce and white pepper for 15 minutes. Add the egg to the chicken and mix well.
Coat the marinated chicken well  with the cornflour.
Heat up oil for deep frying. Deep fry the chicken till golden brown (in batches to prevent overcrowding). Drain excess oil by laying chicken on strainer over a bowl.
Heat about 1 ½ Tbsp oil in another wok. Add the minced ginger, garlic and dried chilies and stir-fry till aromatic.
Add in the sauce ingredients and stir. (There should be enough water in the sauce to cover the chicken).
Bring to boil and allow to thicken, somewhat.
Now add the fried chicken, stir gently.
Allow the sauce to coat the chicken well, careful not the break the crust of the fried chicken. It should soak up the sauces nicely.
When the chicken is nicely glazed with the thickened sauce, add the oyster sauce and black pepper powder. Stir through.
Lastly, stir in scallion as a garnish and serve with steamed white rice!
General Tso's Chicken
You May Also Like :Chicken Manchurian , Chilly ChickenFry