16 January, 2016
Garlic Pepper Chicken Chettinad | Bachelors Cooking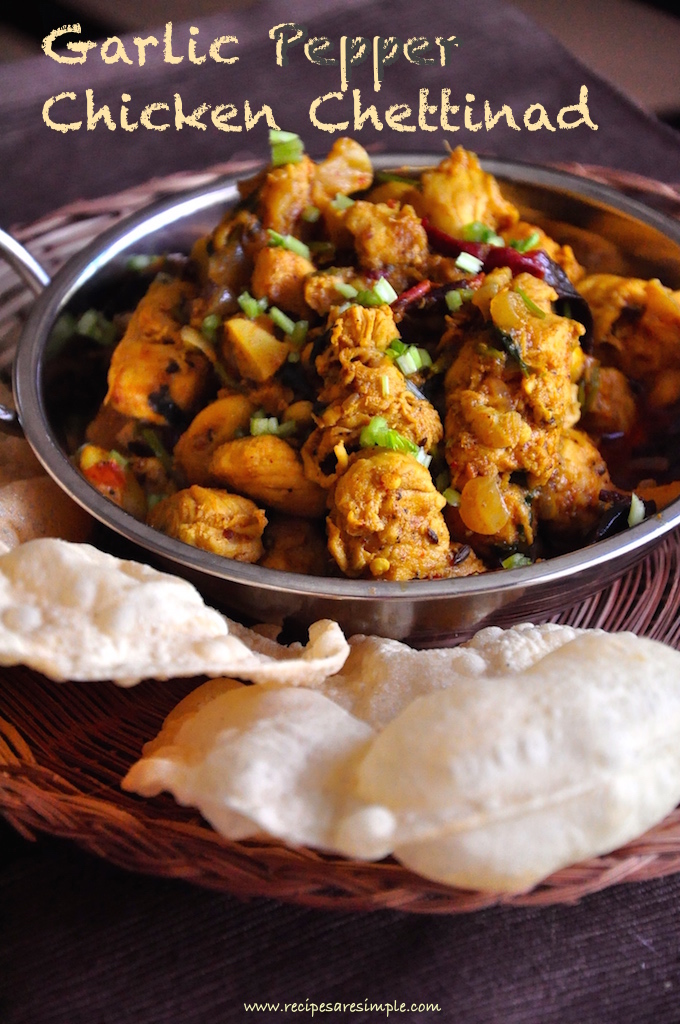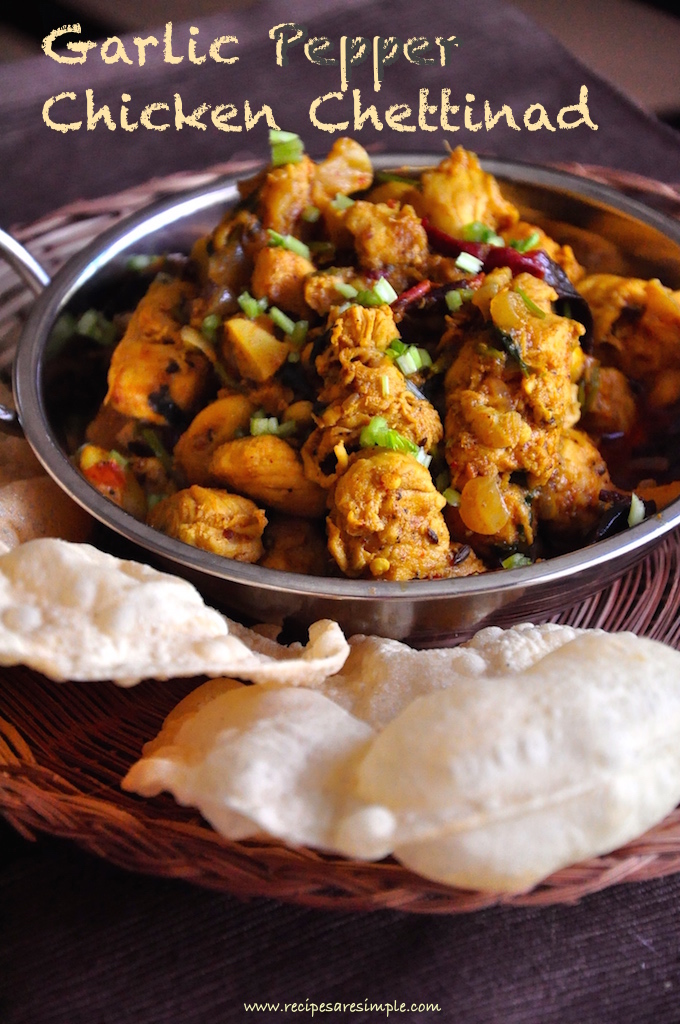 Garlic Pepper Chicken Chettinad | Bachelors Cooking
A bachelors recipe, this Garl ic Pepper Chicken Chettinad can be made in  very little time and very easily. The gravy can be adjusted to suit your needs. Serve with Chapathi or Rice and vegetable stir fry.
Garlic Pepper Chicken Chettinad | Bachelors Cooking
You are here: Home > Chicken Dishes > Garlic Pepper Chicken Chettinad
 

Recipe Name: Garlic Pepper Chicken Chettinad 

Author: Shana c/o Recipes 'R' Simple
Ingredients:
500 gms chicken, cut into small pieces ( bone left in is preferred)
to be ground together – ¾ tsp black peppercorns ¾ tsp cumin seeds
3 small sticks of cinnamon
1 bay leaf3 dry chillies,
cut up½ tsp cumin seeds
½ tsp fennel seeds
1 medium sized onion, finely chopped
8 large cloves garlic, sliced
1 Tbsp ginger, finely chopped
½ tsp turmeric powder
1 tsp curry powder or meat curry powder of choice
1 tsp red chilli powder
1 tsp salt, or to taste
4 Tbsp oil
Method:
Rinse the chicken and cut into small pieces. Rinse well and set aside to drain.
Crush or Grind the peppercorn and cumin seeds
Heat oil in a cast iron wok. Add the cinnamon, bay leaf and dried chillies. Stir briefly.
To this add the cumin and fennel seed and allow to sizzle slightly.
Now add the chopped onion and garlic. Saute till softened.
Add the turmeric and stir through.
Now add the chicken and ginger. Toss well in the mixture.
Partially cover and allow the chicken to cook in its own juices on med low heat till the chicken is half cooked.
Now add the remaining spice powders and salt. Toss the chicken well to coat.
Stir – fry the chicken, adding a splash of water to prevent any scorching of the spices.
Once the chicken is cooked tender, add the sliced shallots and toss well for a couple of minutes – this enhances flavor.
Garlic Pepper Chicken Chettinad | Bachelors Cooking
If you like it spicy, increase the chill powder and black pepper.
Freshly ground black pepper is best for Chettinad spicy chicken.
Key Ingredients: Chicken, Onion, Ginger, Garlic, Spices, Salt, Oil
Leave a comment if you tried – Garlic Pepper Chicken Chettinad | Bachelors Cooking. Comments from you provides motivation to keep up the driving force behind this blog, bringing you more delicious and perfected recipes regularly.  Help us to Keep On Keepin' On (: !