22 October, 2014
Garden Salad – Olives in the Garden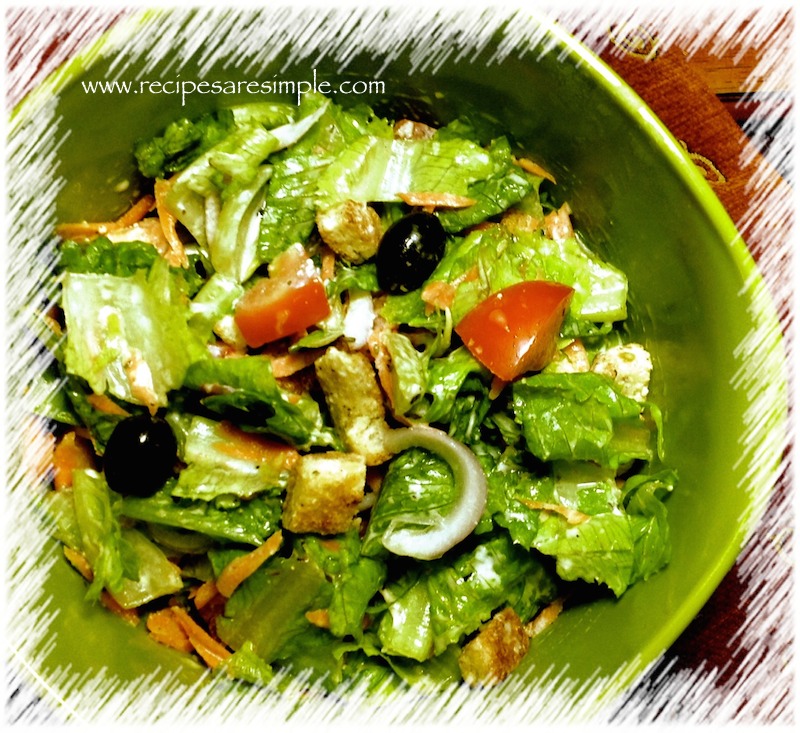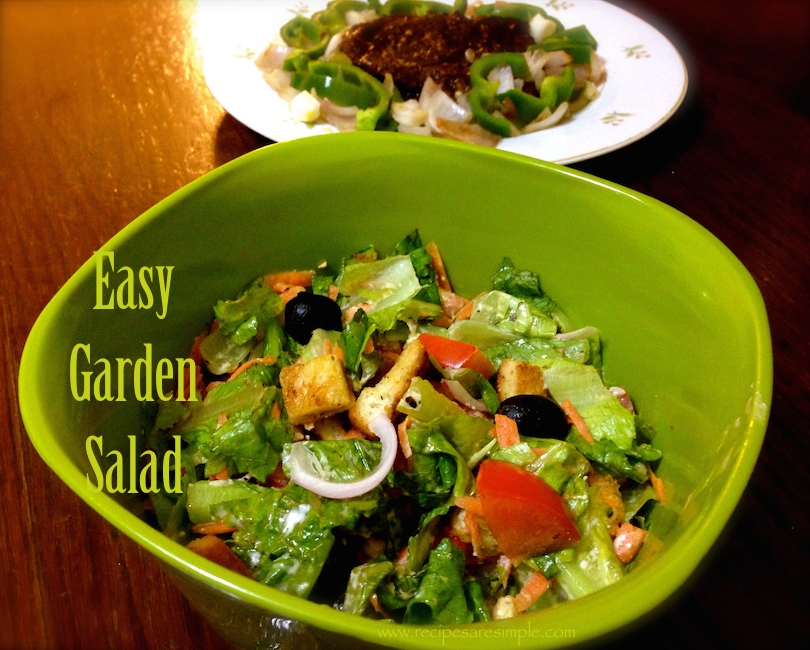 Garden Salad – Olives in the Garden
Fresh and flavorful Garden Salad. An anytime salad. Great on its own or as a side dish. Crisp home made croutons and a lovely home made dressing. Toss it together in no time.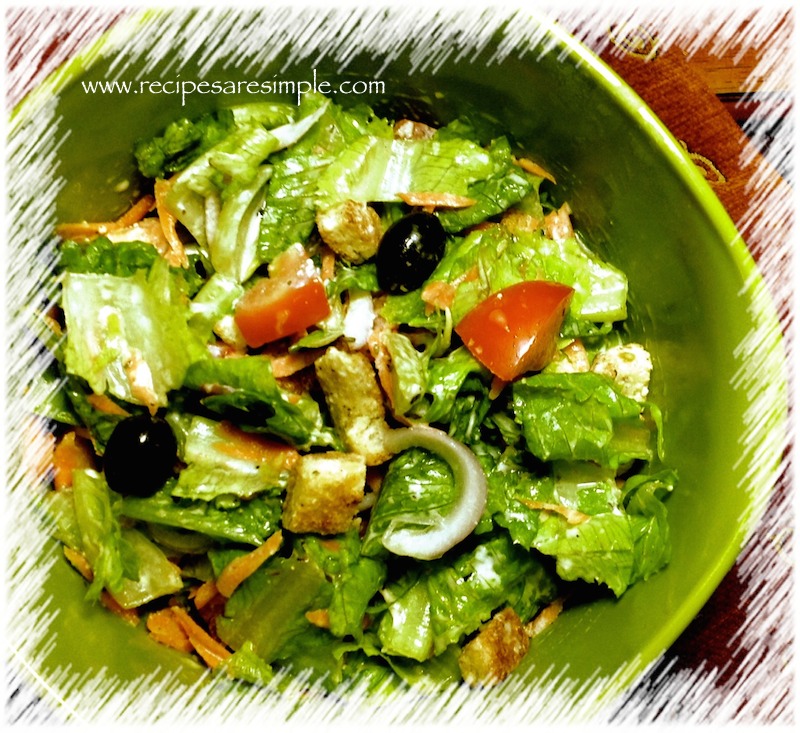 Garden Salad – Olives in the Garden
Recipe Type: Salads

Author: Recipes 'R' Simple

Prep time: 5

Cook time: 20

Total time: 25

Serves: 4
Ingredients:
4 cups Romaine Lettuce, loosely packed

: We will not use the outermost leaves. Put that in a sandwich. With the remaining heart of the lettuce -rinse, drain and spin if you have a salad spinner for best results OR allow to drain in the fridge. 

3 Ripe and firm tomatoes, chopped
1 medium red onion, sliced
½ cup pitted black olives
¼ cup good quality parmesan cheese, FINELY grated
For the Dressing:
¼ cup mayonnaise
¹⁄8 cup white vinegar
2 Tbsp corn syrup
1 Tbsp Parmesan Cheese (finely grated)
½ tsp minced garlic
¼ tsp or more  dried Italian Seasoning + for sprinkling
½ tsp dried parsley flakes
1 – 2 tsp lemon juice ( according to taste)
For croutons:
4 slices of bread – white or whole meal
3 Tbsp olive oil
½ tsp dried Italian Seasoning
Method:
First get the croutons started.

Toast the slices of bread. ( toast till pale golden – not brown. Use toaster OR  lightly oiled pan) Proceed to dice into desired crouton size.  Toss in and oven proof dish with the olive oil and seasoning. All the croutons should be evenly coated. Sprinkle salt to taste.

Place in a 150ºc/  300 ºF oven ( no preheating required) for 15 to 20 minutes. The croutons should stay golden. Keep and eye on this as oven temperatures may vary. Leave in the oven (switched off) till time to serve.

 Next prepare the dressing.  

Put all ingredients ( except lemon juice)  for the dressing in a small bowl. ( I like to use a jar).  Whisk tip smooth.  (You could also use a small food processor). Add a spoon of water if it seems too thick. Taste and add lemon juice. Set aside.

Now prepare the salad.

Chop the  drained lettuce leaves into 4 or 5 segments across the length. (Discard the root portion)
Chop tomatoes into bite size pieces.
Slice the onion thinly.
Add lettuce, tomatoes, onion, black olives and cheese into serving bowl and toss.
Pour over desired amount of dressing and toss again. Refrigerate till served.
Toss in the croutons 5 minutes before serving. Keep the dressing on the side to add according to taste.
Enjoy.
Garden Salad – Olives in the Garden
Try it and let us know – Garden Salad – Olives in the Garden .