11 June, 2016
Galouti Kebab – The Royal Melting Kebabs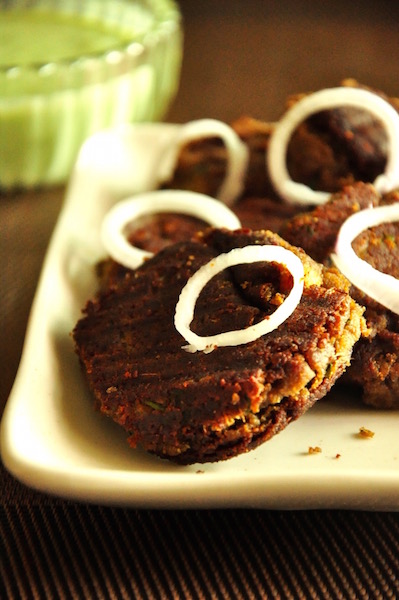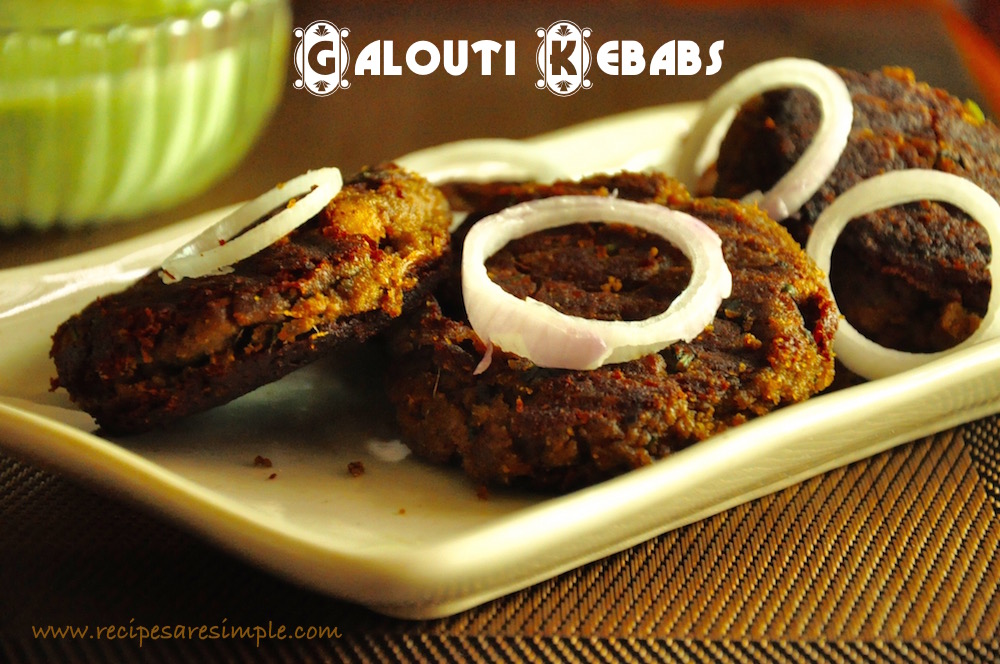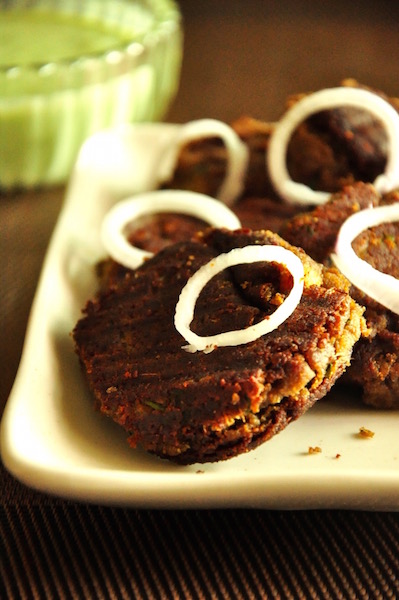 Galouti Kebab – The Royal Melting Kebabs
The Galouti Kebab (Galawati Kebab)  is quite different as far as Kebabs go.. It truly melts in your mouth! I bet the phrase 'melt in mouth' was coined after having these kebabs! There is an interesting story behind the melting kebabs… The Rulers / Nawabs of Lucknow (formerly known as Awadh) were notorious for their exuberant lifestyles filled with vast luxury. But on the bright side (for us), many a regal dish was created on demand and till today remain prized recipes. Their fanciful palettes demanded and their Bawarchis (head chefs) delivered exciting food fit for a King!  Galouti Kebab, legend has it is the product delivered to the aging Nawab of Kakori (Wajid Ali Shah) , Kakori is Famous for the Kakori Kebabs. The nawab had lost his teeth, and demanded for a kebab which would not require the use of his teeth! Hence was born the softest, most delicate kebabs in the world!  The Royal Melting Kebabs.
Try to stick to this recipe, to get the authentic taste. Check out the video.
Galouti Kebab – The Royal Melting Kebabs
You are here: Home > Beef & Mutton > Galouti Kebab
 

Recipe Name: Galouti Kebab

Author: Shana c/o Recipes 'R' Simple
Ingredients:
600 gms minced mutton – rinsed and drained well to remove all water
To pre-cook the minced mutton
¼ tsp mace
¼ tsp nutmeg
¼ tsp black cardamom (seeds only)
2 small sticks cinnamon
½ tsp you favorite garam masala powder
½ cup water
Other ingredients:
1 tsp salt – I used a combination of ½ tsp pink himalayan salt and ½ tsp black salt (kala namak) 
2 Tbsp freshly chopped coriander / cilantro
½ tsp baking soda
2 tsp meat tenderizer powder – papaya based (Papain) or wild cucumber based (Kachri)
½ (generous) tsp tandoori masala powder

(Preferred – but if you don't have it, simply replace with more garam masala)

½ (generous) tsp  garam masala powder
½ (generous) tsp red chilli powder
1 large egg white
3 Tbsp ginger garlic paste
2 large onions, finely sliced
5 Tbsp chick pea flour (besan)
5 Tbsp melted butter or ghee (clarified butter)
Oil as needed

(for frying the onions and grilling the kebabs)
Method:
Grind all the spices ( to pre-cook ) the mince together.
Add the mince, the ground spice mix as well as water( ½ cup) to a pressure cooker.
Mix well. Pressure cook on high for 3 steam whistles. Then lower the heat and cook for 3 more minutes. The mince should be thoroughly cooked. Leave the cooker to cool off without manually dispatching steam.
Once cool, open and return to heat to boil off any remaining liquid.
Once all the liquid had dried up remove from heat. Leave to cool off.
While the mince is being cooked, fry the finely sliced onions in enough oil, till golden brown. Drain on paper towels.
Grind the cooked mince to a paste and set aside.
Grind the fried onion to a fried onion paste and add to the mince paste.
Heat the chick pea flour (besan) in a dry pan till it smells nice and nutty.
Add this as well as all other ingredients (except oil) to the mince and onion paste.
Mix well till thoroughly incorporated. The mixture should feel light and fluffy.
Cover and refrigerate for 1 hour.
Remove from fridge and smoke if desired.

(See notes) .

Form into golf ball sized portions and press into tight patties. There is no liquid, so they should form nice and tightly.
Spread a thin layer of oil over frying pan or grill pan with a paper towel.
When the pan is just moderately hot, place the patties and grill one side till set.
Gently flip over (they are very delicate) and grill other side.
Serve with green chutney and plenty of sliced onion rings.
Galouti Kebab – The Royal Melting Kebabs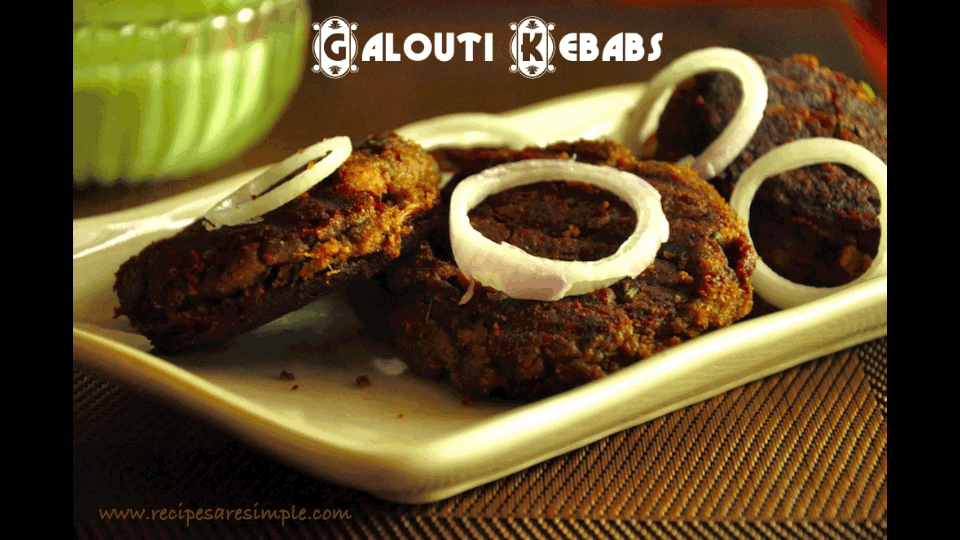 To smoke the prepared mince mixture, heat a small piece of charcoal till piping hot and red! Place in a small steel tumbler in the centre of the mince meat bowl. Pout a few drops of oil on it. Cover, as it begins to smoke and weight the lid down to prevent any smoke from escaping. Leave like this for the smoke to die down. This gives a nice smoky aroma to the prepared mince.
Key Ingredients: Minced Mutton, Spices, Onion, Garlic, Ginger, Egg, Chickpea Flour, Baking Soda, Meat Tenderizer, Butter, Coriander, Oil, Salt.
Leave a comment if you tried – Galouti Kebab – The Royal Melting Kebabs .