6 February, 2016
FROSTED FUDGY BROWNIE RECIPE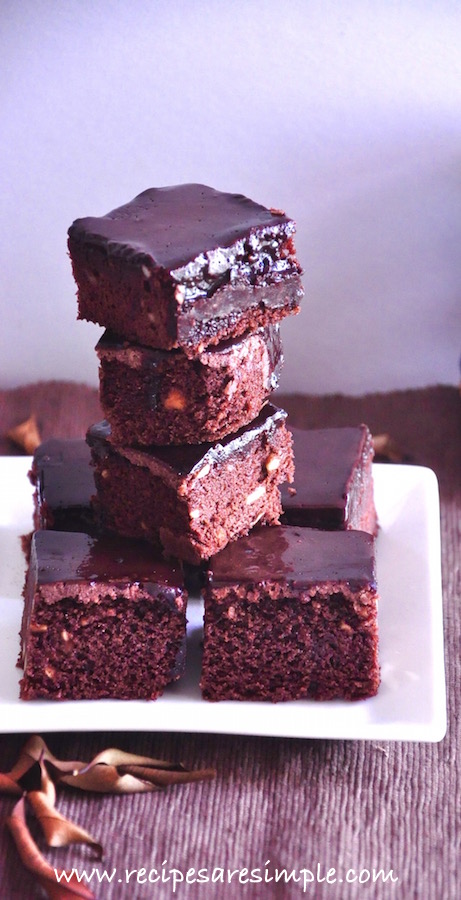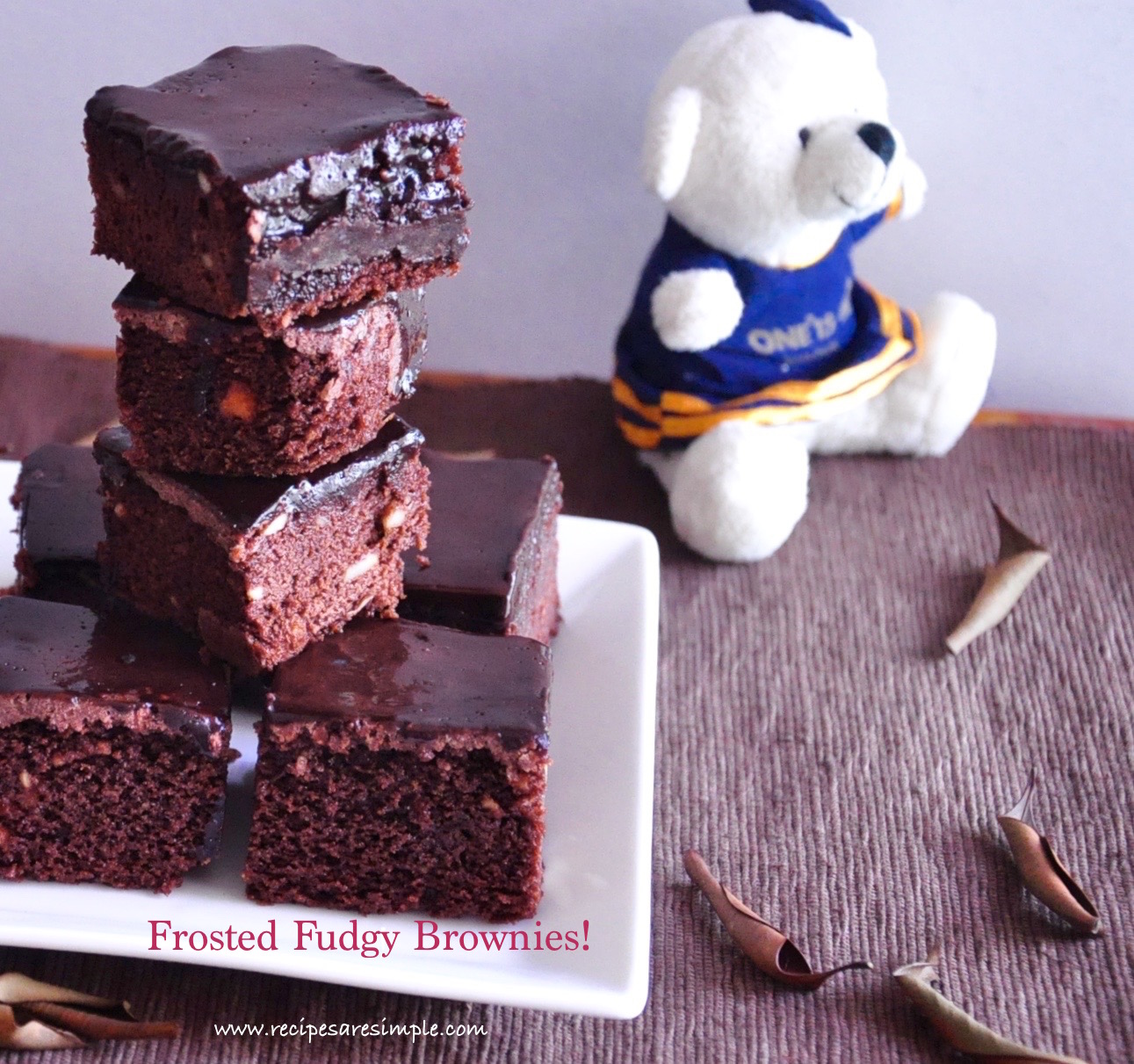 Yummy! FROSTED FUDGY BROWNIE RECIPE.
This Frosted Fudgy Brownie Recipe is something I have depended for many many occasions. I thought it's time I shared it with you all.
Brownies are said to have come into existence at the Palmer House Hotel, Chicaco in the late 1800's. The wife of the Owner asked the chef to create a dessert for a socialite gathering. She requested for a dessert that was similar but smaller than a slice of cake and could be packed into a lunch box. By the early 1900's the Brownie was a recognized dessert, typically eaten by hand and accompanied by a cup of milk or coffee.
There is something about these chocolate delights with their crinkled tops, that makes you want to reach for one, without a second thought. What's your preference: Cakey, Fudgy or Chewy? Centre or Edge? Hot or cool? This recipe makes a delicious Fudgy Brownie using Dutch Processed Cocoa Powder and Shortening. I have found that they must be made in a light colored Aluminum Baking Pan for best results.
These brownies are fudgy, moist and just bordering on the cakey side. They have a certain melting quality that I love! Hope you will too.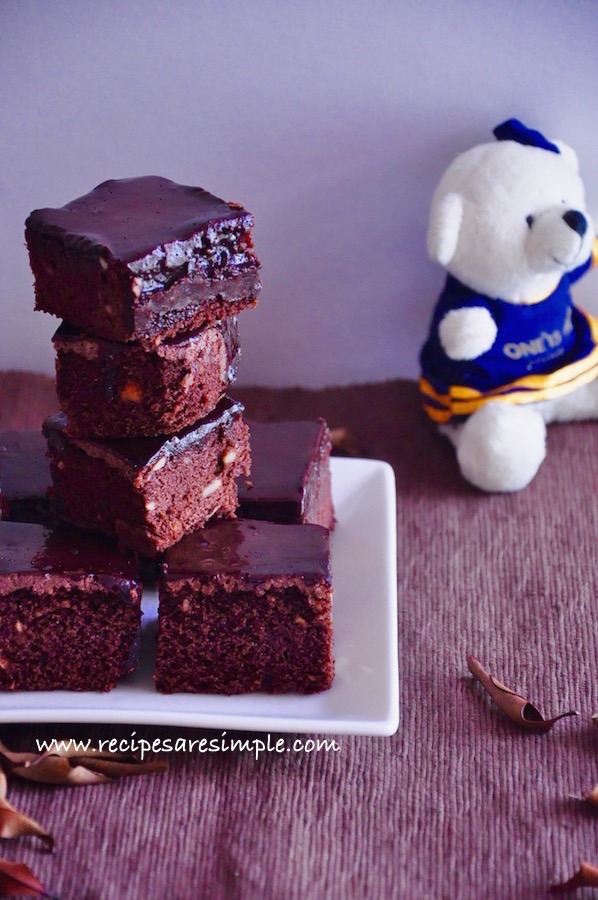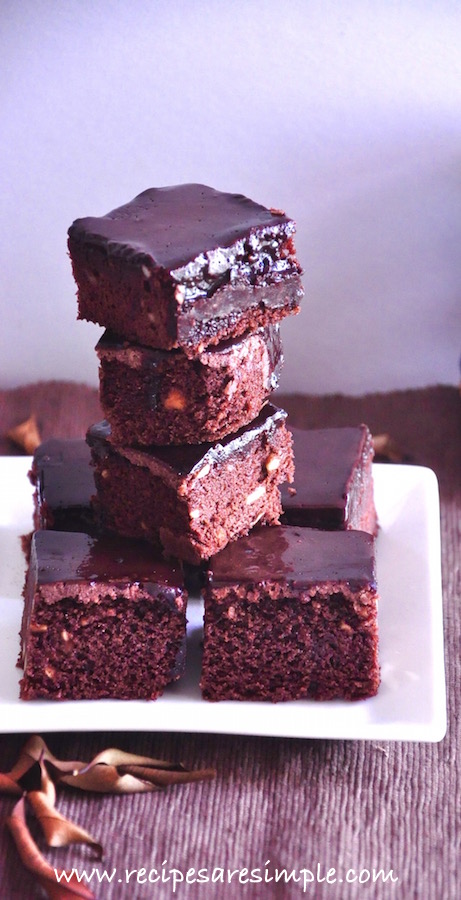 FROSTED FUDGY BROWNIE RECIPE
You are here: Home > Desserts  > FROSTED FUDGY BROWNIE RECIPE
 

Recipe Name: FROSTED FUDGY BROWNIE RECIPE

Author: Shana c/o Recipes 'R' Simple
Ingredients:
For Brownies
1 ½ cups sugar
1 cup shortening
4 eggs at room temperature
1 ½ cup plain / all purpose flour
¹/3 cup cocoa powder (DUTCH Processed)
1 tsp salt
3 tsp pure vanilla extract
¾ cup coarsely processed cashew nuts (Blitzed in the processor about 7 seconds)

optional 2 Tbsp pineapple juice for additional moisture- use only if batter seems too dry*
For frosting
¼ cup melted butter
2 Tbsp Dutch Processed Cocoa powder, sifted
¼ cup icing sugar, sifted
¹/8 cup evaporated milk
1 Tbsp  cream – optional
½ tsp Vanilla extract
Method:
For Brownies
Add the sugar and shortening to a bowl and beat till nice and fluffy.
Add 1 egg at a time and continue beating till very smooth and pale in color.
Meanwhile, sift the flour and cocoa powder into a bowl.
Use a whisk or fork to mix the sifted flour and cocoa powder together till evenly distributed. (Don't skip this step).
Stop beating. Add the coco-flour mix to the batter. Fold in with the spatula, to prevent flying cocoa dust. Once somewhat moistened by hand, continue to beat till smooth again. *Only if the batter seems too dry and almost resistant to being smoothly beaten, you may add 1-2 Tbsp light pineapple juice.
Add salt, vanilla extract and processed nuts. Fold in again. No more beating.
Grease a 888 Aluminum baking pan abd lightly dust with flour.
Spoon in the batter. Fill in the corners. The batter with be fairly thick.
Bake at 300º F/ 888c on lower rack of your oven for 1 hour or till a toothpick in the centre comes out clean.

(Oven temperatures may vary. Please check after 45 minutes).

Allow the cake to cool completely in the pan. Frost.
Chilling makes it easier to cut into brownies.
For frosting
Beat all the ingredients for the frosting till absolutely smooth. You can put the mixture in the microwave for a few seconds to get it silky smooth. Allow to cool if you do so.

FROSTED FUDGY BROWNIE RECIPE –
Notes :
There is NO baking powder or baking soda in this recipe. It is not an oversight.
Using dutch processed cocoa powder gives the luscious chocolatey taste and rich color and texture.
The cashew nuts, may be substituted with walnuts. However I Love cashews in this recipe.
Key Ingredients: Cocoa powder, flour, eggs salt, sugar,
Leave a comment if you tried – FROSTED FUDGY BROWNIE RECIPE. Comments from you provides motivation to keep up the driving force behind this blog, bringing you more delicious and perfected recipes regularly.  Help us to Keep On Keepin' On (: !