13 December, 2013
Kway Teow Goreng – Indonesian Stir Fried Broad Rice Noodles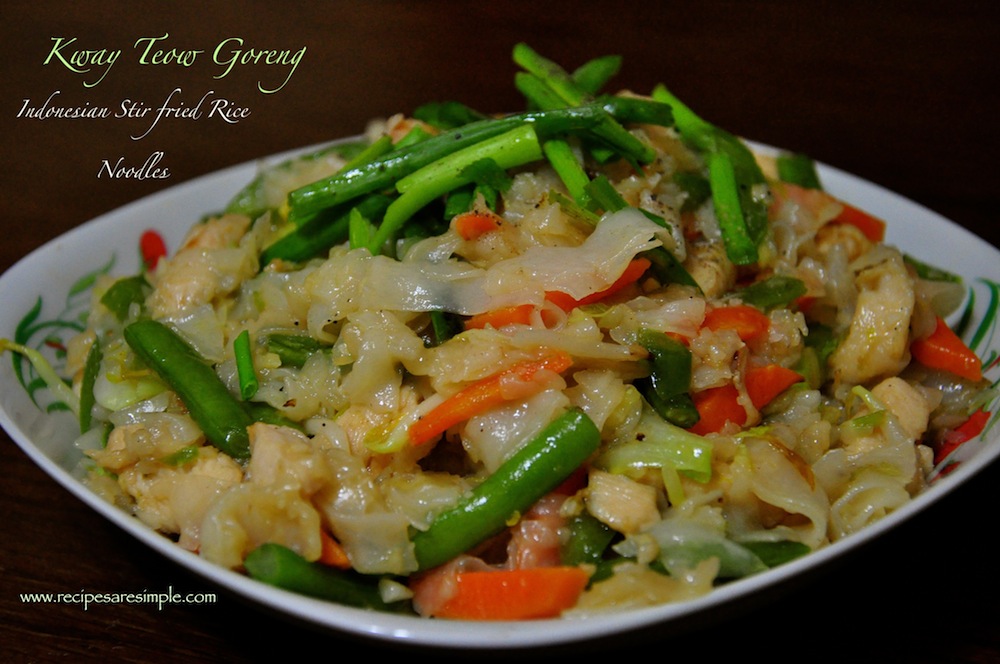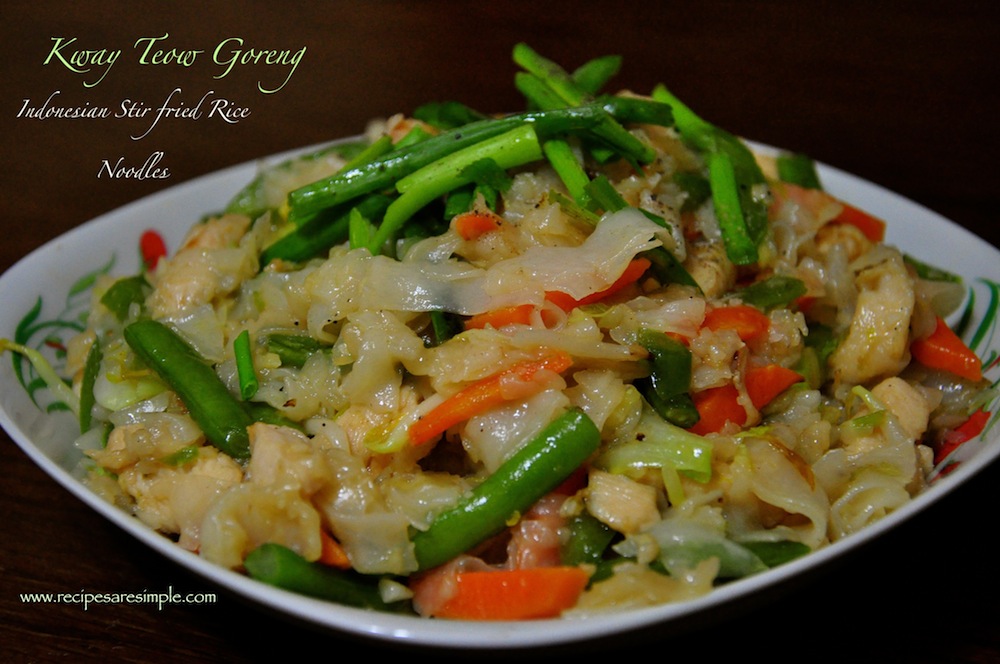 Kway Teow Goreng

On our trip to Indonesia, We enjoyed the beach but we also equally enjoyed the food.  In particular this Wide rice noodle dish (Kway Teow Goreng) with chicken and mixed greens really impressed me.  I  asked my friend from Indonesia, Amelia for her Moms recipe and tried it a few times.  It's so easy and it tastes great!  The Rice noodles Or Kway Teow Noodles, can be purchased in two forms. Precooked in the cold section – Asian Foods OR dry and often labeled as Rice  Sticks.
One thing to keep in mind is not to overcook the noodles.  They need to stay intact while stir frying, they break rather easily.

Fried Kway Teow Goreng 
Ingredients:
2 cloves garlic, sliced thin
2 shallots, thinly sliced
1 egg, lightly beaten with salt and pepper
1 chicken breast, cut into thin, bite size slices OR
1 ¼ cups cleaned and deveined shrimp/prawns
¼ cup asian green spinach
½ cup water
400 gms broad rice noodle / kway teow noodles / rice sticks
1 Tbso soy sauce salt – dark or light depending on taste
¼ tsp oyster sauce OR vegetarian oyster  sauce
1 tsp pepper powder
Optional – Carrots / French Beans / Bean Sprouts ¼ cup each – cut carrot and beans into 2 " pieces
Spring onion greens for garnish
salt  to taste
1 tsp cornflour mixed in 2 Tbsp water
For marinade:
2 tsp cornflour + 1 Tbsp Soy sauce
1 Tbsp Green chili sauce +3 drops ASIAN sesame oil
Method:
Marinate the chicken in  cornflour + Soy sauce.
Marinate the prawns in green chili sauce + sesame oil.
Chop up all the other ingredients.
If using dry noodles: cook in boiling water till soft but still retaining a good bite. Drain.
If using precooked noodles, soak in hot water for 1 minute and drain.
Steam the carrots and beans for 3 minutes.
Heat oil in wok till smoking.
Add shallots and garlic and stir till softened.
Add the chicken and stir fry till cooked tender on high heat.
Add Prawns and cook a couple of minutes till the prawns are tender.
Move to the side of your wok.
Add the beaten egg and allow to set a bit.  Then proceed to scramble till cooked.
Add the chinese spinach and the water and bring to boil.
Add the sauces as well as the the drained noodles and stir fry well.
Next, add the steamed vegetables and bean sprouts.
Also add salt and pepper to taste.
Lastly, add the cornflour solution and stir in.
Cover for one minute till water is absorbed.
Garnish with spring onion greens.
Serve Hot!
Fried Kway Teow Goreng 
Try and let us know Fried Kway Teow Goreng.