16 April, 2013
Fried Green Tomatoes with Remoulade Sauce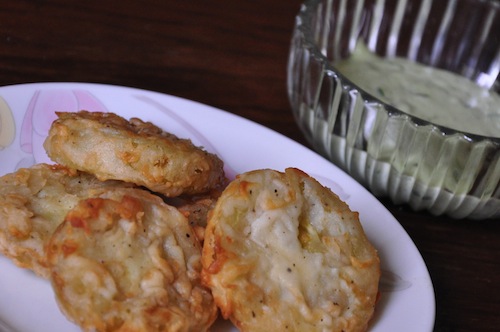 Fried Green Tomatoes with Remoulade Sauce
Fried green tomatoes with remoulade sauce  is  a Southern United States speciality and a nice quick snack to prepare.
Served with a Remoulade sauce, it is a Tangy Crispy Treat! Next time you see some nice green tomatoes, give this a try!
The Remoulade is similar to a Tartare Sauce with varied ingredients.
Fried Green Tomatoes with Remoulade Sauce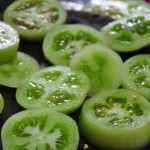 3  firm green tomatoes
½ cup buttermilk (thick)
¾ cup all purpose flour
½ cup oil
salt and pepper
For the Remoulade:
1 small onion
1 small clove garlic
4 Tbsp Cillantro or Parsley leaves
¹⁄8 tsp Black pepper corns
½ cup Mayonnaise
Any of the following to taste; (Curry powder/ pickles(dill) or pickle water/Mustard/Horseradish/Anchovies/Capers)




Method:
Fried Tomatoes:
Cut tomatoes into thick  slices(7 cm/¼ inch).
Place tomatoes in colander; sprinkle with salt. Let stand about 30 minutes Allow the water to drain out.Pat tomatoes dry with paper towels.
Add the buttermilk to a  shallow bowl and the flour(sifted) into another bowl,seasoned with salt and pepper.
Dip the tomato slices first into the buttermilk , then into the flour mixture and  coat both sides.
Gently shake off any excess flour.
Heat oil to medium high in a small deep pan and fry 1 or 2 slices at a time about 2-4 minutes turning once. It should be a golden brown color.
Drain on paper towels and serve warm with the sauce.
Serve fried green tomatoes with mixed greens and a remoulade sauce.
The Remoulade:
Put all the ingredients in a small mixer/blender till smooth. Serve with the fried green tomatoes or Fried fish.
Fried Green Tomatoes with Remoulade Sauce
Notes:
For a buttermilk substitute; use 1 tablespoon of vinegar or lemon juice plus enough whole milk to make 1 cup; allow to sit 5 to 10 minutes before using.
To check if oil is ready to fry; hold a wooden spoon in the oil so the base is touching the bottom of the pan; if the oil bubbles around the spoon, it's ready. Do not crowd the pan for optimum results.
Traditional southern Fried Green Tomaotos use cornmeal, and are shallow fried. ( Sometimes bacon drippings are used) Shallow frying is preferred, as the tomatoes do not float in the oil, which allows the weight of the tomato to press the cornmeal to the underside of the tomato. In this case there is no need for a buttermilk marinade prior to dipping in flour.
Alternatives for cornmeal are flour or breadcrumbs.
Alternatives for buttermilk is beaten egg.
The tomatoes which are shallow fried without a 'wash' of buttermilk or egg will be more crisp.
Did you enjoy our  Fried Green Tomatoes with Remoulade Sauce?