25 March, 2013
Kerala Fried Chicken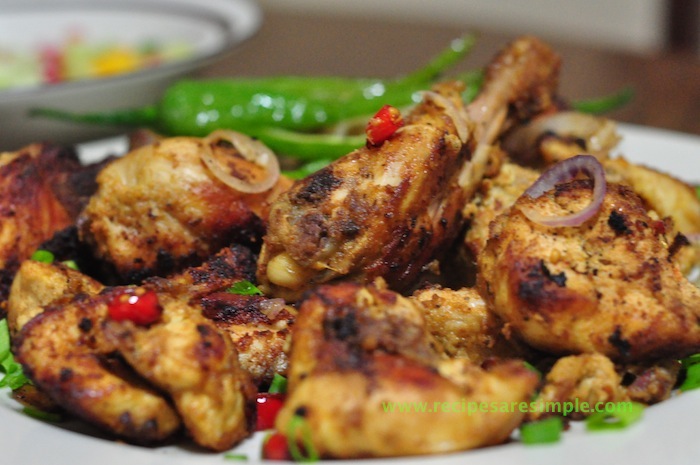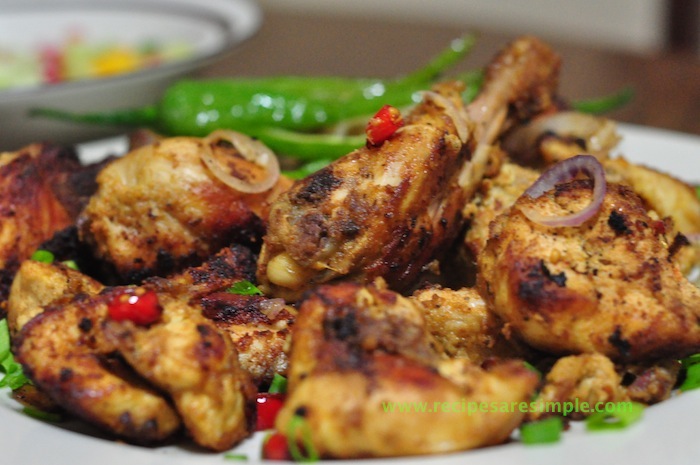 Kerala Fried Chicken
Kerala Fried Chicken is a fabulous combination of moist tender chicken with a crisp spice blend coating, fried in coconut oil to perfection and quite impossible to resist! You can make it as spicy as you like although I prefer it not too hot!
To achieve the succulent texture inside and crispy outside, this chicken is steamed prior to shallow frying on a low to medium heat. Enjoy.

Recipe Type: Main
Author: Recipes 'R' Simple
Marination/ Resting Time : 1 hour 15 minutes
Prep time: 
Cook time: 
Total time: 
Serves: 4
Ingredients:
1 kg skinless chicken, cut into medium-sized pieces(I prefer leg and thigh meat for frying)
2 medium red onions
10-12 cloves  garlic
1 large piece ginger – around the same quantity as the garlic
¼ tsp black pepper or fresh green peppercorns if you have them
½ tsp turmeric powder
1 tsp coriander powder
1 tsp fennel powder
1 tsp Garam  Masala powder
2 tsp Kashmir chilly powder
½ cup thick yoghurt – either greek yoghurt or '

hung

'

?

   yoghurt
2 tsp lime juice
Coconut oil for frying
1-3 tsp Gram flour/Besan/Chick Pea flour
1-3 tsp rice flour
1  small red onion, curry leaves  & chillies to garnish
Method for Kerala Fried Chicken:
Wash and drain the chicken pieces.
Grind the onion, garlic, ginger and pepper corns→ a smooth paste.
In a

non-reactive bowl

?

, add the chicken, the ground paste and all the spices. Add the yoghurt, lime juice, and salt.
Rub the chicken pieces with the ingredients well for 1 minute and marinate for 10 minutes.
Heat 1 Tbsp Coconut oil in a small pan, add the gram flour and rice flour and stir till you get a nutty aroma. Add to the marinated chicken and mix well.
Keep refrigerated for 30 minutes to 6 hours depending on how much time you have.
Take out of the fridge 10 minutes before cooking.
Put chicken in a pressure cooker with 2 Tbsp of water. Close the cooker and cook till just before you hear the first steam whistle. Take off heat and leave closed to stew for a while.
Thinly slice some onion and green chillies for the garnish.
Heat coconut oil for shallow frying.
Take out the pieces of chicken from the pressure cooker allowing any liquid to fall back down into the pressure cooker and lay down in the oil without overlapping or over crowding the pan. Lower the heat so that it's quite low but you still hear the pan sizzling. ( use a splatter guard) Do not move around for a good 2-3 minutes.After

which you can check if its a golden

brown and not darkened too much. Turn over and allow the other side to attain the same golden brown color.

Increase the heat before you lay the second batch of chicken in the pan. Lower once its all in and repeat till all your chicken is fried.

Cover the fried pieces up with foil

so that they stay moist and warm.
You can toss the curry leaves, onions, and chillies separately in the same pan for the garnish. Each for a few seconds so that they take up the juices of the pan.You don't want onions to go too soft so a max of 5  seconds. Fried Chicken Kerala Style is great served with rice or roti.
Kerala Fried Chicken
Did you try Kerala Fried Chicken ? Leave a comment below.
The Video of this Recipe is available in the Malayalam Language.  Watch my Malayalam Video. Simply press mute if you do not speak Malayalam. The video contains text 🙂
Notes:
Non – Reactive Bowl: A glass, ceramic, or stainless steel bowl, not an aluminum or cast-iron one. Non-reactive bowls should be used while preparing and storing dishes, such as dressings or marinades, which contain acidic ingredients such as vinegar or lemon juice.
Hung Yoghurt: Take your yoghurt in a muslin cloth and hang OR place on a steel tea strain over a large cup. After 15-30 minutes the whey will fall down into the cup and you will be left with a nice thickened yoghurt.
 You May Also Like:
SaveSave