9 March, 2016
Fried Bee Hoon Breakfast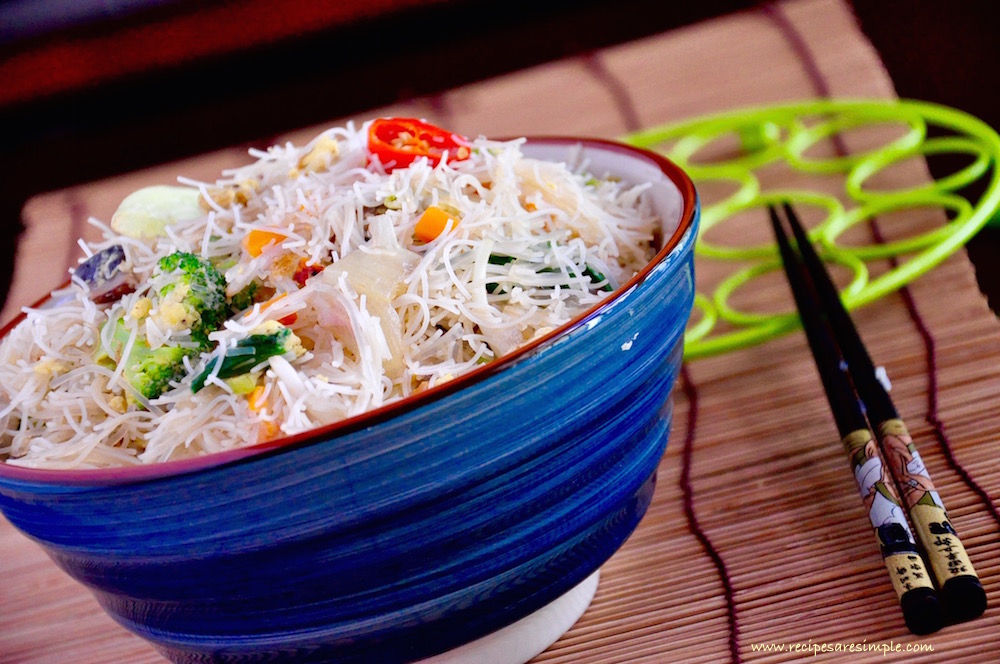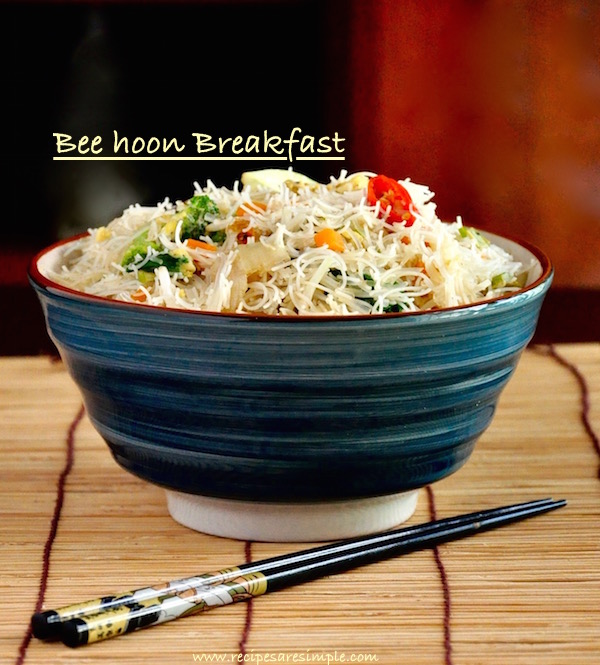 Fried Bee Hoon Breakfast – Fully Loaded!
In our house, Bee hoon is a staple breakfast item. Bee hoon is Rice Vermicelli, which is easily available in the dried form. Soaked briefly in hot water, it is ready to use and the possibilities are endless. It can be made much the same way as fried rice. However it is 'lighter' . I like to use Mung Bean Noodles (Glass Noodles) along with the rice vermicelli, I like the flavor better this way. Here is a really quick breakfast that you can make, packed with lots of veggies. Great thing is even the kids seem to like this one! Although the name FRIED Bee soon gives you the idea of some kind of greasy, unhealthy dish, this uses very little oil and is basically a stir-fry. Brown rice vermicelli is available for an even healthier breakfast but it just isn't the same!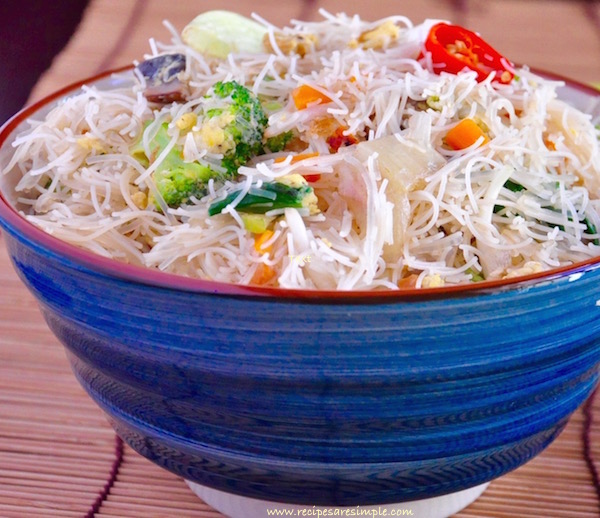 Fried Bee Hoon Breakfast
You are here: Home > Breads & Breakfast  > Fried Bee Hoon Breakfast
 

Recipe Name: Fried Bee Hoon 

Recipe Type:  Breakfast / Asian

Author: Shana c/o Recipes 'R' Simple
Ingredients:
2 small bundles of rice vermicelli (bee hoon- about 150 gms total)
2 small bundles of mung bean noodles / bean thread noodles / glass noodles / cellophane noodles (about 100 gms total)
1 medium sized carrot, diced
1 rib of celery, diced
3 swiss brown mushrooms, stalks discarded and sliced
1 long ( mild) red chili, sliced
½ cup bok choy, chopped (loosely packed)
3-4 florets of broccoli, sliced
¼ cup bean sprouts
¾ cup fresh lettuce, crisp leaves – torn up into small pieces
3 eggs, lightly whisked with salt and pepper
3 cloves of garlic , bruised
3-4 Tbsp oil
¼ cup seasoning sauce – like knorr / maggi (You can use light soy, a combination of light and dark soy or fish sauce to taste as well)
Method:
First, pour boiled water from the kettle over the rice and bean vermicelli in a bowl. Leave to soften, while you dice and chop up your vegetables.
Drain the Noodles. They need to be thoroughly drained before adding to the wok.
Heat the oil in a wok. Add the bruised garlic and allow to go fragrant
Next add the diced carrot, celery, sliced chilli ,mushroom and stir fry. Allow to sweat till the carrots are tender, about 1 minute. (It doesn't really matter what order they go in, but these are the first to go into the wok).
As soon as the carrots are tender, add the florets of broccoli and stir for 30 seconds, followed by the chopped bok choy. Stir till the leaves are wilted.
Part the vegetables to the sides of the wok. Add the beaten egg to the centre and allow to set for 30 seconds.
Then, continue to scramble the eggs, quickly – mixing in the vegetables from the sides of the wok as you do so. The eggs should no longer be runny. But do not over scramble.
Now its time to add the drained noodles. Use a pasta scoop or steel plate to help you to toss the vermicelli into the vegetables evenly. Separate the noodles as you do so to ensure they are evenly coated with all the vegetable flavoring. This will take a minute or two.
Add the seasoning sauce of choice. Add enough to flavor the vermicelli. toss through again.
Lasty, stir in the crisp lettuce and bean sprout. They will soften in the steam of the noodles. Turn of the heat.
Serve hot with chili sauce or pickled chilli.
Fried Bee Hoon Breakfast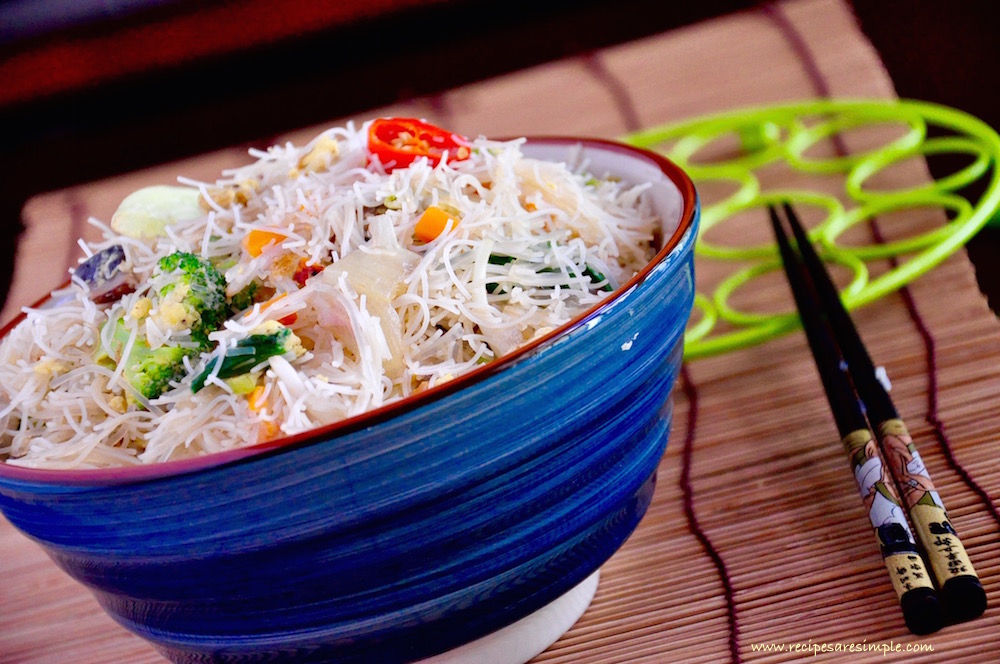 If you find the vermicelli is starting to overcook as you toss them through, remove the wok from heat. The lettuce and sauce may be added later.
Key Ingredients: d
Leave a comment if you tried – Fried Bee Hoon Breakfast. Comments from you provides motivation to keep up the driving force behind this blog, bringing you more delicious and perfected recipes regularly.  Help us to Keep On Keepin' On (: !