21 July, 2015
Fresh Methi Leaves Chicken Recipe – Murgh Methi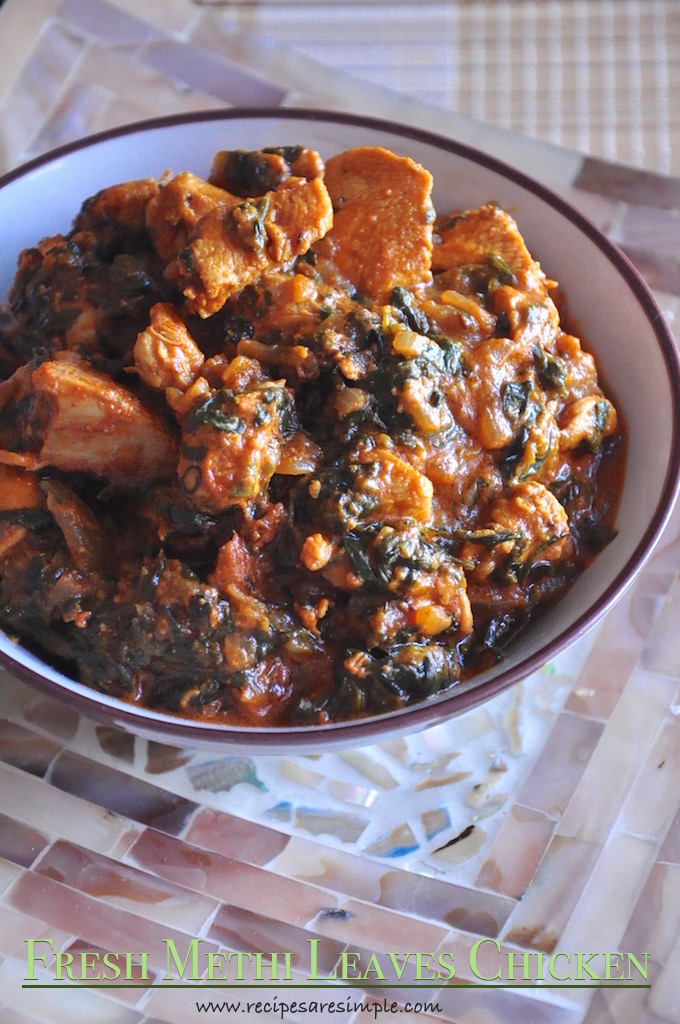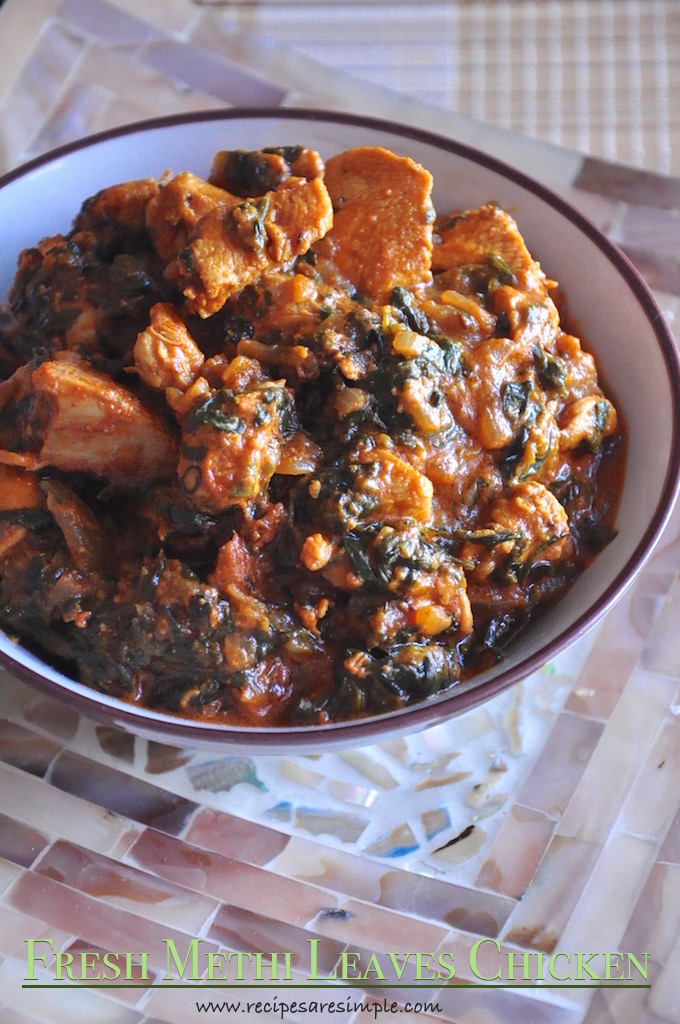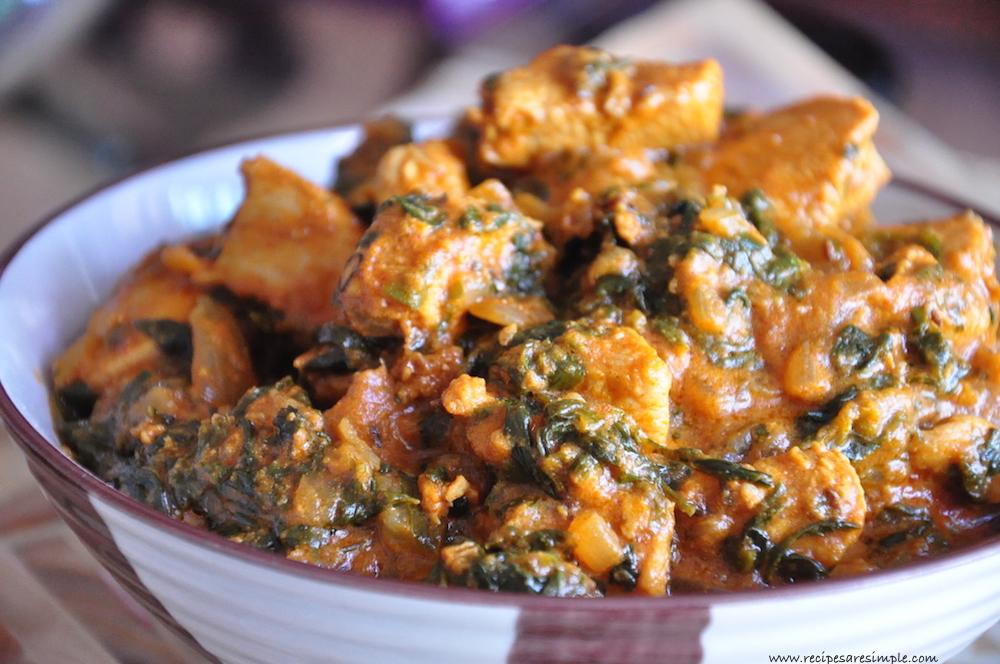 Fresh Methi Leaves Chicken Recipe – Murgh Methi
Methi Leaves (Fenugreek) is often used in fresh and dried forms. This recipe incorporates fresh Methi Leaves to give a lively, earthy flavor to this simple chicken gravy. Pick the leaves from the stems for this recipe, the stems are too tough and might be too bitter for this dish. Fresh Methi Leaves Chicken is very tasty with roti and onion rings, the best part of this dish is that it is so simple!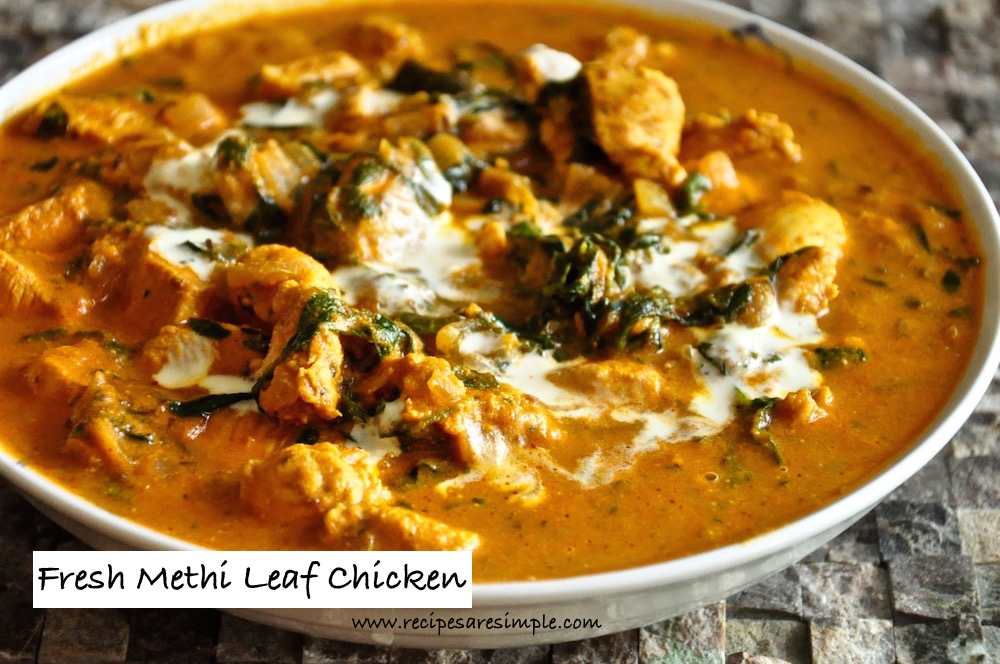 You are here: Home > Chicken  > Fresh Methi Leaves Chicken
 

Recipe Name: Fresh Methi Leaves Chicken 

Recipe Type: Curry / Main

Author: Shana c/o Recipes 'R' Simple
Fresh Methi Leaves Chicken Recipe – Murgh Methi
Ingredients:
300 gms boneless chicken, cut into bite sized pieces
To marinate the chicken:
½ tsp turmeric powder
1 tsp cumin powder
1½ tsp coriander powder
2 tsp kashmir chilli powder
1 tsp salt
1½ Tbsp yoghurt – not too sour
For gravy:
4 Tbsp oil
½ tsp shahi jeera (caraway seeds)
5-6 curry leaves
1 large onion, chopped finely
3 Tbsp ginger garlic paste
½ cup tomato puree

( made by simply blending freshly chopped tomatoes without adding any water)

½ cup hot water
200 gms fresh methi leaves (fenugreek leaves)- stems discarded
2 Tbsp yoghurt – not too sour
¼ tsp sugar

 ½ tsp garam masala

½ tsp coriander leaves, chopped extra finely – I use the dried herb for this
2 Tbsp pouring cream
Method:
Remove the methi leaves from the stems. Wash thoroughly and keep drained.
Marinate the chicken in the ingredients for the marinade and set aside while you chop all the other ingredients.
Heat oil in a non stick pan or wok.
Add the caraway seeds and wait for a splutter.
Add curry leaves, followed by the chopped onion.
Sauté till the onions are translucent.
Add the ginger garlic paste and sauté well till the raw smell dissipates and the mixture turns light golden in color. About 2 minutes.
Add the marinated chicken and toss well. Cook on medium heat, stirring for 2 minutes, till the chicken changes color.
Add the tomato puree and bring to a simmer on low heat.
Add hot water and more salt if needed. (Use less water for thicker gravy, depending on how you plan on serving it).
Bring to a simmer. Reduce heat. Cover and cook for 10 minutes.
Open and add the yoghurt and fenugreek leaves. Stir briskly to combine.
Cook for another 2 minutes.
Sprinkle sugar to balance the flavor.
Lastly, sprinkle the garam masala and coriander leaves over the gravy and stir in the cream.
Serve warm with roti/ flatbreads and onion rings.
Fresh Methi Leaves Chicken Recipe – Murgh Methi
To reduce bitter flavor of the methi leaves, soak the rinsed methi leaves in water with ½ tsp of baking soda and 1 tsp of sugar. Leave for 10 minutes. Rinse again and keep drained. I don't find this necessary. Fresh leaves will only have might be lightly bitter but have great flavor. Remember that the dish needs to rest a while so that the bitterness is reduced.
Key Ingredients: Chicken, Fresh Fenugreek (Methi) Leaves, Tomato, Onion, Ginger, Garlic, Yoghurt, Spices, Oil, Salt, Sugar
Do leave a comment  if you tried it –Fresh Methi Leaves Chicken Recipe – Murgh Methi . Comments from you provide motivation to keep up the driving force behind this blog, bringing you more delicious and perfected recipes regularly. Please do leave a comment. Love to hear from you.