25 October, 2016
Fish Roe Fry | Kerala Palinjeen Fry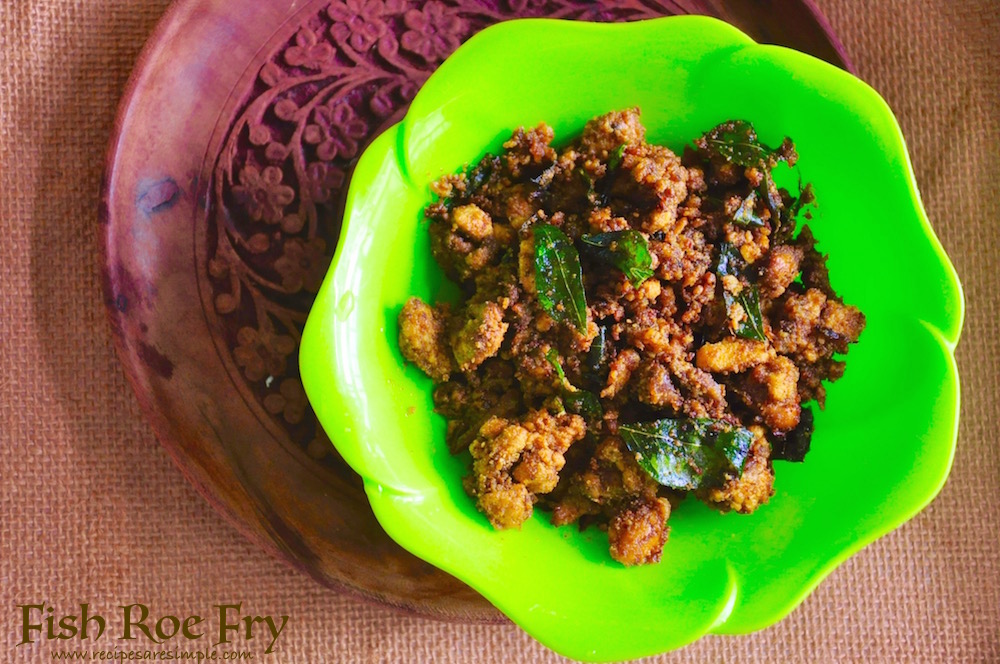 Fish Roe Fry | Kerala 'Palinjeen' Fry
Fish Roe Fry is a favorite in our house. Whenever I get good fish roe (Fish Eggs), I usually prepare it in this way. Both female fish roe (Hard Roe) and male fish roe (Soft Roe), may be used.. In the picture, I have used only the Hard Roe of King Fish. The roe is cooked in spiced and seasoned coconut milk before frying (scrambling) in coconut oil. Yum!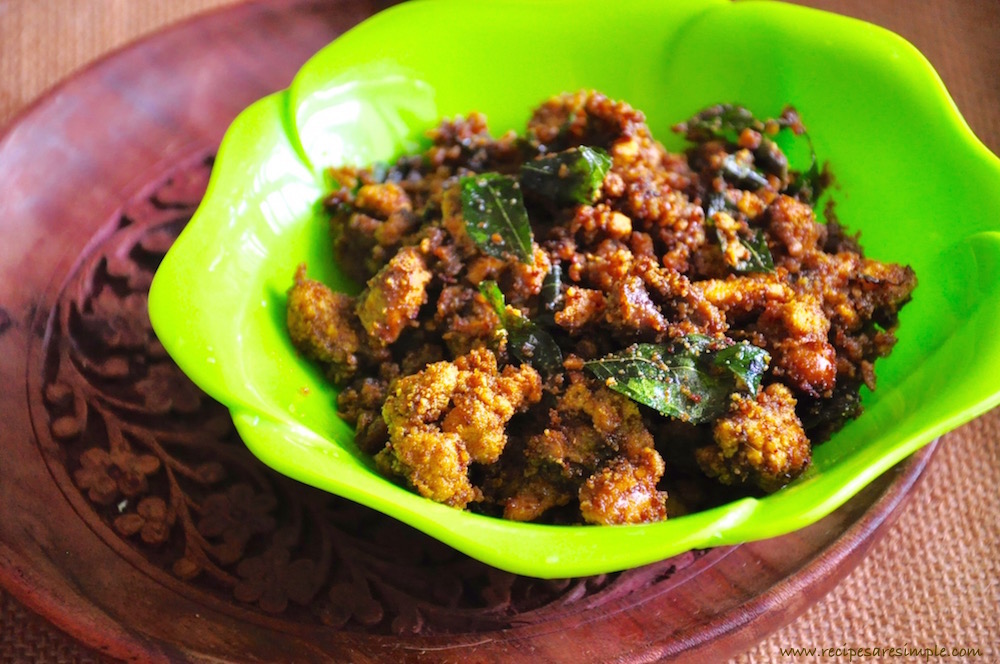 Fish Roe Fry | Kerala Palinjeen Fry
You are here: Home > Fish&Seafood  > Fish Roe Fry | Kerala Palinjeen Fry
 

Recipe Name: Fish Roe Fry | Kerala Palinjeen Fry

Author: Shana c/o Recipes 'R' Simple
Ingredients:
250 gms fresh fish roe, any variety – can be hard roe (female) or soft roe (male) or a combination
4 cloves garlic, bruised
2 slices of ginger
1 shallot, sliced (1 Tbsp)
1 Tbsp green chilli
1 ½ tsp chilli powder
1/3 tsp turmeric powder
2 Tbsp curry leaves
1 piece of gambooge (fish tamarind)
1/3 tsp salt or to taste
1 ¼ cup coconut milk (not too thin, not too thick)
4 Tbsp coconut oil
a few 'extra' curry leaves
Method:
Wash the fish roe well. If there is any blackish membrane, peel and discard as this can be bitter when cooked.
Add the fish roe to an earthen pot along with all ingredients except coconut oil and 'extra' curry leaves.
Bring to a boil. Stir gently and then reduce heat.
Simmer, uncovered till the coconut milk reduces, forming a thick sauce, coating the fish roe. Stir occasionally.
Heat oil in a small wok or frying pan. Add the fish roe. You can remove the chunks of garlic,ginger and gambooge,  before adding the roe to the pan.
Fry with occasional stirring at first. Once the roe starts to get golden. start to stir more frequently, breaking up the roe gently as you do so.
Once the fried roe turns golden brown add the curry leaves and fry till they turn crisp.  Careful not to over-fry the roe,rendering them dry.
Fish Roe Fry | Kerala Palinjeen Fry
The picture below is of fried soft roe (male fish egg) only. I like both, although Female fish roe is my favorite. It's nice to combine the two as well.
Ask for fish roe, at your local fish market. It is often sold on its own and you dont have to buy a fish with eggs in it!
Remove the thin black or membrane with veins on it, if you see that. It can cause the fish roe to be bitter. Different varieties of roe can taste different. I like the roe of king fish.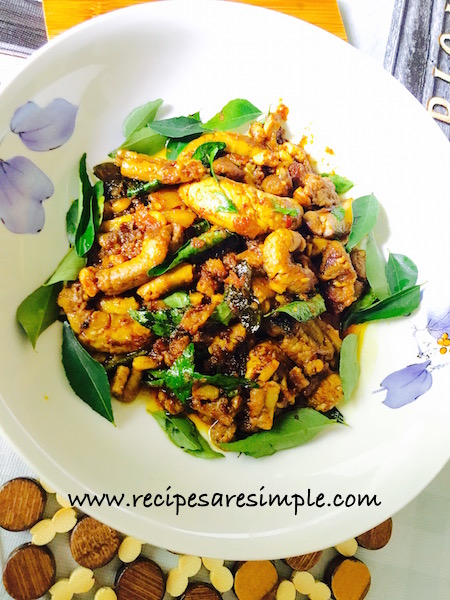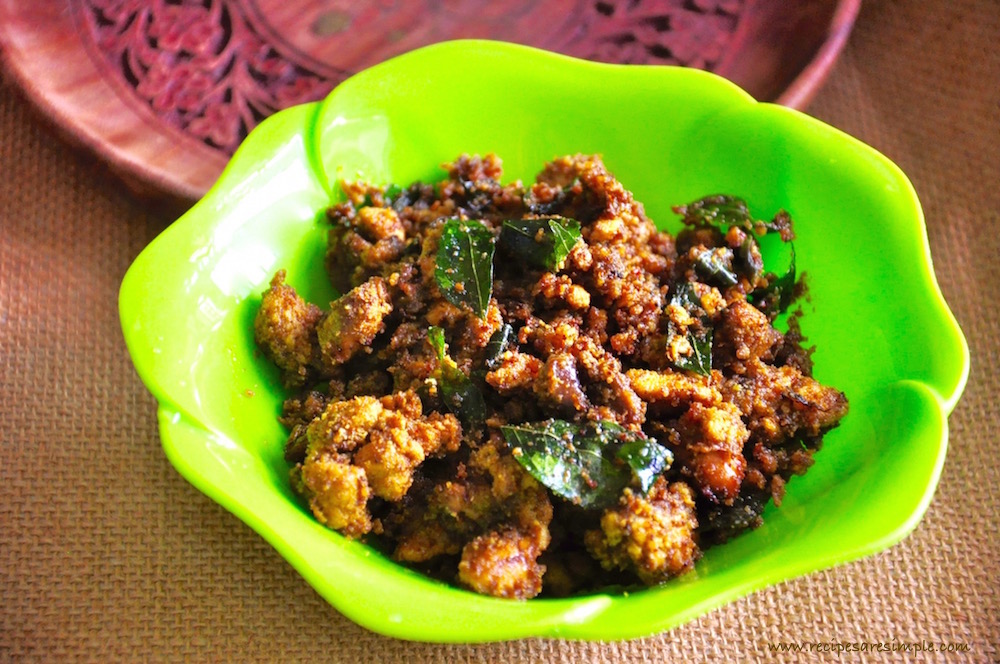 Key Ingredients: Fish Roe, Coconut Milk, Shallots, Ginger, Garlic, Chilli Turmeric, Fish Tamarind (Gambooge), Coconut Oil, Curry Leaves, Salt.
Leave a comment if you tried – Fish Egg Fry | Kerala 'Palinjeen' Fry .