26 April, 2013
Fish Molee – Fish Stewed in Lightly Spiced Coconut Gravy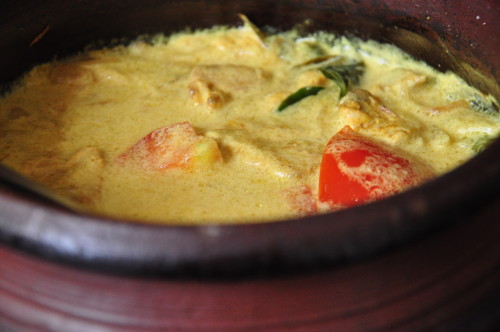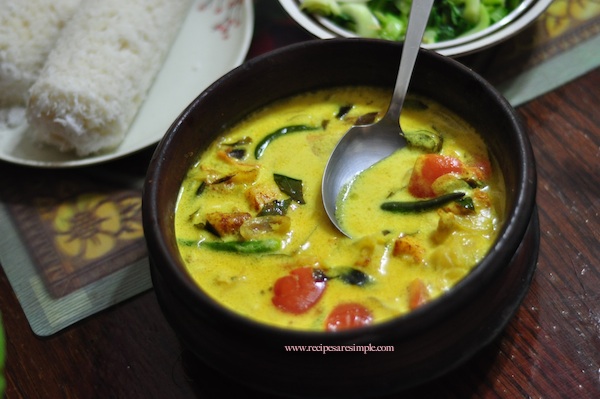 Fish Molee – Fish Stewed in Lightly Spiced Coconut Gravy
'Fish Molee' is a simple but delicate preparation of Fish stewed to perfection in lightly spiced coconut milk gravy. The flavors are immaculate. There is no use of chilly powder, only slit, deseeded green chillies. It originates from Southern Coastal India – Kerala with a possible Portuguese influence ; since it caters to a milder spice palette.
Fish Moilee requires the fish to be exceptionally fresh as well as the tomatoes, lemon and milk. Any ingredients that are not perfectly fresh will ruin this dish.
Served with Steamed White Rice it's simply mouth watering delicious.
Fish Moilee Fish Molee –  Fish Stewed in Lightly Spiced Coconut Gravy
Recipe Type: Mains / Curry
Author: Recipes 'R' Simple
Prep time: 
Cook time: 
Total time: 
Serves: 5
Ingredients:
10. 58 oz /  300 gm Fish Boneless fish steaks, skin removed and cut into 1 " / 2.55cm squares –

I prefer King Fish/ Seer Fish for this curry

Juice of 1 small fresh yellow lemon (about 2 Tbsp)
¾ + ¼ tsp ground turmeric powder
1 medium red onion, thinly sliced
5-6 cloves garlic – the smaller variety, just crushed lightly to impart flavour
1 tsp fresh ginger, finely chopped
2 small hot green chillies, slit
2 stalks fresh curry leaves
¼ cup of thick coconut milk extraction
 2 cups light coconut milk extraction.

See Note**

1 medium plump tomato , quartered

Do not use over ripe tomatoes.

3 Tbsp sunflower oil
Salt to taste (about 1 ¼ tsp)
Fish Moilee Fish Molee –  Fish Stewed in Lightly Spiced Coconut Gravy
Method:
Marinate the fish cubes in the lemon juice, ¾ tsp turmeric powder and a good sprinkling of salt (about ¼ tsp). Allow to sit for 25 minutes.
Bruise the whole cloves of garlic lightly. If using larger cloves of garlic, 3 would be sufficient.
Slit the green chillies and scoop away the seeds with a small a spoon or back of the knife, rinse under running water.

(If you like it spicy, keep the seeds in).

( Note**If you are using coconut cream from a tin or carton; for the thin milk add ¼ cup coconut cream and add water to make 2 cups. For thick milk add ¼ cup cream to ¼ cup water).

Heat  2-3 Tbsp Sunflower oil in a clay pot (recommended).
Add the garlic, ginger and curry leaves. Saute for 3- 5 seconds.
Now add the sliced onion and green chili. Saute till onions turn transcluscent and soft.
Add about ¼ tsp of turmeric powder. Saute 5-6 seconds.
Add 2 cups thin milk first and bring to a light simmer.
Tip in the fish. Bring back to simmer. Never boil.

(if the milk does not cover the fish add a little more thin milk)

Add salt ( to taste or about 1 tsp ; you can add more later if not sufficient)
If not sour enough at this point, add some more lemon juice on low heat and swirl the pot continuously to avoid curdling.
Simmer and cook for about 6 -8 minutes ; till fish is nicely cooked.
Now add the thick milk and heat it up again, swirling the pot. (Or stir gently without breaking fish).
Add the tomato of the top (Don't stir). Turn off the heat and allow to stew in the residual heat of the earthen pot.
Allow to sit for 2 minutes then cover till serving time.
Serve hot with steamed white rice.
You May Also Like :
Back to Recipe Finder