14 April, 2013
Varutharacha Meen Curry – Fish Curry with Ground Roasted Coconut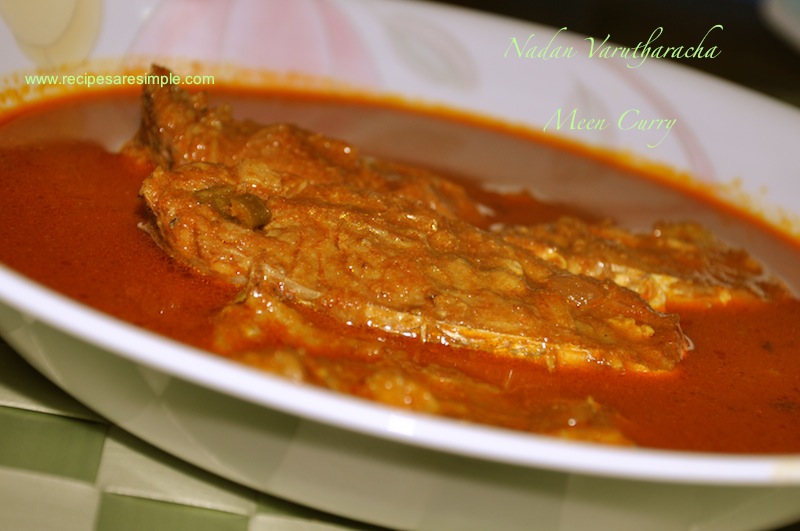 Varutharacha Meen Curry
You must smell the scent of the fresh coconut being roasted. It  is so alluring. Roasted to a golden perfection and ground  to a fine paste, it adds a dimension of flavor to this Delicious fish curry. It is great served with rice and puttu as well.

Varutharacha Meen Curry
Cuisine: Indian
Author: Recipes 'R' Simple
Prep time: 
Cook time: 
Total time: 
Serves: 4
Fish – 500 gms

(see notes)

1 cup grated  fresh/frozen coconut
2 shallots
2 dry chillies

(kashmiri)

1 tsp + ¼ tsp turmeric
2 ½ tsp  + 2 tsp chilly powder
2 ½  tsp + 2 tsp coriander powder
2 pieces cocum

-(fish tamarind),washed ; if very dry, soak in hot water for 5-10 mins

4 cloves garlic, bruised
1 Onion, chopped,
1 ½ tsp ginger, julienned
Green chilli – 1-2, slit lengthwise
½ tsp fennel/aniseed powder
½tsp Fish masala powder-optional
4 – 5 Curry leaves
Coconut oil about 3 – 4 Tbsp
salt and pepper
Method: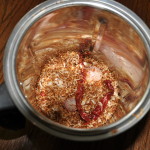 Heat a non stick wok or pan. Add 1 Tbsp coconut oil, the grated coconut, shallots and 2 dry chilies. Stir continuously till the coconut becomes a lovely golden brown color. This step will require some elbow grease and patience, keep stirring as you don't want the coconut to turn black at all- it will ruin the aroma of the curry.
In a mixer/blender, grind the coconut with a splash of water to a fine, smooth paste.
In a small bowl, combine, 2 tsp coriander powder, 2 tsp chilly powder, aniseed powder, ¼ tsp turmeric, aniseed powder and fish masala powder. Add 3 Tbsp water and stir to a smooth paste. Set aside
To a pot  (clay pot-'mann chatty'preffered), 

add fish, about 1 tsp salt, turmeric, 2 ½ tsp chilly powder, 2 ½ tsp coriander powder, cocum and just enough water to submerge the fish. Bring to simmer and cook for about 15 minutes till fish is cooked and gravy thickens slightly.
In another pan, heat coconut oil, garlic, followed by onion then ginger and green chilly. Saute till golden. Add the spice paste and stir till the oil separates.
Add the coconut paste and curry leaves → stir to combine.
Add to the pot of cooked fish and bring to boil again. Swirl the pan to mix- Do not stir as you will break the fish. Season to taste with salt and pepper if desired.

I

f your cocum is very sour,  you may want to remove from the curry after allowing to sit for a while.

Pour 1 tsp coconut oil over the top
Allow to sit for a while before serving. The color will get richer after resting.
Varutharacha Meen Curry
Did you enjoy our Varutharacha Meen Curry ?
You can use King Fish, Tuna, Golden Pomfret or Mackerel for this dish.
You may add tomato if you would like your curry to be more sour. Taste after adding the ground coconut and add only if necessary.
Cocum may also be replaced with tamarind if you prefer it.
You may also like Kerala Fish Curry with Ccoconut Milk 1, Kerala Fish Curry with Coconut Milk 2