18 February, 2015
Fish Burger with Home Made Tartar Sauce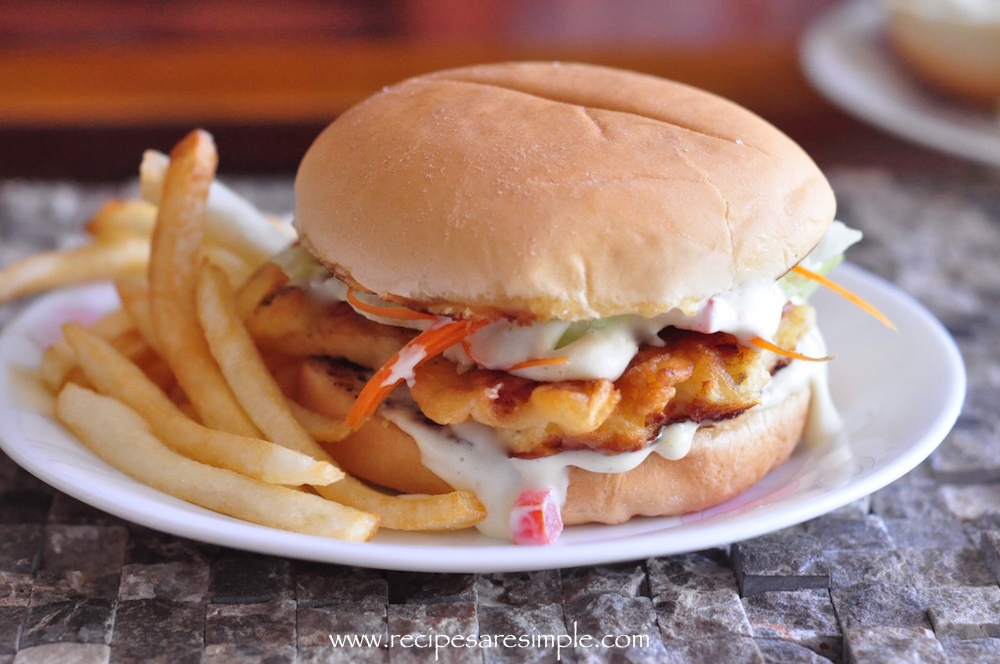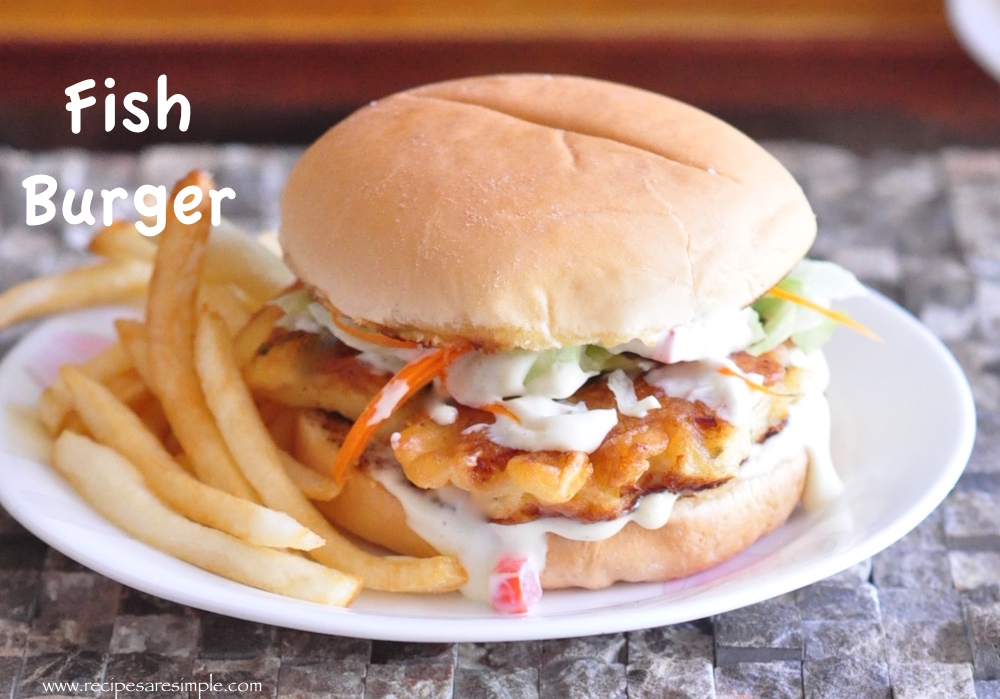 Fish Burger with Home Made Tartar Sauce
My husband and I will always opt for a Beef Burger. My kids? They will ask for Chicken Burgers. My moms favorite is the Fish Burger. For those of you looking for a great Fish Burger Recipe. Look no further.  Fillets of fish are pre baked/poached briefly before being dipped in batter and panfried.  The home made Tartar sauce makes this burger tangy, zingy and Yummy!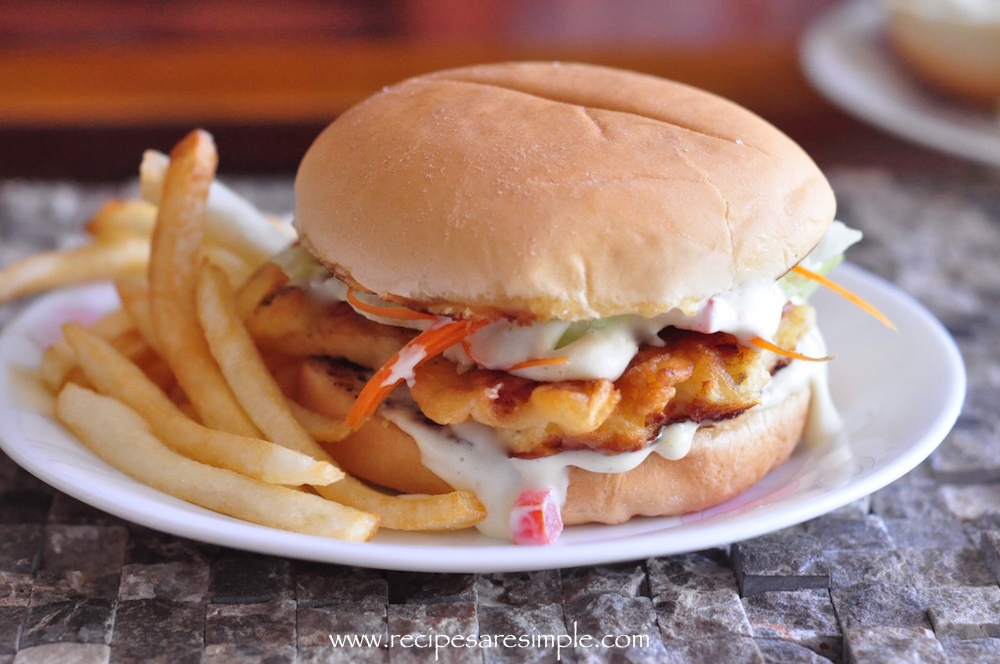 You are here: Home > Fish & Seafood  > Fish Burger
 

Recipe Type: Fish & Seafood

Author: Shana c/o Recipes 'R' Simple

Chill time for sauce: 1 hour

Yield: 4 burgers and extra sauce for fries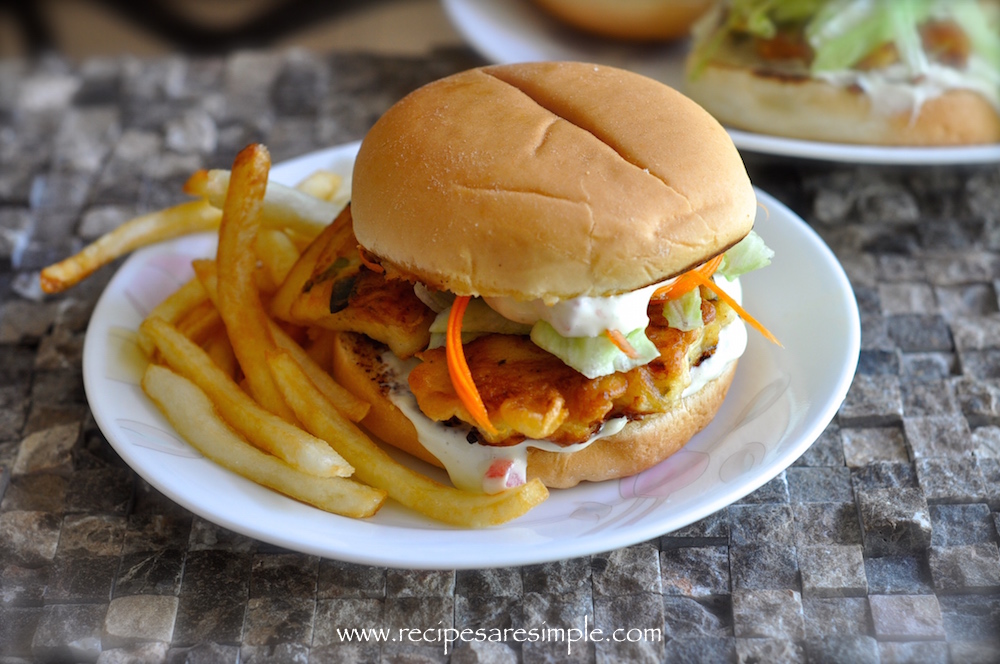 Fish Burger with Home Made Tartar Sauce
Ingredients:
350 gms fish fillets – firm flesh white fish like cod, enough  for 4 burgers
4 Tbsp oil
For tartar sauce:
1 egg
1 Tbsp garlic
2 Tbsp lemon juice
1 Tbsp pasley
2 Tbsp Pickle relish or use chopped pickled gherkins
½ Tbsp mustard
1 cup vegetable oil
salt and pepper to taste
1 large tomato, diced
½ tsp freshly grated zest of lemon
1
For the initial baking / poaching:
1 tsp salt
½ tsp pepper
3 Tbsp fresh lemon juice
3 cloves garlic, crushed/ bruised
1 tsp onion powder or use minced shallot
½ tsp tarragon or dill (dry)
1 Tbsp fresh parsley, chopped
½ tsp paprika
2 Tbsp spring onion greens (scallion) chopped
½ cup milk
1 Tbsp butter
For batter:
½ cup flour
1 cup or more milk
¼ tsp baking powder
¼ tsp salt
¼ tsp pepper
For garnish
Method:
Prepare the Tartar Sauce first:
 Add all ingredients for the tartar sauce (except oil, tomato, lemon zest, salt and pepper) to a blender. Blend till all ingredients are minced.
Add the oil, while blending at a medium speed in a threadlike (thin) stream. Slowly pour like this till all the oil is used up and you achieve an emulsified, thickened sauce.
Remove to a bowl. Add salt and pepper to taste. Stir in the finely chopped tomato and lemon zest now.

(If you like more texture, you can add the pickle relish / finely chopped gherkins now instead of while blending – I make it both ways)

Chill at least 1 hour before using.
Pre bake/ Poach the fish fillets
Remove skin from the fish fillets. Cut into 4  pieces of uniform size.
Rub the fish fillets well with a good sprinkling of salt. Rinse.

This helps remove any unwanted odor.

Add salt and pepper along with the lemon juice. Allow to site for 10 minutes.
Preheat the oven to high.
Now place the fish fillets in a baking dish.
Add the remaining ingredients  for baking / poaching the fish. MIX WELL. Add the butter on top.
Place in the pre heated oven and allow the fish to poach in the milk mixture for no more than 10 minutes.
While the fillets are cooking, keep your burger buns, sliced, carrot and lettuce, shredded.
Batter fry the par cooked fish.
Mix the ingredients for the batter. Whisk till you get a thick, smooth consistency.
Heat oil in a skillet / non stick pan.
Gently lift the fish from the milk mixture and dip in the batter. Coat lightly making sure all the fish is covered.
Place in the pan on medium heat and fry both sides till golden. Make sure the oil is not too hot.

 If the batter turns black upon frying, the taste will be ruined.

Remove from pan and keep drained.
Remove the extra oil from the pan and lightly toast the inside of the buns in the pan.
Spread each bun with tartar sauce.
Place the fillet on the bottom bun, topped with carrot and lettuce.
Gently press the top bun in place. Serve immediately.
Serve with hot fries and extra sauce for  dipping!
Fish Burger with Home Made Tartar Sauce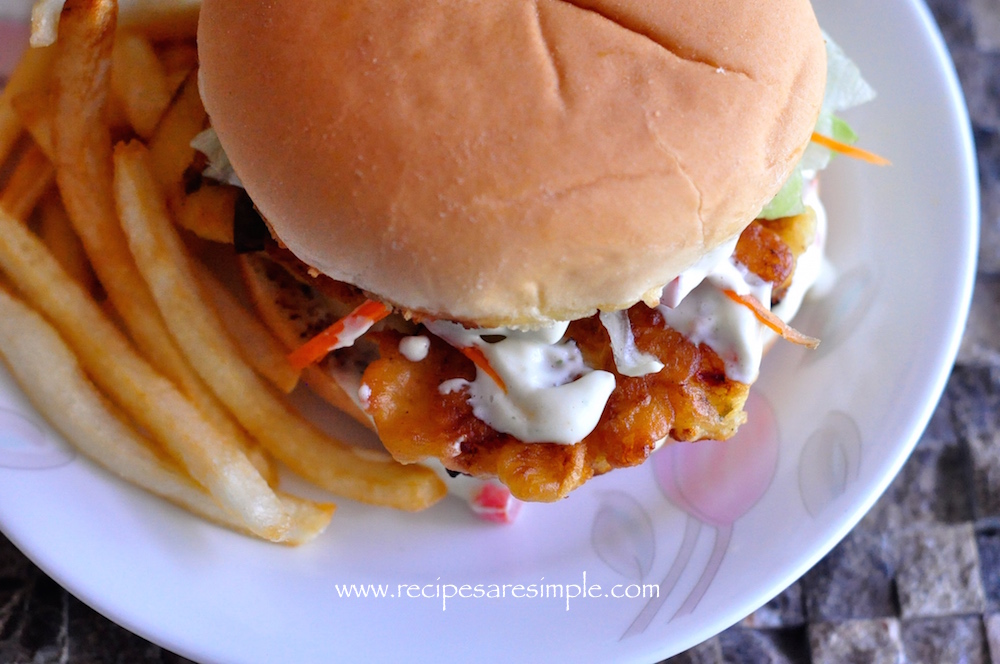 Buy fish fillets that are wide enough to place inside your burger buns. Longer fillets, can be cut down the middle, horizontally to make for 2 burgers.
Use fish fillets that are thick and sturdy enough, so that they do not flake / break in the two step cooking process.
With the leftover milk mixture from poaching the fish, you can make a quick béchamel sauce. You can use in place of the tartar sauce if you like. Heat 2 tsp butter in a small pan. Add 2 tsp flour and stir till slightly colored. Add the remaining milk mixture from the baking dish. Stir till thickened. Add salt and pepper if needed.
If you do not have an oven, you can still poach the fish on the stove top. Just add al ingredients to a skillet with a lis, bring to simmer then cook with a tight lid for 10 minutes on low heat.
For variation, you can use bread crumbs to coat the fish instead of flour mixture. Season the bread crumbs with salt pepper and parsley. And instead of pan frying, I  like to just drain out all the liquid from the baking dish. Sprinkle the breadcrumbs all over the fish to coat both sides and add the dabs of butter at this stage. Then pop back in the oven for 10 minutes or so on a higher rack in the oven.  You can flip over if you like or just remove with one side a little softer than the other.
If your fish does break when you try to lift it into the batter, not to worry just fry separately and place two pieces of batter fried fish in the burger!
You can omit the flour and egg batter and coat with panko bread crumbs too.
Key Ingredients: Fish, Bun, Milk, Butter, Flour, Herbs, Spices, Lettuce, Tomato, Carrot, Oil
Let us know if you tried it – Fish Burger with Home Made Tartar Sauce . Comments from you provide motivation to keep up the driving force behind this blog, bringing you more delicious and perfected recipes regularly. Please do leave a comment. We love to hear from you.