29 June, 2016
Fig Iced Tea | Healthier Sweetness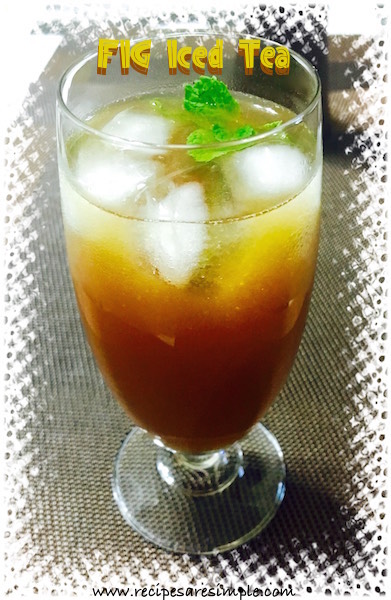 Fig Iced Tea
This Fig Iced Tea takes advantage of the natural sweetness of Dried Figs to reduce the refined sugar content. A refreshing twist on the regular Iced Tea.
The Fig is one of the oldest fruits known to man. It is often described as "nature's most nearly perfect fruit".  Studies have proved that dried figs have a high level of phenol makeup, which is more rich in antioxidants, than other fruits. Phenol is used as an antiseptic to kill micro-organisms.
Due to the essential fatty acids omega-3, omega-6 and phytosterol found in dried figs, they help to reduce cholesterol. These fatty acids are crucial to the proper functioning of the heart, brain and nervous system.
Since figs do not naturally contain fat, sodium or cholesterol while also have high levels of fibre, they tend to be an ideal food for those trying to lose weight. This, in spite having the highest natural sugar level amongst fruits. Figs also have a higher mineral content than any other known fruit. Good source of Potassium, Calcium and Iron.
Figs are believed to boost strength and energy and recommended for long term patients during recovery. They are known to aid in physical as well as mental difficulties. Figs are also recommended in the treatment of asthma, coughs and chills.
Fig Iced Tea
You are here: Home > Drinks & Beverages > Fig Iced Tea
 

Recipe Name: Fig Iced Tea

Recipe Type: Drinks and Beverages

Author: Shana c/o Recipes 'R' Simple
Ingredients:
6 dried figs
2 ½ cups water
2 tea bags
1-2 Tbsp Sarsaparilla Syrup or use sugar syrup
4 Tbsp fresh mint
2 Tbsp freshly squeezed lime/ lemon
More water and plenty of Ice Cubes, extra mint leaves for garnish
Method:
Boil the water and pour over the dried figs.
Add the tea bags and steep till quite strong.
Remove the tea bags and allow to cool.
Refrigerate overnight.
The next day, add the contents to a blender and blend for 30 seconds.
Strain to remove the seeds. Squeeze in the lime juice.
Using a wooden muddler or the end of a wooden spoon, muddle, the mint with the sarsaparilla /sugar syrup at the bottom of a large pitcher. Mash it gently to release the mint's natural oils.
Pour in the strained fig tea.
Top up with water, plenty of ice cubes and more syrup if additional sweetness is desired. Stir well.
Garnish with a few fresh mint leaves.
Fig Iced Tea
Key Ingredients: Fig, Tea, Sugar, Sarsaparilla, Mint, Lime
Leave a comment if you tried – Fig Iced Tea.