17 August, 2016
Fiery Chicken and Mushroom Pizza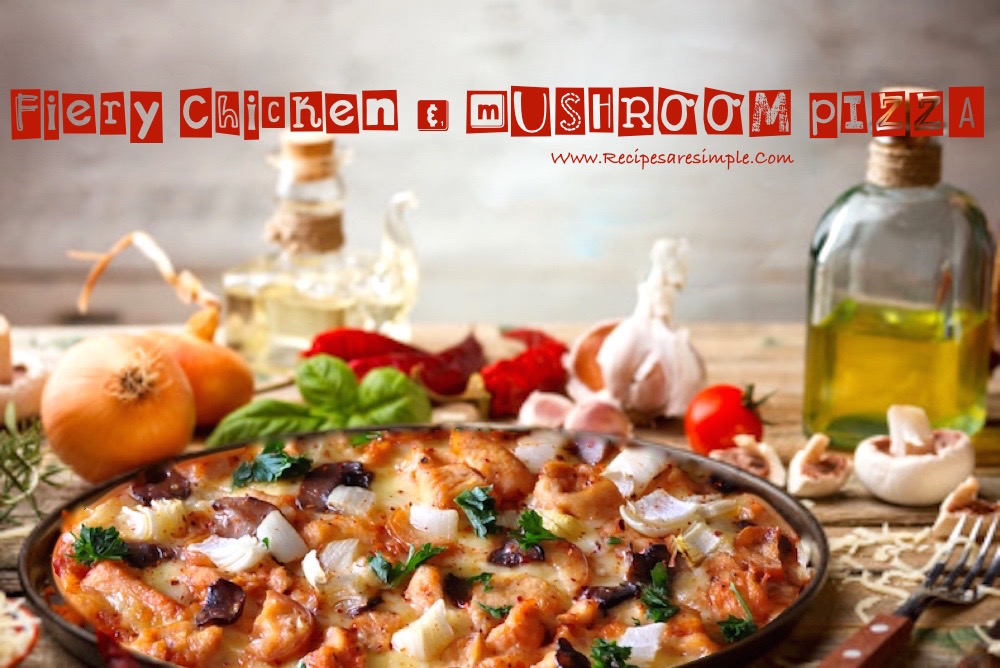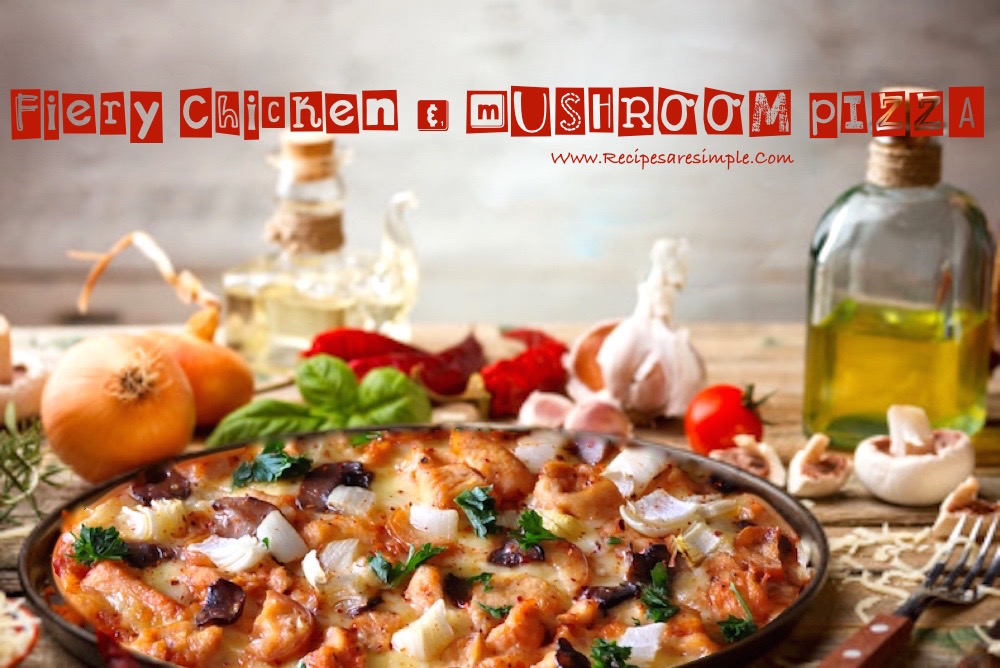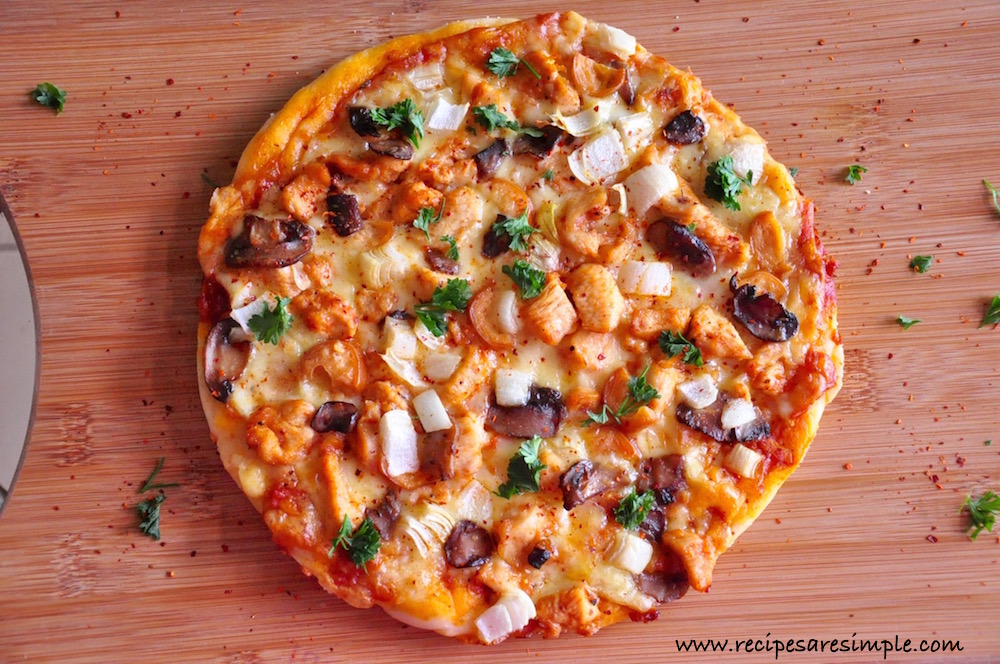 Fiery Chicken and Mushroom Pizza
Kick it up a notch, with this Fiery Chicken and Mushroom Pizza! Quite different in the making, the chicken remains so moist on this pizza and the earthy notes of White button mushrooms and Vidalia onions come together exquisitely! Red pepper flakes nestled deliciously over the melted hot cheese, makes it quite tempting, if you like it hot! I like to add lots more of the 'red stuff' after baking too. The girls have actually stopped picking off the mushroom since, I started making this Pizza. Using freshly grated Mozzarella makes a big difference btw.
Fiery Chicken and Mushroom Pizza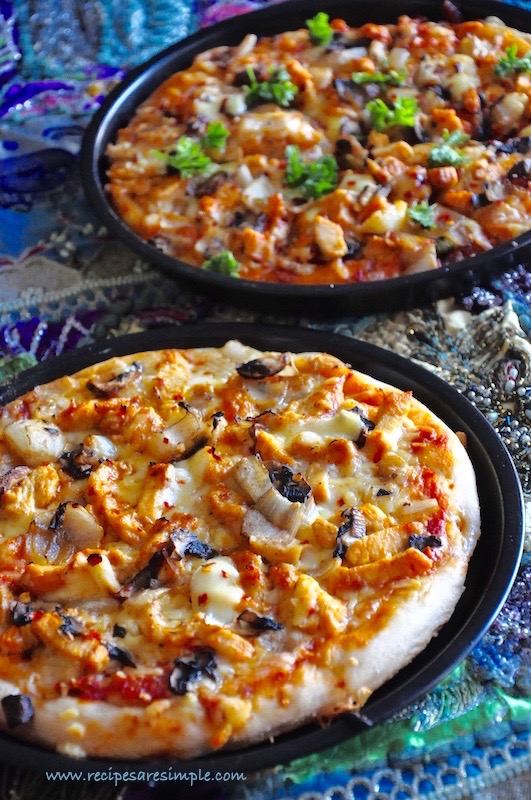 You are here: Home > Baked (Savory)  > Fiery Chicken and Mushroom Pizza
 

Recipe Name: Fiery Chicken and Mushroom Pizza

Recipe Type: Pizza / Oven Baked

Author: Shana c/o Recipes 'R' Simple

Yield: (2 medium sized pizza or one large))
Ingredients:
Crust:
2 cups flour
1 tsp salt
1 tsp active dry yeast
¾ cup lukewarm water
½ tsp sugar
1 Tbsp olive oil
Toppings:
1 chicken breast cut into small pieces
1 Tbsp corn starch / cornflour
1 ½ Tbsp rice wine or meat tenderizer
1 ½ Tbsp Sriracha / Franks Hot Sauce
1 tsp light soy sauce
½ tsp black pepper
½ tsp chilli flakes or to taste
salt to taste
¾ cup mini pepperoni slices
1 cup sliced white button mushrooms
1 medium vidalia onion, cut into square slices
¼ cup rice bran oil or neutral flavored oil
1 ½ cups Freshly grated Mozzarella
few leaves of fresh basil or parsley, just for garnish
semolina for dusting
White Sauce:
 1 tbsp butter
1 tbsp flour
¾ cup milk
1 natural slice of cheddar cheese
¹/8 tsp smoked paprika
¼ tsp oregano
Tomato Sauce:
1 medium vidalia onion, chopped
 3 large cloves garlic,  minced
¾ cup tomato puree
½ tsp Italian herb mix*
2 Tbsp olive oil
salt, sugar
Method:
Crust:
Add the yeast to the lukewarm water along with sugar. Give it a stir. After 10 minutes, it should be nice and frothy (proved).  If the yeast solution does not prove, throw it out and start again.
In a large bowl mix the flour and salt together.
Add the 'proved' yeast solution and mix together with a wooden spoon till the dough holds together.
Knead Lightly. Rub 1-2 Tbsp olive oil all over the dough surface.
Cover the bowl tightly with cling film (wrap) and set aside in a warm or sunny place till doubled in volume. It took 1 hour for me.
Using oiled hands, punch down the centre of the risen dough gently, and divide into two portions.
Grease 2 small-medium sized pizza pans well and sprinkle the surface with semolina.
Spread the pizza dough over the base and pinch against the sides of the pan to retain shape. Leave to rise again 10 minutes or so. Preheat the oven to 200°C, 392°F. Place a pizza stone inside, if you have one.
Topping:
Marinate the drained chicken pieces, with cornstarch, rice wine (or tenderizer), Sriracha sauce, Soy Sauce,  Chilli flakes, Pepper and a little salt to taste. Set aside unto 10 minutes, while you prep remaining ingredients.
Heat oil in in a non stick fry pan. Stir fry chicken til tender just till tender and cooked through. This should take less than 5 minutes. Remove the chicken from the oil and set aside.
In the same oil, fry the white button mushrooms for 1 minute till soft and tender and set aside as well.
White Sauce:
In a small sauce pan, heat butter. Add flour and stir till color changes slightly.
Pour in milk and whisk till smooth and thickened.
Add the cheese slice, smoked paprika and oregano.
Taste and add a pinch of salt. Stir through and set aside.
Tomato Sauce:
In another sauce pan ( or the same one, rinsed out), heat olive oil.
Add the garlic and onion and sauté till light golden.
Then, pour in the tomato puree ( home made or store brought).
Bring to a simmer and allow to thicken on gentle heat.
Add the Italian herb mix as well as a dash of salt and sugar to balance. Set aside when you reach a spreadable consistency.
Assembly:
The pizza bases have probably risen a little by now. Prick with a fork all over the surface (without flattening).
Brush the base with the prepared tomato sauce. Then drizzle the top with the prepared white sauce.
Top generously with the freshly gated Mozzarella Cheese.
Now scatter the toppings ( chicken, mushroom and pepperoni ) all over  the top.
Sprinkle with red pepper flakes.
Use a Pizza Paddle or large flat metal spatula to transfer the Pizza to the baking stone or tray.
Bake for about 20 minutes, till the base has turned golden and the cheese is meted. (Oven temperatures may vary).
I like to add fresh torn leaves of basil or parsley ( whatever is on hand), this serves to add some fresh green color.
Serve with plenty more of the red pepper flakes, to make it as fiery as you please!

Fiery Chicken and Mushroom Pizza
* Italian Herb Mixture contains  the following dried herbs: Basil, Oregano, Sage, Marjoram, Thyme and Rosemary.
The red pepper flakes (chill flakes), I used are quite mild so I tend to use a lot. It add depth and aroma and just enough heat. Use according to variety and spice tolerance.
I like to use Sriracha sauce or Franks hot sauce for this recipe. Do not use tabasco or any hot sauces with a strong vinegar scent, this will set off the pizza taste.
Key Ingredients: Flour, Cheese, Chicken, Mushroom, Onion, Garlic, Olive Oil, Herbs, Spices.
Leave a comment if you tried – Fiery Chicken and Mushroom Pizza.