4 October, 2013
Falooda Dessert / Drink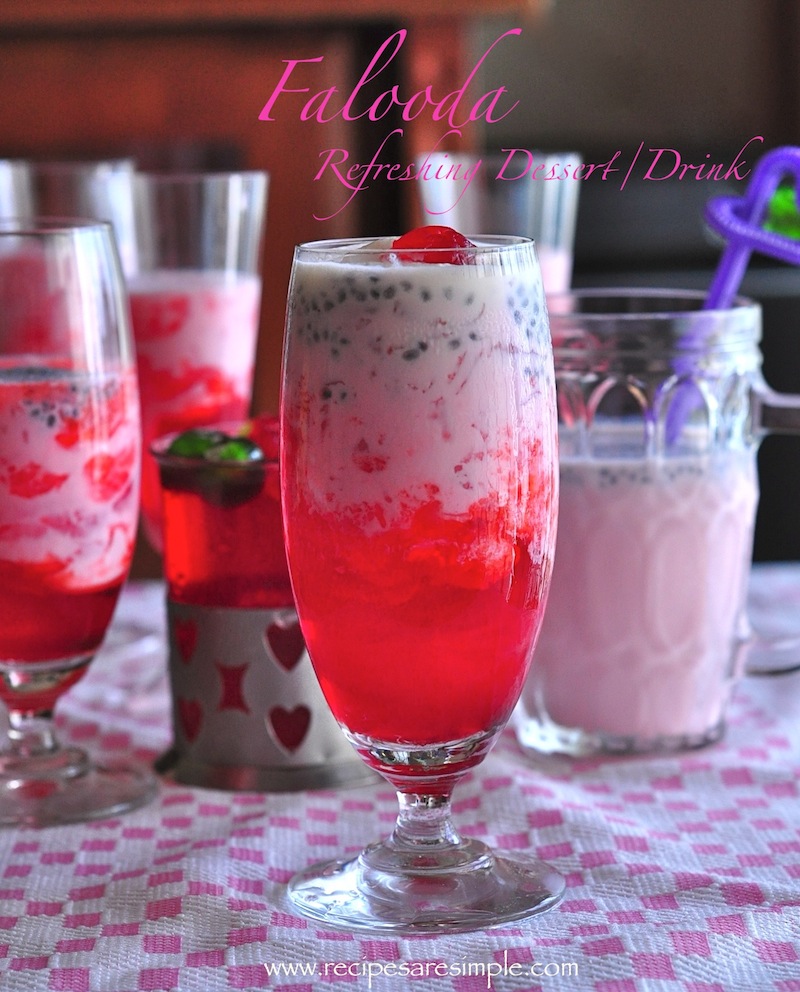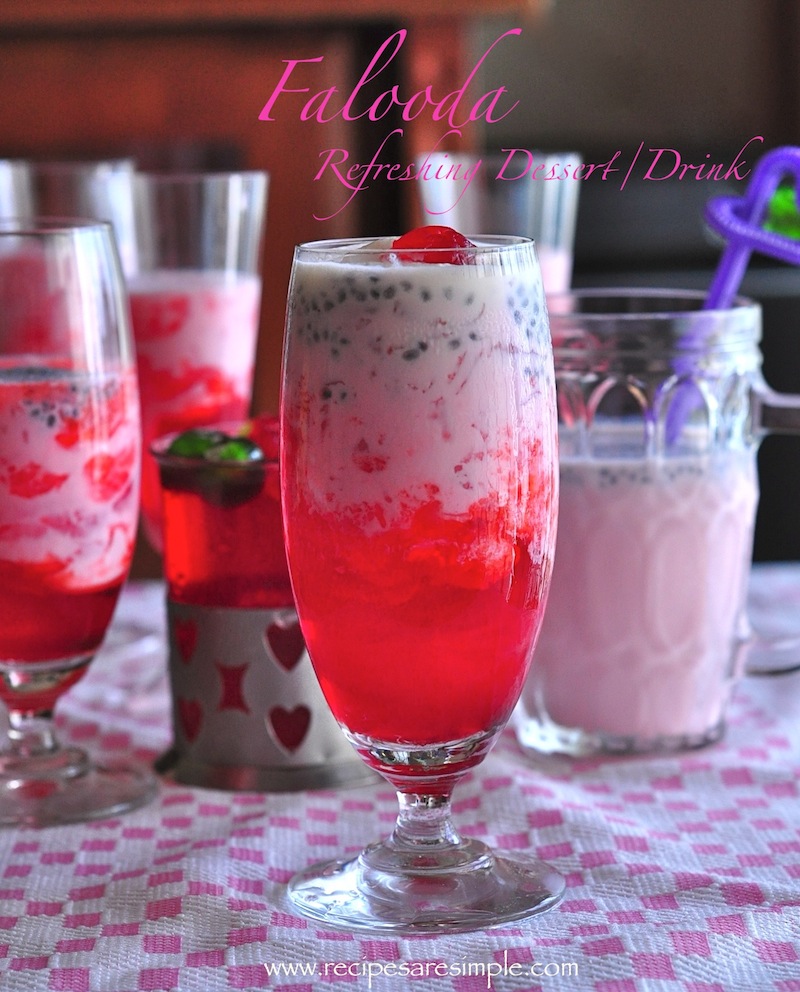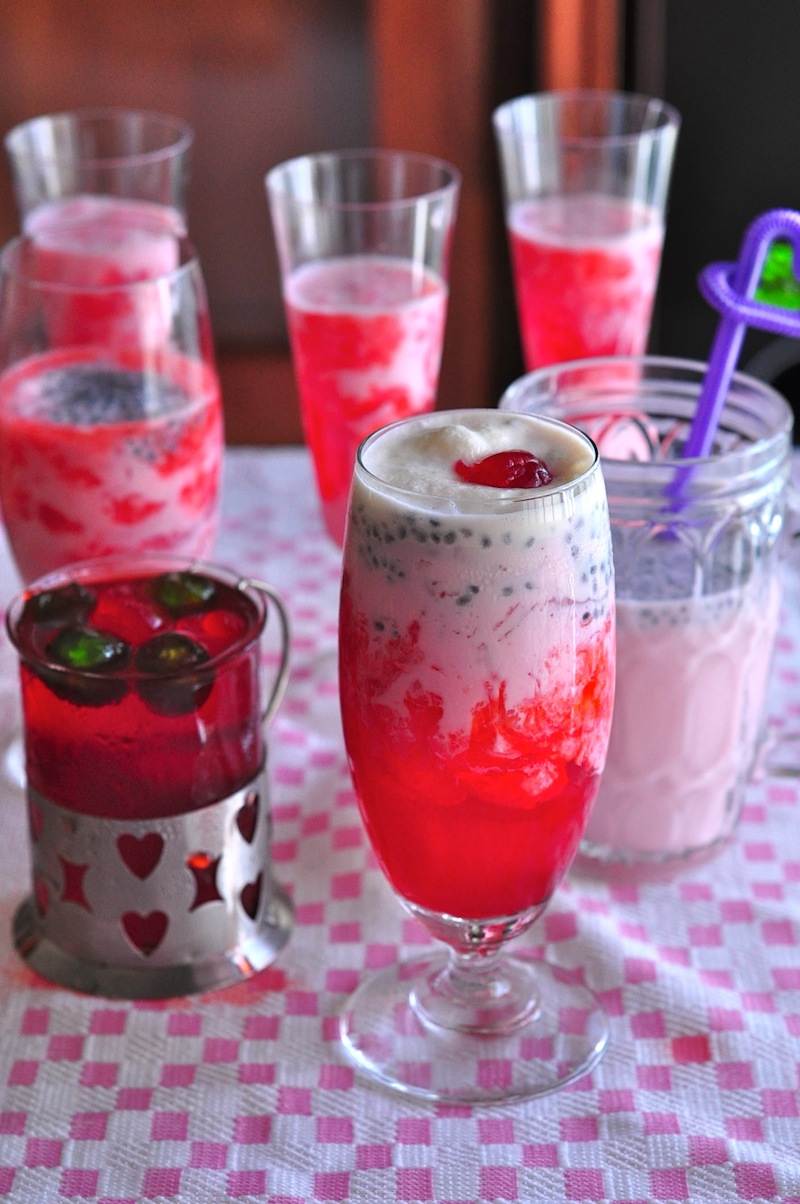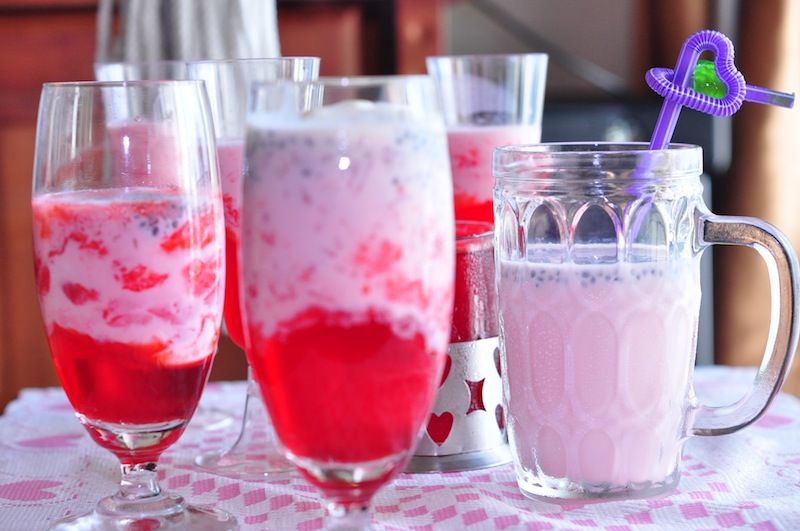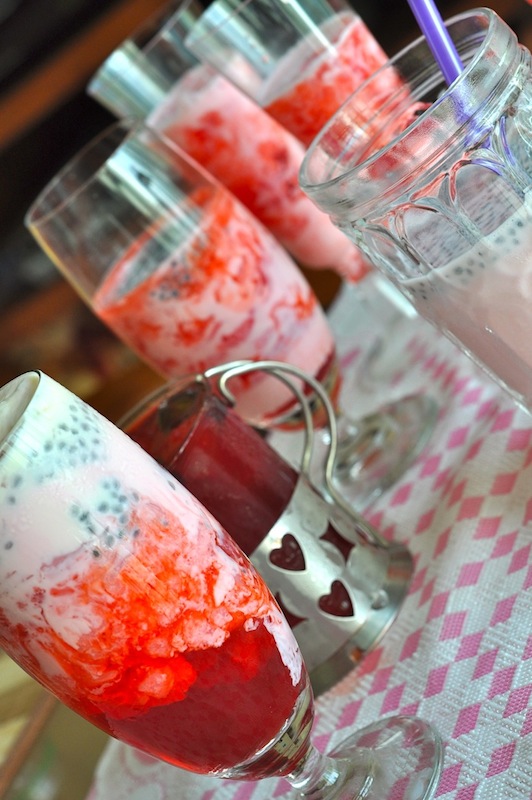 Falooda Dessert / Drink

The ever refreshing dessert or drink, 'Falooda' is a whirlpool dessert consisting of a few flavors that combine to awaken the senses! The essential combinations are strawberry jelly, rose milk and variations with ice cream , thin strands of jellied substance – either cornflour based or china grass(agar/agar) based and topped with your choice of maraschino cherries or other toppings.

Anyone would be happy to be served this fabulous 'Falooda' !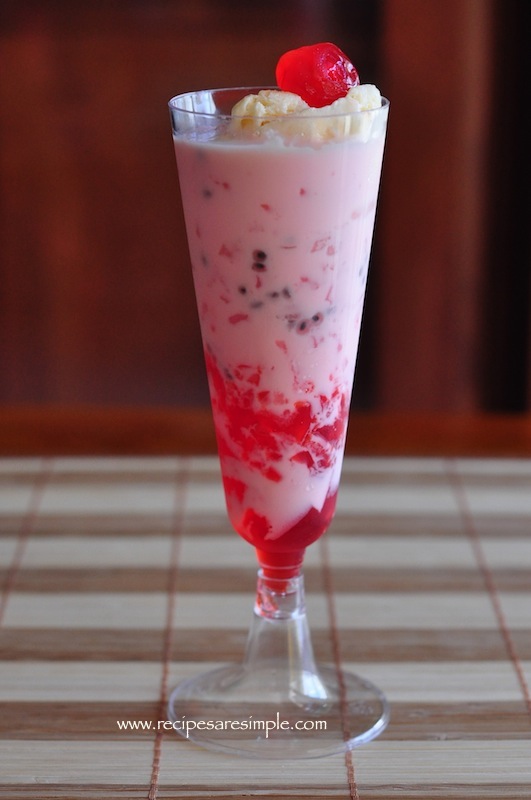 I have given recipes for both the Falooda Dessert as well as the Falooda Drink below.
Falooda Dessert / Drink
Recipe Type: Dessert
Author: Recipes 'R' Simple
Prep time: 
Cook time: 
Total time: 
Serves: 6
Ingredients:
For Falooda Dessert:
1 packet jelly ( strawberry ), made according to package instructions.
½ tin condensed milk
3 cups milk
Rose Syrup of choice OR (If you don't' have rose syrup, combine few drops rose essence, red color and  sufficient Sugar in water and heat till melted)
5 Tbsp Cornflour and 1 ½ cups water (or use ready made 'Falooda Sev')
3 tsp black kiwi seeds/ basil seeds / kasa kasa seeds soaked in a little water till puffed up
Vanilla Ice-cream
Maraschino Cherries to garnish
You will need a bowl of Ice cold water
For Falooda Drink:
1 Tbsp kiwi/basil seeds
2 cups water
2 cups whole/skimmed milk
½-¾ cups sweet rose syrup (according to taste)
½-¾  vanilla icecream
Method:
To Make Falooda Dessert:
Prepare the jelly as directed and pour into individual serving glasses. Set in fridge till set.
Make the rose-milk: Combine the condensed milk with the milk and bring to boil. Add the rose flavored sweet syrup as required( sweetness and color to taste). Place in fridge till chilled.
(If you don't have rose syrup add food color and rose essence to some sugar syrup and add to the milk mixture)
Make the home made 'Falooda Sev- thin jellied strands': Add 2 Tbsp to a sauce pan. Add 1 cup of the water and bring to boil stirring. Meanwhile stir the remaining 3 Tbsp Cornflour with ½ cup of water and set aside.
Stir the cornflour mixture till it becomes quite thick. Then add the reserved extra cornflour mixture.
Stir till very thick and glossy and develops the texture of 'Petroleum jelly'.
Use an Idiappam / noodle press or some type of hand held press that will press out thin strands. You can use a piping bag also.
Press small portions of the thick cornflour water gel through the press directly into a bowl of ICE COLD WATER.
Finish all of the cornflour gel in this manner. Do not stir the gel that has been pressed into the Ice water bowl.
Leave a minute and then drain. Keep in refrigerator till ready to use.
Assemble the Falooda: Once all the items are set /chilled (You can do all this the day before if you are planning for guests)
To the glasses in which the strawberry jelly is set, First  gently add 2 Tbsp or more of the 'Home Made Sev'.
Pour in the rose milk to almost cover the 'Jellied strands'. Top with the soaked kiwi seeds. And then finally place a scoop of ice-cream and a maraschino cherry on top!
Your Falooda Dessert is ready!
 To make Falooda Drink:
Soak the kiwi seeds till they puff up considerabely.
Place spoonfulls of the seeds on the bottom of serving glasses.
Pour in milk – within and inch or so of the top of the glass.
Pour in some sweet rose syrup. It will settle to the bottom of the milk. Do not stir.
Top with a scoop of icecream.
Falooda Dessert / Drink
Did you enjoy our Falooda Dessert / Drink ?
Kiwi seeds are available in the baking section of your supermarket. It is often used in desserts.
Older Kiwi seeds may take longer to puff up. Relatively good kiwi seeds will puff up quite fast.
As an alternative to the cornflour gel, you may use set jelly made from china grass/ agar- agar that has been cut into small dices.