9 December, 2013
Falafel Sandwich from Scratch – Sauce, Pita, Pickle & Falafel Patty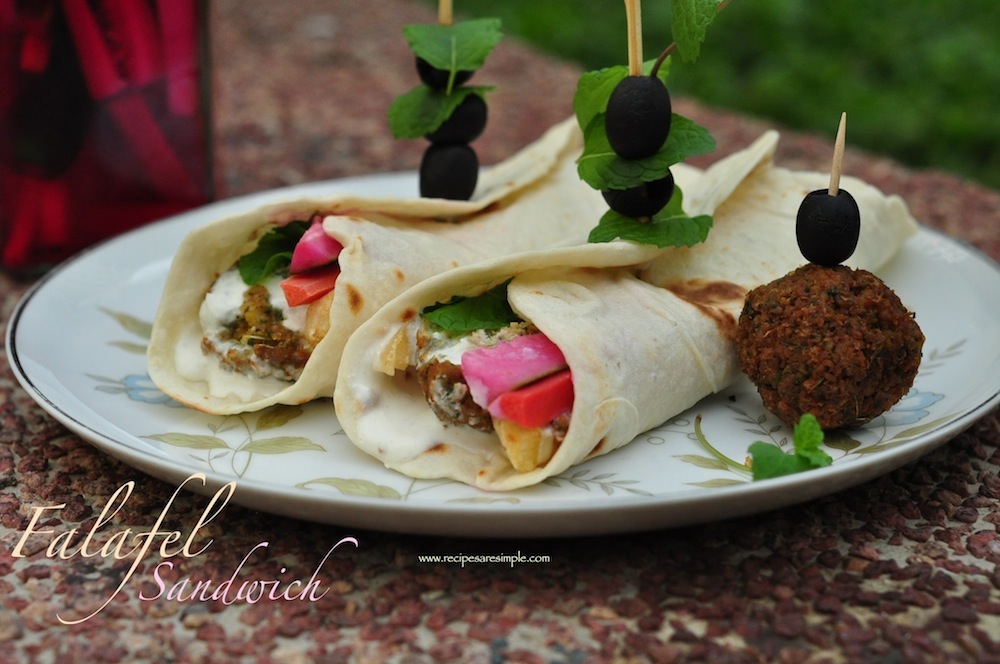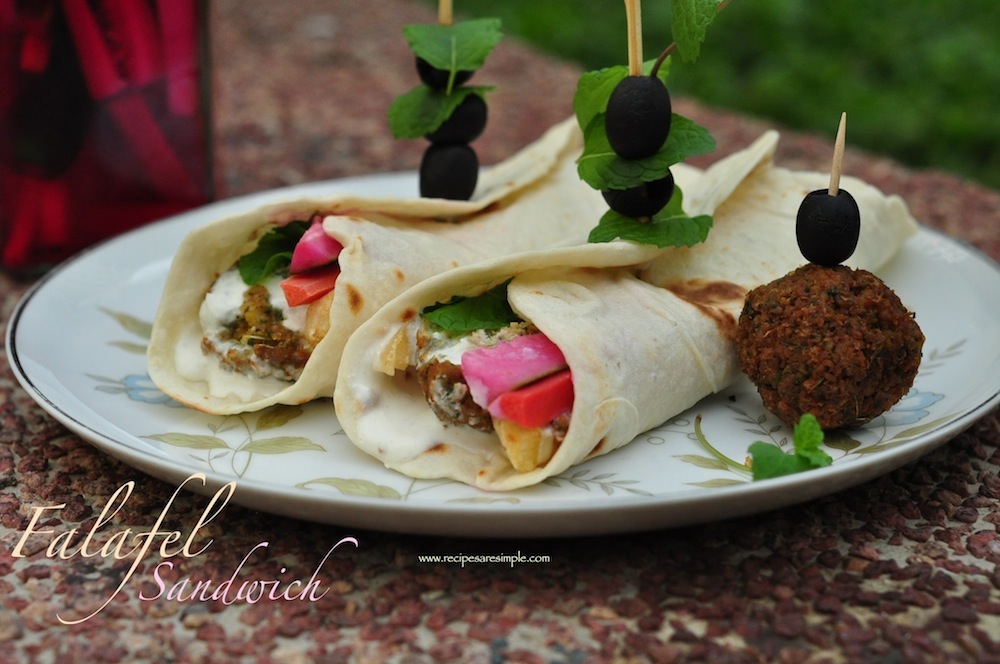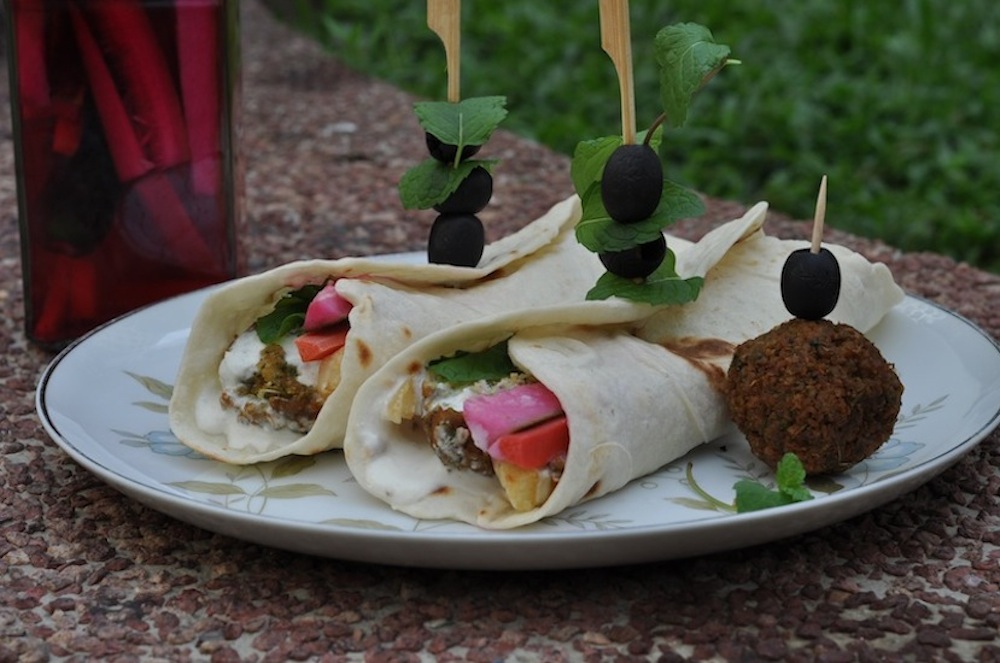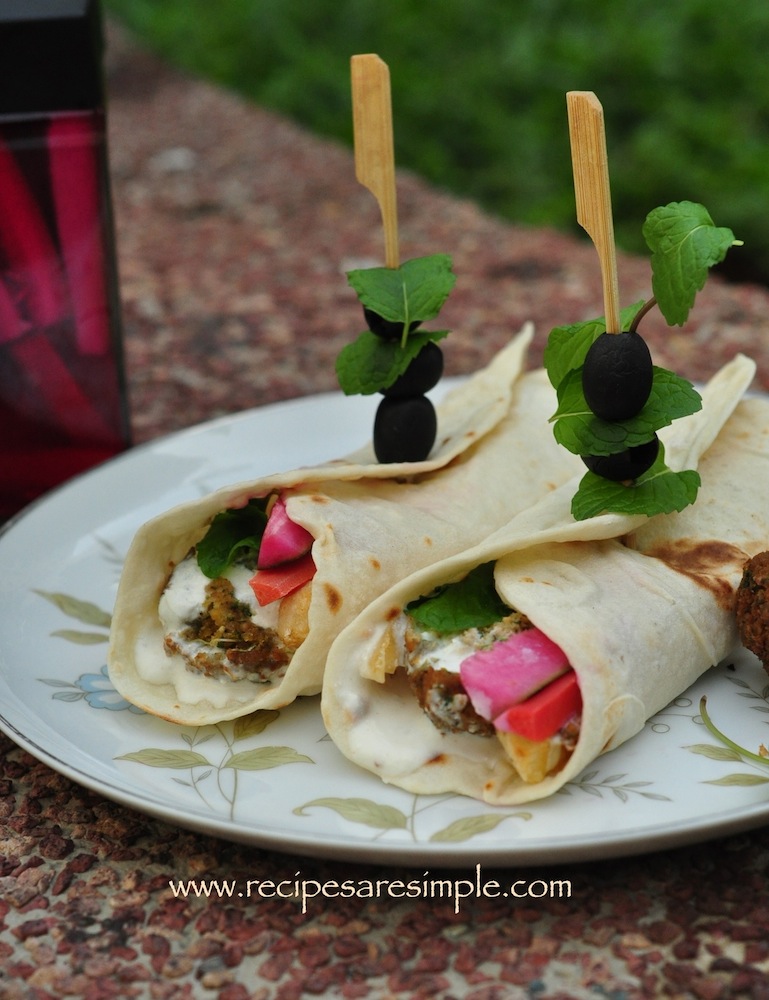 Falafel Sandwich from Scratch – Sauce, Pita, Pickle & Falafel Patty
My absolute favorite Sandwich is the Middle Eastern Shawarma!  Falafel Sandwich is the vegetarian counterpart of the Shawarma.
Made with Falafel (Chick Pea Patties) and a delicious Yoghurt Tahini Sauce. I make mine from scratch. Sometimes, I will make the Khubz a day before and then Make the sandwich the next day.

Falafel Sandwich from Scratch – Sauce, Pita, Pickle & Falafel Patty
Follow the above recipes for falafel, pita bread and pickle.
Ingredients:  for 4 Falafel Sandwiches
4 pita breads/ khubz
A few pickled vegetables
a few Large french fries – fried or oven baked
2 small tomatoes quartered
Some Parsley / Cilantro /Mint –  whichever you like
Tabasco sauce – optional
For the Sauce:
1 cup yoghurt
1 large clove garlic, crushed to a paste
1 – 3 Tbsp Tahini –

see recipe

2-4 tsp freshly squeezed lemon juice
salt to taste
1 tsp minced parsley – optional
Method:
For the Sauce:
Hang the yoghurt in a muslin cloth for 30 minutes, no more.
Add the garlic paste, tahini, lemon juice salt and minced parsley. Taste and adjust.
Mix till absolutely smooth.
To Assemble the Falafel Sandwich:
(Pita bread, falafel and fries should be warm. Pickle, tomatoes, sauce and herbs should be at room temperature).

Place a pita bread on a plate. Spread a good amount of sauce vertically through the centre.
Cut Falafel into two. Place along the pita, 2  falafel per pita .
Arrange 2-3 french fries, 3 tomato wedges, 2-3 pieces of pickled vegetable and some fresh herbs vertically over the sauce.
Drizzle some more sauce over the top.
Add a few drops of Tabasco sauce.
Wrap up the sandwich tightly with sandwich paper or foil.
To reheat, place in microwave for 7 seconds.
Falafel Sandwich from Scratch – Sauce, Pita, Pickle & Falafel Patty
Try Falafel Sandwich from Scratch and let use know.