27 September, 2016
Thai Grilled Chicken and Arugula Salad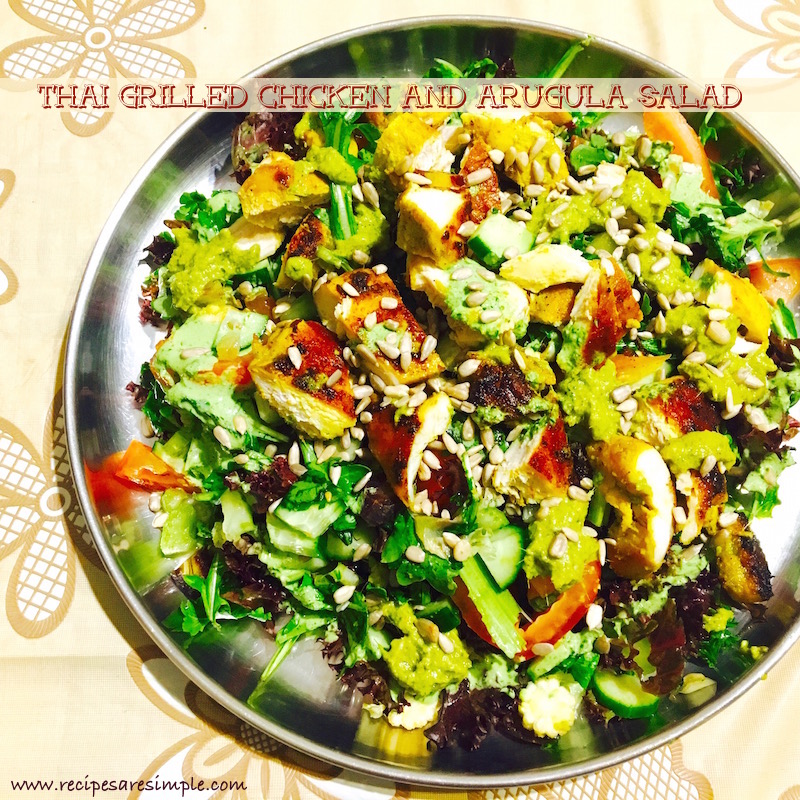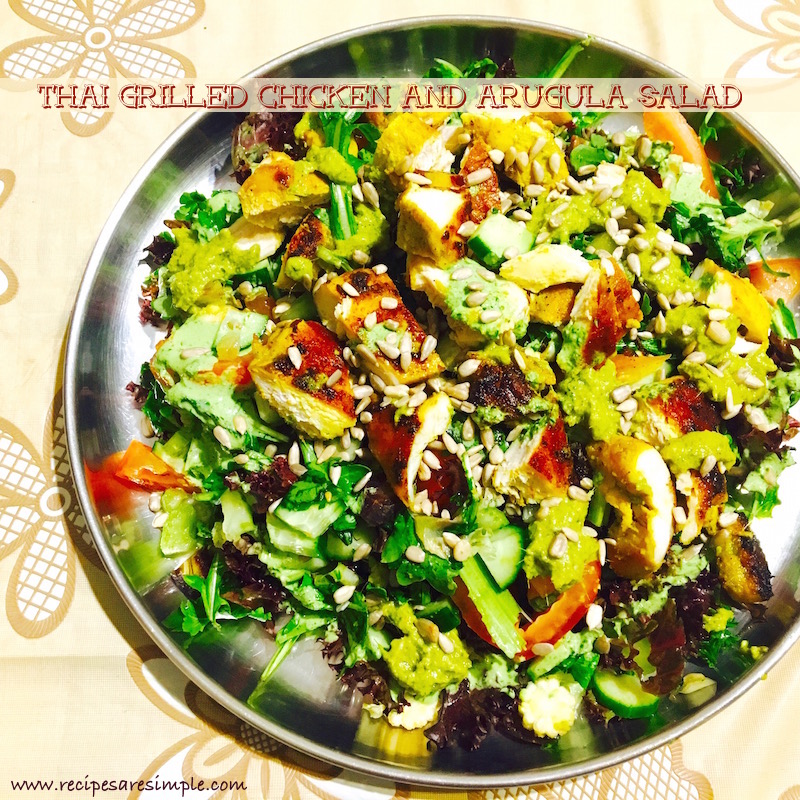 Thai Grilled Chicken and Arugula Salad
Goodbye to boring old salads … This Thai Grilled Chicken and Arugula Salad is pleasingly delicious with various layers of flavor! A complete meal. We all love incorporating more salads into our meals. It's no secret that while food is meant to be enjoyed, you have to keep it well balanced with the occasional indulgence. After all, what's life without the ability to indulge in things you love – once in a while! With regular salads like these you can be happy and content at the same time PLUS you will be able to indulge more often in those guilty pleasures.
So we have chicken and we have arugula, in this delicious duet of a salad. The chicken is first cooked in a fresh aromatic and herby paste. A little coconut milk is added to keep the chicken breasts succulent.  The chicken is then grilled , while reserving the gorgeous, exotic sauce in which it was cooked. This forms one of our two dressings. The other, is made from half the arugula into a dressing with a kick from some added horseradish sauce and mayyonaise.  The fresh ingredients are simply tossed in olive oil, lime juice and salt. The grilled chicken is cut up and tossed in just before serving and the duo of chilled dressings is dolloped over the top. Sprinkle some sunflower seeds and your easy peasy delicious salad is ready!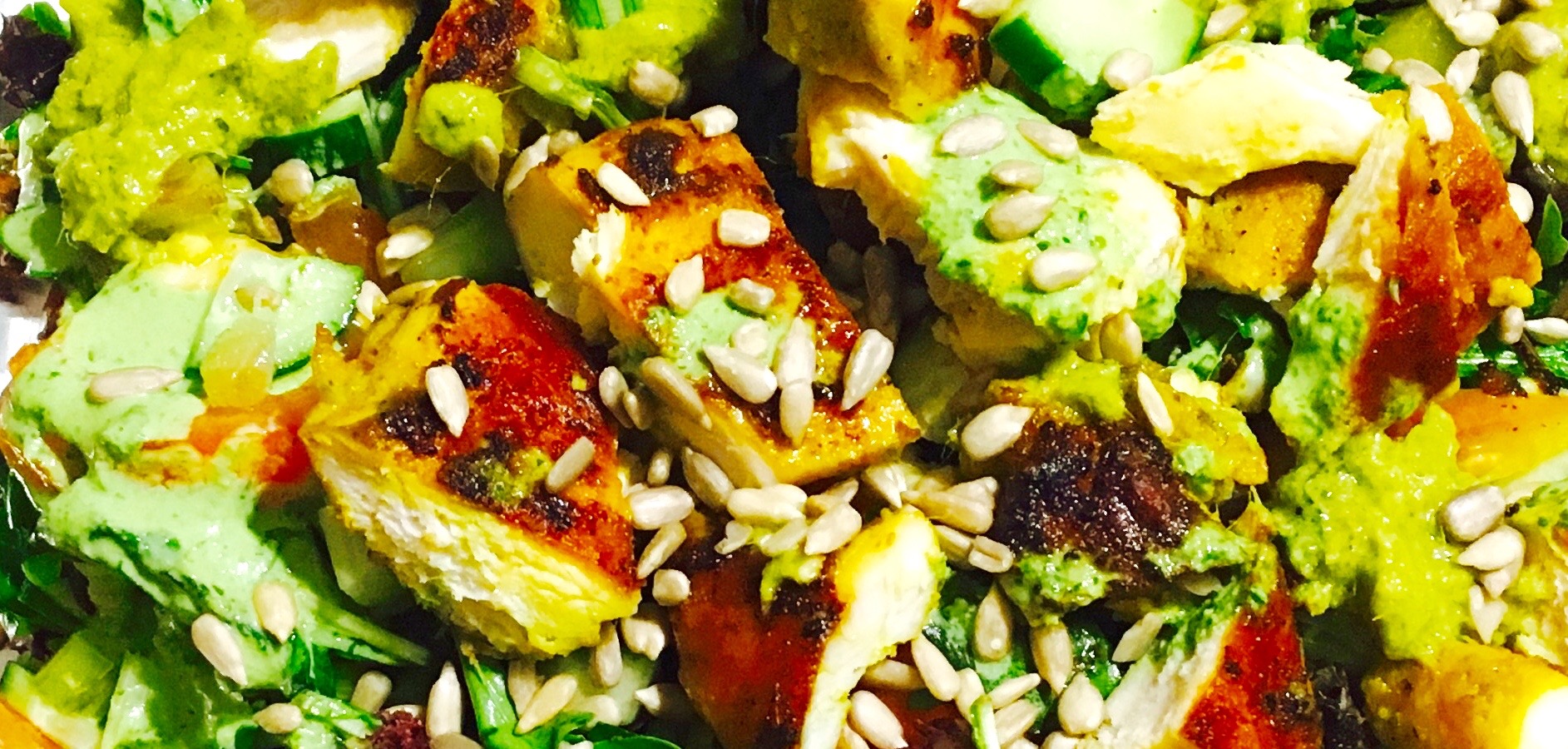 Thai Grilled Chicken and Arugula Salad
You are here: Home > Salads  > Thai Grilled Chicken and Arugula Salad
Recipe Name: Thai Grilled Chicken and Arugula Salad
Recipe Type: Salads / Chicken
Author: Shana c/o Recipes 'R' Simple
Prep time:  12 min
Cook time: 12 min
Total time:  24  min plus marination
Yield: (2 servings)
Ingredients:
For Chicken and Cooked Dressing:
300 gms chicken breast (boneless
¹/8 tsp ground turmeric
4 shallots
3 cloves of garlic
1 ½ tsp fresh  ginger
2 long mild green chillies – deseed if needed
¼ cup loosely packed Basil Leaves (Thai basil or holy basil)
1 stalks of lemongrass stalk, cut into rings
1 kafir Lime leaf, mid vein removed
1 candlenut
2 tablespoon peanut/sunflower oil
¾ cups of  coconut milk- unsweetened and slightly thick
½ teaspoon salt
1½ tablespoons fresh lime juice
¼ tsp freshly cracked black pepper
For Arugula Dressing:
50 gms baby arugula
1/3 cup mayonnaise
1 ½ Tbsp lemon juice
2 tsp prepared horseradish sauce
1 clove garlic
2 tbsp fresh parsley
1 Tbsp extra virgin olive oil
Other fresh ingredients for salad, to be tossed together:
60 gms baby arugula
1 large tomato, sliced or ½ cup cherry tomatoes, sliced
1 or 2 cucumbers, according to size – sliced
1 rib of celery, sliced finely
4 baby corns, sliced
2 baby carrots, sliced
2 ¼ cups red coral lettuce or other variety – torn
2 Tbsp sunflower seeds
1 Tbsp extra virgin olive oil
½ Tbsp lime juice
salt to taste
Method:
For Arugula Dressing:
Blend together the mayonnaise, horseradish, lemon juice, garlic, parsley,  arugula, EV olive oil and 1 Tbsp warm water in a blender till smooth. Keep refrigerated.
For Chicken and Cooked Dressing:
Marinate chicken breast with turmeric and a ¼ tsp salt for 30 minutes.
Add the shallots, garlic, ginger, lemongrass, basil, green chilli, kafir lime and candlenut to a small grinder jar and grind to a fine paste. Do not add water.
Heat oil in a non stick wok or pan.
Add the ground paste and fry, stirring constantly till it no longer has the raw smell of garlic and ginger and oil seperates.
Add coconut milk and simmer. Taste and season appropriately with salt and pepper.
Add the chicken and coat well with the coconut sauce. Cover and allow to cook till the chicken is cooked with a nice coating of the coconut sauce. Add lime juice. Keep spooning the sauce over the chicken pieces, gently and do not allow sauce to burn on sides of pan.
About 8 minutes to cook.  Don't overcook as the chicken is to be grilled further. 
Remove the cooked pieces from sauce in the pan. Use a spatula to remove all the sauce and refrigerate this.
Heat oil in a grill pan. Grill the chicken on medium heat till you get nice char marks and a lovely aroma. (Use a regular frying pan if you do not have a grill pan).
Assembling the salad:
Toss all the fresh ingredients for the salad together.
Add olive oil, lime juice, salt and toss once more.
Cut up the grilled chicken while still warm and add on top of the salad.
Now get both refrigerated dressings (arugula and cooked sauce) and dollop over the salad, seperately.
So you have warm chicken over a cool salad with dollops of sauces in two flavors… enjoy with a  nice iced honey lemon drink!
Thai Grilled Chicken and Arugula Salad
Notes:
This one is easy to prepare for ahead of time. Make the arugula dressing and the ground paste for cooking ahead of time. Keep both refrigerated till ready to cook. Chicken may be marinated in turmeric and salt and kept refrigerated too. The rest comes together very quickly.
Key Ingredients: Chicken, ARUGULA, Lettuce, Mayyonaise, Horseradish, Lime, Shallots, Garlic, Ginger, Oil, Tomato, Celery,
Leave a comment if you tried – Thai Grilled Chicken and Arugula Salad .
Back to Recipe Finder. Thanks for visiting www.recipesaresimple.com .