14 April, 2015
Erachi Choru Recipe – Kerala Meat 'N' Rice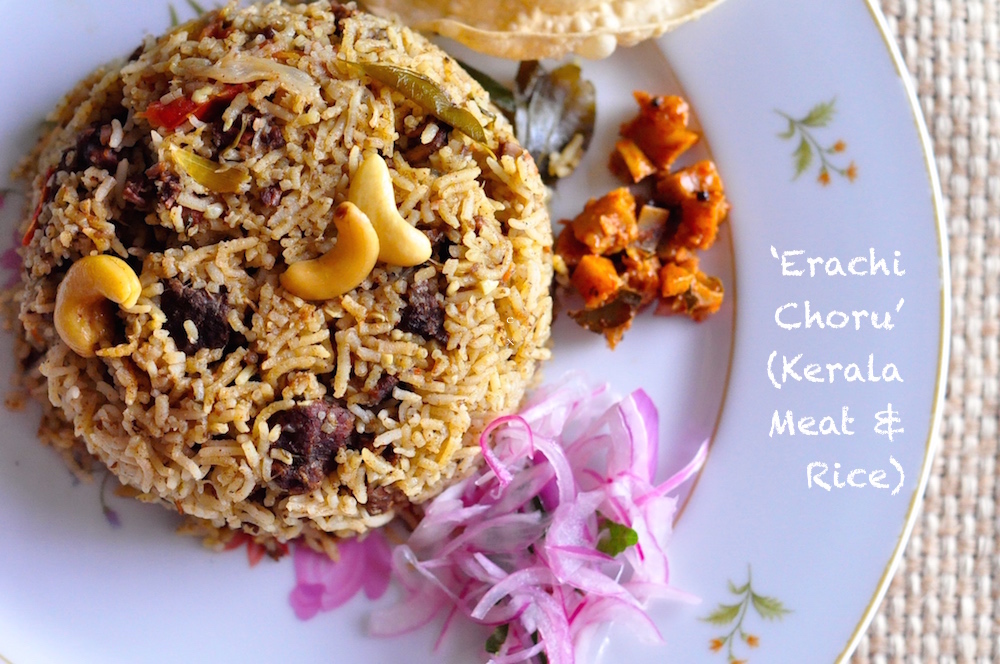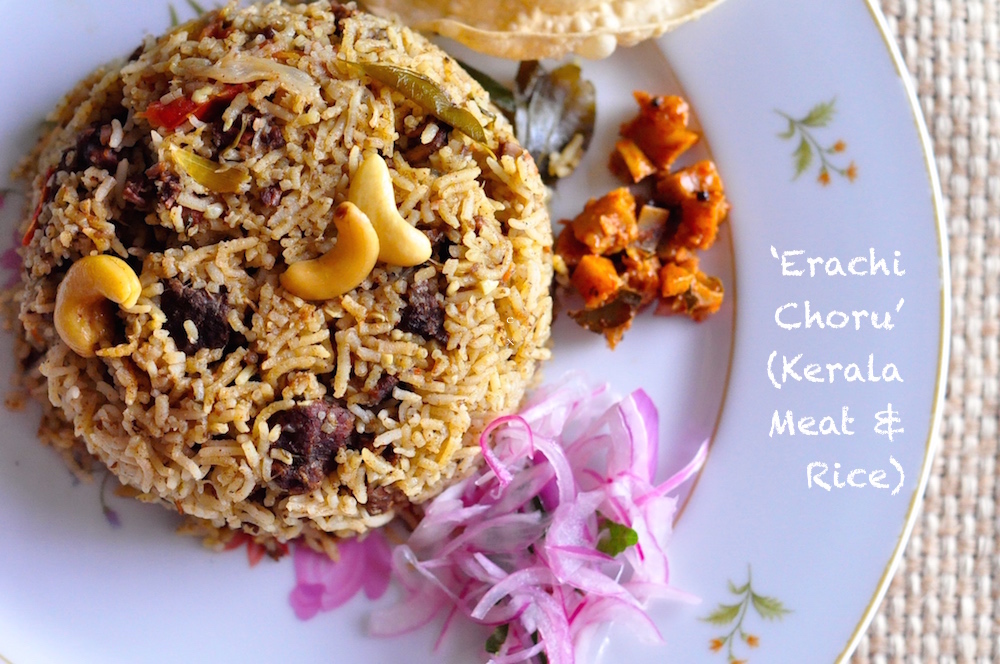 Erachi Choru Recipe – Kerala Meat 'N' Rice
Erachi Choru or Kerala Style Meat with Rice is an easier take on Biryani. Some might call it a Beef or Mutton Biryani. However, there is no layering and the raw rice is stirred in with  with the cooked meat and then everything is simmered together till the rice if fluffy.
Very easy to make. Heart warming and full of flavor, my husband loves this.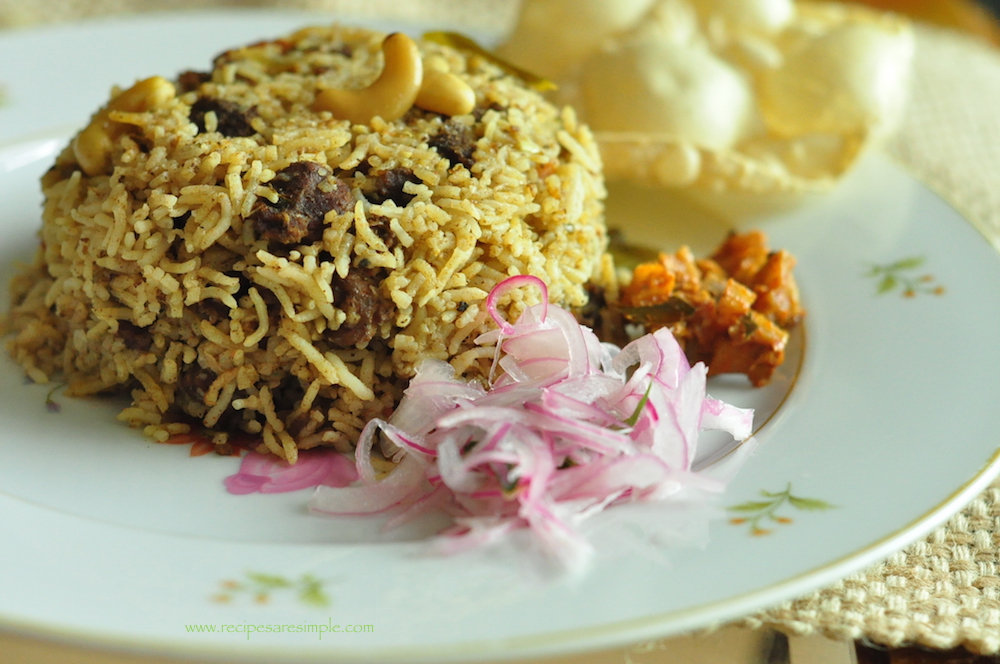 You are here: Home > Rice Dishes  > Erachi Choru
 

Recipe Name: Erachi Choru Recipe – Kerala Meat 'N' Rice

Author: Shana c/o Recipes 'R' Simple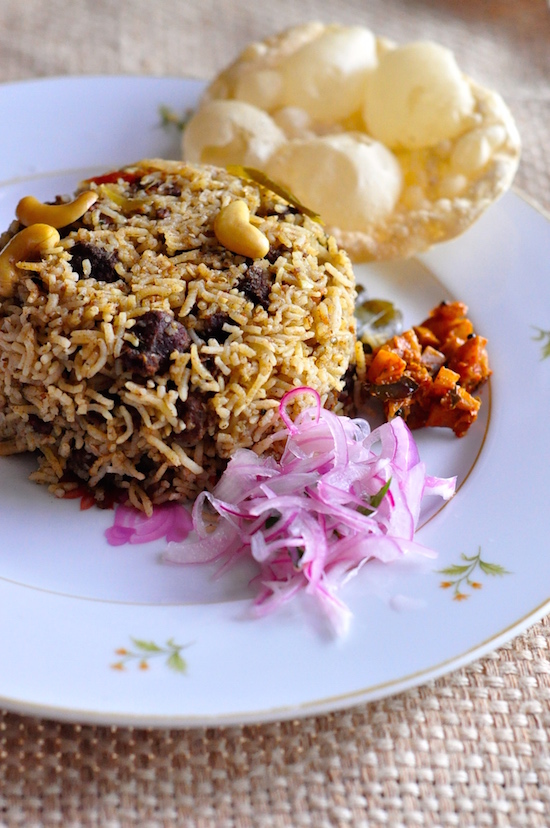 Erachi Choru Recipe – Kerala Meat 'N' Rice
Ingredients:
For the meat:
1 kg mutton or beef, cut into bite size pieces
4 onions sliced
10 large cloves garlic
1 large thumb sized knob of ginger
8 small green chillies
3 large tomatoes, chopped
a bunch(handful) of fresh coriander leaves
3 Tbsp curry leaves
2 Tbsp coriander powder
2 tsp turmeric
1 tsp chilli powder
3 cloves
3 green cardamom pods
1 stick of cinnamon
1 Tbsp ghee
2 Tbsp oil
1 ½ tsp salt
For the Rice:
4 cups basmati or kaima rice
1 large onion, sliced
3 Tbsp oil plus 2 Tbsp ghee
2 cloves, 2 cardamom pods, small stick of cinamon
4-5 Tbsp cahsewnuts
juice 1 small lime (2 tsp)
3 Tbsp fresh coriander leaves
2 Tbsp curry leaves
1 tsp garam masala (get my kerala garam masala recipe)
Method:
Wash, Clean and Rinse the meat thoroughly. Keep drained.
Add the onion, ginger, garlic, green chillies for the meat into a food processor.
Process till finely chopped.
Add the processed ingredients and all remaining ingredients "For the meat", into a pressure cooker.
Use your hands to mix the ingredients together, pressing to release the juices and incorporate all the flavors.
Allow to sit for 20 minutes.
Add just a dash of water.
Pressure cook for around 10 steams if cooking beef and 4-5 steams if cooking mutton.

Bring to the first steam on high and allow to cook for the remaining time on low heat.

Check if done and cook a few minutes more (open). The meat should be cooked but not breaking apart. There should not be too much liquid.
Rinse the rice and soak in water for 5 minutes. Drain.
Heat the oil and ghee in a large pot.
Add the whole spices and allow to crackle.
Add the onion and saute well till the onion turns golden brown.
Add cashew nuts.
Add the cooked meat mixture from the pressure cooker. Toss well.
Add approximately ¾ liter of water and 2-3 tsp salt.

Add 2 tsp first. Taste the mixture: it should just be salty enough.

Add lime juice, curry leaves, coriander leaves and garam masala. 
Bring to boil.
Add the drained rice. Stir well to evenly distribute.
Cover the pot with a muslin cloth and then place a tight lid on top.
Cook on low for about 20 minutes, Opening to stir occasionally till the water just runs dry.
Serve hot with some onion salad, pickle and pappad.
Erachi Choru Recipe – Kerala Meat 'N' Rice
When the rice is doe it will still look rather moist. Do not be tempted to keep cooking, or the rice on the bottom will catch and burn to the bottom.
The extra moisture will disappear after resting shortly.
Key Ingredients: Beef, Rice, Onion, Ginger, Garlic, Green Chilli, Tomato, Spices
Let us know if you tried it – Erachi Choru Recipe – Kerala Meat 'N' Rice . Comments from you provide motivation to keep up the driving force behind this blog, bringing you more delicious and perfected recipes regularly. Please do leave a comment. We love to hear from you.