10 March, 2015
Eggless Chocolate Cake – No eggs, butter, milk or bowls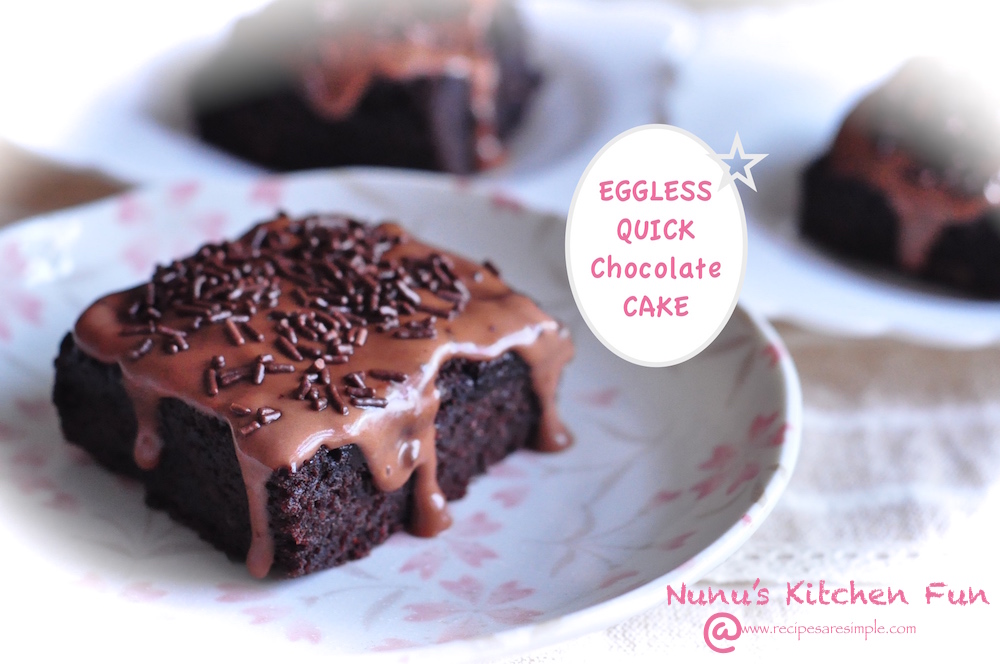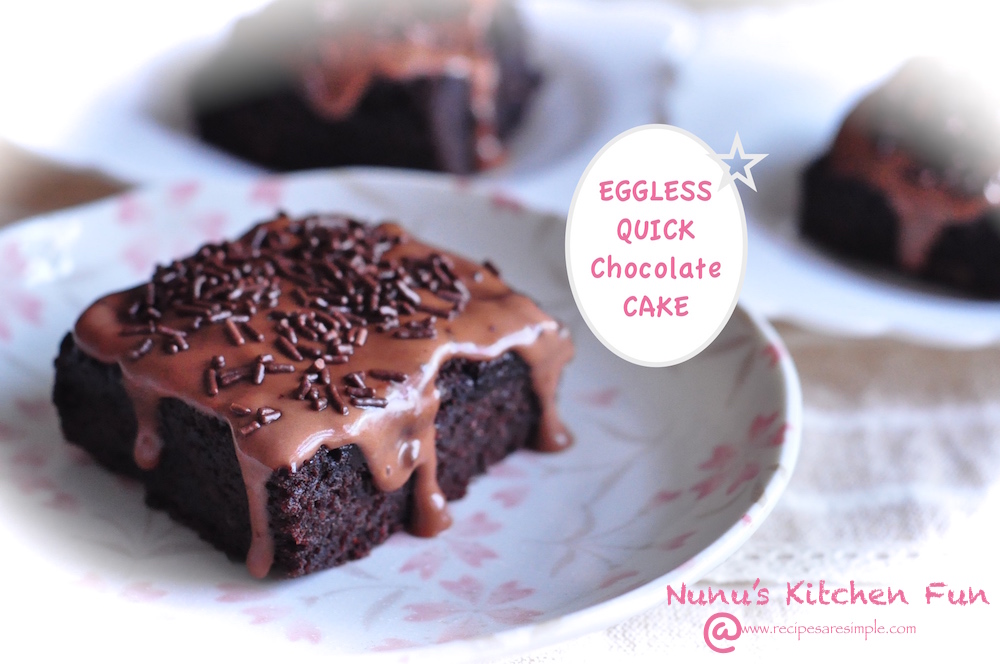 Eggless Chocolate Cake
This Eggless Chocolate Cake made by Nunu and her Sister is perfect for those who are not able to consume eggs. Moist, Gooey Cake that is not only eggless but effortless as well.
By effortless, I mean no whisking. No piles of bowls and whisks to wash. Nothing. Just mix it all up and bake. Perfect project for the kids. The girls had fun mixing up the ingredients till smooth. Barely 5 minutes of prep and 35 minutes later the Cake is done.
If you need to go eggless, try this cake. As with all things that compromise on something or the other, I believe this cake is best with a simple glaze or frosting.



You are here: Home > Nunu's Kitchen Fun (Kids Recipes)  > Eggless Chocolate Cake
| | |
| --- | --- |
|   | Author: Shana c/o Recipes 'R' Simple |
Eggless Chocolate Cake
Ingredients:
1 ½ cup plain all purpose flour
3 Tbsp good quality Cocoa powder
²/3  cup sugar
¼ tsp salt
1 tsp vinegar
1 tsp baking soda
1 tsp vanilla extract
5 Tbsp vegetable oil
1 cup water
Vegetable shortening for greasing
optional : ¼ cup of chocolate chips
optional 3 Tbsp of cooled black coffee
Method:
Preheat oven to 175 c /347 f.
Lightly grease a baking dish with shortening.
Measure and Add flour as well as all dry ingredients directly to baking dish.
Add the remaining wet ingredients and stir with a fork till smooth and no more lumps.
Bake in a middle rack  of the oven for 35 minutes.
(Oven temperatures may vary. A toothpick inserted in the centre should come clean. Do not over – bake). The cake will be coming away from the sides of the pan.
Allow the cake to cool  completely. Chill if you like cold cake.
Use a simple frosting if desired once the cake is cooled.

Recommended : I used a simple frosting but added butter here.(Melt a little butter in saucepan. Add a ½ cup of cream, some chocolate chips or cocoa powder, sugar to taste, a few drops of vanilla extract and add  ½ tsp of cornflour mixed in ¼ cup of cooled black coffee. Keep stirring on medium heat till thick and velvety. (Adjust sugar to taste). Cool before drizzling or spreading over the cake. Sprinkle 

chocolate

 curls or rice over the top.
Eggless Chocolate Cake
You can substitute the cocoa powder in the cake with cornflour and zest of orange for an orange eggless cake.
You can tweak this recipe, adding nuts or other flavorings. The possibilities are endless.
Key Ingredients: flour, cocoa powder, sugar, oil, vanilla extract, sugar, baking soda
Let us know if you tried – Eggless Chocolate Cake . Comments from you provide motivation to keep up the driving force behind this blog, bringing you more delicious and perfected recipes regularly. Please do leave a comment. We love to hear from you.