25 May, 2015
Egg Salad Sandwich – Easy Fixes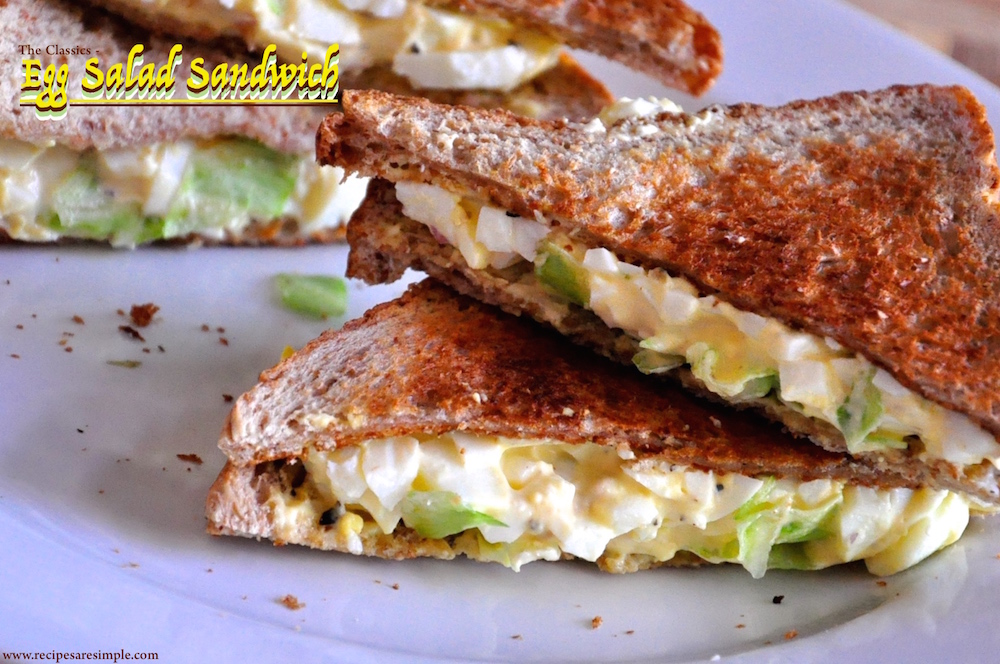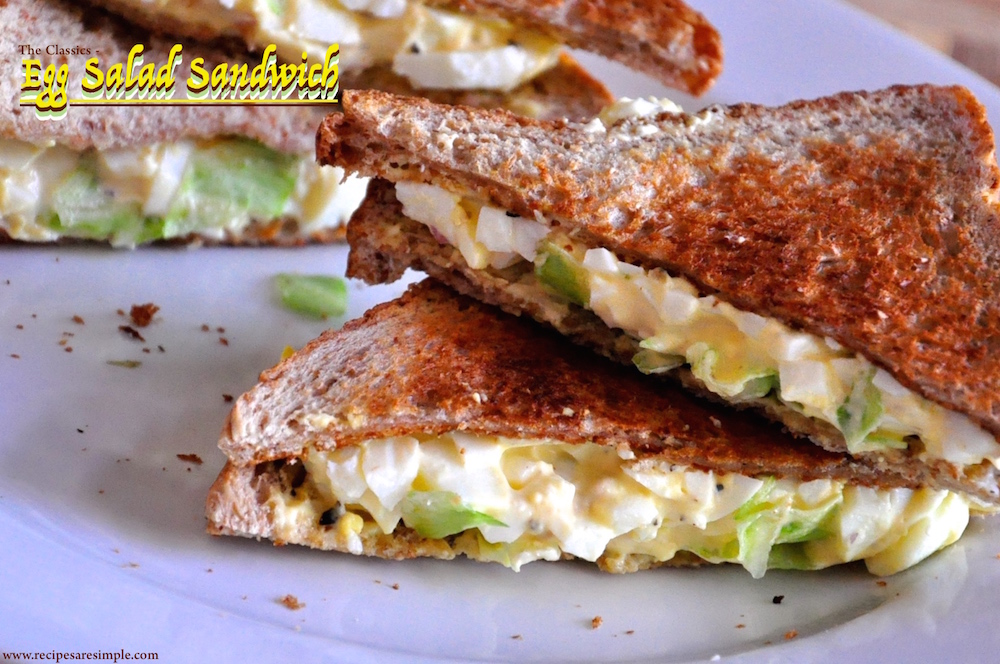 Egg Salad Sandwich – Easy Fixes
Nothing is as easy and satisfying as a nice fresh egg sandwich!  Perfectly boiled eggs, creamy, yummy dressing and a little bit of this and a little bit of that. There are lots of varitions but honestly, when it comes to a classic egg salad – keeping it simple is the key! The egg is meant to be the star of the show here.
If making for kids lunch box, you might want to use bread that isn't toasted and add and ice pack to the lunch box to keep it fresh.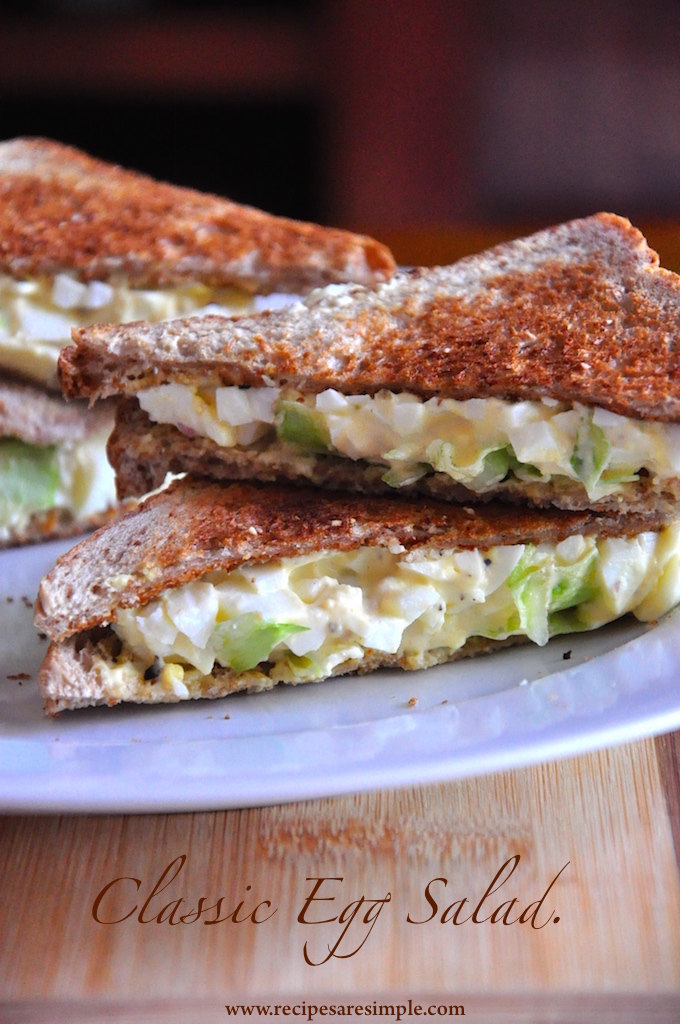 You are here: Home > Breads & Breakfast > Egg Salad Sandwich
 

Recipe Name: Egg Salad Sandwich – Easy Fixes

Author: Shana c/o Recipes 'R' Simple
Egg Salad Sandwich – Easy Fixes
Ingredients:
5 eggs
4 Tbsp Mayonnaise – Hellmans / Best Foods

½ tsp dijon mustard

¼ tsp

freshly cracked

black pepper 
¼ tsp salt
8 slices of whole meal bread
And  try one or more of these optional ingredients for variety:
½ tsp finely minced shallots
¼ cup shredded lettuce
¼ tsp curry powder
¼ tsp squeezed lime
¹/8 tsp dill weed
¼ tsp paprika
Method:
Place eggs in saucepan. Fill with water.
When the water comes to a boil, cover the pan and remove from heat.
Set your timer for 10 minutes.
Remove the hot water from saucepan.
Shake the saucepan to gently crack all the the eggs.
Fill with cool water and set aside for 5 minutes.
Now peel underwater or under running water to reveal perfect boiled eggs.
Chop the egg nicely.
Add to a bowl with other ingredients, Use a spatula or spoon to fold in and evenly distribute all ingredients.
If using lettuce, add later and not into the mixture.
Spread evenly over one slice of toasted wholemeal bread.
Lay lettuce shreds over other slice.
Cut into wedges and serve immediately.
Egg Salad Sandwich – Easy Fixes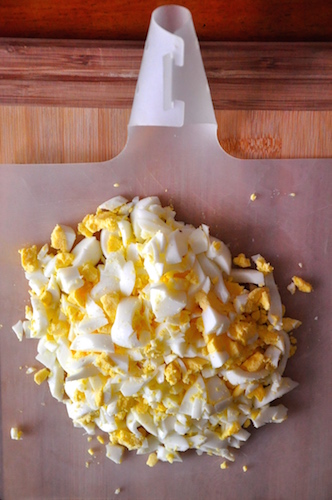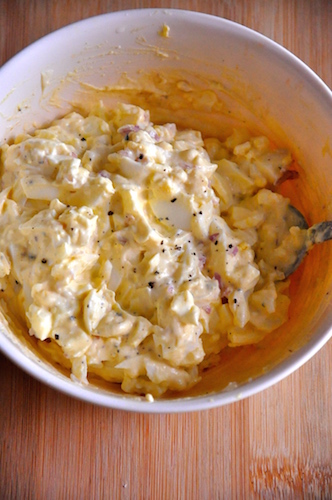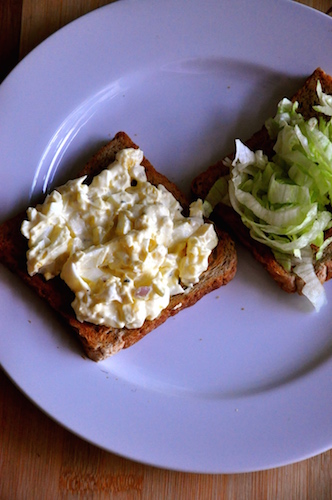 There are lots of other fancy items that are tested in egg salad sandwiches like avocado, apple, chopped dill pickles, chopped olives, boiled potato, cooked shrimp etc.. but I still like mine simple and classic.
Egg salad on Pumpernickel Bread sliced into small squares and garnished with an olive on a toothpick makes a great tea sandwich too.
Key Ingredients: Bread, Eggs, Mayonnaise, Dijon Mustard, Salt, Pepper, Seasoning.
Let us know if you tried it – Egg Salad Sandwich – Easy Fixes . Comments from you provide motivation to keep up the driving force behind this blog, bringing you more delicious and perfected recipes regularly. Please do leave a comment. We love to hear from you.