16 June, 2015
Easy Turmeric and Carrot Fried Rice
Easy Turmeric and Carrot Fried Rice
Starting off my section on EASY KIDS LUNCH BOX RECIPES, this  Turmeric and Carrot Fried Rice  is a regular in my kids lunch boxes. They love the turmeric scented rice. It is so easy to make which is a necessity when sending off kids to school early in the morning! Just a few ingredients and you can have the lunch ready to pack in 10 minutes.
Turmeric is a great spice to add to your cooking, for its vast array of medicinal qualities. Turmeric contains curcumin- which has powerful anti inflammatory effects and is also a very strong antioxidant. It is said that it is better absorbed into the bloodstream if you add black pepper with it. Curcumin boosts levels of the brain hormone BDNF and is known to prevent or delay brain related diseases and illnesses. It may also increase memory power.
Turmeric is also mentioned as a helping medicine to cure / prevent Cancer, Alzheimers, Depression and Arthritis as well as other Age related chronic diseases.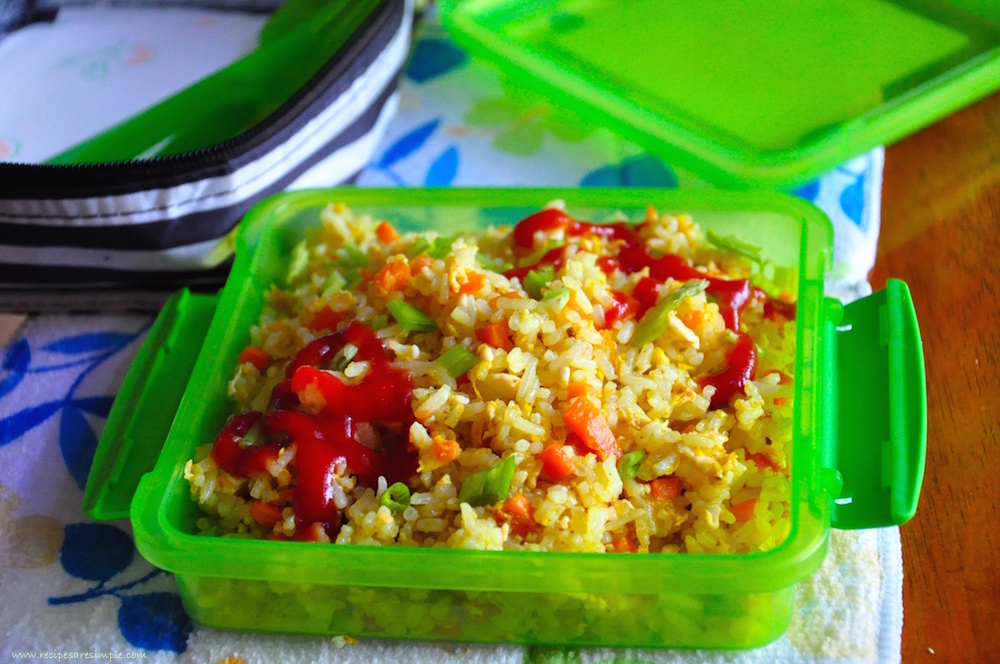 You are here: Home > Kids Lunch Box  > Easy Turmeric and Carrot Fried Rice
 

Recipe Name: Easy Turmeric and Carrot Fried Rice

Recipe Type: Kids Lunch Box Recipes

Author: Shana c/o Recipes 'R' Simple
Easy Turmeric and Carrot Fried Rice
Ingredients:
1 cup cooked rice (thai or jasmine rice) – Use rice cooked the previous night and kept in the fridge.
1 small carrot, cut into small dice
2 eggs
¼ tsp turmeric fried rice
salt to taste
spring onion/ scallion greens, for garnish
ketchup or chili sauce as accompaniment
Method:
Fluff up the cold rice with a fork.
Heat oil in a large wok till smoking.
Add the diced carrot and toss till the carrot changes color. (About 40 seconds).
Break the eggs over the carrot and allow to set for 5 seconds.
Add the turmeric powder and scramble the eggs for 10 seconds.
Add the rice and on steady high heat, toss and stir the rice. Toss till all the rice is separated and coated in the oil and eggs.
Break up any lumps by pressing with the back of your ladle. Add salt to taste and toss again. The rice should be completely heated through.
Garnish with the spring onion greens, chopped.
Put a little tomato ketchup or chili sauce on the side.
Easy Turmeric and Carrot Fried Rice
You can serve with a few chicken nuggets if you like.
Key Ingredients: Rice, Carrot, Eggs, Turmeric, Salt, Oil, Spring Onion Greens.
Let us know if you tried it – Easy Turmeric and Carrot Fried Rice . Comments from you provide motivation to keep up the driving force behind this blog, bringing you more delicious and perfected recipes regularly. Please do leave a comment. We love to hear from you.