15 April, 2014
Easy Tangy Methi Chicken Recipe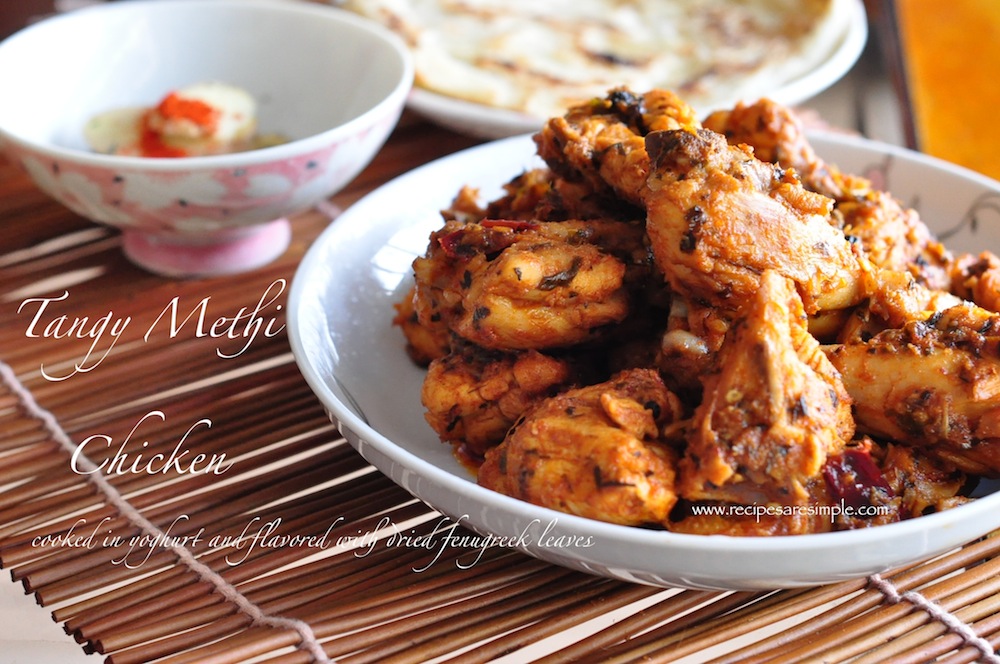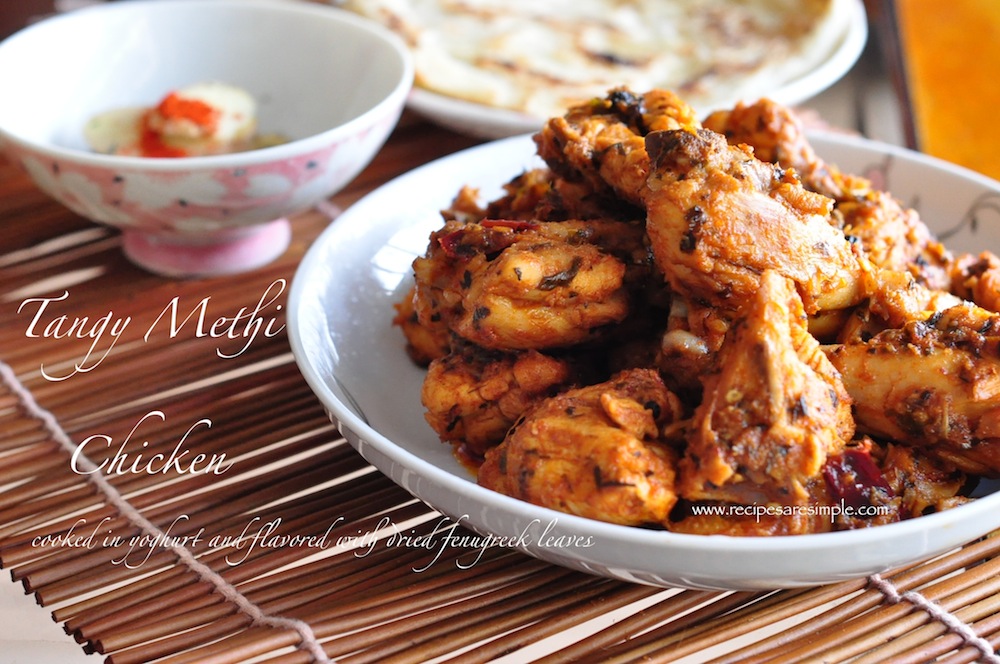 Tangy Methi Chicken Recipe
'Methi' (Dried Fenugreek Leaves) is North Indian Cuisines answer to parsley! Widely used in plenty of vegetarian and non- veg dishes. Strongly Aromatic and slightly bitter : a little goes a long way.  I don't believe you can be on the fence with this one. You either love it or you don't much care for it. I love it. My husband does not.
But I am telling you, If you like the flavor of Methi – this is the Methi Chicken dish for you. It is without doubt one of the easiest dishes to prepare with just a few ingredients. It's Tangy and herby and succulent.
Tangy Methi Chicken Recipe
Recipe Type: Chicken – North Indian Cuisine

Author: Recipes 'R' Simple

Prep time: 10

Cook time: 

Total time: 

Serves: 4-6
Ingredients:
1 chicken, skinless – cut into  10 – 12 pieces
2 tsp crushed ginger
2 tsp ginger, julliened
2-3 dried red chillied, cut up
1 Tbsp Kashmir Chilli Poweder (Mild)
½ tsp black pepper corns
1 Tbsp Kasuri Mathi
¾ cup yoghurt (normal: not too sour)
salt to taste ( about 1 tsp)
3 Tbsp Oil
Method:
 Clean rinse and drain the chicken thoroughly.
Crush the ginger using a pestle and mortar and also julienne cut the remaining ginger.
Beat the yoghurt well.
Heat oil in a wide pan.
Add the crushed ginger and the dry chillies. Allow the ginger to soften.
Also add the  ginger julienne and  the chicken and toss well.
Cook till the chicken is evenly white all over.
Add the black pepper and the kashmir chilli powder and toss till well coated and colored evenly.

( It should be a nice bright red color).

Add the kasuri methi and crush it between your palms. Add this as well as salt to the pan and toss well to incorporate.
Cover and cook on low till the chicken is tender. About 10 minutes.
Add the beaten yoghurt now and cook down, stirring till the yoghurt is just a thick coating over the chicken and not a loose gravy.
Serve HOT!
Tangy Methi Chicken Recipe
Try it and let us know – Tangy Methi Chicken Recipe .
You can substitute the dried methi for other dried hebs like curry leaves  or basil if you are not a fan of 'methi'.