27 January, 2016
Easy Pineapple Fried Rice with Prawns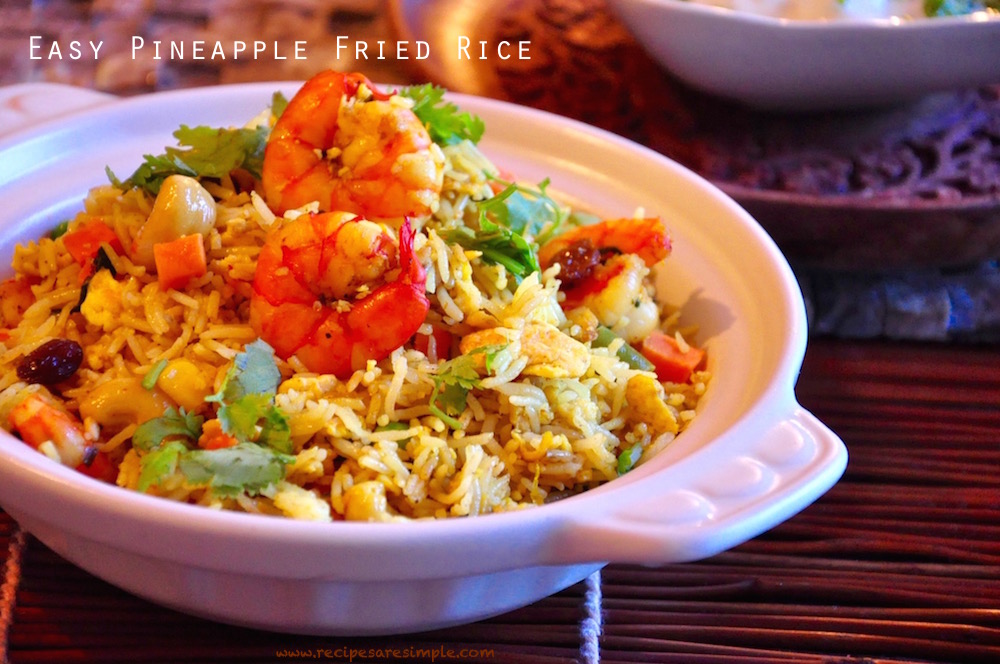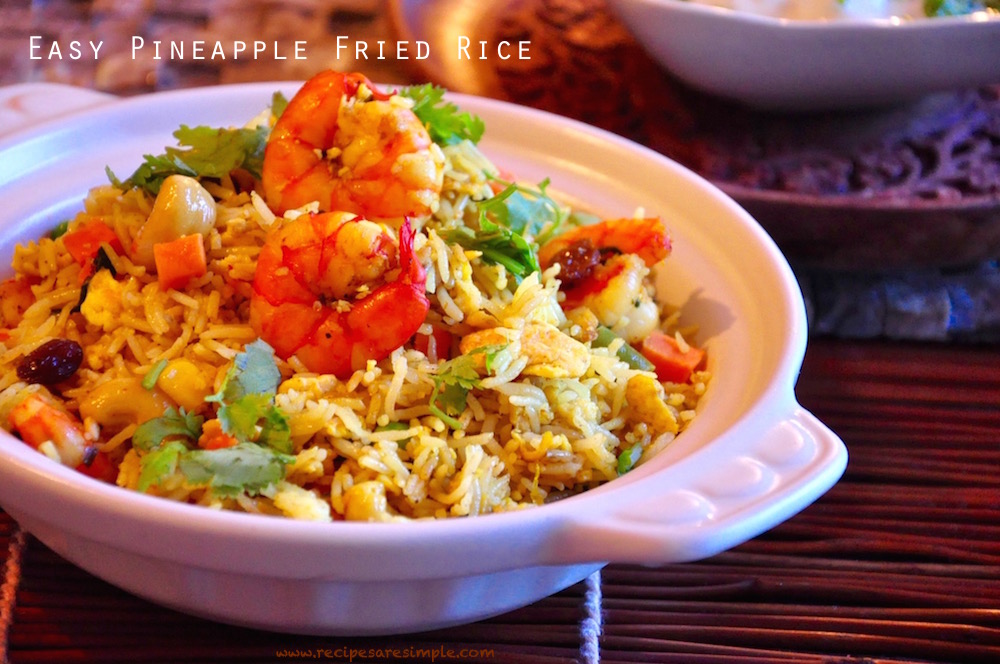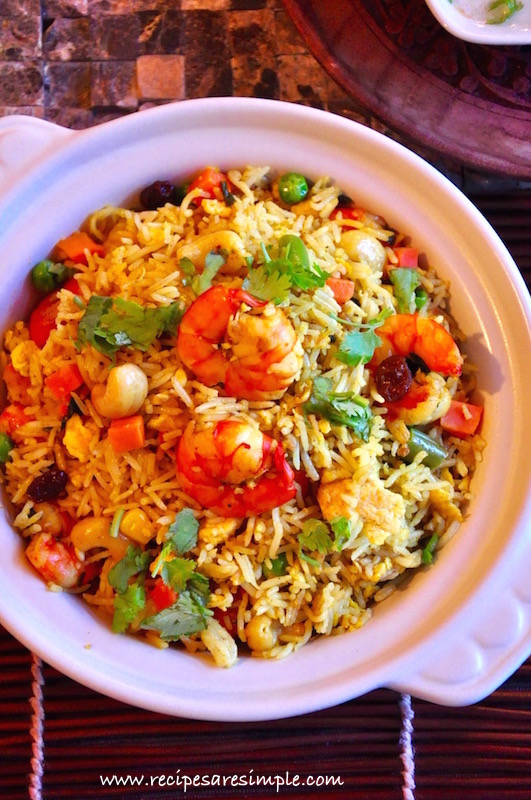 Easy Pineapple Fried Rice with Prawns
This is my super Easy  Pineapple Fried Rice. Very flavorful and fun! That fruity whiff complimented with the scent of curry/turmeric powder  is just so easy on the palate.
Easy Pineapple Fried Rice with Prawns
You are here: Home > Rice Dishes  > Easy Pineapple Fried Rice
 

Recipe Name: Easy Pineapple Fried Rice with Prawns

Author: Shana c/o Recipes 'R' Simple
Ingredients:
2 cups jasmine or basmati rice, that has been cooked and cooled previously.
18 tiger prawns, cleaned and deveined.
 About ¾ tsp of rock salt
¾ tsp turmeric powder
½ tsp freshly ground black pepper
3 Tbsp chopped cilantro
3 Tbsp chopped scallions / spring onion
2 kaffir lime leaves torn
2 " piece of tender lemongrass, bruised
2 Tbsp raisins
3 Tbsp raw cashew nuts
6 Tbsp oil – peanut, sunflower or bran oil
4 eggs, lightly beaten
½ cup frozen mixed vegetables
1¼ tsp curry powder (I use McCormick )
2 tsp light soy sauce
1 tsp Worcestershire sauce
4 Tbsp fresh, firm pineapple, diced
additional salt if required, cilantro or scallions to garnish





Method:
Have your cooled rice and cleaned prawns ready.
Place the prawns on a cool non stick frying pan and bring to heat.
As the pan is starting to get warm, sprinkle about ½ tsp of the rock salt, ½ tsp of the turmeric powder and the pepper over the prawns.
Sprinkle 3 Tbsp water in the pan and leave the prawns to cook just till the color changes uniformly, flipping the prawns, once).
The moisture will evaporate quickly. Set aside these 'partially cooked' prawns.
Rinse the pan and return to heat.
Add 3 Tbsp oil and add the coriander leaves, scallion, lime leaves and lemongrass.
Quickly add the prawns in one single layer and cook for 30 seconds. (Low – medium heat).
Flip the prawns over and cook 30 seconds more. Also add the cashew nuts and raisins into the pan after flipping.
Now toss all the ingredients well together for no more than another 30 seconds. Set aside.
Heat the remaining 3 Tbsp of oil in a wok. Swirl all around to coat completely. When the wok is extremely hot and smoking, add the beaten egg.
Allow to set for 10 seconds, then begin to scramble the eggs on high heat.
Scramble till the eggs, just begin to change color.
Add the fluffed up rice and toss thoroughly till all the grains are heated through nicely and coated.
Make sure all the rice is nice and hot and any lumps broken.
Now add the frozen vegetables. Toss till the vegetables thaw in the heat of the rice, as well as add moisture to the rice.
Now add the remaining turmeric powder, curry powder, Worcestershire sauce and soy sauce.
Toss well till nicely seasoned. Taste and add salt only if needed.
Return the ingredients from the pan with the fried pan to the wok and toss thoroughly.
Lastly add the diced pineapple.
Garnish and serve hot! Yum!
Easy Pineapple Fried Rice with Prawns
To cook the rice : I rinse the rice well and keep drained. Then I bring 2 ¼ cups water to a boil and add a few drops of pineapple extract. Add the drained rice and cover tightly. Cook on very low heat till all the water is absorbed. Spread on a tray to cool or chill till ready to use. Fluff up with a fork prior to cooking.
If you would like toad chicken to the pineapple fried rice, do so by reducing the prawns to half and using ½ cup of chicken. Pan fry in the same way as the prawns (separately). Pan fry till cooked.
Chicken floss may be added as a garnish if available.
Key Ingredients: Rice, Prawns, Spices, Herbs, Pineapple, Cashew, Raisins, Salt, Oil.
Leave a comment if you tried – Easy Pineapple Fried Rice with Prawns. Comments from you provides motivation to keep up the driving force behind this blog, bringing you more delicious and perfected recipes regularly.  Help us to Keep On Keepin' On (: !