15 July, 2015
Easy Meat Rolls or Egg Rolls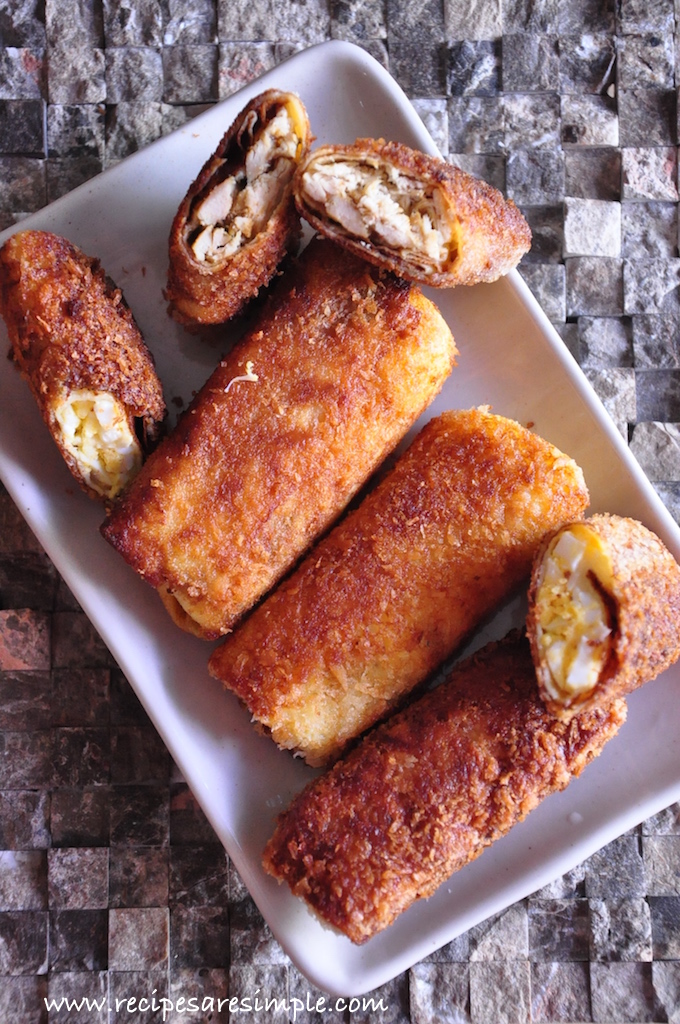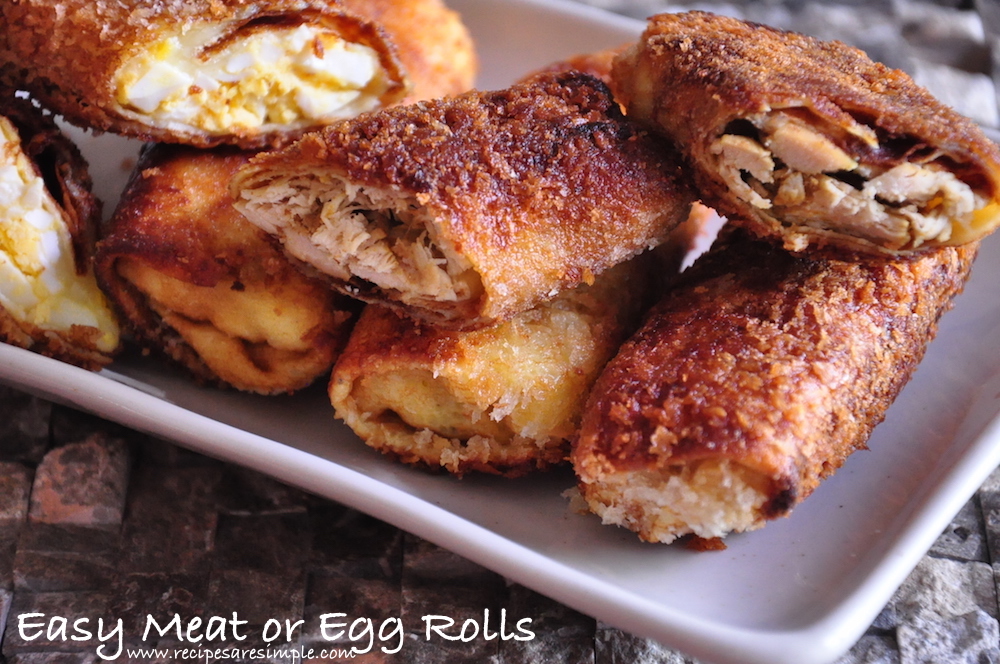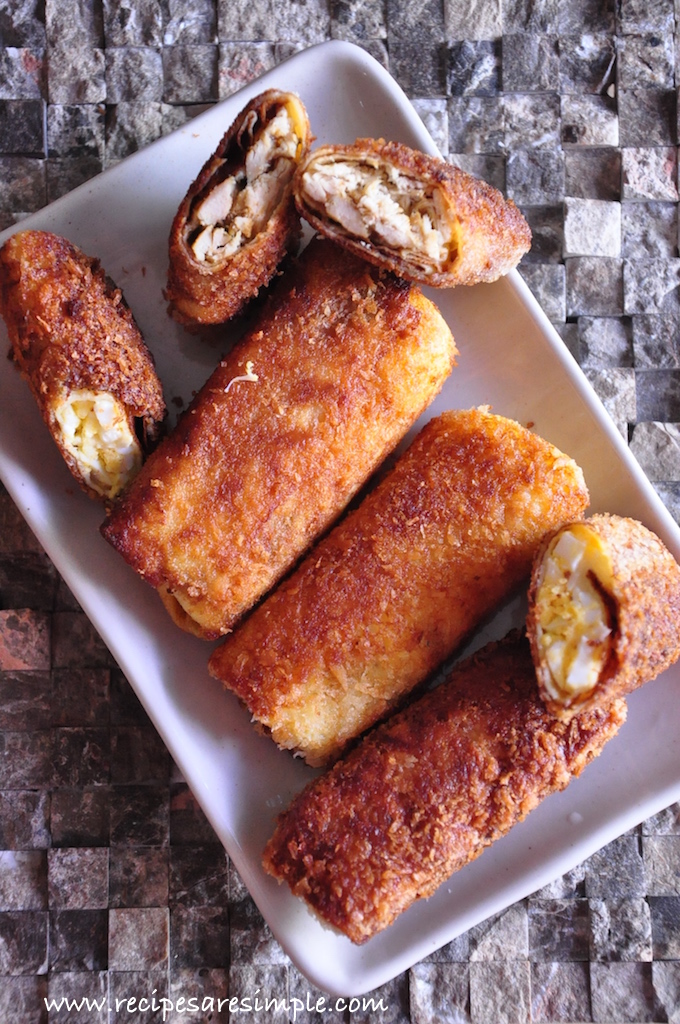 Easy Meat Rolls or Egg Rolls
These Easy Meat Rolls or Egg Rolls, made with diced, boiled egg or left over rotisserie chicken are so easy to fix any time. Add some cheese/mayo or some chopped herbs and grated carrot to make a super easy filling.  Terribly easy snack!
You are here: Home > Snacks  > Easy Meat Rolls or Egg Rolls
 

Recipe Name: Easy Meat Rolls or Egg Rolls

Recipe Type: Snacks / SAVORIES

Author: Shana c/o Recipes 'R' Simple
Easy Meat Rolls or Egg Rolls
Ingredients:
For the crepe like wraps:
½ cup flour
1 cup milk
1 ½ Tbsp melted butter
2 eggs
¼ tsp salt
¼ tsp pepper
For filling:
4 boiled eggs, chopped OR 1 ¼ cup left over rotisserie chicken, skin removed and chopped up
½ cup chopped fresh herbs (thyme, basil, thai basil, scallion, coriander, parsley etc).

I like dill for eggs and scallion and coriander for chicken.

salt and pepper to taste
OPTIONAL :½ cup grated cheese or 3 Tbsp Mayyonaise (or as needed)
Optional: ½ cup grated carrot
Other:
1 cup dry toasted bread crumbs
optional oil for frying or melted butter for drizzling
egg white of one large egg
salt and pepper
Method:
Add all the ingredients for the crepe-like wraps to a blender.
Stir with a spatula from the bottom once.
Blend briefly (5-8 seconds) till a smooth and thin batter is made.
Lightly wipe a shallow, flat non stick pan with melted butter.
Pour a very little amount of the batter into the pan. Just enough to coat the pan thinly, without any holes.
Pour back extra batter (if any) into the blender.
Wipe away the batter from the sides of the pan if you do.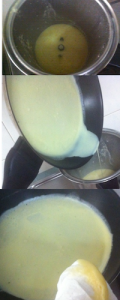 NOW PLACE ON low heat for 1-2 minutes, till the edges are crisped slightly and coming away from the pan easily.
Lift gently with spatula and set aside.
(Each time you make a new crepe/ wrapper, lightly grease the surface of the pan and lift the pan away from the heat source while you spread the batter. Return to heat only once the thin crepe is spread on the pan).
Set aside all the cooked crepes.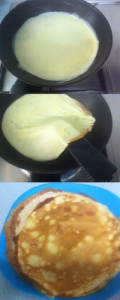 Chop the boiled egg or chicken. Add salt and pepper to taste as well as chopped herbs and grated carrot if using. Mix.
Place 2 Tbsp of filling on one side of the crepe.
Roll tightly like spring rolls.

Using a sushi rolling mat helps.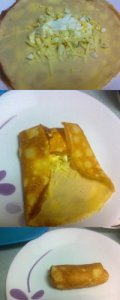 Add beaten egg white to a shallow bowl/plate.
Brush a little bit of this egg white onto the flap of the roll and seal.
Add toasted bread crumbs in another plate.
Coat the rolls one by one in the egg white using one hand.
Use other dry hand to roll in the breadcrumbs.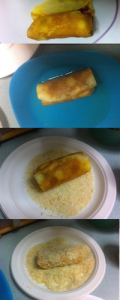 Heat oil in a pan for shallow frying.
Place the rolls, seam side down in the hot oil.
Fry on all sides till dark golden color and crisp.
Drain on paper towels.
Serve with tomato /chili sauce.
Easy Meat Rolls or Egg Rolls
Make Ahead  of time by placing the filled and crumbed rolls in the fridge till ready to bake or fry.
Key Ingredients: Flour, Milk, breadcrumbs, Butter, Eggs, Chicken/ Eggs, Mayonnaise,  Cheese
Do leave a comment if you tried the – Easy Meat Rolls or Egg Rolls . Comments from you provide motivation to keep up the driving force behind this blog, bringing you more delicious and perfected recipes regularly. Please do leave a comment. Love to hear from you.