12 June, 2014
Easy Chinese Beef Steak Stir Fry Recipe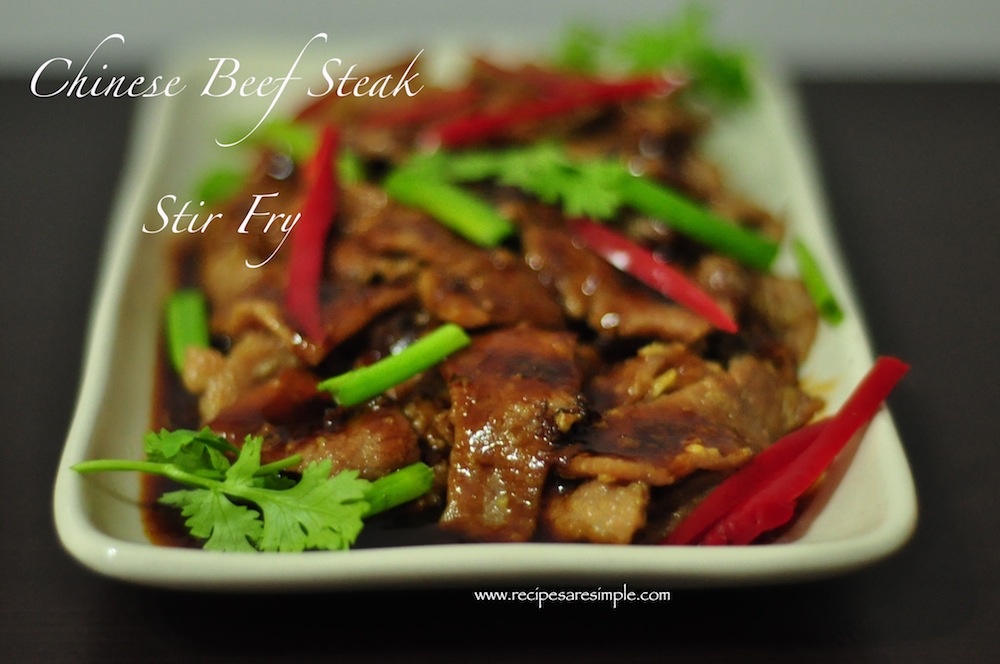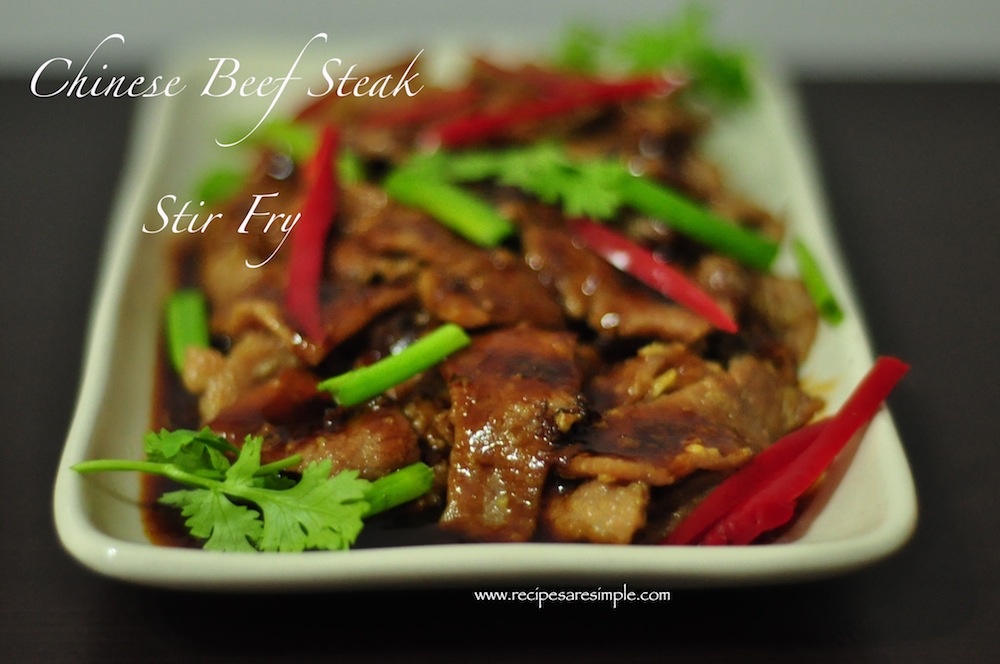 Easy Chinese Beef Steak Stir Fry Recipe
  Chinese Beef Steak Stir fry is very simple to make and great served over plain white rice. You can add bell peppers or other vegetables of choice. The beef is savory with a hint of sweetness. A regular at any Chinese restaurant and made easily at home!
Easy Chinese Beef Steak Stir Fry Recipe
Recipe Type: Beef / Side dish

Author: Recipes 'R' Simple

Prep time: 

Cook time: 

Total time: 

Serves: 6
Ingredients:
700 gms  Beef fillet steak
3 Tbsp  oil:  sunflower or peanut
2 tsp cornflour mixed with 2 Tbsp water
For marinating the Beef:
2 tsp light soy sauce
1 tsp soda bi carb
½ tsp salt
2 tsp Ginger Juice – Squeezed from freshly crushed ginger
¾ Tbsp sugar / brown sugar
1 Tbsp cornflour
1 egg, lightly beaten
For the sauce:
125 ml stock or water
2 Tbsp light soy sauce
1 Tbsp oyster sauce
½ dark soy sauce
¼ Tbsp sugar / brown sugar
½ tsp asian sesame oil
¼ tsp salt
¼ tsp white pepper powder
For garnish:
fresh coriander leaves / cilantro
spring onion leaves / scallions
red chilli
Method:
Cut the rinsed and drained beef into 0.6 cm thick slices. Use a cleaver to tenderize the meat pieces by pounding gently a couple of times.
Add all the ingedients for marinating the beef except the egg.
Mix well. Add the whisked egg last and mix again.
Allow to marinate, covered in the fridge for 3 hours.
Remove from fridge 15 minutes before cooking.
Heat oil in a wok till smoking.
Add the marinated beef and toss till cooked on all sides. This takes only 2 – 3 minutes. Check one piece for doneness.
Add the stir fried beef to a platter.

Stir fry other vegetables : bell peppers, baby corn, carrot etc in the same wok till tender with a clove of crushed garlic if you would like to add it to the dish.

Add the sauce ingredients to the wok and bring to a boil.
Add the cornflour mixed in water and stir till thickened.
Pour over the plated beef /

vegetables.

Ganrish with the fresh herbs and thinly sliced/ julienned red chilly.
Serve hot over plain white rice!
Easy Chinese Beef Steak Stir Fry Recipe
Try it and let us know – Easy Chinese Beef Steak Stir Fry Recipe .
The meat is marinated for 3 hours or more, hence the cookign time is very little. Stir fry on very high heat, tossing continuously.