23 July, 2014
Easy Chicken Supreme Pizza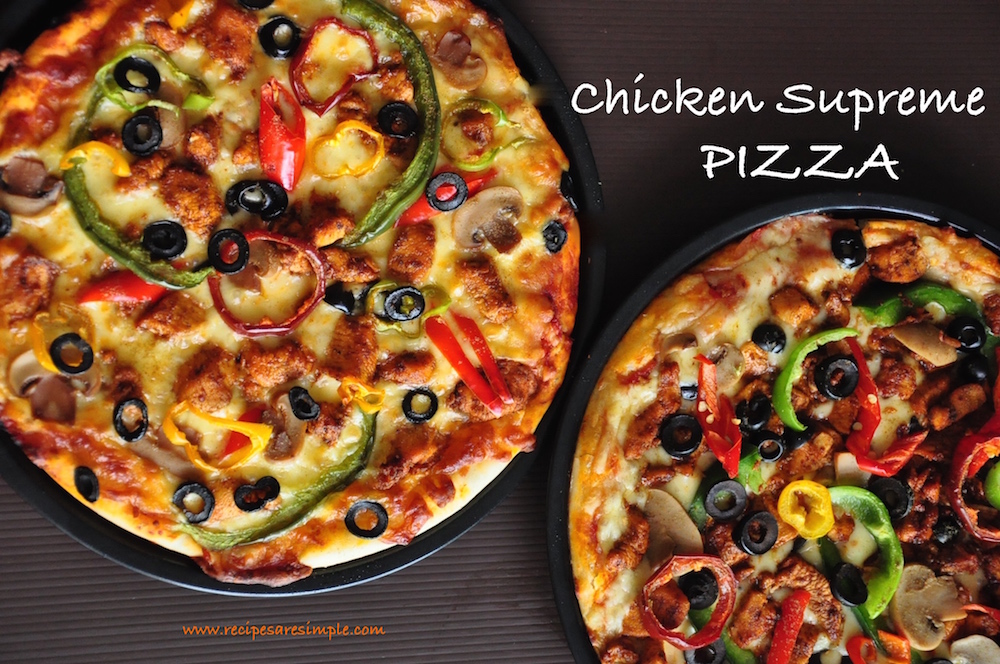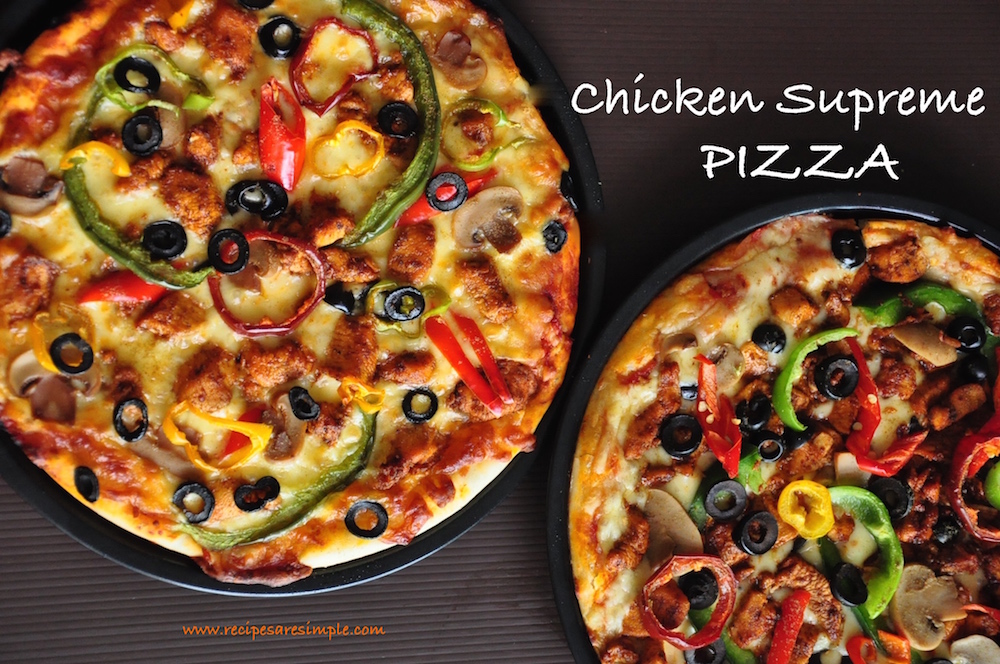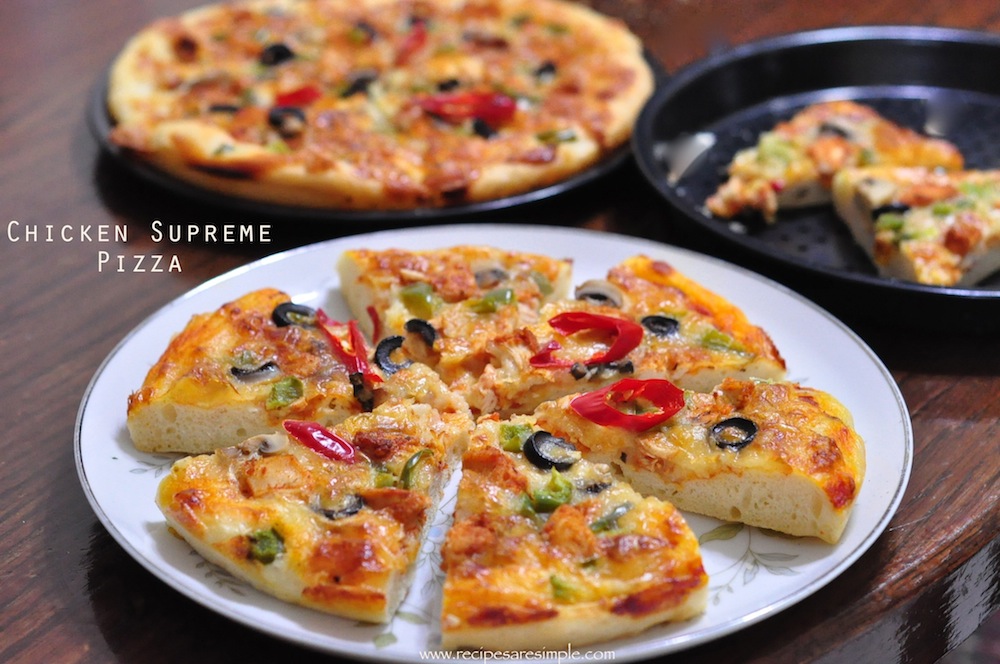 Easy Chicken Supreme Pizza
  Yumm! You can have a really tasty Chicken Supreme Pizza at home. Add some Pepperoni as a topping if desired. Generally, the rule for a good Pizza, which many times we overlook is to keep the toppings light. Apart from your sauce and cheese, you should not go over 3 or a maximum of 4 toppings. Adding too many toppings can lead to a soggy crust. My Chicken Supreme Pizza consists of a great sauce, mozzerella cheese, a handful of black olives, green bell pepper and mushrooms each.
Easy Chicken Supreme Pizza
Recipe Type: Pizza

Author: Recipes 'R' Simple

Prep time: 1 hour

Cook time: 15

Total time:1 hour 15 

Serves: 2 medium sized pizza
Ingredients:
1 ½ cup boneless chicken breast, cut into small cubes
 250 gms grated cheese : 

For a delicious blend, I suggest 150 gms grated mozzarella, 100 gms grated mild cheddar, 20 gms grated colby  & 10 gms grated parmesan
For Crust:
1 ½ cup all purpose flour (You could also substitute half the plain flour for whole wheat flour )
½ tsp fast acting yeast
¹/3 tsp sugar
½ cup warm water (not hot)
2 Tbsp olive oil
¼ tsp salt
To marinate chicken :
1 tsp paprika
½ tsp salt
1 tsp lime juice
2 Tbsp Oil to cook the chicken
For the Tomato Sauce:
6 – 7  Ripe Roma Tomatos
½ tsp sugar
salt to taste
3 cloves garlic
1 onion, chopped finely
¼ tsp oregano
a couple of fresh basil leaves – optional
Other Toppings:
½ cup green bell pepper / capsicum or mixed mini peppers cut into thin sliced or small squares
¼ cup sliced mushrooms (I use canned – squeeze out the water gently)
¼ cup black olives sliced into even sized rings
1 finger length red chili, deseeded and sliced diagonally
a few slices of pepperoni – optional
½ tsp oregano
Method:
For the Crust:
Add the yeast, sugar and warm water to a large bowl. Allow to sit 8-10 minutes, till frothy.
Now add the flour, olive oil and salt. Stir quickly with a wooden spoon till thoroughly mixed.
Knead with hands for 5 minutes till smooth and elastic.
Form into a ball, oil the surface with a little olive oil and cover the bowl with plastic wrap.
Allow to sit in a warm or sunny place for 1 hour, till doubled in size.
For the Tomato sauce – You can substitute this with your favorite smooth pasta sauce if you are looking for a short cut:
Add the tomatoes to a sauce pan with water and boil till the tomatoes are tender and the skin is coming off.

 (While the tomatoes are cooking, marinate the chicken)

Drain. Peel and Puree the tomatoes.
Return to the sauce pan with garlic, onion, basil leaves a little salt and sugar.
Boil, adding ¾ cup of water and allow to thicken.
Strain the sauce, It should be thick and spreadable and not runny.
Marinate the Chicken:
Marinate the drained chicken cubes in lime juice, salt and paprika. Allow to sit till the Pizza dough is  about ready.
Heat oil in a small non stick pan and toss the chicken. Stir fry till the the chicken is just cooked tender and the juices have evaporated.
Set aside the cooked chicken.
Assemble:
Preheat oven to 220º c.
Knock down the dough gently. Divide into two portions.
Grease your Pizza Pans. Sprinkle lightly with flour or cornmeal.
Oil hands lightly and pick up one portion of the dough and spread into the pan using your palms. Press againsts the rim of the pan with your fingers to fill the edges evenly.
Allow to rest briefly.
Make sharp cuts in the dough with a knife or fork.
Spread a THIN layer of sauce over the pizza base.

Next: you can add a layer of cheese, followed by the vegetable toppings OR add the toppings and the cheese over the top. I love the cheese on top because it keeps the chicken and vegetables nice and moist, but presentation wise the cheese goes first.

 Sprinkle the cheese over evenly, avoiding the outer rim.
Top lightly and evenly with the cooked chicken, olives, green pepper, mushrooms and red chilli. (Also place the pepperoni over the pizza if using)
Sprinkle the surface of the Pizza with oregano.
Bake : PREHEAT OVEN  to 220 c, 10 MINUTES BEFORE YOU PUT THE PIZZA IN. Use only heat from the bottom if possible. Use a pizza stone if you have it.
Place the pizza on the lower rack of your oven, Or on to 2 racks.
Bake till the crust is cooked golden and the cheese is melted.
(Check after 15 minutes – slide a spatula under the crust to check for doneness. Oven temperatures may vary so adjust heat OR timing  accordingly)
Yummy Pizza is ready to be sliced and served!
Easy Chicken Supreme Pizza
Try it and let us know – Easy Chicken Supreme Pizza .
You can add some dried tarragon or other herb to the dough to add more flavor.