16 May, 2015
Easy Butter Chicken with Nestle Cream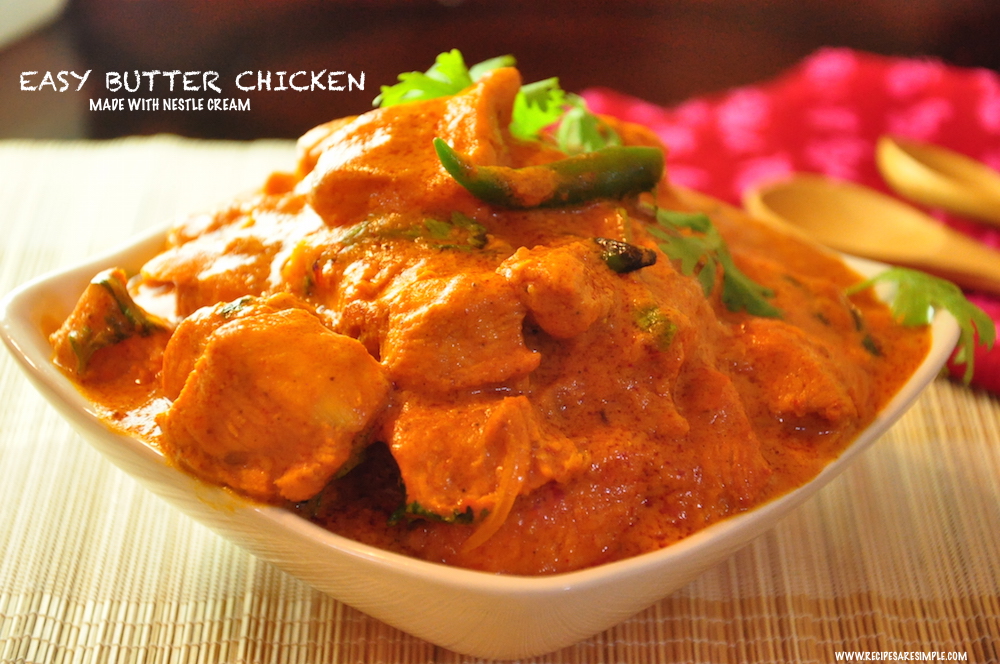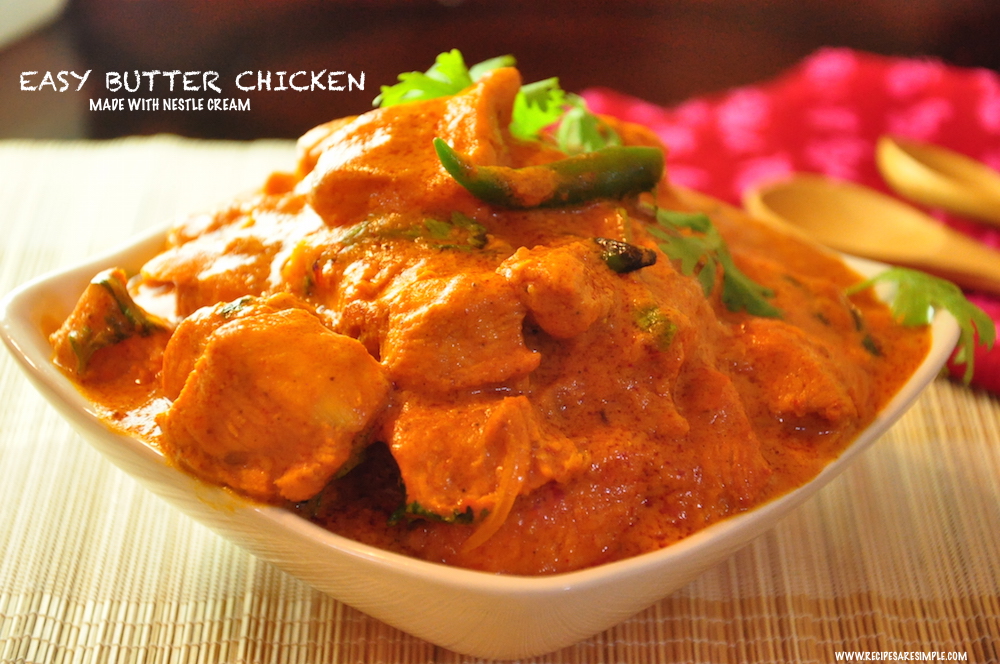 Easy Butter Chicken with Nestle Cream
I recently posted my recipe for Indian Butter Chicken with video.  The dish is Lip smacking good, and offers  an authentic recipe for special Garam Masala made for butter chicken / Tandoori Chicken.  After I posted it, I was reminded of this rather more simple recipe for Easy Butter Chicken with Nestle Cream that my sister sent me over a decade ago.
My family loves Butter Chicken so I decided to make it again. The ingredients are simplified and still results in that Yummy Butter Chicken! So for those of you looking for the easier option, here goes.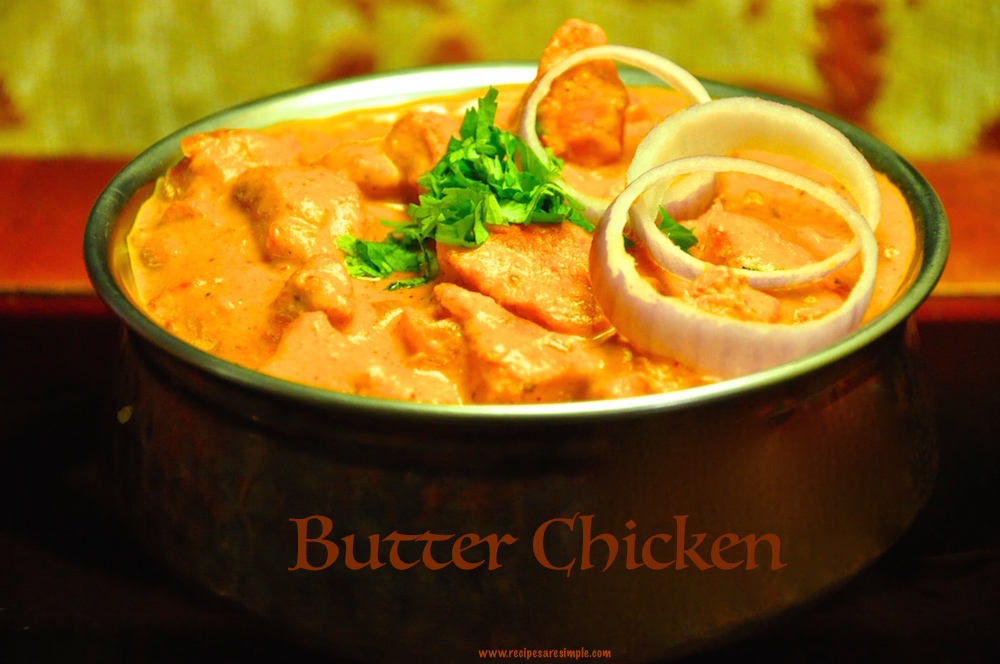 You are here: Home > Chicken Dishes  > Easy Butter Chicken with Nestle Cream
 

Recipe Name: Easy Butter Chicken with Nestle Cream

Recipe Type: Chicken / Indian

Author: Shana c/o Recipes 'R' Simple
Easy Butter Chicken with Nestle Cream
Ingredients:
600 gms chicken breast cubed
For the Marinade:
1 tsp chili powder

1 tsp garam masala or all spice

– whichever you have

½ tsp turmeric
¹⁄8 tsp black pepper

2 Tbsp ginger paste

2 Tbsp garlic paste

3 Tbsp thick yoghurt

pinch of red food coloring

– optional

½ tsp salt
For Gravy:
1 tin nestle cream ( 160 ml)
½ onion, finely chopped (about 5 Tbsp)
3 large tomatoes
4 Tbsp tomato puree or tomato sauce
1 tsp chili powder
½ tsp coarsely ground / crushed cumin
1 tsp garam masala / all spice
¹⁄8 tsp black pepper
½ tsp juice of lime
¼ tsp salt
Coriander leaves for garnish
¼ cup oil for pan frying
Method:
Wash chicken cubes.  Leave to drain – or pat dry.
Add all ingredients for  'Marinade'  to the chicken.
Rub well into the chicken. Leave aside for 10 -15 minutes.
Boil the tomatoes in a saucepan of water till the skin is coming off.
Peel under running water.
Blend the cooked tomatoes without water. Set aside.

(Using a hand held blender makes this very easy).

Add the marinated chicken to a pot  and cook without adding any water.
After 5 minutes, the chicken has turned opaque and there is a good amount of liquid that has been released from the chicken.
Remove the chicken from the liquid  Reserve this for later.
Pan fry for 3 minutes till evenly colored. Set aside.
Remove most of the residual oil from the pan leaving  2 Tbsp in the pan.
To this oil, add the cumin and allow to sizzle.
Add chopped onion, allow to soften.
Add garam masala, pepper and chili powder, cook for 30 seconds.
Add the blended tomato puree as well as canned tomato puree/sauce.
Bring to boil.
Add chicken and simmer briefly on medium heat.
Beat the cream well with a fork, to make it as smooth as possible.
Remove the chicken gravy from heat. Stir in the cream. Continue to stir till incorporated and heated through.
Add garam masala, lime juice and garnish with coriander.
Serve hot with Rice On Flatbreads.
Easy Butter Chicken with Nestle Cream
Key Ingredients: Chicken, Nestle Cream, Spices, Tomato, Onion, Ginger, Garlic, Oil, Salt, Coriander
Let us know if you tried it – Easy Butter Chicken with Nestle Cream . Comments from you provide motivation to keep up the driving force behind this blog, bringing you more delicious and perfected recipes regularly. Please do leave a comment. We love to hear from you.