22 February, 2016
Easy Bread Pizza in Under 30 minutes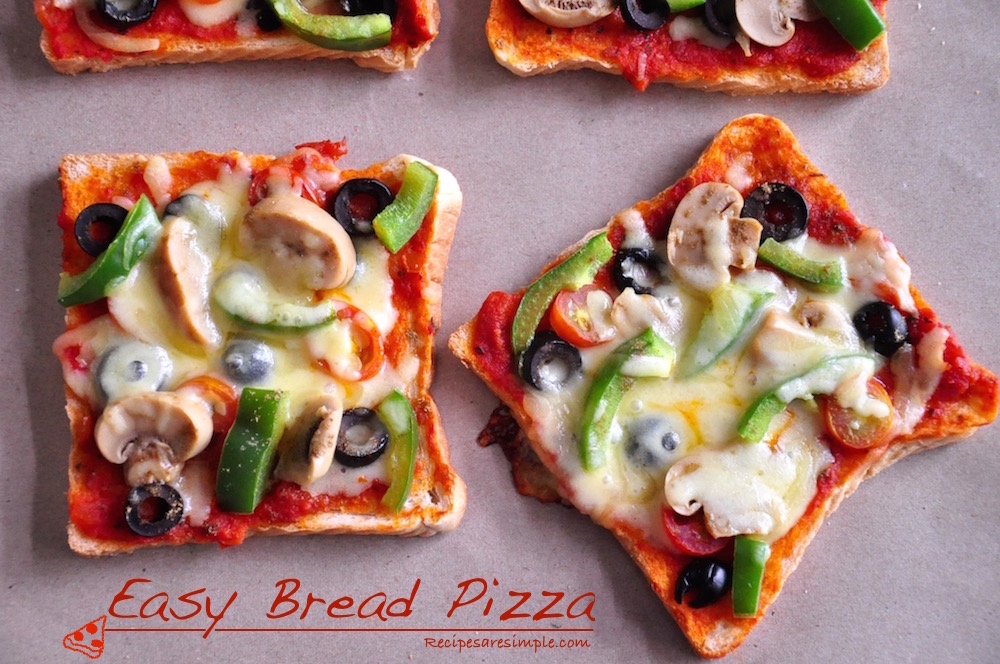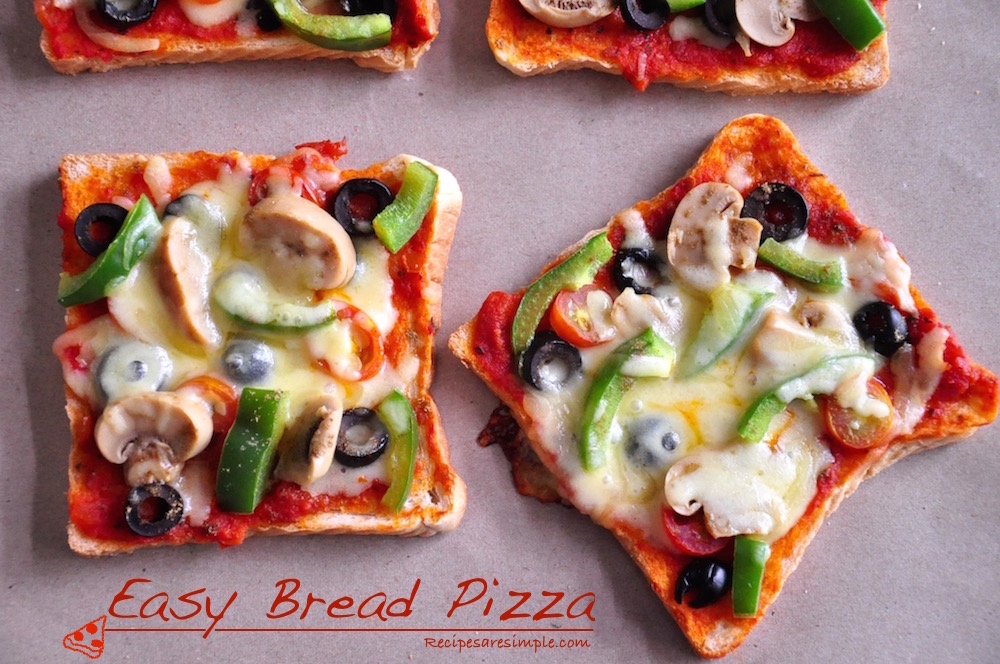 Easy Bread Pizza in Under 30 minutes
We all fall victim to certain cravings every now and then. This recipe helps to beat the craving for a quick Pizza, without the fuss of making the Pizza Base or Sauce. Instant gratification is guaranteed  with this Cheesy Yummy and EASY Bread Pizza Recipe! Kids can help too! This Pizza is great for anytime!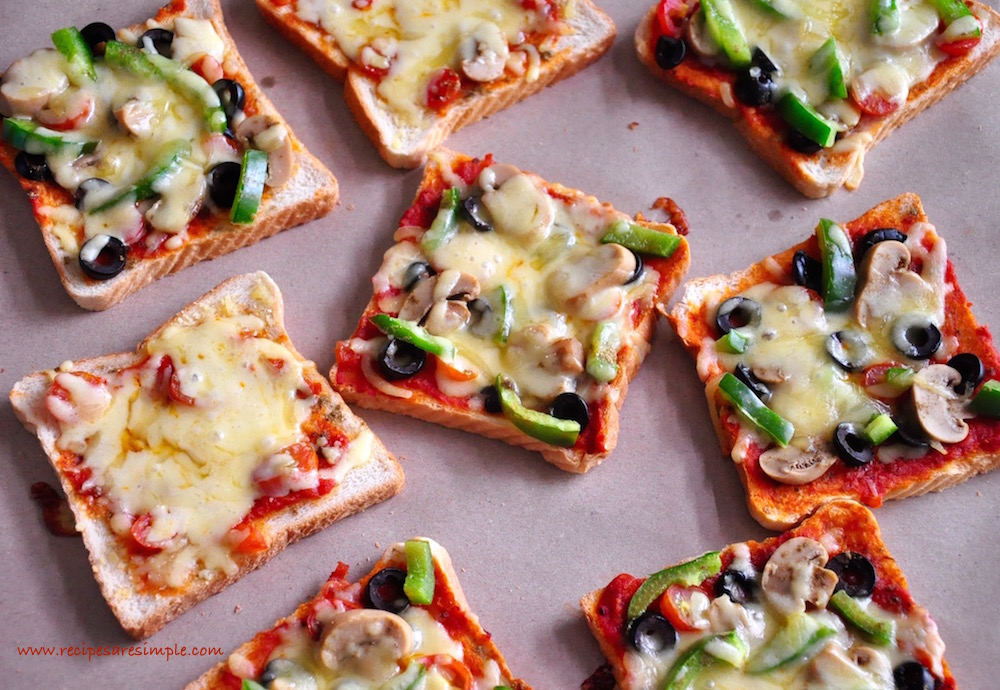 Easy Bread Pizza in Under 30 minutes
You are here: Home > Snacks  > Easy Bread Pizza in Under 30 minutes
 

Recipe Name: Easy Bread Pizza 

Author: Shana c/o Recipes 'R' Simple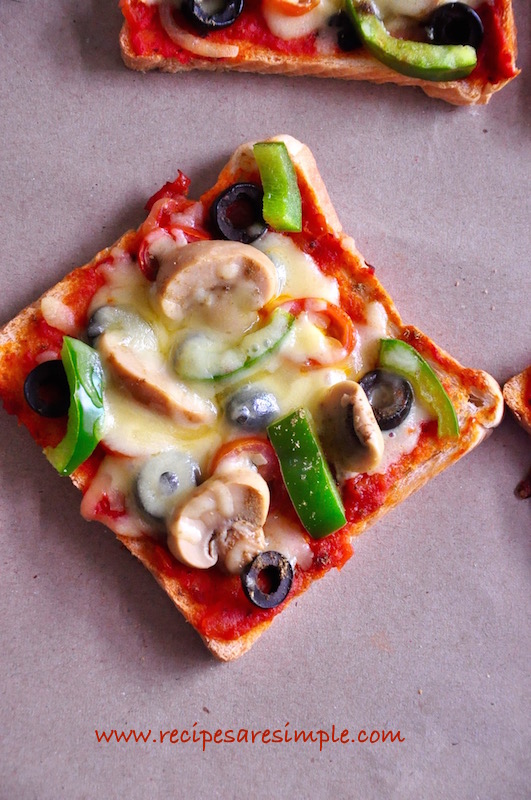 Ingredients:
8 slices of white bread
3 Tbsp olive oil
½ cup of your favorite pasta sauce

(tomato, onion and garlic flavor works well)

OR if you don't like pasta sauce, you may even use ketchup, for a slightly more sweet and less tart pizza.
11-12 black olives sliced
8-9 mushrooms

(this is one recipe where canned mushrooms actually tastes okay!)

8 Tbsp green bell pepper, small slices
10-11 cherry tomatos or grape cherry tomatos, sliced
1 cup freshly grated Mozzarella Cheese
1 tsp ground oregano to sprinkle
Method:
Preheat oven to 200 ºc /390 ºF.
Brush the slices of bread, lightly with olive oil.
Spread the pasta sauce or ketchup over the slices with the back of a spoon – evenly.
Add toppings : black olives, tomatoes, mushroom and pepper.
Sprinkle the oregano over each topped slice.
Scatter the grated cheese over the top.
Place the slices on a baking tray, lined with grease proof paper. (In batches if necessary).
Place the tray in the oven, a little closer to the bottom than the top heating element.
Bake for 10 minutes. The bottom should be crisp to the touch and the cheese should be melted and not brown.
Yummy Cheesy Bread Pizza – Take a bite!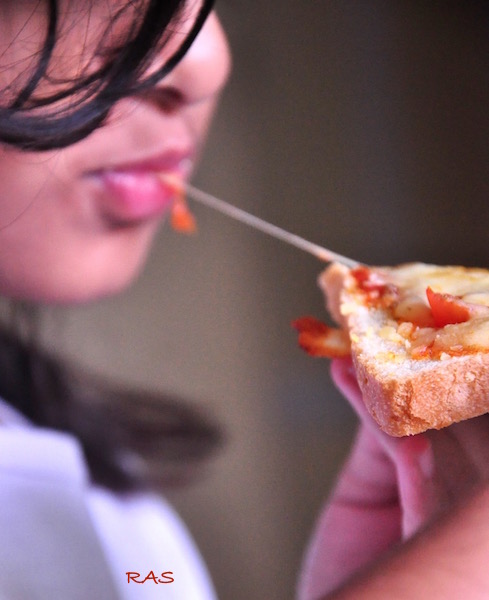 Easy Bread Pizza in Under 30 minutes
Adjust toppings to suit taste. For example, my daughter likes only sauce, tomatoes, oregano and cheese. Thats yummy too!
Key Ingredients: Bread, Pasta Sauce/Kethcup, Black Olives, Green Bell Pepper, Mushroom, Cherry Tomatoes, Mozzarella, Olive Oil, Oregano.
Leave a comment if you tried – Easy Bread Pizza in Under 30 minutes. Comments from you provides motivation to keep up the driving force behind this blog, bringing you more delicious and perfected recipes regularly.  Help us to Keep On Keepin' On (: !