31 October, 2016
Dill Pickles | Easy Homemade Refrigerator Pickles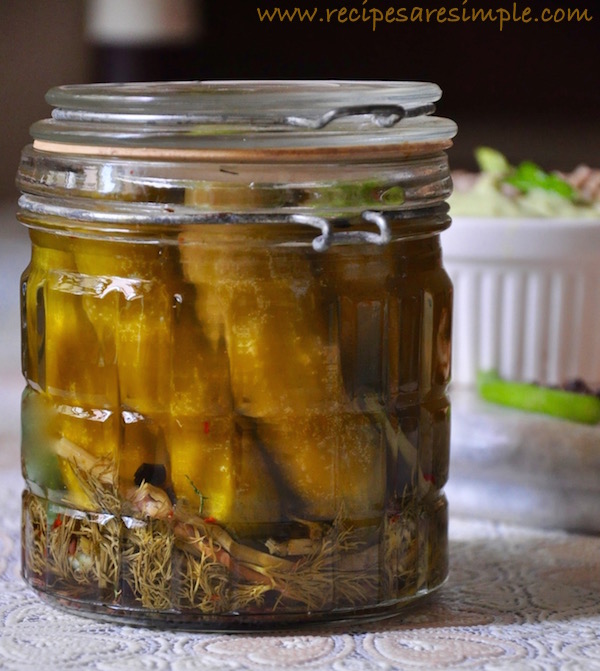 Dill Pickles | Easy Homemade Refrigerator Pickles (with slideshow)
These dill pickles are my favorite instant pickles..  They may be used just after 24 hours. It's no doubt that home made products, usually beat the flavor and reliability of store bought.  Pickles are no exception!  And the dill pickles from the store usually contain too much sugar and artificial coloring!  Make your own fresh, crunchy dill pickles, that require no special pickling equipment and temperature control.  You will be surprised how easy they are to make.  First time I made these, I was amazed at how good they were.  Fresh and crunchy, retaining the nutrients of the fresh cucumber.
Obviously, Dill weed is essential in making the pickles.  Fresh is always preferred but the dried herb may be used if you can't find it!  And when it comes to pickling cucumbers, they say the the kind of cucumber that make you burp, are best for making pickles, due to the higher lever of cucurbitacin.  You can use whole cucumbers, spears or slices.  I tried a few varieties and I found these snacking baby cucumbers to be the best for my pickles.  If I want to use them for burgers, I simply slice them up after pickling.  We use these pickles in salads on a regular basis.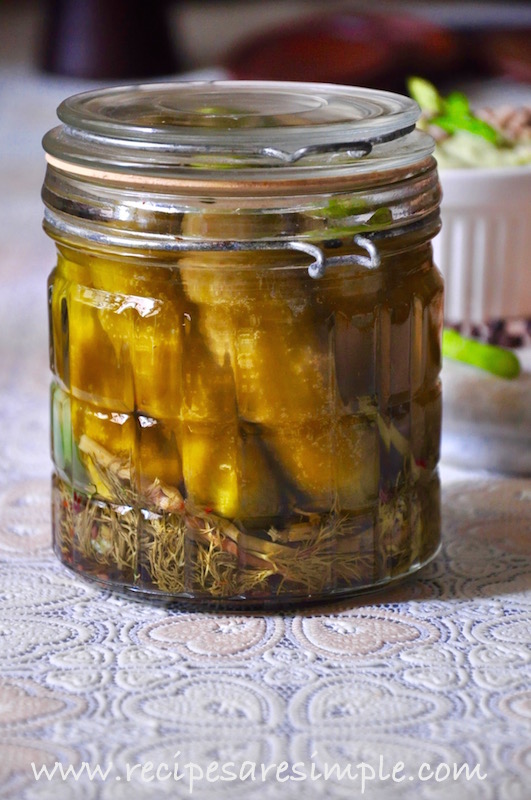 Dill Pickles | Easy Homemade Refrigerator Pickles
You are here: Home > Basics  > Dill Pickles | Easy Homemade Refrigerator Pickles
 

Recipe Name: Dill Pickles | Easy Homemade Refrigerator Pickles

Recipe Type:  Basics / Pickles

Author: Shana c/o Recipes 'R' Simple
Ingredients:
250 gms baby cucumbers
5 sprigs of fresh dill
5 cloves garlic, slightly bruised
1 tsp black pepper corns
½ tsp cumin seeds
½ tsp tsp red pepper flakes
1 tsp vegetable oil
1 ½ tsp rock salt
½ tsp sugar
5 Tbsp vinegar
optional-  ½ tsp celery seeds
1 ½ to 1 ¾ cups water, previously boiled and chilled
You will need a 400 mL capacity, jar with tight lid for pickling. Rinsed with hot water and dried.
Method:
Boil the water, You may choose to add the sugar and salt to the water while boiling. I just add it later. Cool the water and chill it in the refrigerator.
Rinse and scrub the baby cumbers. Pat dry.
Place the dill on the bottom of the jar.
Rub the bruised garlic cloves with oil and add to the jar.
Add salt, sugar, cumin, pepper and red pepper flakes.
Pack the cucumbers tightly into the jar.
Next add the vinegar and then pour in the chilled brine to fill the jar and completely cover the cucumber.
Press down the cucumber to make sure the tip is not exposed.
Cver tightly with lid and turn upside down a few times.
Place at room temperature for 24 hours.
You can eat them after 24 hours!
Turn upside down again and place in fridge.
Keeps well unto six weeks.
Dill Pickles | Easy Homemade Refrigerator Pickles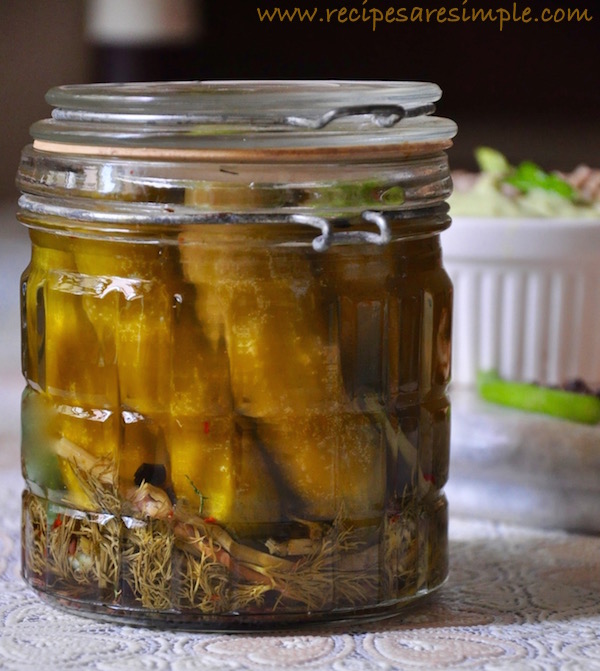 Garlic may turn greenish blue after a day. Not to worry, it's perfectly safe and is just the effect of the acid on the natural pigments in the garlic.
If you do not have fresh dill, replace with 1 Tbsp dried dill.
Key Ingredients: Cucumber, Dill, Vinegar, Water, Pepper, Cumin, Salt, Sugar, Chilli Flakes.
Leave a comment if you tried – Dill Pickles | Easy Homemade Refrigerator Pickles .