19 April, 2014
Devilled Eggs Easter Egg Chicks!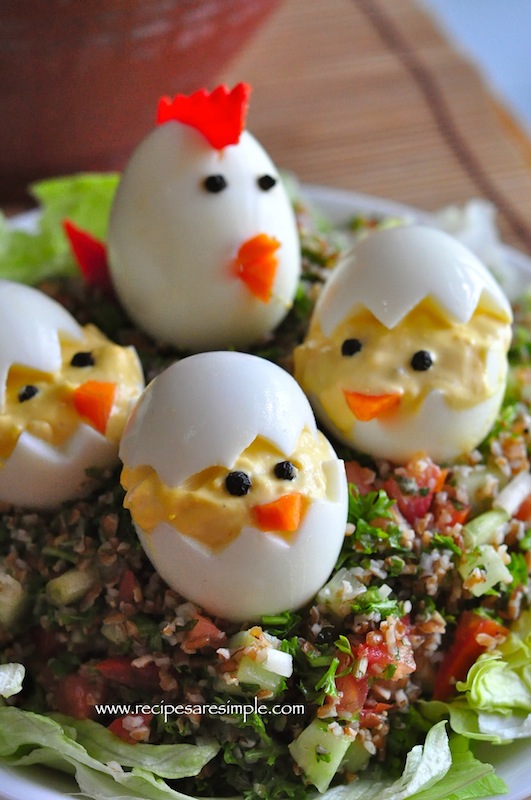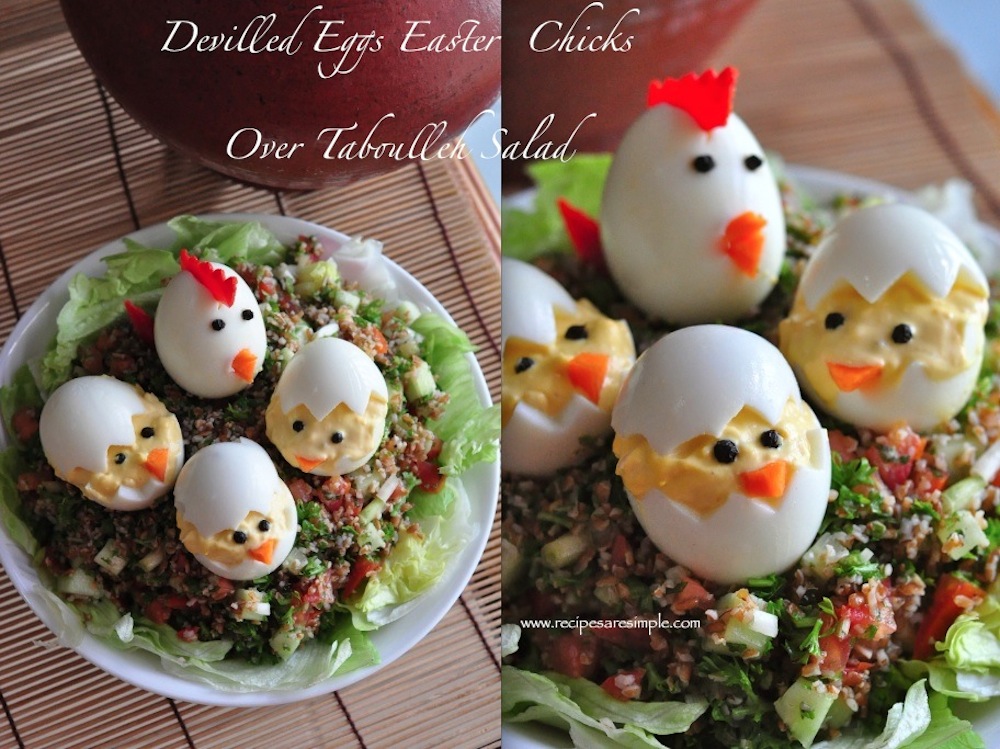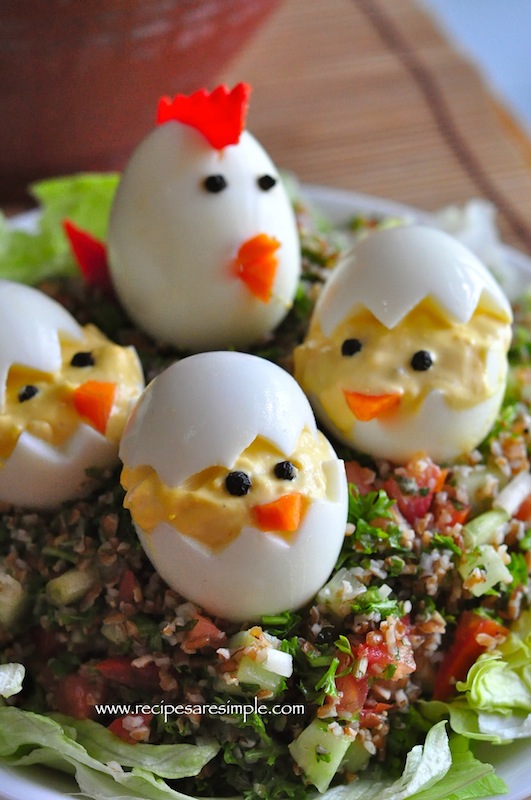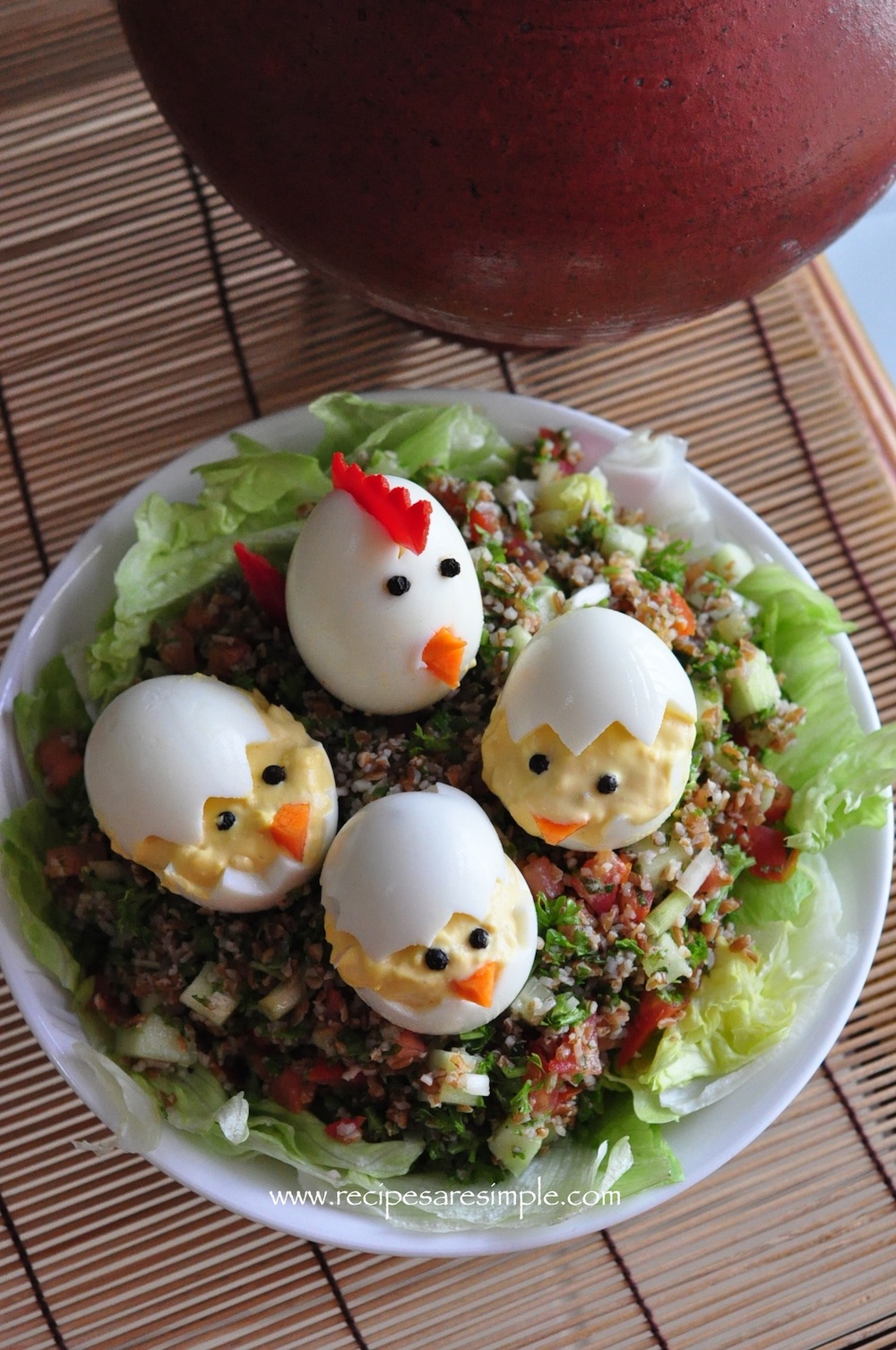 Devilled Eggs Easter Egg Chicks!
  Devilled or Deviled eggs are a super crowd pleaser. No doubt. Why not whip these up for a cute Easter platter? This is my favorite recipe for these popular hors d'oeuvres. So simple and So Yummy. Serve over a 'nest' of your favorite salad. I like a 'Tabboulleh Salad'.
Devilled Eggs Easter Egg Chicks!
Recipe Type: Hors d'oeuvres – festive

Author: Recipes 'R' Simple

Prep time: 

Cook time: 10 

Total time: 20

Serves: 6
Ingredients:
8 eggs
4 Tbsp Mayonnaise
1 Tbsp Dijon Mustard
½ tsp hot sauce like 'Tabasco'
2 shallots, finely minced
salt and black pepper to taste
To decorate – Pepper Corns, Carrot slices, Red Pepper Slices.
Method:
Place the eggs in a sauce pan and cover with cool water.
Place on the stove and bring to a boil.
As soon as the  water has reached a good  'Rolling' Boil. Cover the sauce pan with a tight lid and switch off heat.
Leave for 10 minutes.
Pour out the hot water and shake the sauce pan to gently crack the shells.
Now cover in cool water and allow to sit for 5 minutes.
Peel to reveal perfect boiled eggs.
Slice the eggs through the middle. Use a decorative zigzag cut if you like.
Carefully remove the egg yolks without tearing the egg white.
Add the mayonnaise, dijon mustard, shallots, salt , pepper as well as the egg yolks. Use a small whisk to whip the mixture smoothly.
Add the mixture into a zipper bag with a hole cut on the corner or a piping bag, and pipe the mixture equally divided among the eggs.
Make eyes with pepper corns, beaks with carrot slices combs with red pepper slices.
Place the chicks over a bed of your favorite salad  'nest'.
Cover the chicks with the top half of the egg white 'shell'.
Cute and Yummy! I like to serve it over a Tabbouleh Salad.
Devilled Eggs Easter Egg Chicks!
Try it and let us know – Devilled Eggs Easter Egg Chicks!.
Do not rinse your hallowed egg white. Any liquid can cause the filling to go runny.
To make regular devilled eggs, the egg should be split through the centre across its width rather than height as in the case of these easter chicks.
Using a piping bag makes the filling appear a lot neater than if you just drop by spoonfuls.