30 June, 2013
Delicious Szechuan Chicken Fried Noodles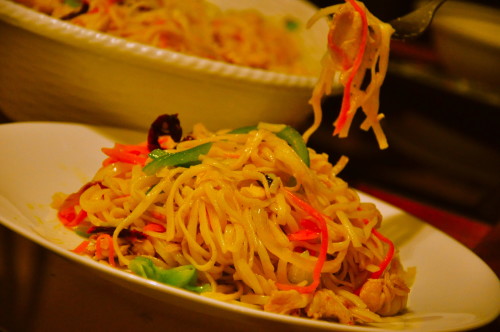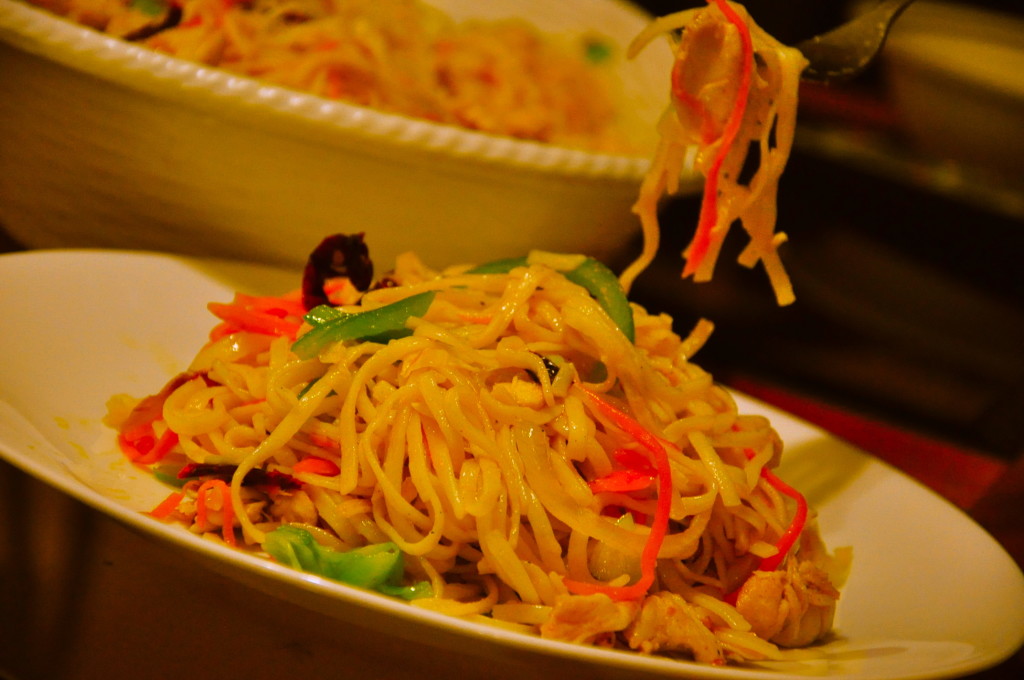 Szechuan Chicken Fried Noodles
Szechuan cuisine is a style of Chinese Cuisine originating from Sichuan province in southwestern China. It has bold flavours, particularly the pungency and spiciness resulting from liberal use of garlic and chilly peppers, as well as the unique flavour of the sichuan peppers. Peanuts, sesame paste and ginger are also prominent ingredients in Szechuan cooking.
In this Indian Chinese fusion 'Szechuan Chicken Fried Noodles' recipe, you can use your favorite dry chilly peppers, if you prefer less spice you can use the milder variety of dry chilly peppers. But the chilly infused oil that must be made prior to cooking is the key to this deliciously fiery temptation. This is my prized recipe.
Szechuan Chicken Fried Noodles



Ingredients: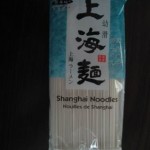 2 250 gm/.550 lbs Packets of thin straight/pulled egg noodles;Shanghai Noodles works well
10 dry chillies sichuan/hot or mild to your taste, cut in half
2 chicken breasts, cut to thin strips
2 or more cups loosely packed, julienne grated carrots (thin,long pieces)- use a curly peeler to get long thin strips
1 small cabbage cut thinly as possible -long strips
½ large capsicum/bell pepper sliced julliene-long strips-may mix red and green peppers
1 yellow onion – thinly sliced
8-10 large cloves garlic – bruised
optional; 1  or 2 eggs scrambled with salt and pepper
To marinate chicken: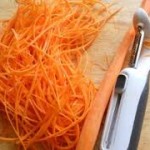 2 Tbsp light soy sauce
2 tsp Hsiao Sin (Chinese Rice Wine)
2 tsp cornflour
Sauce ingredients:
½ chicken bouillon cube diluted in ½ cup water OR ½ cup chicken stock
1 tsp light soy sauce
1- 2 Tbsp chilly oil ;

see below for special recipe(recommended) OR use store brought favorite brand

1 tsp sugar
1 tsp sesame oil
2 tsp cornflour
For the chilly oil:
½ cup Peanut oil/Soyabean oil ;May use Rice Bran oil or Sunflower oil as well.
10 dry chillies(we recommend using the shriveled up variety which is less hot)
¹⁄8 tsp salt
Optional: 3 cloves of  garlic and ½ " ginger, crushed
1 tsp sichuan peppercorns if available




Szechuan Chicken Fried Noodles
Method:
Make the chilly oil prior to starting
Boil the dry chillies in a little water well. Cover with a lid and turn off stove. Leave to soak for 1 hour (covered). Add 1 tsp sichuan peppercorns for more authentic taste.
Drain and grind/blend to a smooth paste.
Heat the peanut oil. Carefully add this paste and allow to fry till cooked in the oil without burning.

(You may want to cover the pan to avoid splatter)

Sprinkle salt. Allow the oil to cool completely or even leave overnight, then strain to get a clean red chilly oil.
Adding garlic and ginger to this oil enhances the flavor.
Store in a bottle for future use and continue with steps for making Szechuan Noodles.
Marinate  the chicken strips in the ingredients above for at least 20- 40 minutes.
Mix together all the sauce ingredients and set aside.
Bring a large pot of water to boil. Add the noodles and Parboil, about 3 minutes; loosening the noodles while boiling.
Drain. Spread on a tray and toss with a little oil to prevent stickiness.
Heat oil in a large wok.(Swirl wok to coat all over) .

Chinese cast iron wok is best.

On High Heat, 

Add the bruised garlic and stir-fry till just golden.
Add the marinated chicken and Toss, Toss, Toss till nice golden cooked.
Remove to a plate.
Heat some more oil in the wok→High heat→Add the onion and stir-fry 5 seconds. Then add carrot followed by cabbage. Toss well quickly till tender

WITHOUT LOOSING CRISPNESS

.We call this 'TenderCrisp'. Sprinkle salt. Toss and set aside in plate.
Swirl and heat some more oil in the wok

(enough oil for frying the noodles).

High Heat→Add the halved dry chillies. Stir till nicely aromatic.

Dont allow to go black.

Add the noodles.Toss,Toss,Toss separating the noodles as you do so.

The noodles should be glossy from being evenly coated in the oil.

Add the capsicum and toss for 5 seconds.
Return the cooked chicken to the oil.
Give the sauce a stir and add a little at a time till the noodles are seasoned. You might not need all the prepared sauce- it should not make the noodles go wet.
Return the carrot and cabbage , toss once. Remove from heat.
Szechuan Chicken Fried Noodles
Notes:
You may add more chilly if desired.
You may also like to omit the chilly oil from the mixed sauce ingredients and add it while tossing the noodles so that you can adjust to your taste.
Optional- add spring onion and scrambled eggs last.
Serv

e Szechuan Chicken Fried Noodle

s HOT!
You May Also Like: