22 May, 2013
Delicious Meatball Casserole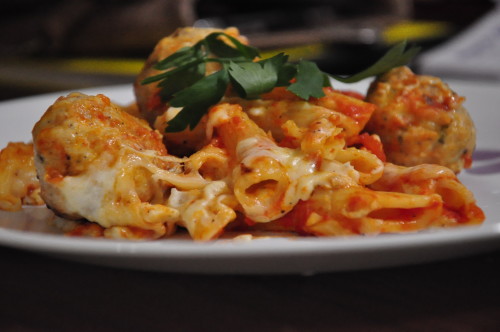 Delicious Meatball Casserole
Pasta Lovers , This way please! A sumptuous casserole of pasta with homemade meatballs covered in your favorite pasta sauce as well as a yummy cheesy white bachamel sauce.
Delicious Meatball Casserole



Ingredients:
For Meatballs
600 gms Minced chicken
¾ cups finely minced onion
¾ tsp finely minced ginger
¾ tsp finely minced garlic
½ tsp  pepper
½ tsp salt
2 tsp lime/lemon juice
4 Tbsp finely chopped parsley + more for garnish
2 large slices of white bread soaked in water
6 tsp grated mozzarella
1 egg, seperated
4 tsp butter softened
Oil for frying
For Bechamel Sauce
3 Tbsp Butter
3 Tbsp flour
1 ½ cups milk
½ tsp nutmeg, powdered
2 oz cream cheese (we use SCS or Philadelphia)
½ Tbsp garlic, finely minced
Other
1lb Ziti or Penne pasta

1 Jar of your favorite spaghetti sauce
1-1 ½ cup shredded Mozzarella




Method:
For Meatballs
Saute the onion, garlic and ginger in very little oil till golden.
Squeeze out all the water from the soaked bread slices. Press against a sieve or strainer to do so.
Reserve the egg white for dipping.
To the rinsed and drained mince, add the sautéed ingredients, pepper, salt, lime juice, chopped parsley, mozzarella, soaked and squeezed bread,

egg

yolk

and butter
Combine well with hands and form into meatballs.Dip each ball in egg white.
Shallow fry in a skillet turning once, till golden. Drain.

Do not fry too long or meatballs will be dry.
Pasta
Cook the pasta in salted boiling water as per instructions on package but few minutes short. It should still have some bite as it will be cooked again while baking. Drain. Preheat oven to 350ºF/167º C.
Bechamal Sauce
In a small sauce pan, melt the butter (do not burn).

Add flour and stir  make a roux -thickened and cooked.
Add the milk and whisk well till there are no lumps. Stir till thickened.
Add salt and pepper grated nutmeg, cream cheese and garlic. Stir and remove from heat.
To Assemble
In a large oven proof casserole dish, Make the following layers starting from the bottom:
half the jar of spaghetti sauce.
half the meatballs in this
half the cooked pasta
all of the bechamel sauce.
rest of the pasta
rest of the spaghetti sauce.
half the mozzarella.
rest of the meatballs.
rest of the mozzarella.
Cover and bake for 30 minutes. Allow to rest for 15 minutes.
Serve.
You May Also Like: Greek Pastitsio