25 September, 2014
Delicious Green Chicken Tacos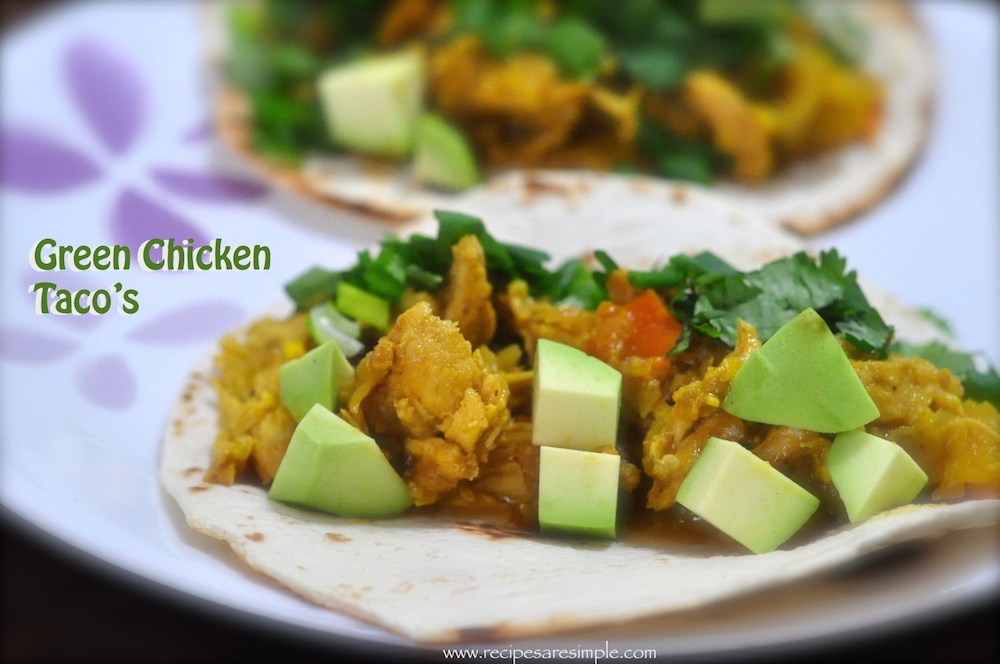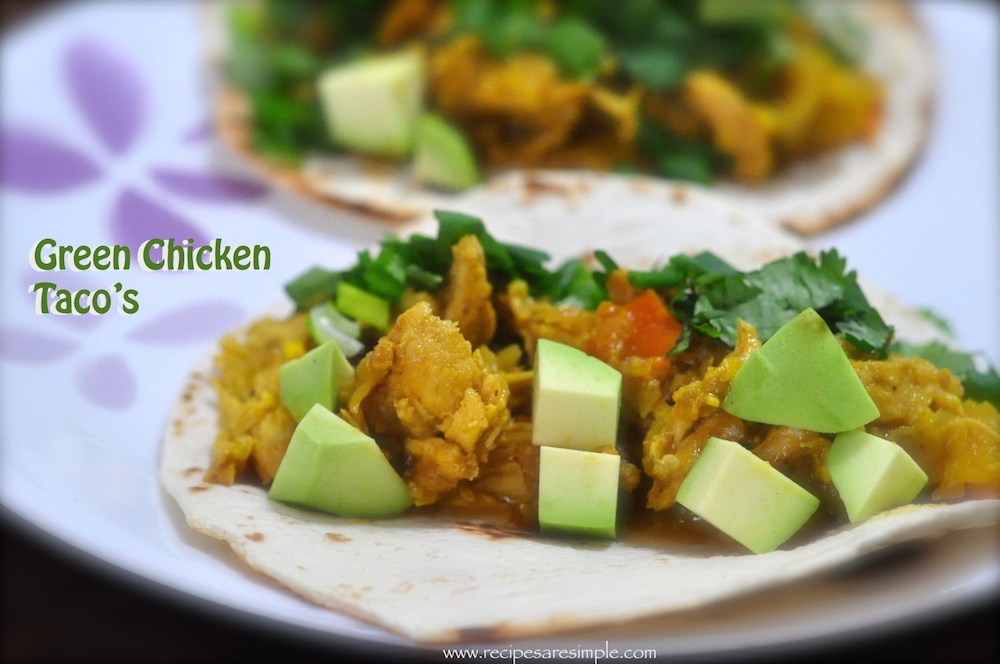 Delicious Green Chicken Tacos with Green Tomatoes and Avacado
You must try my Green Chicken Tacos. They're very tasty! Have you ever had a Tomatillo Chicken Taco? This is my take on a tomatillo taco, replacing the tomatillo with green tomato ( thats an under ripened tomato – very green in color). A tomatillo is a Mexican husk tomato or green tomato and not the same thing a an under ripened green tomato. Tomatillos are small green tomatoes which are enclosed in a papery husk. The husk is removed, and the tomatoes are washed till the sticky layer is gone. Tomatillo's are very common in Mexican cuisine. I used to love watching my friends mom, making these tomatillo tacos when I was a child. It had tomatillos, poblano peppers ( a green pepper with a thick skin) and avocado. Later I discovered that tomatillos are not available in many countries. So I came up with this recipe using under ripened tomatoes instead. It is awesome and easy to make – Try it! Just look for under ripened GREEN tomatoes in the pile of red tomatoes at your local supermarket. There are always some nice firm green tomatoes in there. I love cooking with green tomatoes. You might want to check out my Green Pepper Corn Chicken Curry Recipe too. And please don't leave out the avocado. It provides the perfect bite along with the shredded savory chicken.  I used to hate avocado till I realized the avocado I had a few times was actually  over ripened. These can have an off taste – like an oily taste. Remember the avocado is ripe when there's just a slight give when pressed. They should still be quite hard. They should not remain indented where you pressed them.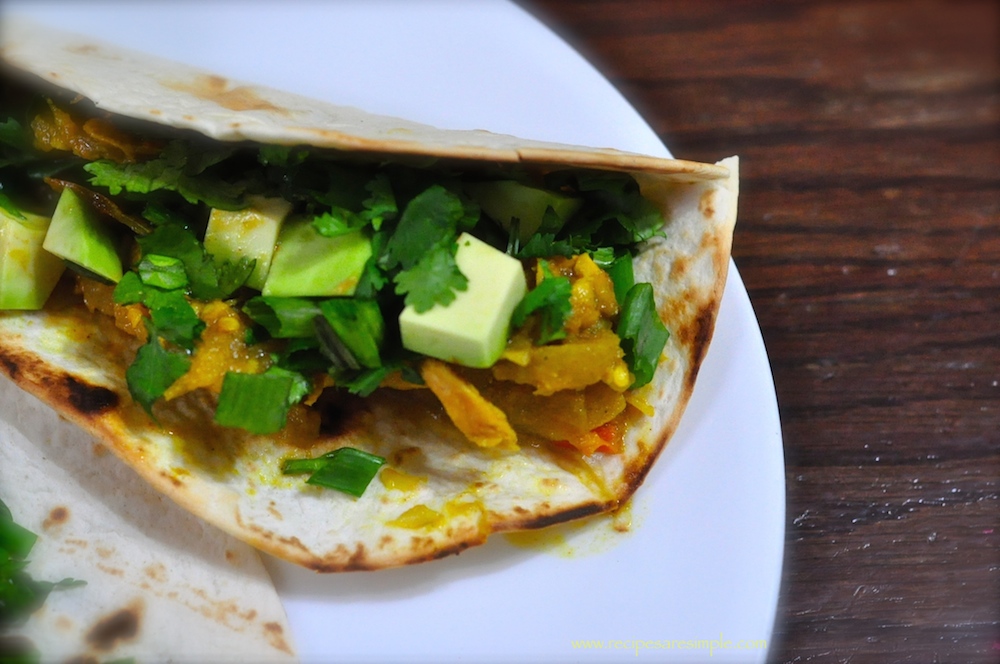 Delicious Green Chicken Tacos
Scroll down for the Video.
Recipe Type: Wraps and Sandwiches / Mexican

Author: Recipes 'R' Simple

Prep time: 20

Cook time: 20

Total time: 40

Serves: 4
Ingredients:  You can use tomatillos and poblano peppers instead of the green tomato and mild long green chillies  of course
4 flour tortillas
finely choped scallion( spring onion) and finely chopped cilantro (coriander) for garnish
Two RIPE BUT FIRM avacados, diced into bite size pieces.
To cook the chicken :
1 chicken breast

( that's half of a chickens breast)

, rinsed and left whole
1 tsp garlic powder
1 tsp onion powder
1 tsp coriander powder
½ tsp black pepper powder
1 tsp salt
For the Sauce:
2 – 3 Tbsp Olive oil
2 medium – large onions, diced
2 – 3 mild  long green chillies, chopped
8 large cloves garlic, finely chopped
2 very green tomatoes ( under ripened)
1 tsp curry powder

( I use McCormick curry powder)

– see notes
1 Tbsp dijon mustard

( must be dijon)

salt and pepper to taste
Method: To cook the chicken:
Put the chicken in a small sauce pan. Add all the ingredients 'to cook the chicken' and add water to cover the chicken well and provide a stock for later. ( about 3-4 cups)
Bring to a boil, the reduce heat and cook covered for around 15 minutes.
Check to see if the chicken is cooked, but slicing through the centre. They should be cooked with no trace of pink. If not, cook 5 minutes more.
Remove the chicken only from the stock using a slotted ladle. Shred with your hands to bite size pieces. (Reserve the stock)
To cook the sauce:
In a non stick pan, add olive oil and heat.
Add the diced onion and chopped green chillies. Sauté till nice  and softened (not brown).
Next add the minced garlic and sauté till soft and no longer smells raw.
Now add the chopped green tomatoes and cook down so that they are reduced considerably and mushy.
Add the curry powder and mix through till nicely aromatic. Allow to cook on low for a minute or so.
Then add the dijon mustard and stir till heated through and the mixture is nice and creamy.
At this point, return the stock that we reserved earlier.

( Strain if needed)

.
Cook, stirring occasionally till the sauce is thickened.
Add the shredded chicken and toss well in the sauce  for 1 minute. Remove from heat.
To Assemble the Green Chicken Tacos:
 Heat the fresh tortillas a minute on each side till slightly puffed. (If using frozen tortillas, defrost first).
Divide the chicken mixture amongst the four tortillas.
Top with diced avocado, fresh cilantro and scallion.
Fold and serve warm.
Enjoy 🙂
Delicious Green Chicken Tacos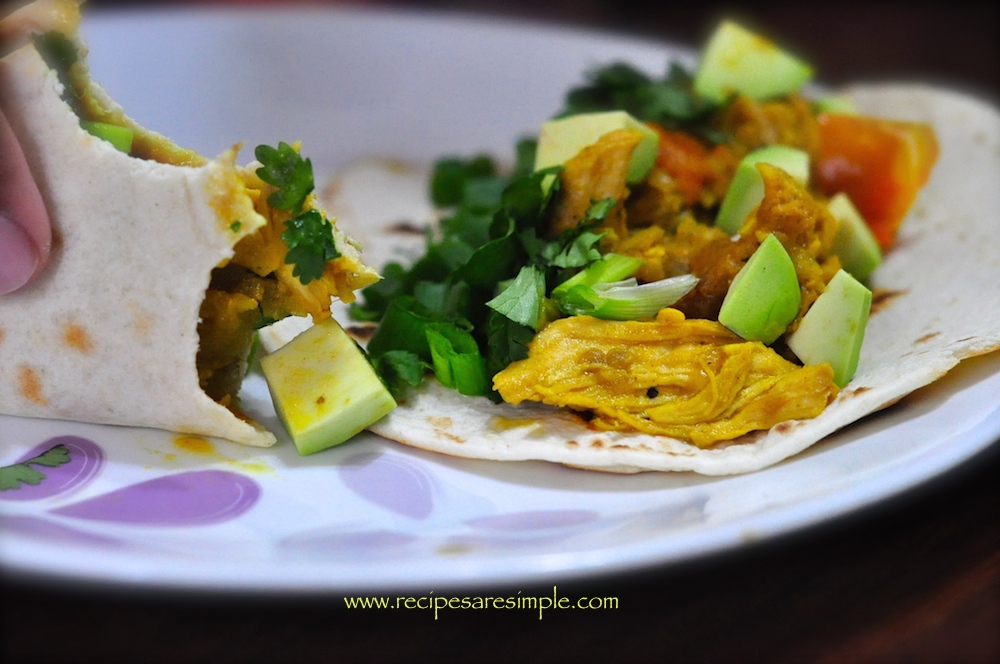 Try it and let us know – Delicious Green Chicken Tacos  .
When we see a recipe with the ingredient 'Curry Powder' – it is often misinterpreted by many as being the same as ' garam masala' – the indian spice blend for curried dishes, or even 'coriander powder'. In western and other international cuisines, curry powder is a milder combination of the spices and is usually light  in color ( yellowish). It is sold labeled ' Curry Powder'.

The ingredients in these types of curry powders comprises all or some of the following ingredients: 

Coriander, Turmeric, Cumin, Fenugreek, Black Pepper, Bay Leaves, Celery Seed, Nutmeg, Cloves, Onion, Red Pepper, And Ginger.

If you like raw onion in your taco, dice 1 medium purple onion and sprinkle over the chicken filling. I prefer the scallions, because we often have this for breakfast.