11 April, 2014
Delicious Chilli Pepper Prawn Masala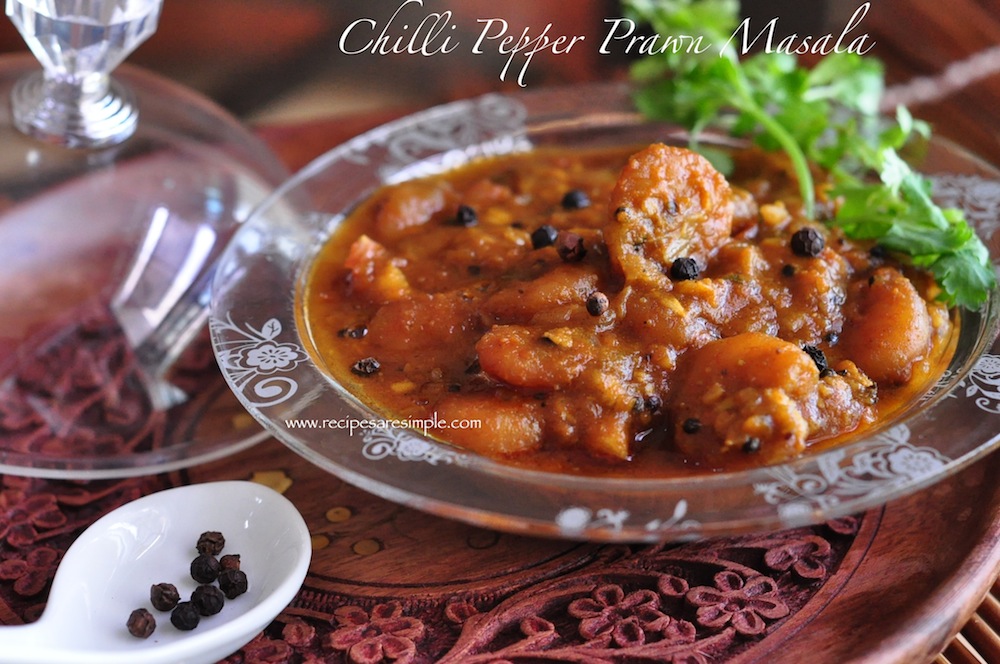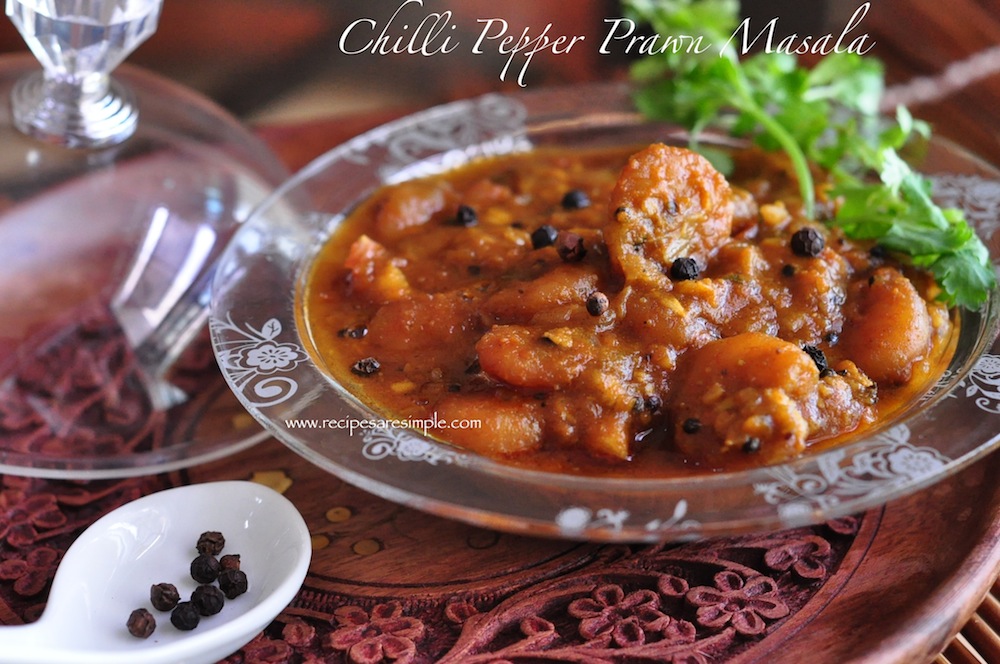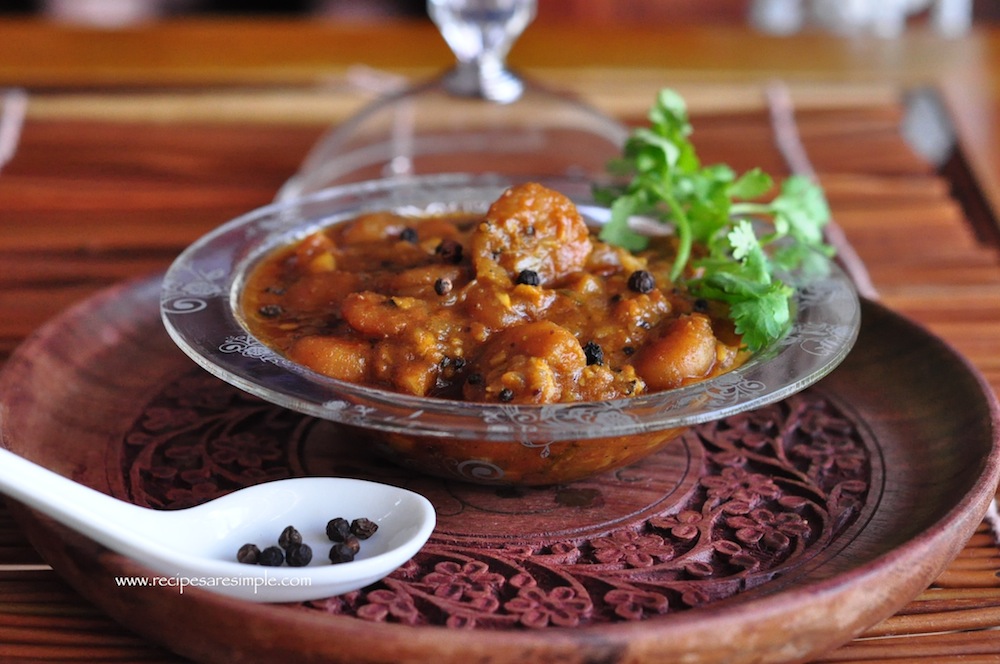 Delicious Chilli Pepper Prawn Masala
Okay! I am sharing my Special recipe for Chilli Pepper Prawn Masala today!  Pressure cooked succulent prawns coated with a delicious peppery gravy. It smells so good too! Crushed Black Pepper Corns and Mild Chilli Powder in this dish. The heat mainly comes from the Pepper Corns. You can increase the amount of pepper to make it spicier. I like it moderately spicy. My kids can it it as well.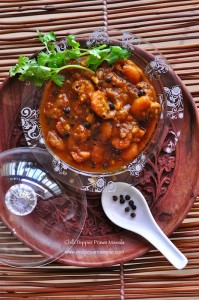 Delicious Chilli Pepper Prawn Masala
Recipe Type:  Seafood Main

Author: Recipes 'R' Simple

Prep time: 20 

Cook time: 

Total time: 35

Serves: 4-6
Ingredients:
1 cup packed cleaned and deveined prawns.
2 medium sized red onions, chopped
2 shallots, chopped
1 ½ fresh garlic, finely chopped
1 ½ fresh ginger, finely chopped
1 plump red tomato
2 tsp coriander powder
2 tsp mild chili powder
1 tsp Garam Masala Powder  (see Garam Masala recipe)
¼ tsp turmeric powder
¼ tsp green cardamom powder
1 tsp black pepper corns
 salt to taste (about ¾ tsp)
¼ tsp mustard seeds
¼ – ½ tsp fresh lime juic

e

 – to be squeezed straight into the gravy
3 Tbsp sunflower or vegetable oil
A handful of fresh coriander leaves
Method:
Peel and devein the prawns. Rinse and drain.
Crush the pepper using a pestle and mortar, so that some of the pepper is crushed  to a grainy texture, leaving some pepper corns, semi whole.

Do not crush to a powder- this will intensify the heat.

Heat oil in a pressure cooker.
Add the mustard seeds and allow to crackle.
Add the ginger and garlic and saute for a few seconds till light golden.
Quickly add the chopped onions and shallots next and saute well, till the onions are softened and the mixture turns golden.
Add spices: coriander, chili and turmeric. Stir well on low heat till spices smell cooked.
Then add the Garam Masala powder.
Add the prawns and toss in the masala, for a minute or so to fry.
Now add the tomato and toss. Allow the tomatoes to cook down and reduce.
Add a few squeezes of the fresh lemon juice, the crushed black pepper and the cardamom powder.
Also add salt to taste and the fresh coriander leaves, leaving a little for garnish.
Stir well and close the cooker. Apply the pressure regulator (weight).
Cook on high till you hear the 1st steam whistle.
Reduce to medium heat and cook till just before the 5th steam whistle escapes.
Leave the cooker aside to cool.
Open, and serve, garnished with coriander leaves.
Delicious Chilli Pepper Prawn Masala
Try it and let us know – Delicious Chilli Pepper Prawn Masala .
Use only fresh, firm prawns.
Water is not required, the prawns and the plump tomato provide the gravy, but use discretion, if the masala seems overly dry before closing the cooker, add a tiny bit of water or the masala may burn.