6 February, 2014
Date and Ginger Tea – Foun'TEA' of Youth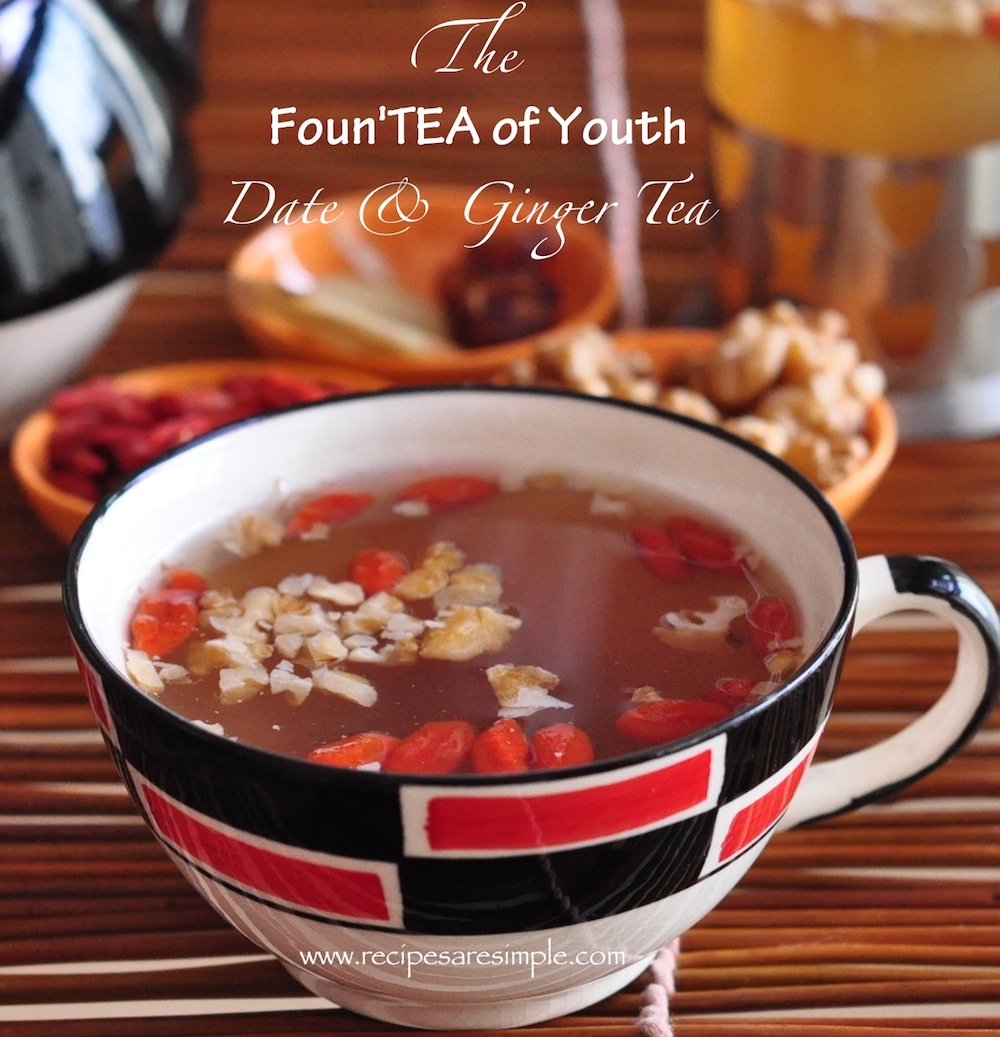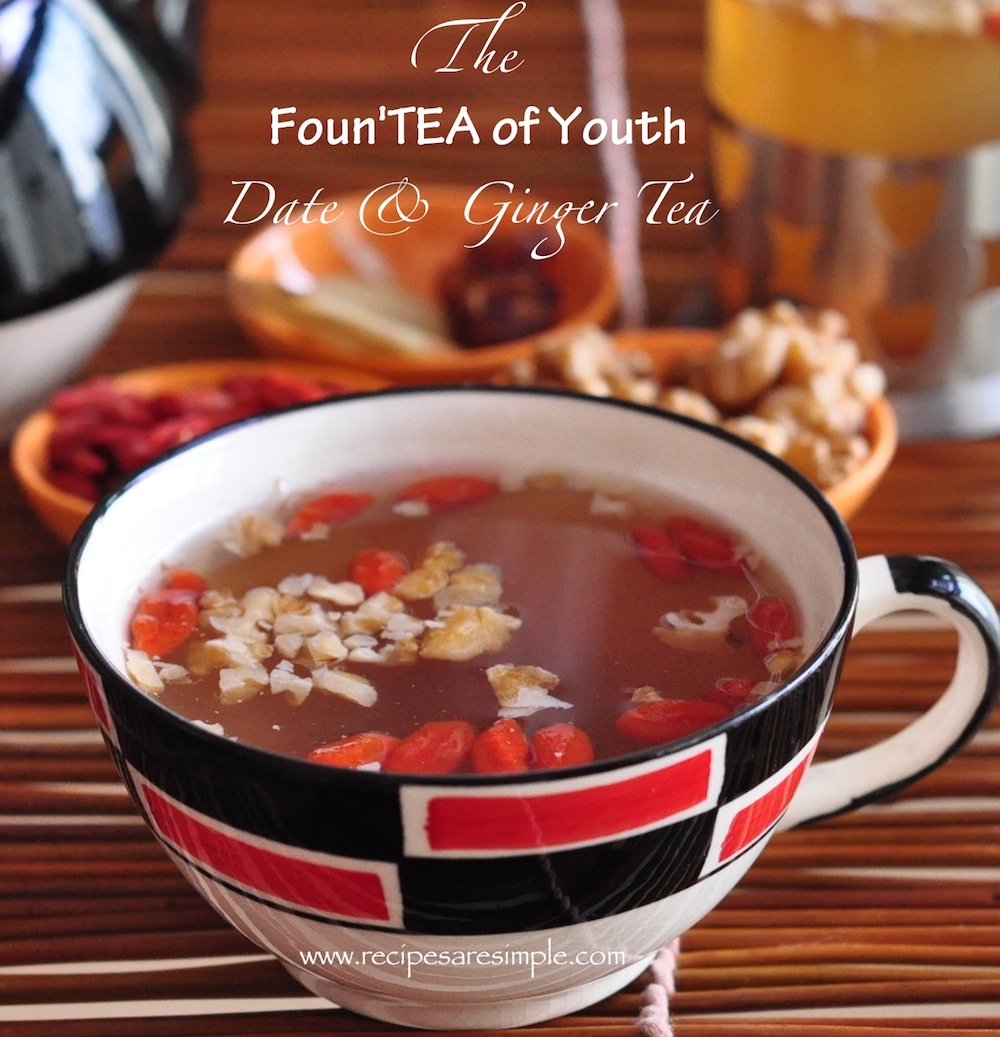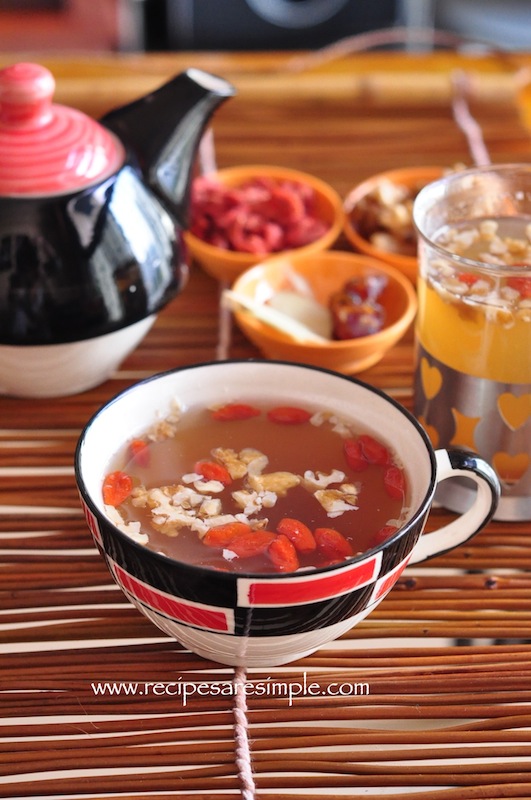 Date and Ginger Tea
The ingredients in this tea, combine attributes that benefit the skin and health  with anti-oxidants and vitamins, making it a true wonder tea. Helping to keep youth intact, if consumed regularly. To top it off, the taste is sublime and you will love to make it. It makes for a lovely tea with some added bite to it to make it even more appetizing.
Date and Ginger Tea is also great in Cold weather to keep you warm.
Some of the Health Benefits of the ingredients are:

Dates: Boosts Heart Health, Anti Inflammatory agent, Reduces Blood Pressure, Reduced Stroke Risk, Healthy Pregnancy and Delivery, Promotes Weight Loss, Helps fight Iron Deficiency, Prevents Colon Cancer, Promotes Respiratory and Digestive Health, Reduces chance of Impotence, Hemorrhoid, Arthritis, Colitis etc.
Ginger: Helps with problems associated with Loss of Appetite, Nausea, Flatulence, Upset Stomach, Morning Sickness, Sometimes helping in Respiratory Tract Infection, Bronchitis, Cough, Menstrual Cramps, Arthritis, Muscle Pain.

Goji Berry: Also Known as Gou qi Zi or Boxthorn Fruit. Enhances vision, reduces fatigue, acts as an aphrodisiac, increases libido for women, helps male erectile dysfunction, boosts immunity, lowers blood pressure reduces symptoms of diabetes, Helps alleviatedry coughing, Helps to stop excessive sweating.
Goji Berries are popularly used in Chinese traditional medicine as a LONGEVITY and ANTI- AGING agent.
These Berries are collected in summer and autumn, dried in the shade until the skin shrinks. It is then exposed to the sun until the outer skin becomes dry and hard but the inner pulp still soft.

Rock Sugar or Honey : Rock Sugar is known for its Mouth Freshening Properties, helps to ward of laryngitis. It is good in treating flu and cold paired with herbed tea. Honey: Anti- bacterial antiseptic properties and ancient cultures believes it prolongs life.
Walnuts: Good source of omega 3 fatty acids, helps lower Bad cholesterol, reduces risk of heart attack in men, strengthening of bones due to  ALPHA-LINOLEIC ACID (ALA), and improves blood flow to muscles. Having an ounce of walnuts helps to counteract a meal rich in SATURATED FAT, keeping arteries flexible. It is an antioxidant, reduces premature aging, Good for Skin etc.
Date and Ginger Tea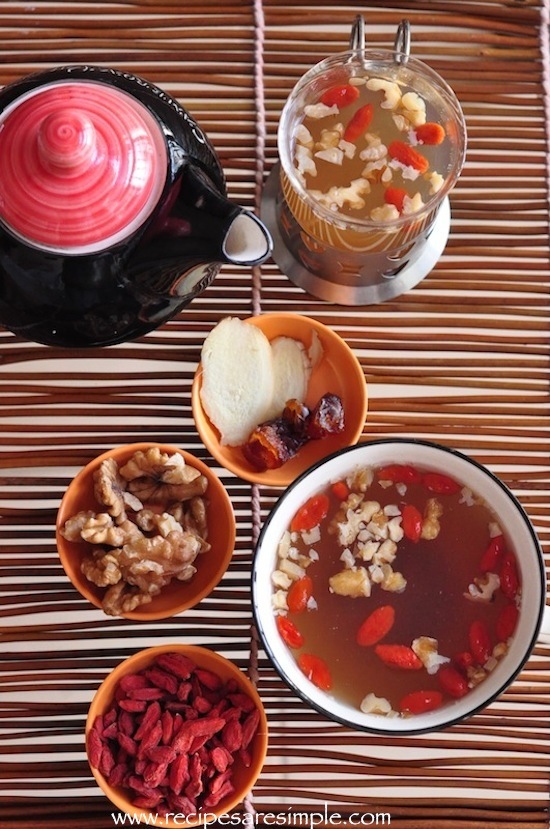 Ingredients:  for 2 servings
3 cups water
5 Whole dates or Red Dates (Jujube)
2 Tbsp Sliced Ginger – with skin (Sliced thinly into large ovals)
1-2 Tbsp Rock Sugar ( To Taste) OR You can use honey
2 Tbsp Goji Berries (Gou Qi Zi)
2 Tbsp Walnuts
2 Pitted Dates for garnish
Method:
Slice Ginger with skin, into thin oval slices.
Rinse the Dates, whole.
Soak the Goji Berries in hot water.
Add Dates & Ginger along with water to a sauce pan and bring to boil
Simmer for 10 minutes on low.
You can gently press on the dates to release more flavor.
Add the Rock Sugar to taste.
Simmer again till the sugar  dissolves completely.
Pit the 2 dates used for garnish, by making a single slit lengthwise through the date. Place flat on board. Roll tightly to make a log and cut into thin pinwheels.
Chop the walnuts into tiny bits.
Once the  sugar in the tea is completely dissolved, strain into teapot/cups through a very fine strainer.
Strain the Goji Berries and add to the tea along with choped walnuts and sliced dates.
Serve hot.

You can serve immediately , but I like to make it ahead of time as it reheats well too.

Great for weekend mornings with your partner or after late night dinners!
Date and Ginger Tea
Try and let us know – Date and Ginger Tea.
Try Red Dates, Honey and Pine nuts for variation, I do however love and recommend my version!
Goji Berries can be found in the dried fruit or chinese herb section of your supermarket. The flavor is a combination of dried cranberries and raisins.
Once the sugar has dissolved, it is best to strain straight away. If you let the tea steep too long, the ginger may provide more heat than desired.