11 August, 2013
Date and Nut Cake – Moist and Delicious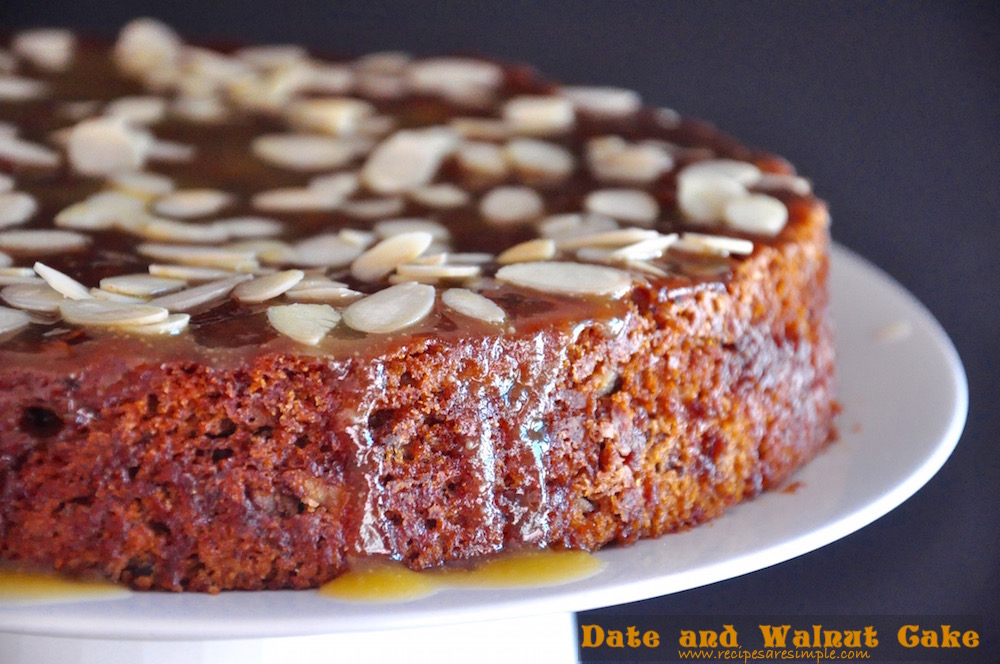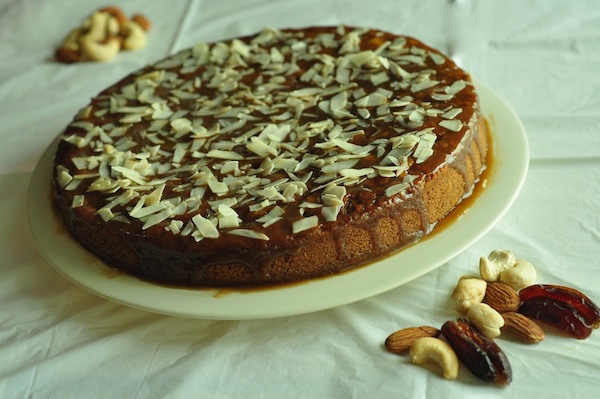 Date and Nut Cake – Moist and Delicious
  This Date and Nut Cake recipes in one that truly deserves a standing ovation. Jotted down in an old notebook as 'Royal Cake' it is loved by young and old alike. The cake is incredibly moist and delicious. Never fails to impress. And it's a very simple to make cake, to boot! My mom and sister make this cake regularly.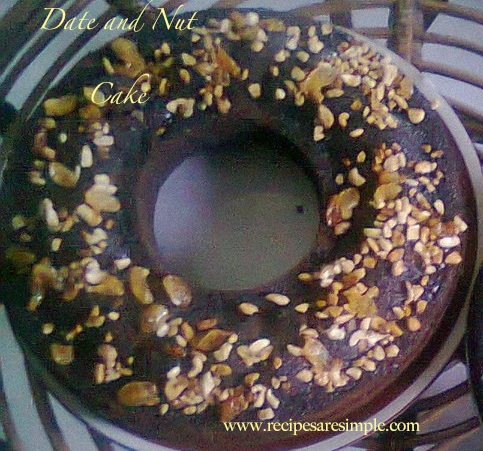 Date and Nut Cake – Moist and Delicious
Recipe Type: Dessert / Cake

Author: Recipes 'R' Simple

Prep time: 10

Cook time: 30

Total time: 40

Serves: 8 – 10
Ingredients:
1 cup/ 8 oz chopped dates
1 ¼ cup/10 oz boiling water
1 tsp baking soda
1 cup /8 oz sugar
½/3 oz cup butter, softened
1 egg
1 tsp vanilla
1 ½ cup flour
1 tsp baking powder
½ teaspoon salt
½ / 2 oz cup chopped walnuts or cashewnuts
For Icing
5 tablespoons brown sugar
5 tablespoons cream
2 tablespoons butter
½ – 1 cup slivered almonds (almond flakes)
Method:
Preheat oven to 350°F/ 176°c. Lightly butter  a 9 x 12 inch baking pan and then sprinkle the surface lightly with flour, or line the bottom of the pan with parchment paper.
To a bowl add the dates and baking soda, and pour boiling water over them. Let mixture stand for a while.
In a larger bowl or mixer, cream together the butter and sugar, till light.
Add egg and vanilla, and beat well.
Add the dry ingredients; flour, baking powder and salt. Stir to combine.
Now pour in the date mixture  and stir well till well incorporated and then add  nuts. Stir.
Pour batter into the prepared baking pan.
Bake for 25 to 30 minutes, until golden brown on top and a toothpick inserted in the centre comes out clean. Remove from oven and allow to rest.
Icing
In a small saucepan, combine the butter, sugar and cream→ Boil 2- 3 minutes till thickened and pour over the cake. Sprinkle the almond flakes over the top.
Date and Nut Cake – Moist and Delicious
Try it and let us know – Date and Nut Cake – Moist and Delicious .
Can be made with other nuts such as  Pecans .
You can reserve some icing to dollop over individual slices later.
This is a great cake to bake and bring over as a gift.