26 August, 2013
Frosty Date and Almond Milk Shake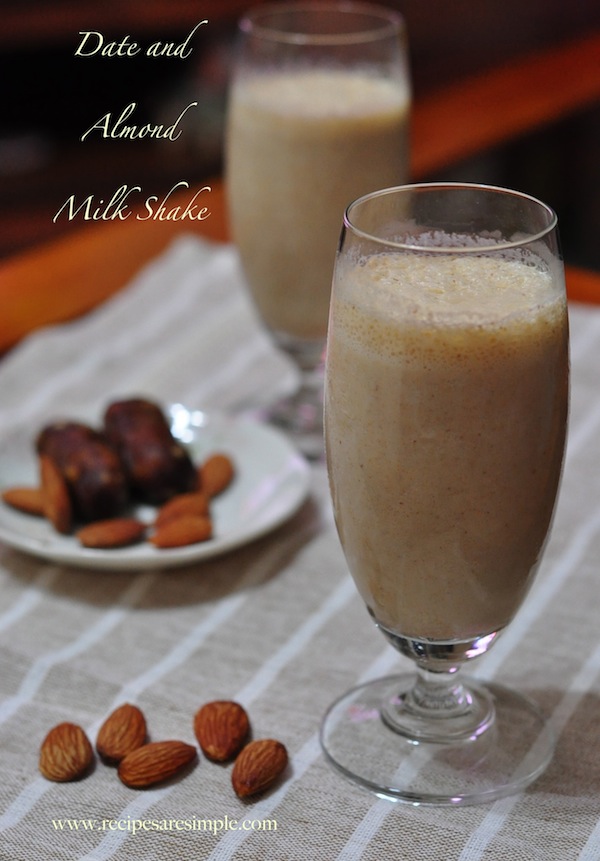 Frosty Date and Almond Milk Shake
This is a made from scratch  date and almond milk shake that is quick and easy to prepare. Even if you think you dont like dates, this is very refreshing and tasty Date and Almond Milk Shake.
Frosty Date and Almond Milk Shake



Ingredients:
10 pitted dates, softened in warm water & drained
10 Almonds, blanched and peeled
3 cups skimmed / low fat milk
1 – 3 Tbsp Vanilla Ice cream




Method:
Soften the dates in warm water and drain.
Blanch the almonds by adding to boiling water, turning off heat and leaving for 2 minutes; then peel easily.
Add the dates, almond and  a small amount of the milk to a blender. Blend till smooth.
Strain, if you desire an extra smooth drink.
Add the remaining milk and ice-cream and blend till frothy. Serve cold!
Frosty Date and Almond Milk Shake
Leave a comment if you tried Frosty Date and Almond Milk Shake.
Notes:
A variation of this recipe can be made  using ready to use almond milk and 1 banana along with the dates.
You can also add baked cashew nuts or almonds chopped finely and add it to the shake if you like a 'bite' to it.