15 June, 2015
Dal Palak – Moong Dal Spinach Curry – Cheera Parippu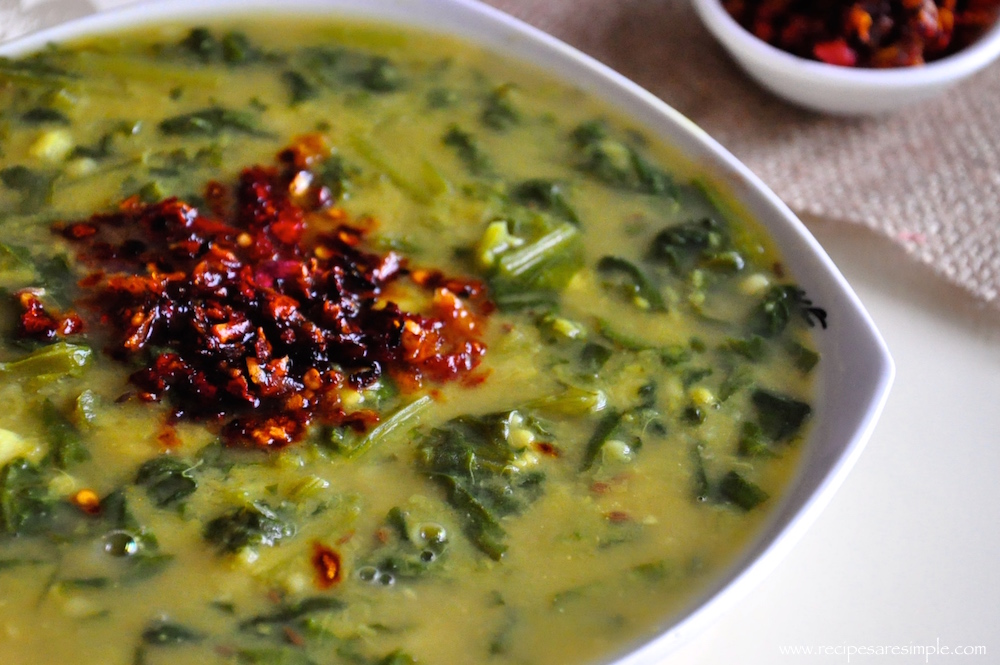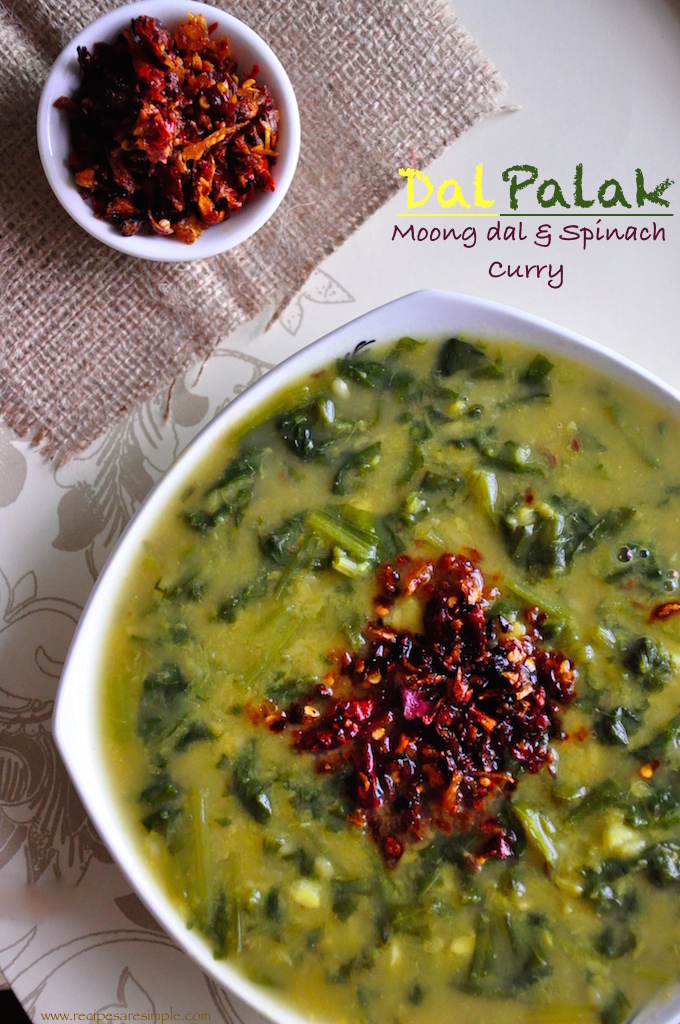 Dal Palak – Moong Dal Spinach Curry – Cheera Parippu 
A simple home style Dal Palak. Tasty, served with rice or roti. This Dal Palak uses split  Moong Dal and Spinach. Made 'extra special' with my delicious crispy fried chili-shallot topping! Coconut is ground to a smooth paste, to add creaminess to this curry. If you love dal and rice, this is a must try!
You are here: Home > Vegetarian  >  Moong Dal Palak Curry
 

Recipe Type: Vegetarian / Curry

Author: Shana c/o Recipes 'R' Simple
Dal Palak – Moong Dal Spinach Curry – Cheera Parippu
Ingredients:
3-4 cups indian spinach (palak) or any spinach of your choice
 ¹/3 cup moong dal

(split green gram- it's yellow when split)

2 cloves garlic, crushed
1 long mild green chili, chopped
 ¹/3 tsp turmeric powder
½ cup grated coconut, loosely packed
1 tsp cumin seeds
1 shallot
water as required
salt to taste ( 1 tsp or so)
For the crispy chili-shallot topping
6 shallots
6 long dried chillies – the shrivelled, milder variety
3 Tbsp oil

– I prefer coconut oil for this 
For tempering: (optional)
Method:
 Rinse the palak / spinach several times. Scrub well. Ensure  the spinach is

rinsed thoroughly to remove the earthy smell. Remove any wilted leaves or stems.

Chop coarsely.
In a medium sized pressure cooker, add the dal. Rinse well and strain the water.
Add the chopped palak, crushed/ bruised garlic, chopped  green chili, turmeric and salt to taste.
Add just enough  water to cover the spinach.
Cook on medium heat for 3 steam whistles.
Meanwhile, grind the coconut, cumin seeds and shallot with just a little bit of water to obtain a smooth paste.
Once the dal is cooked and the pressure cooker is cool, open and add the ground paste.
Return to heat. When the curry comes to boil again, remove from heat. (Do not over boil).
Crispy Chili-Shallot Topping
Add the peeled shallots and dried chili to a small grinder jar along with ¹/3 tsp salt. Grind to a grainy texture.
Heat the coconut oil in a small pan.
Add the crushed chili-shallot mixture. Fry, stirring continuously till the shallots are crisp.
Remove the crisp mixture with a slotted strainer.
Tempering (optional):
To the same oil,(remove some as necessary). Add the mustard seeds and allow to splutter. Add to curry.
Serve the curry with the crispy chili-shallot topping on the side. It adds the perfect crunch and flavor. Not to be stirred into the curry. Some portion of the topping can be used as a garnish on top.
Dal Palak – Moong Dal Spinach Curry – Cheera Parippu
Washing the spinach is very important to remove any earthy notes. If this step is not done properly, the entire flavor of the curry is ruined.
If you don't have grated coconut, ¼ cup thick coconut cream may be used. In this case add the cumin and shallot (pounded together), directly to curry with the coconut cream towards the end.
Key Ingredients: Moong Dal, Spinach, Coconut, Shallots, Garlic, Turmeric, Green Chili, Dried red chili, Cumin seeds, Salt, Oil, Mustard Seeds.
Let me know if you tried  the – Dal Palak . Comments from you provide motivation to keep up the driving force behind this blog, bringing you more delicious and perfected recipes regularly. Please do leave a comment. Love hearing from you.