16 September, 2017
Dahi Aloo Chana Chaat | Chickpeas and Potato Yoghurt Salad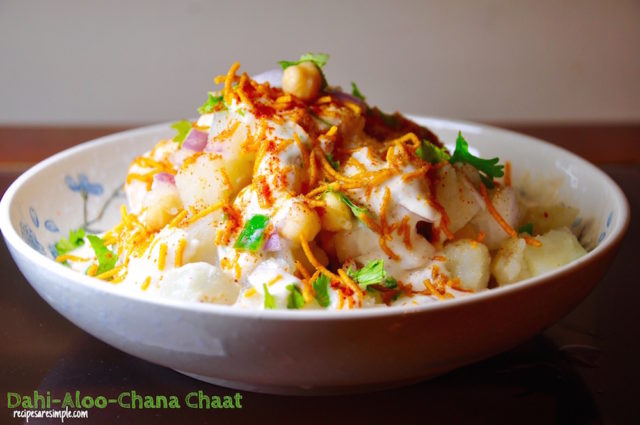 Dahi Aloo Chana Chaat is another delicious and extra quick starter/salad, that can enhance any meal and dinner menu. Think of it as the Indian version of the Western potato salad, with the added goodness of chickpeas and crunchiness is supplied by the red onion and the tasty, crispy Aloo Bhujia.
Aloo Bhujia is crispy, tangy and spicy Potato Noodles, often available at your local Indian Grocers. I will add the link to the recipe for Homemade Aloo Bhujia soon.
Dahi Aloo Chana Chaat can be served as a light snack on its own or as a salad/ side dish along with the main meal. I love all types of Chaats. So refreshing and fulfilling. This chaat item makes a good side dish during Ramadan as well, where light refreshing starters are often needed.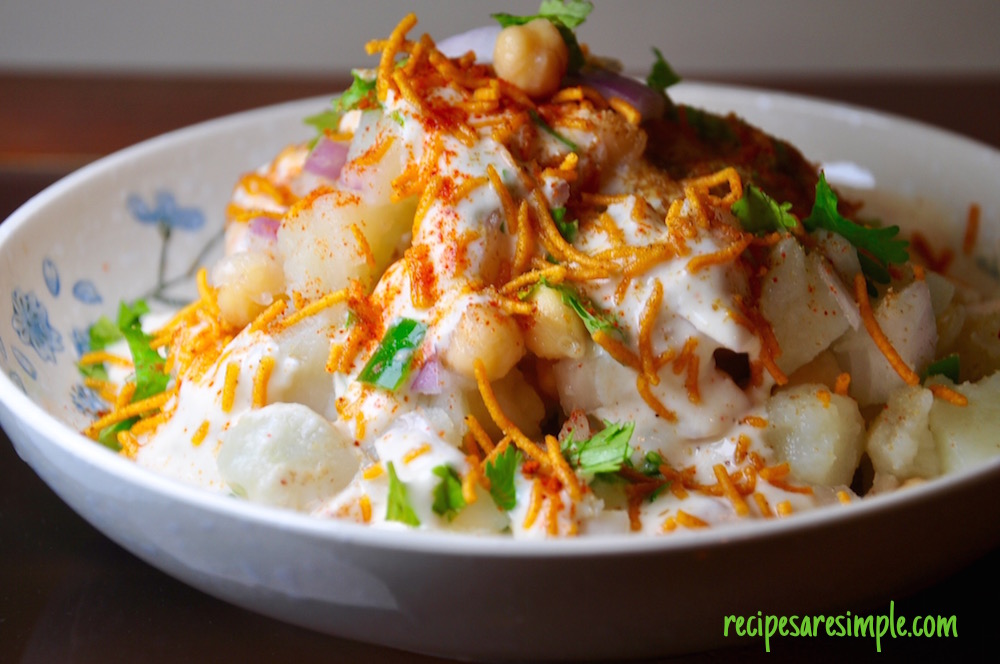 Dahi Aloo Chana Chaat | Chickpeas and Potato Yoghurt Salad
You are here: Quick Browse > Salads & Starters > Dahi Aloo Chana Chaat
 

Recipe Name: Dahi Aloo Chana Chaat | Chickpeas and Potato Yoghurt Salad

Author: Shana c/o Recipes 'R' Simple
What is Chaat anyway?
Chaat is a savoury snack or savoury salad, typically served as a starter A very popular road-side version of fast food in India, Pakistan, Nepal, and Bangladesh. At many Indian Buffets, there is a delicious variety of these chaats available for you to try. The flavours are usually light, salt, sour and refreshing with hints of sweetness and crunchy texture. My mouth tingles at the very thought of all the different varieties available!
Some other similar and tasty Chaat Items are :
Key Ingredients: Potato, Chickpeas, Yoghurt, Milk, Onion, Coriander, Spices, Salt, Sugar, Aloo Bhujia(Potato Snack).
EAT AND TELL!!!
Let us know if you tried –  Dahi Aloo Chana Chaat | Chickpeas and Potato Yoghurt Salad
Back to Quick Browse. Thanks for visiting www.recipesaresimple.com
SaveSave