19 April, 2015
Cucumber Sandwiches – Tea Sandwiches – Refreshing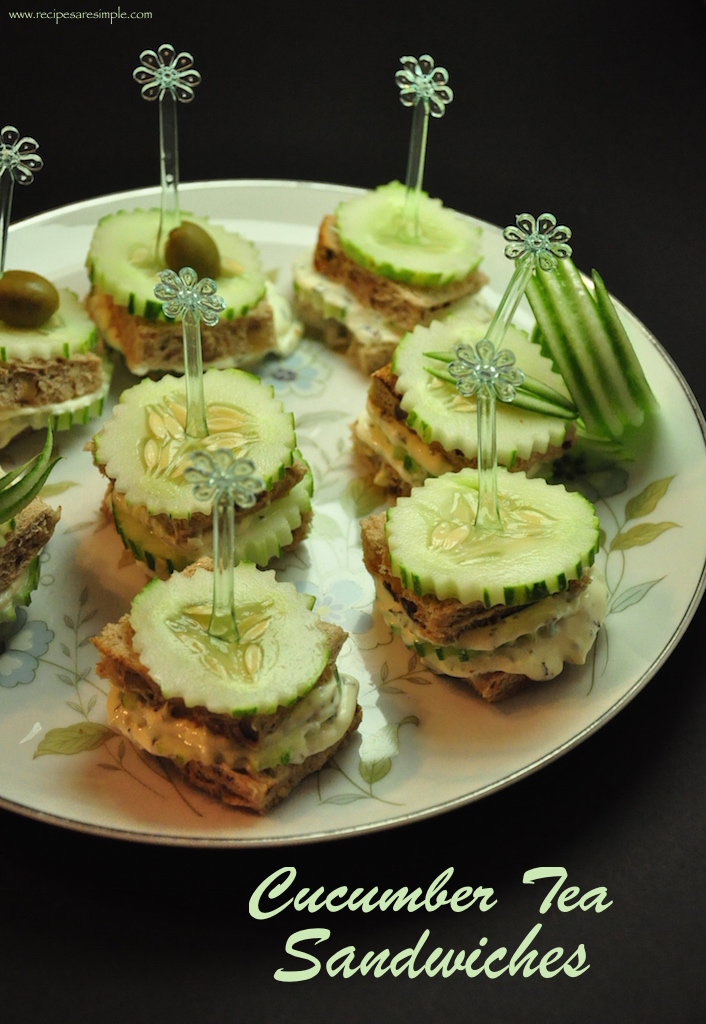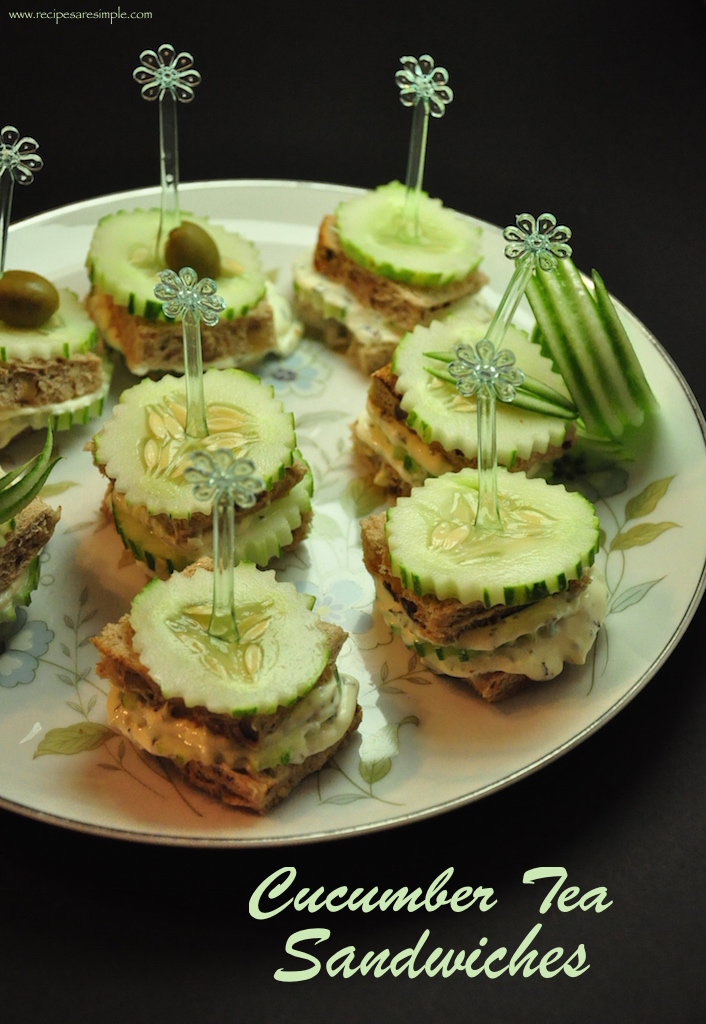 Cucumber Sandwiches – Tea Sandwiches – Refreshing
These cute little cucumber tea sandwiches are  a refreshing hunger buster for any time of day. A good way to stave off  hunger till the main meal or to serve at tea parties. They are made in a matter of minutes and I love them!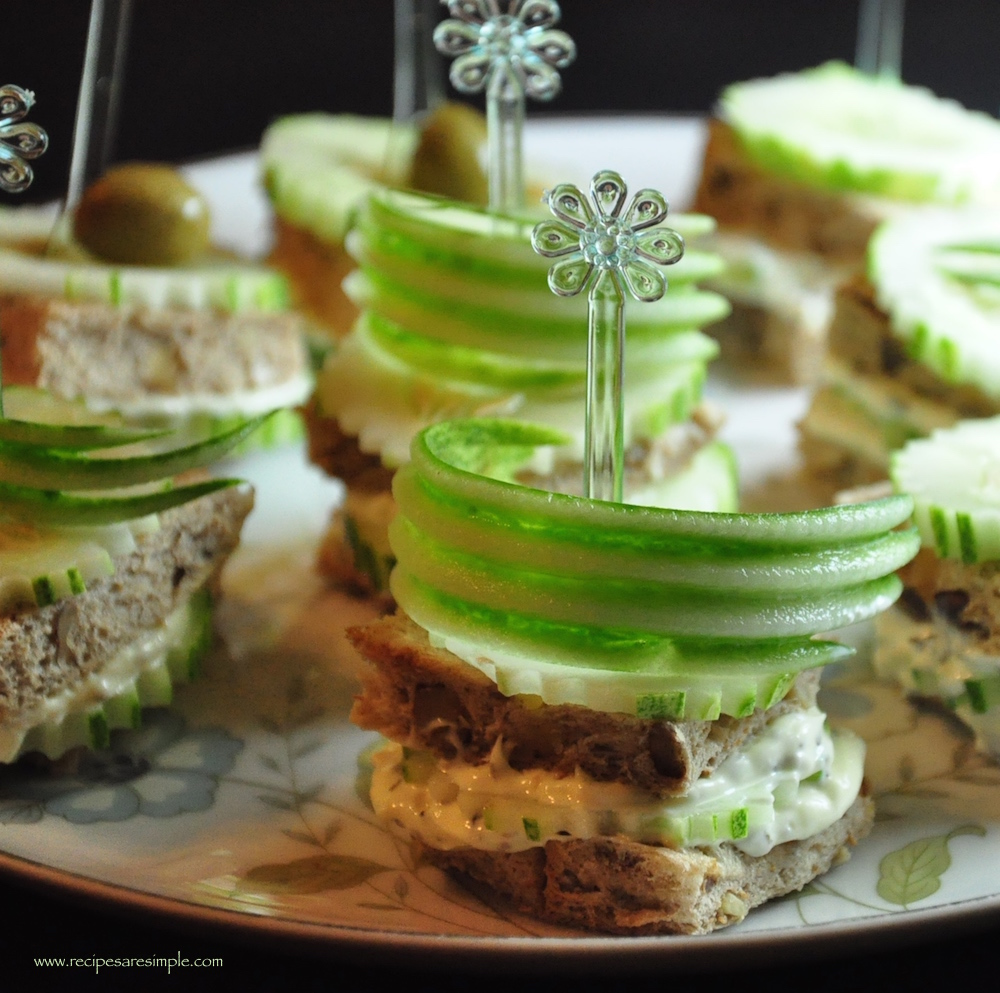 You are here: Home > Salads and Starters > Cucumber Tea Sandwiches
 

Recipe Name: Cucumber Sandwiches

Recipe Type: Appetizer / Starter

Author: Shana c/o Recipes 'R' Simple
Cucumber Sandwiches – Tea Sandwiches
Ingredients:
5 slices of Wholemeal Bread
1 small Cucumber
3 Tbsp Chilled Cream Cheese
1¾ Tbsp Chilled Mayonnaise
½ tsp of dried Mint

( or 1 tsp finely chopped fresh)

pinch of Garlic powder
Method:
Use a textured peeler or a fork to scrape the skin of the cucumber.

Do not peel completely.

Slice the cucumber slices.

Not so thin that they bend, but enough to provide some bite.

Leave on paper to absorb excess water.

Too much water will cause the slices to slide off the sandwich.

Use a small wire whisk to thoroughly fluff up the cream cheese along with mayonnaise and mint.
Use a sharp knife to cut off the crust of the bread slices
Cut each slice into 4 squares
Optional – Heat a flat grill pan  for 30 seconds on medium heat. Place all the slices of bread over it. Turn off the heat and allow the squares to just be lightly toasted on one side to offer some firmness without getting hard.
Lightly spread some of the cold cheese mixture onto each square of bread.
Sandwich one slice of cucumber in between the squares and place one slice on the top the the decked sandwich.
 Serve immediately.
 Refreshing Cucumber Sandwiches
Make sure your bread squares are approximately the same size as or larger than  the slice of cucumber.
You can use a round cutter to make round tea sandwiches as well.
If you want to make single decker or open faced sandwiches, toast the bread a bit more. Apply spread. Place one slice of cucumber on one bread square and then decorate with a piped cheese drop/rosette and fresh herbs.
If you would like to make regular sized sandwiches, slice the cucumbers very thinly or use a slice. Then place them overlapped to fill the sandwich.
Try dill instead of mint for a variation.
Key Ingredients: Wholemeal Bread, Cucumber, Cream Cheese, Mayonnaise  Garlic Powder, Mint / Herbs
Let us know if you tried it – Cucumber Sandwiches  Comments from you provide motivation to keep up the driving force behind this blog, bringing you more delicious and perfected recipes regularly. Please do leave a comment. We love to hear from you.