23 June, 2015
Crumbed Fish and Chips with Quickie Tartar Sauce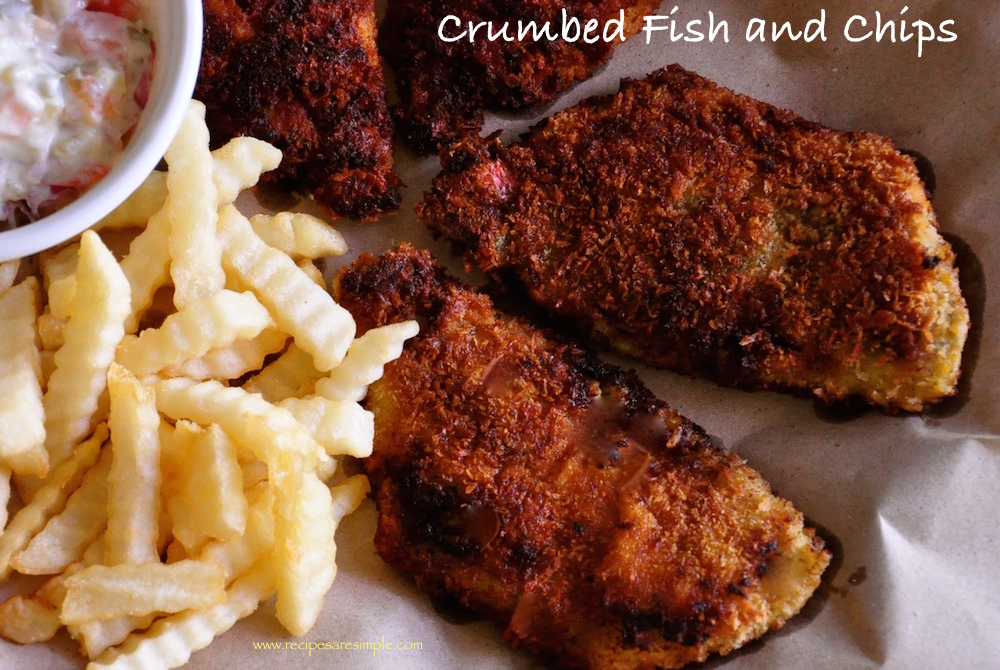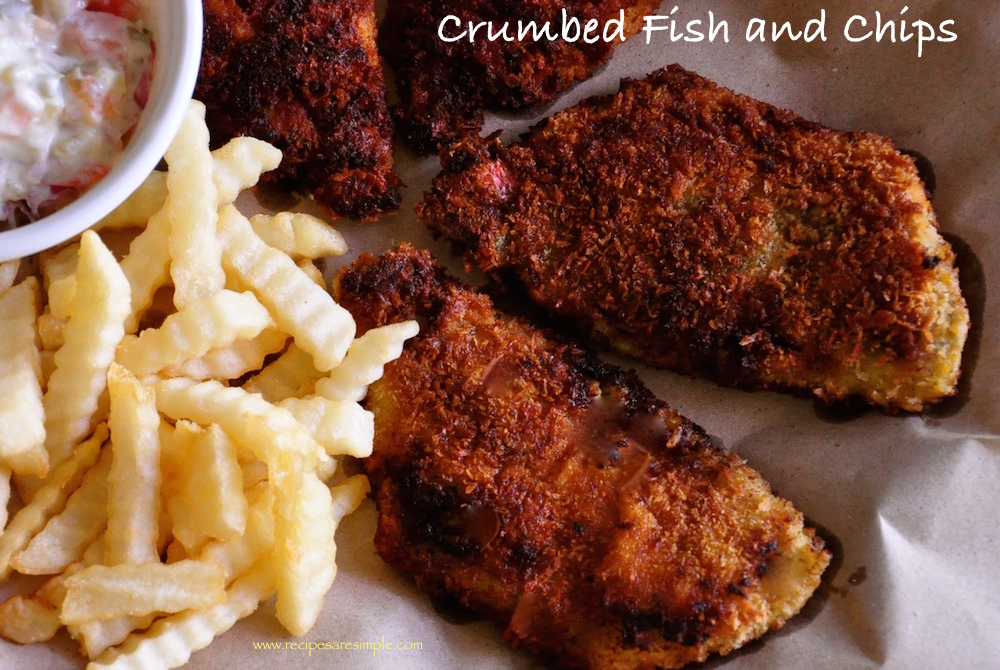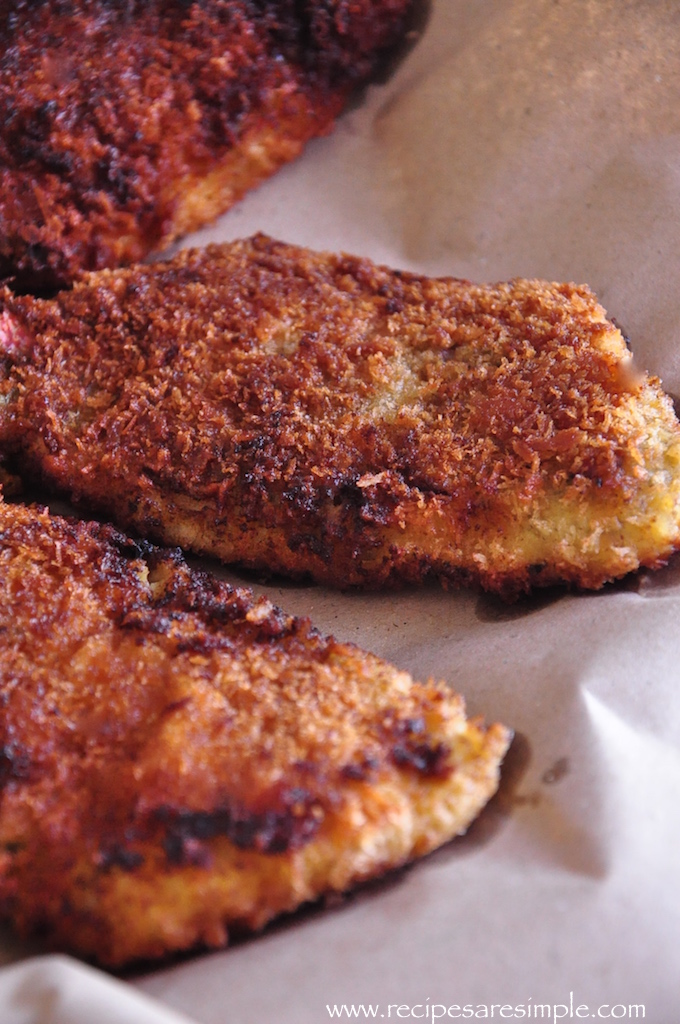 Crumbed Fish and Chips
Crumbed Fish and Chips bears no resemblance to the English Fish and Chips. These marinated, crumb coated and pan fried fillets are so yummy, served with a special quickie tartar sauce and fries or chips. Use thin white fillets of fish (boneless), that have a thin and edible skin.
I find Yellowtail Fusilier (Caesio spp) to be a good choice. I like a fish that isn't extremely fishy for this recipe.  The fish tastes much like fish fingers and has a dark brown crumbed coating. Served straight from the pan, it is delicious.  I use this Byron Bay Jalapeño Chili Sauce sometimes as a short cut for the  marinade, but you can make your own.
This is a very easy dish. My husband who usually hates the regular fish and chips enjoyed this version.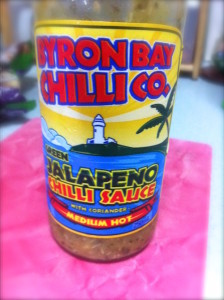 You are here: Home > Fish  > Crumbed Fish and Chips
 

Recipe Name: Crumbed Fish and Chips with Quickie Tartar Sauce

Author: Shana c/o Recipes 'R' Simple

Marination Time: 2hours

Total time: 25 minutes plus marination
Crumbed Fish and Chips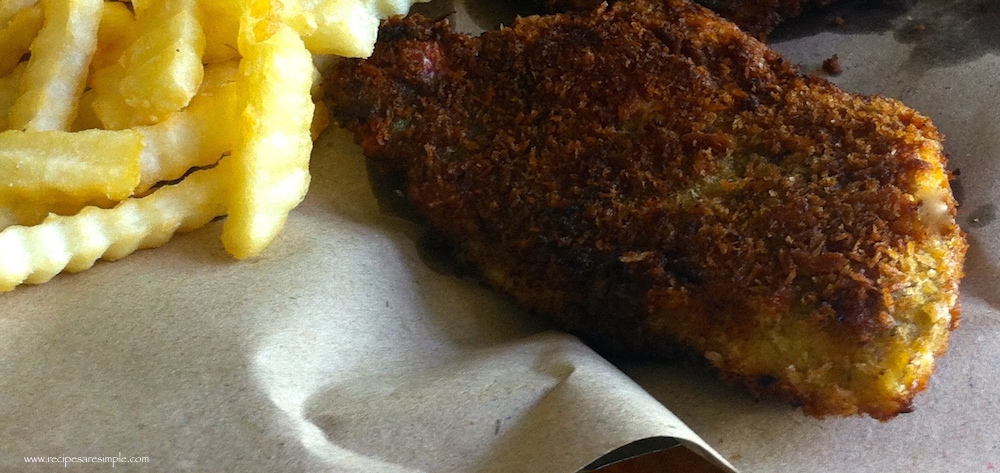 Ingredients:
4 thin fillets of fresh white fish like – Yellowtail Fusilier 

– must be boneless fillets with edible skin

¼ cup oil for shallow pan frying
prepared french fried or chips to serve with
For Marinade:
 

1 tsp garlic powder or  2 tsp garlic paste

½ tsp onion powder or 1 tsp shallot paste
¼ tsp ginger powder or ½ tsp ginger paste
¹/8 tsp lemon powder or 1½ tsp lime juice
¼ tsp turmeric powder
¹/8 tsp black pepper powder ?
½ tsp salt or to taste
2 Tbsp Byron Bay Jalapeño Chili Sauce  OR Make your own – see below.
From Crumb Coating:
1 cup plain flour
2 eggs, beaten
1 ½ cups toasted bread crumbs or panko
½ tsp course black pepper powder
½ tsp salt
Home made Jalapeño chili sauce:
3 jalapeno chili peppers or 2 long mild green chillies – remove seeds
1 small chill – hot
4 Tbsp water
2 Tbsp fresh coriander, chopped
2 tsp coriander powder
½ tsp cumin powder
½ tsp sugar
1 Tbsp chopped sweet mango
1 Tbsp lime juice
For special, Quickie Tartar Sauce:
4 Tbsp Mayonaise
4 Tbsp thick 'hung' yoghurt

– not too sour

6-7 dill pickle slices, finely chopped
1 small firm tomato, finely chopped
1 long mild green chili, finely chopped
1 small clove garlic, minced
2 Tbsp shallots, finely chopped
1 tsp lime juice
2 Tbsp finely chopped parsley (Use coriander if not available)
salt and pepper to taste
Method:
Rinse the fish fillets gently. Scrub with a little salt and rinse again.
Pat dry the fish or leave to drain thoroughly. Place in a bowl.
Marinate the fish by rubbing all the ingredients for the 'Marinade' onto the fish, to coat evenly.
Cover the the bowl and refrigerate for 2 hours.
Make the quickie tartar sauce now and chill as well. (See below).
For the crumb coating:
Add the plain flour to a wide bowl. Stir in the salt and pepper with a fork, to distribute evenly.
Add the eggs to another bowl and beat lightly.
Add the toasted bread crumbs or panko to a another shallow plate.
Remove the marinated fish from the fridge.

(it's good to remember which is  the skin side of the fillets).

First dip/drag in the bowl of seasoned flour. Coat lightly.
Next dip the dredged fillets into the beaten egg mixture.
Finally place on the plate of bread crumbs and coat both sides, Make sure the fillets are completely covered.
Heat oil in a shallow pan.

(You can start frying the french fried in another pan/pot at the same time on another burner).

Just as it heats up and before the oil gets very hot, slide the fillets (skin side down).
Keep the heat on low-medium and fry till the crust gets dark golden brown.
Flip gently and repeat on other side. We want a nice dark gold color but careful not to blacken/charr the crumb.

 (You can make them lighter if you like, I like them a little darker, they stay crisper for longer – just make sure they don't turn black and bitter).Its' okay to make one side lighter than the other as well.

The fish should cook for about 5 minutes.
Drain on kitchen paper.
Serve immediately  with the fries and quickie tartar sauce.
To make the Special Quickie Tartar Sauce:
Chop all the ingredients.
Whisk together the mayyonaise, yoghurt and lime juice.
Add salt and pepper to taste. stir through.
Add the chopped ingredients. and stir well.
Cover and chill for 2 hours (same time as the fish is marinating).
To make the Jalapeño Chili Sauce:
Seed the jalapeño or mild long green chili pepper by slitting lengthwise and scraping off the seeds.
Remove stem from small hot chili.
Boil all the chilies for 5 minutes.
Chop and add to a mixer/grinder with all other ingredients.
Grind to a course texture.
Crumbed Fish and Chips with Quickie Tartar Sauce
Dried powders of garlic, ginger, onion, lemon and many other ingredients is easily available now in most supermarkets. I prefer the dried ingredients for this recipe. If you do not have it however, you can substitute with the freshly ground, smooth paste of all the ingredients.
To make toasted bread crumbs, process stale bread to a crumb. Dry roast/toast in a pan or place in the oven till the crumbs become slighlty toasted and hard without becoming brown. Use ready made Panko Bread Crumbs instead if available.
Like other batter fried fish, this does not reheat well and must be served immediately.
Key Ingredients: Fish,Flour, Egg, Bread Crumbs, Salt, Pepper.
Let us know if you tried it – Crumbed Fish and Chips with Quickie Tartar Sauce . Comments from you provide motivation to keep up the driving force behind this blog, bringing you more delicious and perfected recipes regularly. Please do leave a comment. We love to hear from you.