4 March, 2013
Crispy Fish Cakes – Fish Cutlet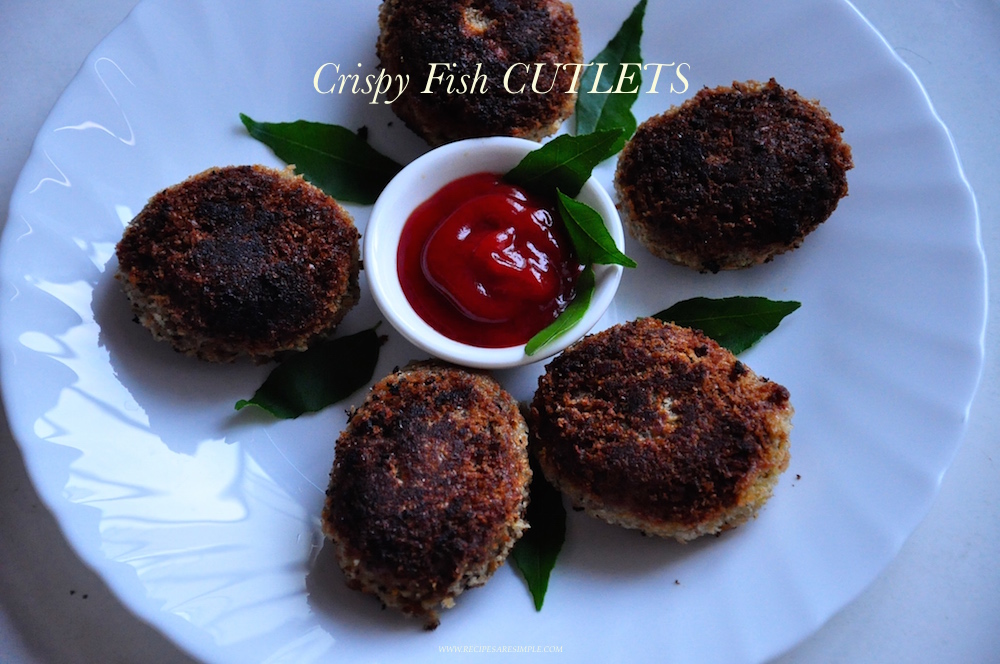 Crispy Fish Cakes – Fish Cutlet
These little crumb fried patties are a perfect  snack for guests. Can be made with canned tuna. 
Crispy Fish Cakes – Fish Cutlet



Ingredients:
½ Kg Fish fillet/steak skinned(eg. seer fish)
For Marinade:
1 tsp coriander powder
1 tsp fennel/aniseed powder
½ tsp chilly powder
¼tsp turmeric
1 Tbsp vinegar
Salt to taste
For the masala:
3 potatos,boiled peeled and mashed with some salt to desired consistency( should not have big chunks)
1-2 cups fresh bread crumbs
1 large egg
Oil for shallow frying
1 cup or two medium onions, finely chopped
1 Tbsp garlic, finely chopped
1 tsp ginger,finely chopped
1 tsp green chilly,finely chopped
2 tsp corriander leaves, finely chopped
Method:
Marinate the skinless fish with the ingredients for marinade and set aside while you prepare the rest of the ingredients.
In a pan, heat the oil for frying. Fry the fish to a nice crisp golden and not dark and hardened (or your patties will be very dry). Drain. Allow to cool a little and remove any fish bones. Crumble the fish up gently with hands to make the patties.
In the same cleaned pan, heat 2 Tbsp oil. Add onions, garlic, ginger, green chilly and saute´ well till onions are softened and  the mix turns golden.
Add the mashed, salted potato and stir fry  all together shortly till well coated.
Now add the fish and stir gently. Careful not to mash the fish too much.
Form into flattened oval patties with hands. Arrange on a tray.
Beat the egg well in a shallow bowl. Place the breadcrumbs in another shallow bowl.
Dip each patty first in egg wash, then the breadcrumbs, coating completely and evenly.
In the same cleaned pan used earlier, heat sufficient oil to shallow fry the patties to a medium heat (not high)
fry the pattys on one side, undisturbed for 2-3 minutes or till nice golden brown. Flip over gently with spatula.
Fry the same on the other side. Drain on kitchen towels.
Crispy Fish Cakes – Fish Cutlets
Did you enjoy our Crispy Fish Cakes – Fish Cutlet?
Notes:
It's a great make ahead snack.These patties can be frozen in freezer safe containers, in layers seperated with butter paper and taken out just before frying.
Serve with corriander mint chutney or ketchup
You May Also Like: