7 September, 2014
Crispy Curry Leaf Shrimp Appetizer with Tartar Sauce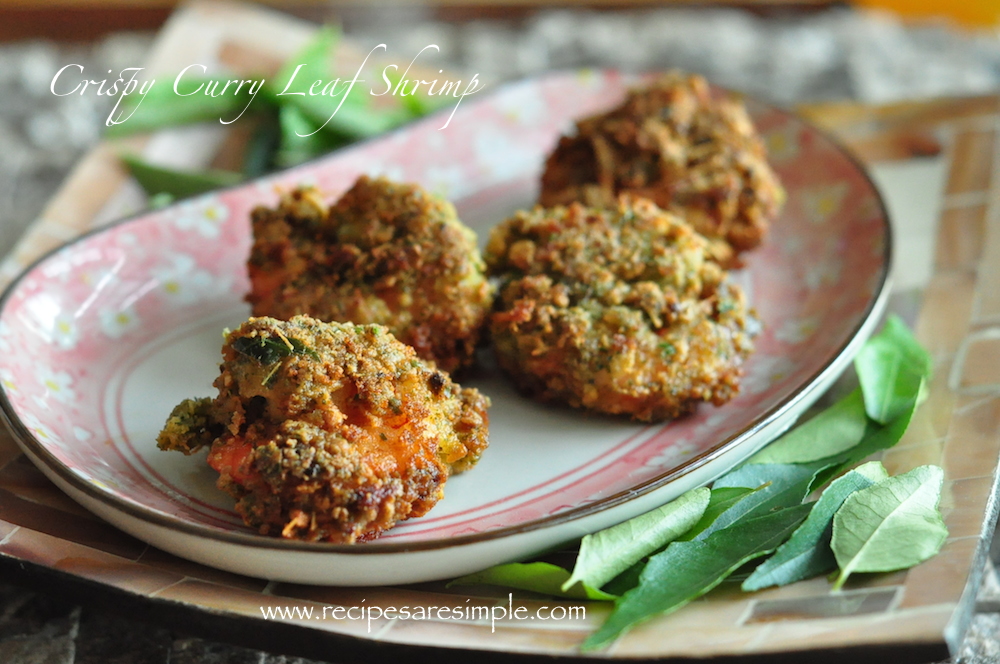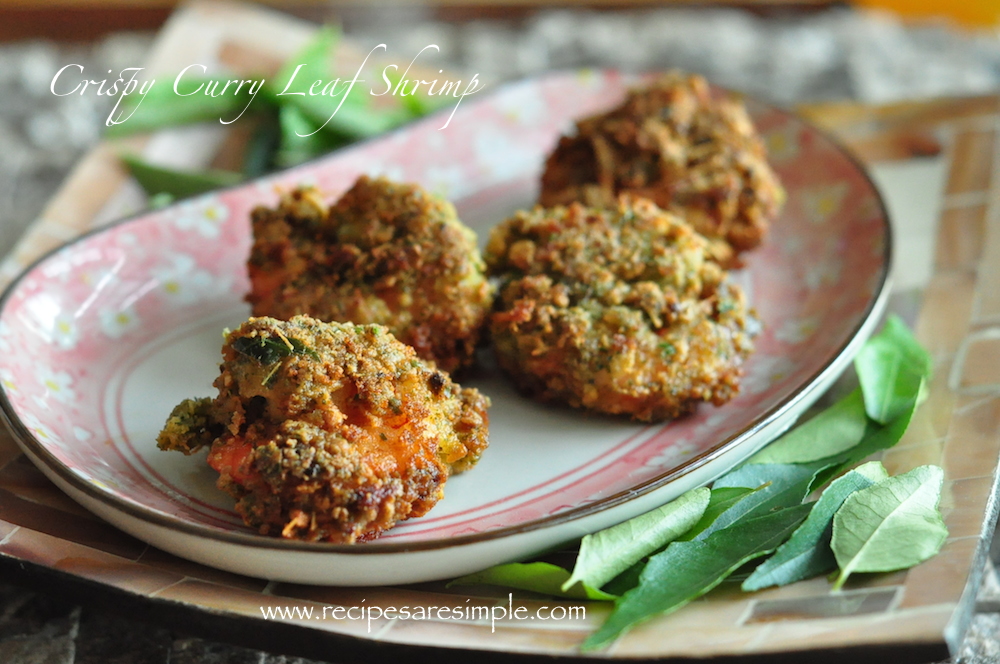 Crispy Curry Leaf Shrimp Appetizer with Tartar Sauce
  A new take on Crispy Shrimp  for your hors d'oeuvres / appetizers platter. Scented and flavored with a crispy curry leaf crumb coating and served with tartar sauce.  Pretty Crispy and Tasty!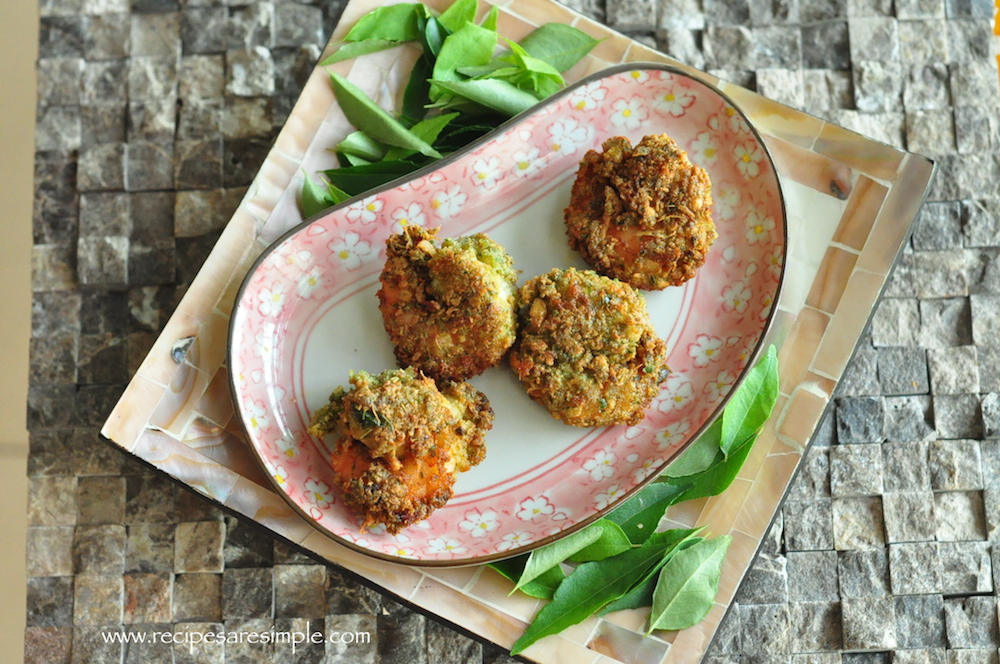 Crispy Curry Leaf Shrimp Appetizer with Tartar Sauce
Recipe Type: Starters / Appetizers

Author: Recipes 'R' Simple

Prep time: 10

Cook time: 10

Total time: 20

Serves: 4
Ingredients:
12 large shrimp / prawns, peeled and deveined
2 large handfuls of fresh curry leaves
2 tsp ginger, finely chopped
2 tsp garlic, finely chopped
2 tsp green chillies (mild) , finely chopped
½ cup sweet potato flour OR urudh dal flour
1 egg white at room temperature
2 Tbsp cornflour
salt to taste
¼ – ¹/3 cup oil for shallow frying the shrimp
For the Marinade:
3 tsp lime juice
2 tsp ginger garlic paste
½ tsp black pepper powder
½ tsp smoked paprika powder or kashmiri chili powder
¾ tsp salt – or to taste
Method:
 Marinate the cleaned, rinsed and drained shrimp with the ingredients for the marinade. Set aside.
Heat 2 Tbsp of the oil in a small pan. Add the curry leaves to the hot oil and as soon as they crisper up, drain them from the oil. 

( The curry leaves should remain a bright dark green color and not go brown)

Add the crisp curry leaves along with the finely chopped ginger and garlic to a microwave safe bowl.
 Microwave for 2 minutes. 

( Check after 1 minute, as temperature may vary – the ingredients should be extremely crisped without burning or browning).

Grind this in a small DRY coffee grinder or mixer to a nice  crumby powder.
Add  the sweet potato flour as well to this ground curry leaf powder. Mix with dry fingers till you get a nice even consistency. Sprinkle a little salt as well.
Heat the remaining oil as well as the oil used for frying the curry leaves in a non stick pan.
Add egg white and corn flour to the marinated shrimp and mix well.
Dip the coated shrimp one by one, into the dry curry leaf/ flour and coat evenly.
Place in the pan of hot oil, flat and uncrowded. Fry undisturbed on medium heat for 3 minutes, when golden and crisp, turn over and fry the other side for 3-4 minutes. The coating should be a nice golden brown color.

( Make sure to fry on medium heat onl or the coating will burn before the shrimp gets cooked tender inside).
Ingredients for Tartar Sauce:
1 egg white
1 Tbsp garlic, minced
2 Tbsp lemon juice
1 Tbsp fresh parsley, finely minced
2 Tbsp onion/ shallots, minced
2 Tbsp pickle relish
1 Tbsp mustard sauce
1 cup vegetable oil
salt and pepper to taste
Method:
Put the egg white, garlic, lemon juice, parsley, onion, relish and mustard in a food processor or blender.
Process 15 seconds.
Drizzle in the oil, very slowly while running.
 The sauce will thicken. Season with salt and pepper to taste.
Cover and chill for 1 hour before serving.
Best used within 24 hours.
Crispy Curry Leaf Shrimp Appetizer with Tartar Sauce
Try it and let us know – Crispy Curry Leaf Shrimp Appetizer with Tartar Sauce.
Once laid in the pan, it is important not to disturb till the coating sets, or the crumb coating will peel off  from the shrimp.
Instead of curry leaves you can try fresh basil leaves in the same way as well.